We award tools with these badges
Why we award tools with badges and what they mean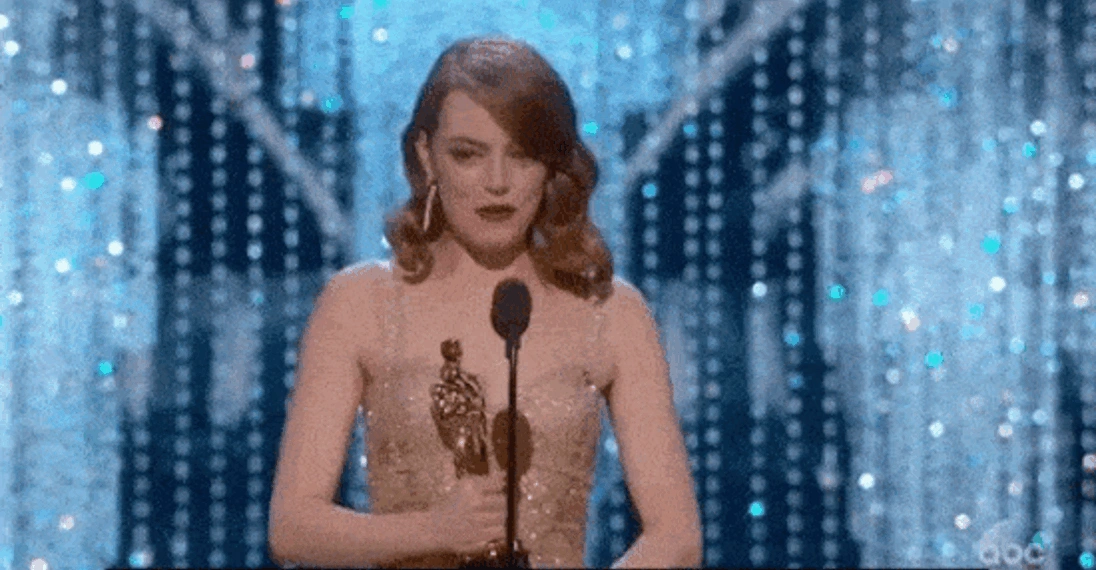 While scrolling through our site you might have noticed them already - our badges! Today, we're explaining why we award software on our website and what the difference is between the Leader and the Top-Rated badge and why the Watchlist badges have our stamp of approval. 
"We are constantly adding new tools—in the CRM category alone, there are so many different providers that it's hard to know where to start looking," explains our Customer Success Manager Anabel Nölker. "That's why our badges provide some guidance in the large and ever-growing software landscape."
What are OMR Reviews badges?
On OMR Reviews, our review platform for software and tools, we regularly provide you with helpful information and genuine user reviews from a wide range of categories. To give you an even better overview of the top tools on the software market, we award OMR Reviews badges every quarter. Badges are awarded based on the ratings of the users on our platform. 
You can find the badges on the profiles of the tool providers. They provide you with information about special awards that the tools have received from us under certain conditions. There are four different categories, "Leader," "Top Rated," "Watchlist" and "Used by OMR" badge.
Why do we award badges?
"Users can discover new software every quarter, while also getting some input on if they have chosen the right software." 
Our badges are similar to a seal of approval, i.e. an indication that a product or service has been reviewed and found to be good. This kind of award shows that users have already familiarized themselves with the product, tested it and, ideally, have had a good experience with it. 
The main purpose of awarding our badges is to create trust, give guidance to our users and convey credibility.  "Every quarter, users can discover new software, while also getting an indicator on whether they have chosen the right software. In addition, it provides a sound indicator in the complex software buying process," says Anabel.  However, not every tool automatically qualifies for the badges. A piece of software is only awarded a badge if it meets certain conditions. In addition, badges that have already been awarded are regularly reviewed to ensure that they continue to be worthy of the badge. 
Tools and software are constantly updated, new features are released, or new or similar tools appear on the market. In order to keep a permanent overview of the vast array of software and regularly keep an eye on the front-runners, we re-award badges every quarter.
What do individual badges mean?
At the beginning of researching software for their own company especially, many people do not know which criteria they should pay attention to. To help you find your way around, our Leader and Top Rated badges provide a good starting point. After all, you want to find the right tool for your company's needs.  
Leader badge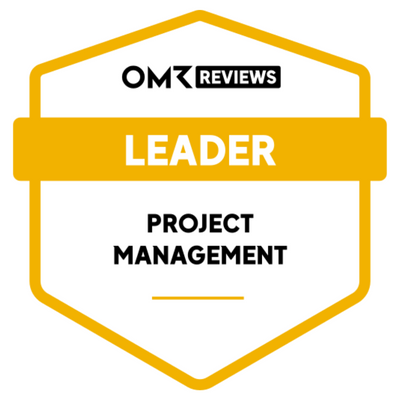 Our Leader badge recognizes the top tool in a given category. The award is based on the quantity, i.e. the number of reviews, and the rating, i.e. the average score of the reviews. The so-called Net-Promoter-Score (NPS) is based on the weighted average of all reviews submitted for the respective tool on OMR Reviews. 
The Leader badges are awarded quarterly for all categories, based on the overall performance up to that point. Tools that receive this badge have thus been rated best in their respective main category by a meaningful number of users. Only when there are numerous reviews available do these become statistically relevant and can represent a comparison to other tools.
There is a special feature with the Leader badge. Normally, we only award one leader per category. However, in our category round-ups, we also award all the tools that make it into the leader quadrant at the top right of the OMR Reviews grid. For example, in our latest and revised briefing on shop-systems, which was recently published.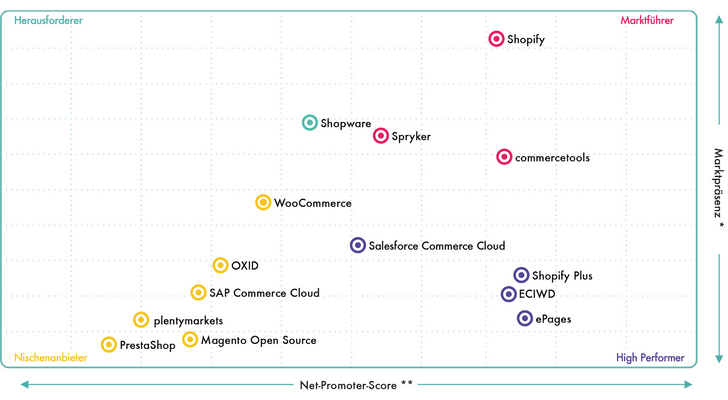 OMR Reviews grid with the Leaders quadrant at the top right.
Top Rated badge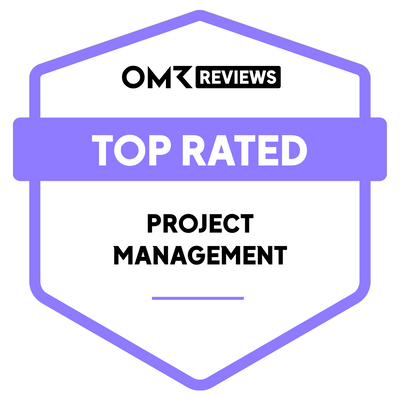 "The Top Rated badge provides solid direction on the software landscape. It helps users decide which tools might be relevant to the business."
The Top Rated badge is awarded to all tools that have received at least ten reviews in the last three months with an average NPS of at least eight. We also always award this badge on a quarterly basis. However, the badge refers exclusively to the performance in the previous quarter. In contrast to the Leader Badge, where there is usually only one winner (unless there is a briefing on the category), several tools are awarded the Top Rated badge here. 
In addition to the Leader badge, which shows users which tool is the category leader, the Top Rated badges also have a great advantage for software searchers. Our Business Development Manager Christin Wroblowski sees the benefit primarily in the topicality: 
"The Top Rated badge provides a solid informational foundation on the software landscape precisely because it refers to the number of most recent ratings. This high level of timeliness and quality of ratings helps the user decide which tools might be relevant for the company."
Watchlist badge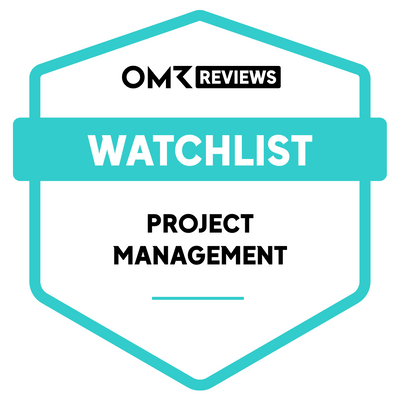 In addition to the Top Rated and Leader badges, we also award the Watchlist badge. In contrast to the other two awards, this one is distributed on a monthly basis. Tools that are new on the platform, newly discovered by us or are particularly popular in the community are awarded this badge. As the name of the award suggests, it is definitely worth keeping an eye on these tools. We announce our Watchlist badges every month on our LinkedIn portal–be sure to check out.
Used by OMR badge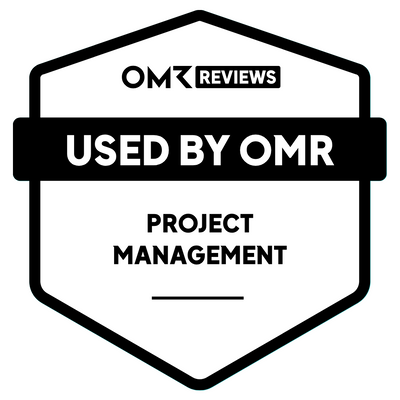 The "Used by OMR" badge is awarded to tools that we use at OMR. The badge is, so to speak, a sign that the respective tool is part of our own tech stack and is used enthusiastically by us.
These include Later, Sistrix, Pipedrive and Slack, among others.
That about wraps up our brief overview of all the OMR Reviews badges. Do you use any of these tools or other tools listed on OMR Reviews? Then leave us a review and share your experience with the community!
A look at current badge winners from this quarter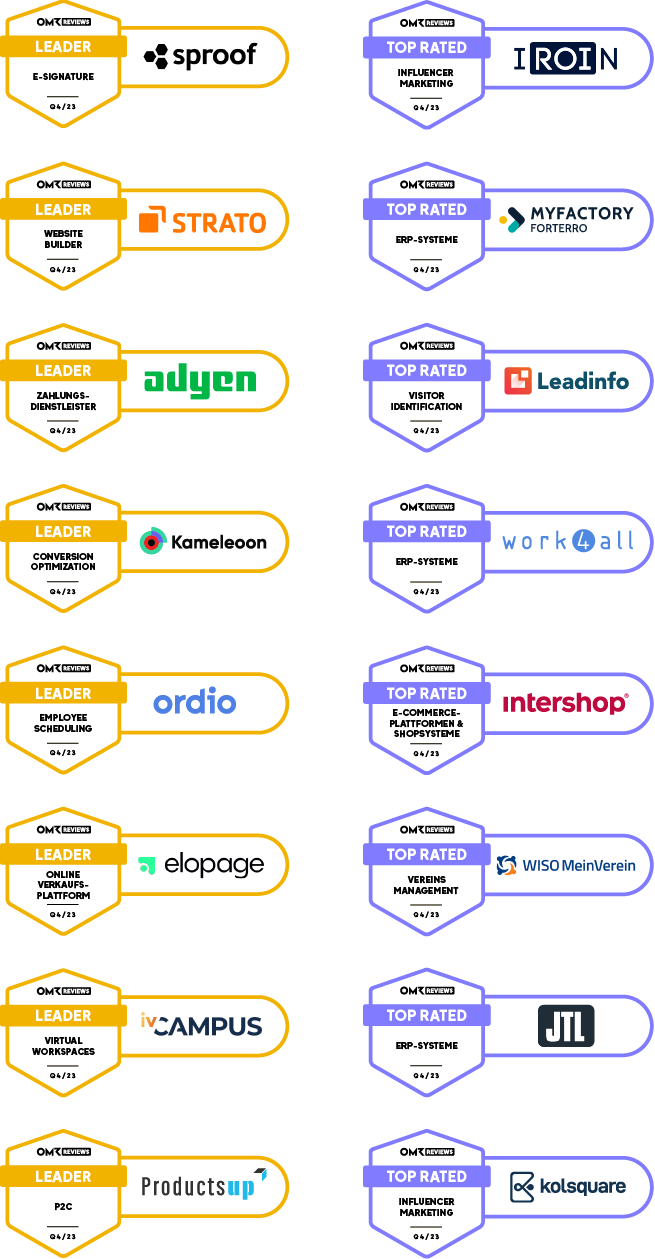 Here is a selection of the current badge winners from Q3 2023. You can find even more information about the winners on the product pages on OMR Reviews.
⁠
Furthermore, here are all our current badge winners: