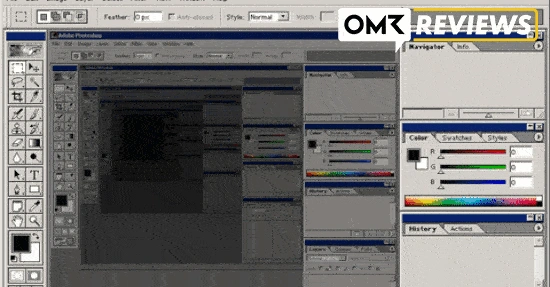 It's a situation we all know too well. We get back from our hard-earned vacation and scroll through the plethora of picture we took only to find that they fail to capture the natural beauty of the pristine beach, crashing waves, mountain landscape or bustling cityscape. In our social media world, where most like to share those very moments, an unsatisfactory situation. Most of the time, an image editing app on your phone is enough to apply the power of filters. However, regarding product photos or images for your website and LinkedIn presence, such an app is not enough – at least not if you take your online store and web presence seriously. For most people, "Adobe Photoshop" will be ringing in their heads by now at the latest. Excellent tool, but quite expensive. Especially for beginners or occasional users, Adobe's subscription costs are often too high compared to the benefits. In such cases, free alternatives come on the scene. Free image editing programs are typically very comprehensive and helpful.
Since there are quite a few image editing programs available for free, we have filtered out the seven best ones for you. Important: Free does not automatically mean good, or the software is easy to use. All seven free photo editing programs are suitable for beginners and advanced users. At the end of the article, two insider tips are waiting for you!
What is important when choosing an image or photo editing program?
Before we introduce you to the Hall of Fame of free image editing programs, we will first take a look at the question of what you should look for when choosing the right tool. In principle, the choice depends on the goal of image editing and the intended purpose of the images. Once this has been clarified, you can weigh the features you need. For example, does the free photo program need to retouch, remove elements, or apply effects to the image?
Just because we're talking about free photo editing software here doesn't mean that the feature set is manageable. Of course, most free ones are not on the same level Adobe Photoshop, but one or two programs can keep up with the industry leader. However, no matter what a free photo editing program has to offer, any of them should at least meet the following features and other requirements:
Correcting sharpness, exposure, contrast, and color

Working on multiple layers

Compatibility with many different image formats

Scaling

cropping as well as removing objects

Creating photo montages

Filter and effect selection

Clear user interface

Free tutorials from the community (for example, on YouTube)
Image editing programs – whether free or paid – have the reputation of being complex and thus complicated in usability. It takes a certain way for the developers to harmonize functionality with an intuitively usable interface. While using Photoshop requires tutorials, it is the same with some free counterparts.
The free image editors don't usually have many features on board – which doesn't mean they're no good. Our comparison of the seven best tools will show you in more detail what we mean.
What are the application areas?
Free image editing is in demand in many places. But especially when creating professional and respectable images for online stores. In this context, image editing represents the final touch.
In addition, photo editing programs are used in other areas of application. For example, when it comes to the appearance of a company or a person on the Internet. To appear professional to the outside world, you should not neglect photo editing. Stock photos or unedited raw images are death to any website and social media account – in fact, to anything that is supposed to help generate sales.
Last but not least, hobby photographers also need to optimize their images. The term "hobby" implies that Adobe is usually too expensive and free photo editing programs should do the job. Free photo editing tools are used wherever the highest quality does not matter, but professional images and photos are still wanted.
The top 7 free photo & image editing programs
Now we show you the seven best image editing programs. We have assumed the above criteria and determined the respective free features. In addition, we tell you whether the image editing software still have paid siblings and what advantages or disadvantages they bring with them. The top 7 free image editing programs are:
You can find an overview of all image editors on OMR Reviews.
1. GIMP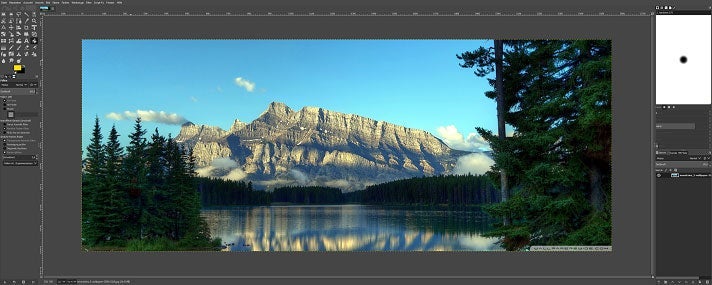 The user interface of the free image editor GIMP
GIMP is the best free alternative to Photoshop. The essential features of the image editing program alone have a level of their own. Added to this is the ability to extend GIMP with numerous plugins, making it the perfect tool for image editing. In addition, you can customize the source code since GIMP is free image editing software (not to be confused with open source).
GIMP – short for GNU Image Manipulation Program – can be played on Linux, macOS, and Windows. However, all beginners should know that learning GIMP is a little tricky, so it takes three to four hours to get to grips with it. Nevertheless, it's worth the time!
Free features in GIMP
Standard equipment for professional image editing

Extendable with plugins

Personalization of the user interface

Numerous effects and filters are available

Very many file formats are supported

A similar amount of features like Photoshop
Advantages and disadvantages of GIMP
Of course, there are disadvantages to GIMP as well. While the advantages are now apparent, the most significant drawback is that GIMP requires you to get started more elaborately than other free photo editing programs. Furthermore, the benefits outweigh the disadvantages by a ratio of 9:1. By the way: you can find informative tutorials on the GIMP website.
2. Adobe Express Editor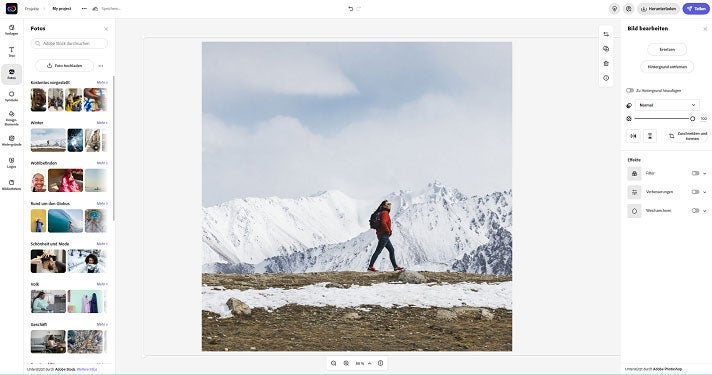 As compensation starting with the best but also the most complex tool in the image editor comparison, we now introduce you to Adobe Express Editor. The image editor is the little cousin of Photoshop. It is a much slimmed-down version, but it is very beginner-friendly. Nevertheless, the Express Editor of the well-known US developer uses Photoshop algorithms.
The image editing software does not need to be installed but works directly in your browser. You can also use Adobe's app of the same name, which runs on iOS, Android, and Windows Phones. However, Adobe Express Editor only aims at less demanding image editing projects, such as for social media profiles.
Free features in Adobe Express Editor
Red-eye correction and retouching

Exposure

Sharpening and soft focus

Auto-correction

Template library for graphics, designs, and stock photos

Various effects and filters are usable

Cartoon drawing
Advantages and disadvantages of Adobe Express Editor
The weaknesses can be seen directly in the low functionality of Adobe Express Editor and in the fact that you can only edit JPG files. Moreover, you can only work on one layer, which is the basic rule of a good image editor.
But apart from that, Adobe Express Editor is beginner-friendly and uses Photoshop algorithms that are appreciated worldwide. Additionally, the interface of the free image editor is one with asterisks. All this makes Adobe Express Editor a top tool for social media fans.
Paid versions of Adobe Express
Of course, if you have more extensive requirements for an image editing program and the necessary budget, Adobe offers you the land of milk and honey of image editing. Whether it's Adobe Photoshop, Illustrator, or Lightroom – Adobe plays in the top league. The most renowned freelancers, artists, and photographers work with the developer's tools.
In the past, Adobe software was available for a one-time fee, but today you can buy a subscription. The price depends on which tools you need. It starts at 12 euros per month. Photoshop, however, is only available from EUR 24 per month.
3. Paint.NET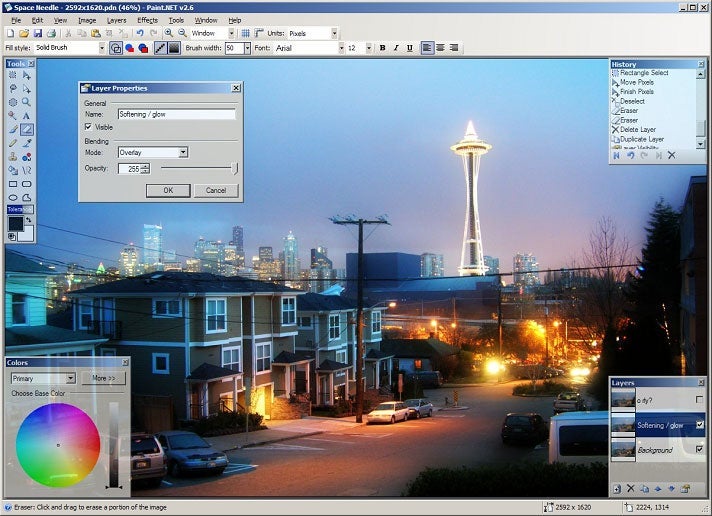 Paint.NET is already a bit older and therefore shines with a lot of development experience. First released in 2004, the software for free photo editing has made a name for itself over the years. However, it is a condition that you use Windows since Paint.NET is based on the .NET framework from Microsoft.
This and the fact that the editing software is freeware gives you, as a user, the possibility to install numerous plugins. You can find the collection on the official Paint.NET website. But even from the basic framework, the image editing program is quite comprehensive and is, in our opinion, a tad easier to use than GIMP, with similar good skills.
Free features in Paint.NET
Gradation curve for tone value correction

Cropping of objects (semi-automatic)

3D rotation and zoom effect

Standard filters

Soft and sharp drawers

Layer work and multiple projects are tradable at the same time
Advantages and disadvantages of Paint.NET
The fact that Paint.NET only runs on Windows is a disadvantage but quickly becomes irrelevant due to the numerous features. There are many excellent and free alternatives for macOS and Linux users. However, the list of advantages fills itself rapidly if you first take a closer look at Paint.NET.
You can individually extend the image editing software with plugins, have functions often only found in paid editing programs, and adapt the interface to your wishes.
4. Krita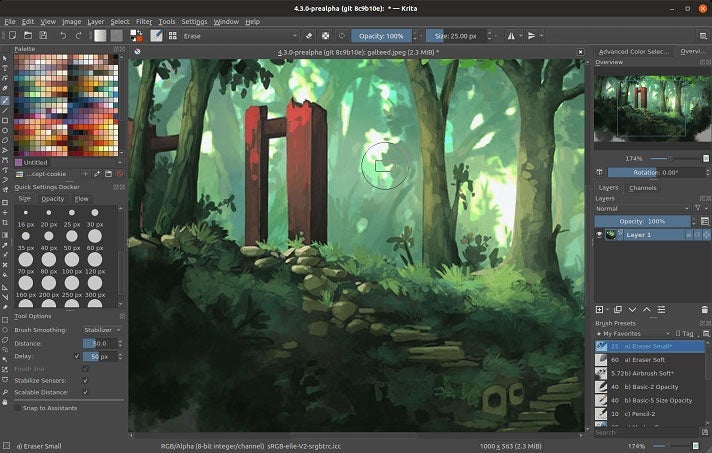 After the three popular free image editing programs, we will introduce you to underdogs that certainly don't have to hide. Let's start with Krita. The free image editor is an open-source application for Windows and Linux computers and Apple devices. Krita was created as an alternative to the top dog GIMP.
However, even though it does a good job as an image editor, at some point, the development path of Krita went more in the direction of drawing and illustrating. Thus Krita is an excellent, free address for artists and cartoonists. For your product photos of your online store, Krita is sufficient.
Krita is easy to use due to various presets that you can use without having to bring special editing skills. Thus, Krita is optimal for rookies.
Free features in Krita
Numerous tools for drawing and illustrating

Touch-up functions

Exposure and sharpening

Edge smoothing

Customizable user interface

Several effects to choose from

German version available, but no German online manual
Advantages and disadvantages of Krita
Krita runs like GIMP under the GNU-GPL license, which allows you to customize the source code. This alone is a significant advantage. But the list goes on and on, as you have already read.
5. Pixlr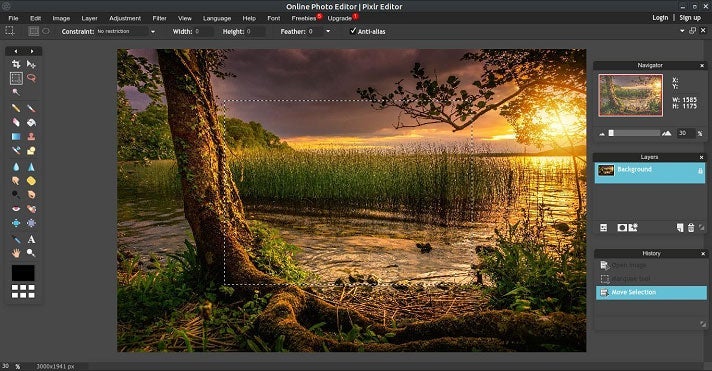 The 2000s were a highlight decade for free image editing programs. After all, Pixlr was also developed and released during this period – as were Krita, Paint.NET, and several others. Pixlr is subject to the peculiarity that it works directly in your browser or as an app for Android and iOS.
The full version includes all sorts of features that allow you to edit images at a high level. Based on earlier versions of Adobe Photoshop, the interface is impressive and offers excellent usability. Likewise, Pixlr has copied the AI-controlled editing from celebrities and implemented it well.
The image editing software comes in two flavors: the stripped-down variant for quick editing called Pixlr X and the complete edition Pixlr E. Both are free in the basic version – which is enough for many projects.
Free features in Pixlr
AI-assisted photo editing

Numerous graphics, designs, and templates

User-friendly interface

Remove red eyes

Gradation curve for tone value correction

Some effects and filters

Post-exposure and blur
Advantages and disadvantages of Pixlr
The disadvantage is noticeable in the limited, free version. Although this is enough for many types of image editing, you have to reach into the wallet at a certain point. However, especially for beginners and simple projects, Pixlr is an excellent choice. In addition, you have access to some tools that are usually only found in paid programs.
Paid versions of Pixlr
As mentioned, Pixlr also offers paid versions. These allow you to use even more professional tools and trade higher image resolutions. They also include video tutorials. You can buy Pixlr Premium for 5 euros and Pixlr Creative Pack for 15 euros. The prices are per month and have to be paid annually. However, you can test both editions for 30 days for free.
6. RawTherapee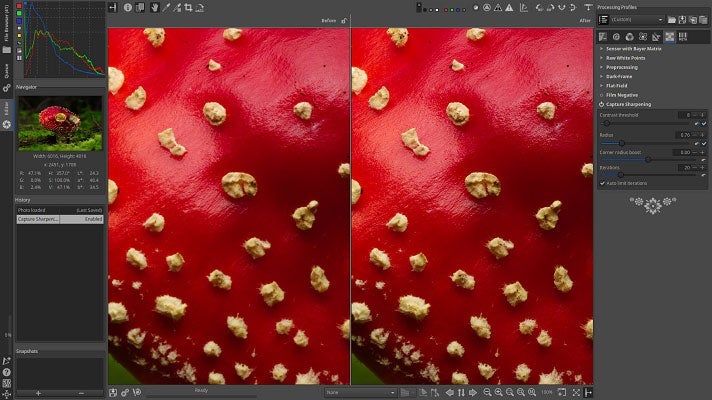 The option to edit RAW files makes RawTherapee special at first glance. These are those high-quality image formats that come directly from the camera. This allows you RawTherapee the detailed improvement of your photographs, which some image editing programs can not do because your RAW files are usually converted automatically. But this requires a powerful PC.
In addition, RawTherappee also handles JPEG, PNG, and other well-known formats. Opening the image editing program for the first time can be quite "overwhelming." Numerous features are located in various menus. However, if you work in RAW mode, you don't have to fear a loss of quality at any time.
You can also save editing profiles if you want to adjust several images with the same settings. However, RawTherapee is aimed at photographers since there are few beautification options for social media purposes, for example.
Product photos, on the other hand, can be edited perfectly. Especially since these are mostly taken from the same angles and under the same lighting conditions, which means you can use the same profiles over and over again.
Free features in RawTherapee
An extensive number of tools for detailed photo editing

Clear interface, even if it may not seem so to you at first

Supports numerous RAW formats

For Windows, Linux, and macOS

Saving editing profiles

Correction of saturation, contrast, and brightness

Color filters
Advantages and disadvantages of RawTherapee
The advantages are almost exclusively in photography editing. Through a conversion tool, RawTherapee gives the possibility to improve the raw files from the camera directly in detail. The advantages include just as many tools that allow editing. The only disadvantage is that RawTherapee is less suitable for creative projects.
7. PhotoScape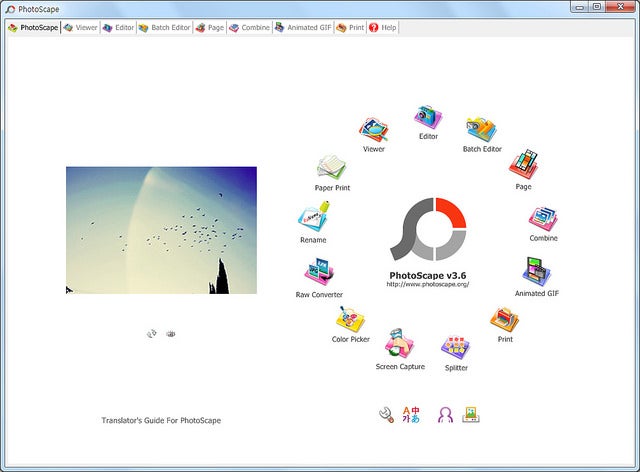 Photoscape X is more of a tool collection than "just" an image editor. Nevertheless, it is free of charge. Photoscape includes a RAW converter, an image viewer, an editor, a print tool, a GIF animator, and numerous other software for which you would typically have to install separate versions.
However, free image editing with Photoscape is limited, which is still easy enough for many simple projects. Additionally, there are some filters and effects available. Just don't be put off by the primitive-looking interface – there's a lot of function behind it.
Free features in Photoscape
Suitable for laymen

Color adjustments

White balance

Clone stamp

Remove red eyes

Drawing tools
Advantages and disadvantages of Photoscape
A great advantage is, of course, the accumulation of several software with a single installation of Photoscape X. In addition, image editing is straightforward, which makes it ideal for beginners. Photoscape can be used on Windows and macOS devices. Less pleasant is the adware in the installer. But you'll get over that once the installation is done!
More free image editing tools
Two insider tips at the end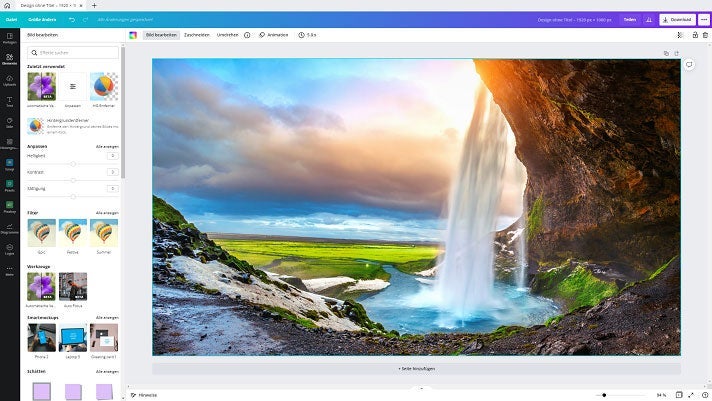 We want to conclude this article by giving you two more insider tips regarding free photo editors. Besides the seven editions mentioned, there is Canva and Photoshop CS2.
Canva is primarily a graphic design platform, but it has some features of image editing software. These include automatic cropping of an object and correction of saturation, light as well as contrast. On the other hand, Photoshop CS2 is just an outdated version of the Adobe classic.
Due to this fact, the software company, founded in 1982, offers the CS2 version for free download. Photoshop CS2 already includes a lot of features, which makes the tool an acceptable solution in many editing cases. All you need is a tolerance for the outdated look of the software – after all, Photoshop CS2 was launched back in 2005.
While Canva is aimed more at beginners, you should be prepared for a certain training period with Adobe's CS2.
Conclusion: Free image editing programs can do a lot
With free image editing tools, you cannot only save a lot of money but also post-process photos and images and achieve great results. Especially for beginners, we recommend the use of free image editing software. The user interfaces of the free software are often based on the well-known editing programs from Adobe and offer a free entry into the world of image editing. However, if you would like to test the top dogs, Adobe Photoshop or Adobe Lightroom, you can do so with the help of the free trial versions.