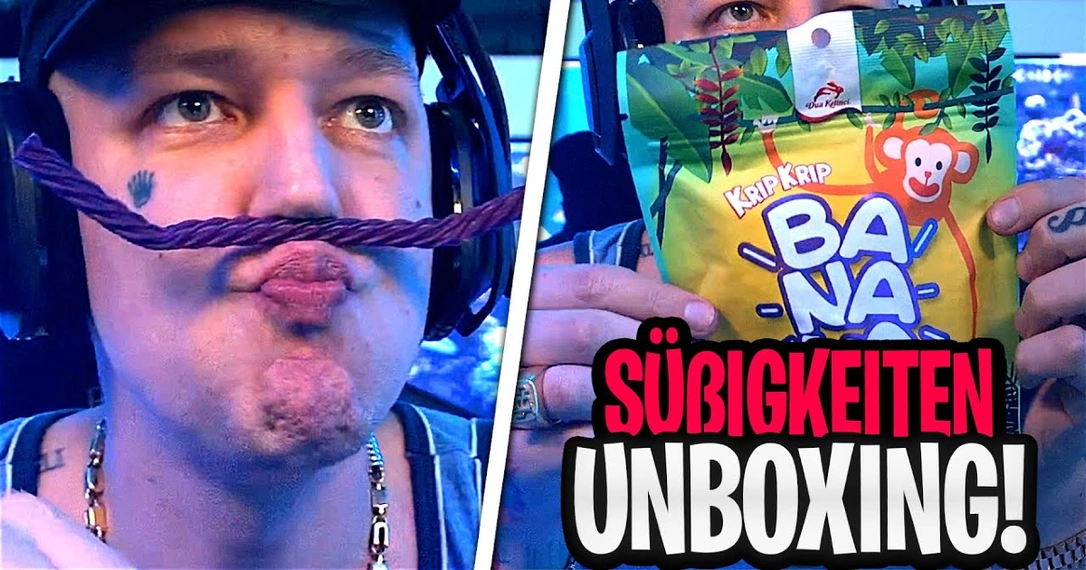 The original plan for Adrian Balbegi was to import a flavor of Fanta and sell it in his fastfood chain "Food Brother." Plans are meant to change and after sales of the imported softdrink never fizzled out, he launched trinkdose.de, an online shop for exotic softs; a few months later he expanded that assortment to include all sorts of sweets from abroad. Today, the IA International GmbH employs a staff of 100, while its brand "Sugargang" is a social media sensation in Germany that cracked 10 million in revenue for 2020. OMR spoke to founder and CEO Balbegi about the tricks and methods he employed to grow so fast and how they plan on standing out from others in the candy crowd.

"Sugargang" hopes to stand out from the competition.
"Ideally, I'd have a brand that everyone liked," Adrian Balbegi tells OMR. "Like Pokémon: likable and positive." It's no coincidence that he draws a parallel to Pokémon. Balbegi is 32 and was all in on Pokémon when it blew up in 1996. That left a mark. It also makes sense from a business sense, as he is building an imported candy shop that sells to both businesses and end consumers and is inspired by Japanese art.
The faces of the brand are the Sugargang, five original comic characters: Kid, Coozy, Kiki, Sunny and Coco. They each have their own backstories, characteristics and, of course, favorite candies. Kid's the leader, Coozy the smooth operator, Kiki has off-the-charts strength, Sunny's the smart adventurer, while cutey-patotie Coco is the boldest of the lot. 

Although the Sugargang sounds like the opening for an anime crew, their role is much more significant for the brand. "We are placing a focus on storytelling and it will increase moving forward," says Balbegi. "I was at a food fair in Japan two years ago and there is no parallel here with the thought-out concepts and characters they have over there." The characters are currently being rendered in 3D and a video game will follow. Sounds like quite the undertaking—especially since they hope to do it all themselves in-house. However, Balbegi insists that both the animated forms of the gang and the game are invaluable for the brand, saying, "if you have avatars at your disposal, you can incorporate them in various ways and tell stories with them."
From fastfood to bubblies
It wasn't always all about sweets for Balbegi, but there is a certain congruency between his professional endeavors prior to and with Sugargang. "Roughly seven years ago, my partner Alexander Unfericht and I founded Food Brother," Balbegi recalls. The fast-food franchise was located in Northrhine-Westfalia, Germany's most populous region, where it operates 10 stores; there are plans in the works for two additional stores to open in Berlin soon. "I've stepped away from the day-to-day operations of Food Brother and am only a stakeholder now."
While at Food Brother, he laid the foundation for what would become. "About two years into Food Brother, I opened up a wholesale company to serve all the stores. Its primary function was purchasing packing materials for the franchise," Balbegi says. IA International GmbH still does that today, but its main focus now is on running the Sugargang brand.

The drink that got the candy business up and running was a type of Fanta from the Netherlands. "At that time you couldn't find the currant flavor of Fanta anywhere in Germany. All the others we had, but not that one," recalls the founder. So they began selling it in all their stores and after seeing its popularity grow and grow and grow, he starts looking around for other sodas abroad; he idea for trinkdose.de is born. "We import and sell softdrinks from around the globe through the shop," says Balbegi.
The shop flops, but Sugardad soars
For about a year and a half, the online shop runs in parallel to the fastfood business, but the idea never really takes off. They try social media co-ops with top-level influencers in Germany, including Farina Opoku, the person behind beauty brand Novalanalove (1.5M followers on Instagram). Balbegi says it was because the selection of softdrinks wasn't big enough and the amount of effort was too great. "We acquired a deposit license to be accepted into the German deposit system (author's note: Germany's deposit system adds a surcharge on plastic and glass bottles. Consumers pay the fee and are reimbursed when they return the bottles). Each product needs to be registered with the organization in charge of the deposit system, including the contents. Plus you need a unique code for each drink and they all have to be relabled. It was a headache."
Balbegi starts looking for alternatives and a solution for trinkdose.de. "I spent the night on the phone with my business partner Ismael Ramadan. Then we had an off-the-cuff idea." Instead of drinks, they'd start importing candy from abroad. They would not have to start from scratch since IA International GmbH already had all the necessary contacts and was an established entity in the import business. That meant they could start immediately. They launch as Sugardad. "For a spontaneous idea, it really performed well from the first day," says Balbegi. "We went from 100 items to 500. Now we're at a total of 3500."
The sweet spot for marketing candy
If you're wondering why marketing and selling sweets was a hit from the get-go and soda pop fell flat, you're not alone. Balbegi remembers the first idea that took off was packaging design. "When we made them loud and gaudy, we saw the effect they could have—and so did YouTubers. They are perfect for unboxing videos and catch your eye." Now Sugardad is surely not the first to standout in newsfeeds and videos via colorful packaging. But they do show the potential that loud packaging has in terms of impact and amplifying a brand's presence.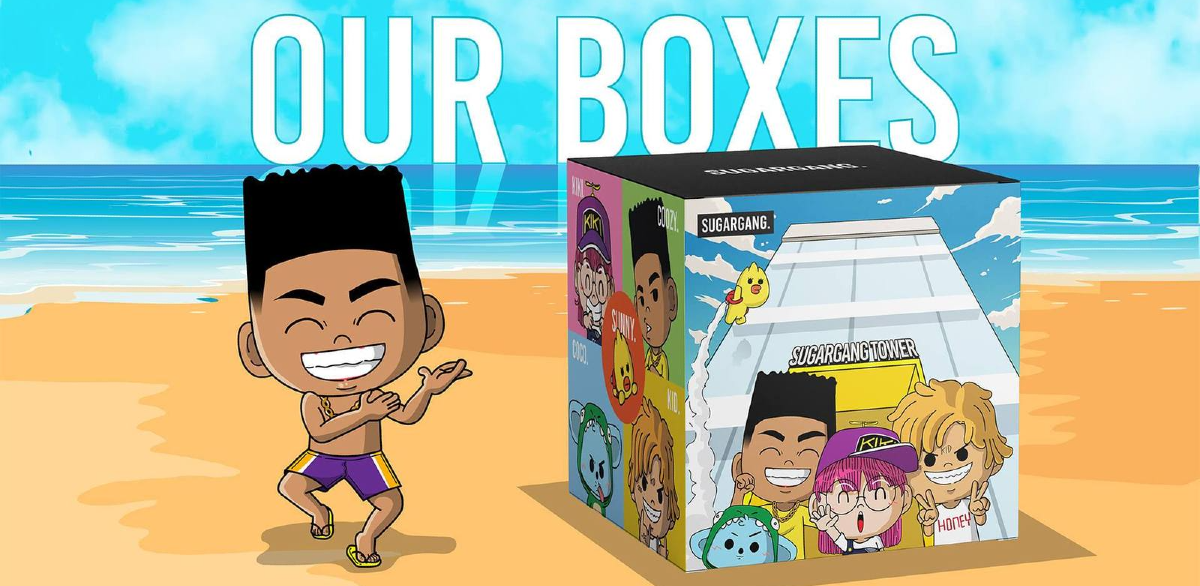 With the packaging on-brand, it was now a matter of getting as many eyes on the sweet, colorful candy boxes as possible. From the start, Sugargang focused on co-ops with influencers popular among younger target audiences. "The first big deal was with German-Russian rapper and video producer Mois (1M followers on Instagram and 1.9M on Youtube) and came about by simply cold-calling him," says Balbegi. "He was excited about working with us, so we sent him a couple of boxes and he churned out a video immediately." The video, released in November 2019, shows Mois and another German rapper, Sinan-G (~ 350K followers on Instagram, ~220K on Youtube) unboxing the sweets and drinks, and sampling them. The video has been seen over 1M times since. "That was the start. Ever since, business has been good," says Balbegi.
Inspired by the success of the Mois campaign, more co-ops with other German influencers followed, including one in August 2020 with influencer Julienco (4M followers on YouTube), whose unboxing video has views on the cusp of 1M. Much in the way that kicks and thread get love in hip-hop videos stateside, the German rap scene has shown a lot of love to Sugardad, with shoutouts in various tracks by the "Alles oder Nix Records" crew, by Xatar and in SSIO's hit track , which has been seen over 8 million times. "Aledin Atalan was instrumental in getting our marketing in hip-hop off the ground," says Balbegi. "That includes our now excellent relationship with Xatar's label." Paid campaigns then followed with hip-hop publisher Backspin and hip-hop gossip YouTube channel "Mr. Rap" (link in German).
Tired: Performance Marketing, Wired: Influencers
Is it then reductive to view Sugardad as an influencer-driven brand? "We tried out classic ads on social and other performance marketing measures," says Balbegi. "I wanted to try focussing all of our marketing on influencer campaigns. We did that for about a year and then influencers began contacting us." That's one explanation for how Sugardad landed its co-op with Germany's most-successful gaming streamer Marcel "Montana Black" Eris, who just reached 4M subscribers on twitch.
For the past 6 months or so, Eris has listed Sugargang as an official partner in some of the videos of his streams that he uploads to YouTube. The Sugargang plugs also include an exclusive rebate code—certainly not irrelevant given Enis' reach, relevance and reputation for authenticity. 11 of his videos uploaded to YouTube in the past few months have generated roughly 16M views, another 5 million views come from the "Richtiger Kevin" highlight channel (1.55 million subscribers)—and that's before you consider that live-streams on Twitch do not factor into the equation. "Montana Black has become a strong partner who helps us immensely. And the exclusive rebate code for his community is used frequently," says Balbegi. In a recent Instagram post, the company went as far as polling the community if they'd be interested in a special Montana Black edition. 
A Dad becomes the Gang
A few months ago, Balbegi pivoted away from the Sugardad name and to Sugargang. "In late 2020, there was an issue with the direction the company was taking, which caused some internal strife," says Balbegi. "We had many a long discussion and the plan was to continue with both Sugardad and Sugargang. My partner Ismael was originally going to stay onboard and oversee the Sugardad operations, but he ended up leaving completely. Both brands now run parallel to each other." Although Sugardad is still listed on the IA International page as a brand and its Instagram account, with 121,000 followers, is still live, the focus is on Sugargang. On Instagram, Sugargang already has 176,000 subscribers, thus eclipsing the older brand.
On the whole, things seem to be going well for IA International GmbH in terms of growth. Balbegi says that IA grew by 1200% within a year, which did create some additional challenges for the company. "We wanted to maximize the uptick in growth, but we did not have the time to restructure. Frankly, the growth was too fast and we are not set up soundly." In early July, the first Sugargang store opened in Hannover. Balbegi says that there are 120 people employed, 70% of which are full-time members of staff with the rest consisting of students and apprentices. The average age of the employees is roughly 24.
60 to 70% of company revenue comes from the B2C brands Sugardad and Sugargang, with the rest coming from the B2B brand "Candybrands," which supplies supermarkets with sweets. "In 2020, we generated a total of EUR 10M. Prior to taxes, we have a surplus of about 7 to 10%," says Balbegi. "We want and are going to top that figure this year."
Competition heats up
Adrian Balbegi is of course well aware that IA International and Sugargang/Sugardad are active in a competitive market (link in German). House of Sweets and World of Sweets, for example, are two competitors who are active in his direct niche. "House of Sweets focuses more on hip-hop marketing and rappers than on influencers. They are also starting to venture out into the B2B segment—but are doing so without any storytelling," says Balbegi. As for World of Sweets, Balbegi says that they supply them with a portion of their products.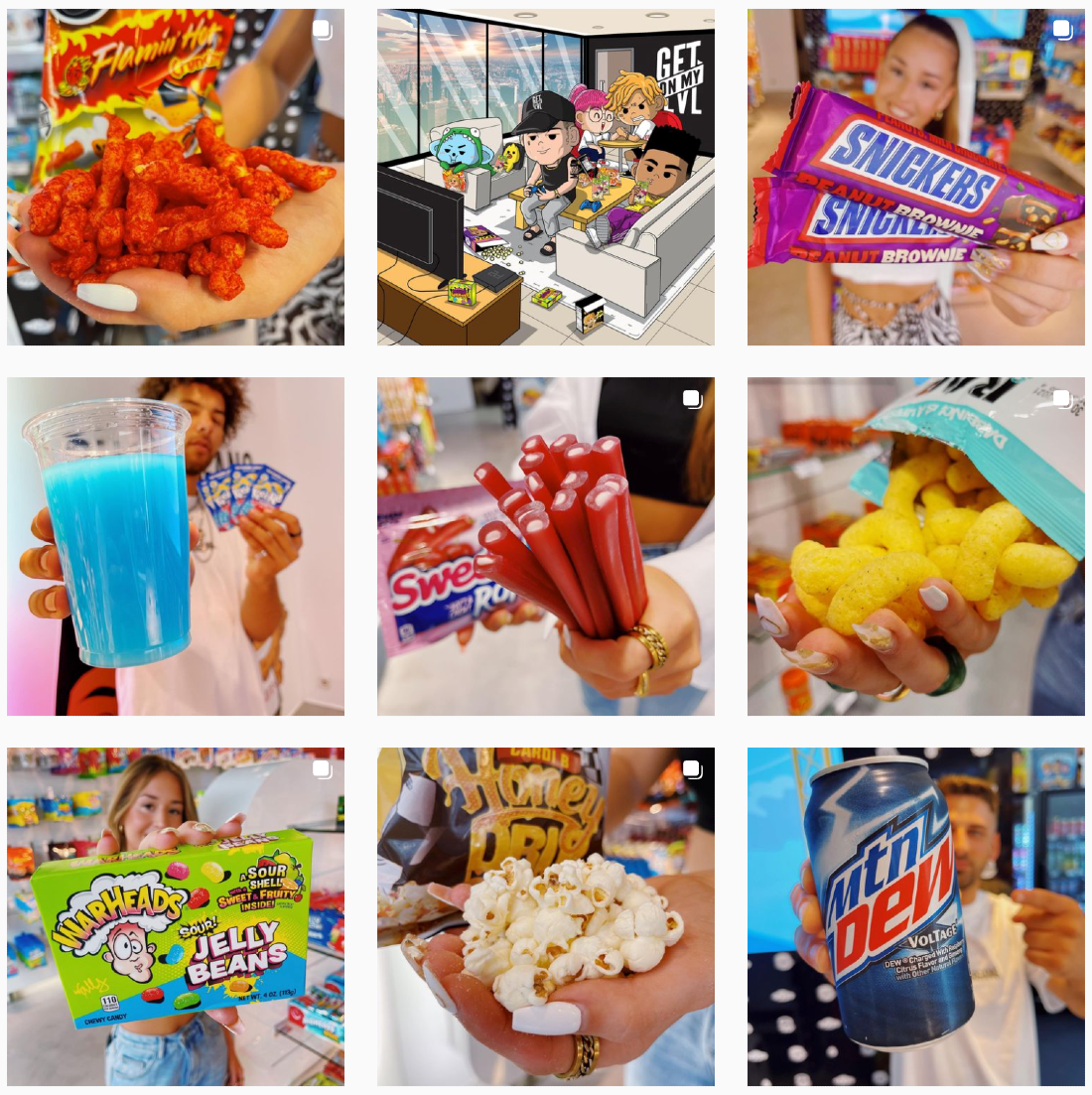 The current candy hype is akin to the recent boom in burger joints in Europe. But Balbegi is unfazed. "My dream is to release several products with Sugargang onto the market. We have created the five characters for just that purpose. They are evolving and could have their own line of products in various areas, including merchandise. The style has a Japanese touch, some anime pizazz and bit of USA to them." 
It remains to be seen if the created characters can deliver the same impact as top influencers and competition from the creator economy. But Balbegi is bullish. "I am convinced that our own products, when they are complete, will be viable and competitive. We won't be able to keep up with the mega boom of the upper echelon of creators. But our focus will be on the product and releasing products that are unique to the market." But Balbegi himself, who owns 70% of the company (the other 30% split between two partners) has no intention of stepping out into the limelight. "I want to do my thing without any distractions and have no interest in building a personal brand."