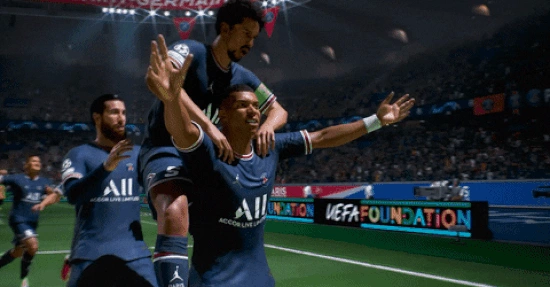 The international governing body of association football (FIFA) and video game developer Electronic Arts (EA) parted ways after a nearly 30-year partnership. With "FIFA 23," the final installment of the wildly popular video game, hitting the market last fall, EA is taking on a new challenge, forgoing the certainty of billions annually with the "FIFA" series and taking aim at earning more from its own game in the future. Today, OMR takes a closer look at the market dynamics shortly before the new game, EA Sports FC 24, and breaks down some of the marketing tactics employed by the soccer sim.
Infantino bullish
FIFA President Gianni Infantino is not known for his restraint. That was on full display in May 2022, shortly after news broke that FIFA and EA Sports had ended their partnership and would be competitors moving forward. " I can assure you that the only authentic, real game that has the FIFA name will be the best one available for gamers and football fans," Infantino said with his usual self-confidence at the time.
Bigger than FIFA?
By securing the FIFA license, EA had exclusive usage rights to the name, logo and a World Cup competition within the game's previous releases. Recently, however, it has become more and more of a point of contention. Moving forward, the FIFA franchise will no longer be called as such, but EA Sports FC. All things considered, it should be a manageable setback. According to the New York Times, the reason EA decided to move on was FIFA's plans to raise its licensing fee to USD 2.5b for the next decade.
That prompted EA CEO Andrew Wilson, a brash man in his own right, to tell employees, "We've looked to the future we want to grow the franchise, and ironically the FIFA licence has actually been an impediment to that." Wilson has been on the attack recently and aims to lead the world's most popular soccer game into a new era. EA does have the most important factors going for it, but there has always been criticism.
Only FIFA's been dropped
While FIFA is out, the fans of the EA game will still have all the actual names of clubs, players and competitions. The licenses, some of which are valid for several years, were already signed and sealed by EA before the separation from FIFA was announced. These deals include licenses with top European leagues, such as the Bundesliga, Serie A, La Liga and the Premier League, as well as with the UEFA Champions League.
And these can cost a pretty penny in their own right. To use the rights to England's Premier League, EA shelled out EUR 90m. The exclusive contract was concluded at the beginning of 2023 is valid for six years, according to Sky Sports. For the 2021/22 season, the German Football League, the body behind the Bundesliga, also extended its long-term license agreement with EA. In total, the licenses purchased by EA Sports comprises around 700 teams, 19,000 players, over 100 stadiums and more than 30 leagues.
7.4 billion US dollar turnover
In a vacuum, the price for acquiring league, player and competition rights seems high. In relation to EA's balance sheets, not so much. According to Fortune magazine, EA has earned over USD 20b in revenue from the "FIFA" series in the past 30 years. In 2023, EA's annual revenue for all of its games is approx. USD 7.4b—nearly double what it had a decade ago (USD 3.8b in 2013). In the end, EA had a net profit of USD 802m the past fiscal year.
The current—and last—"FIFA" edition is, according to EA's annual earnings report, doing very well. In the first six months after its release, "FIFA 23" has already generated the same total revenue that its predecessor "FIFA 22" did; it's therefore the most-successful game in the 30-year history of the partnership.
Billions in revenue from in-game purchases
Things really get interesting when taking a closer look at the type of sales. Only about a quarter (USD 1.9b) comes from game sales. Depending on the end device, "FIFA 23" costs around 60 to 70 euros. The other three quarters (USD 5.5b) of EA's total revenue are generated by the "Live Services" division, according to the annual report. This in turn includes a proportion of in-game purchases by users.
Ultimate Team as the ultimate cash cow
The USD 5.5b that "Live Services" generated is not exclusively from "FIFA 23," but also includes other EA games such as "Star Wars Jedi: Survivor" or "Apex Legends." Nevertheless, the share of in-game revenues with respect to total revenues within FIFA has been growing continuously for years. And this is due to a special game mode called FIFA Ultimate Team (FUT).
In the FUT mode, players can put together their own squad by buying so-called "FUT packs" with different players for their team—similar to the sticker packs for Panini albums. This is done using the in-game currency "FIFA Points," which players can purchase for real money or alternatively increase by playing in an extremely time-consuming way.

EA is not saying exactly how much revenue FUT generates. Market insiders estimate that around one third of EA's total sales come from the Ultimate Team mode across all its sports franchises, which include "FIFA" series as well as "Madden NFL." According to that estimate, FUT mode would net EA north of USD 1.5b a year in revenue.
Millions in fines and a FUT ban
While those sales figures are impressive, it's not all rosy. FUT mode is regularly the target of criticism. For starters, EA has been dogged by allegations that the format amounts to nothing short of gambling. As such, EA Sports has the threats of million-dollar fine looming, as well as an outright ban on the game mode in the EU after a court ruling in the Netherlands. In addition, Germany's equivalent of the ESRB, the USK, has slapped an age rating of 12 on FIFA 23 for the first time—partly due to the aforementioned FUT Packs.
Another source of criticism among fans is the fact that EA Sports launches a new retail version of the game every year. In order to participate in FUT Mode, gamers are required to buy the latest edition of the FIFA series and start over with their FUT squad. The purchased FUT packs from the previous year are not carried over, but remain siloed in the old version.
This fact marks a huge difference from the MO in other gaming titles, such as League of Legends. First, LoL is "free-to-play," i.e. available free of charge. Secondly, the publisher Riot Games continuously updates the respective version of the game via so-called patches. The positive consequence for players is that their in-game purchases for various items and skins are good for life. Moreover, they do not increase the performance of the game characters, but are purely aesthetic in nature. Nevertheless, Riot Games also rakes in billions every year through this type of in-game purchases in League of Legends. 
Pros need to pay up, too
The "pay-to-win" mechanism fueled by the FUT mode also causes frustration even for many esports players who make money by playing "FIFA." They, too, have to stock up on FUT packs at the beginning of every season, potentially for a lot of money, if they want to get a competitive squad together as quickly as possible in order to keep up with the international elite. According to OMR sources, the low end of investment by professionals is between EUR 2500 to 5000, with some ponying up over EUR 10k.
From afar, EA Sports seems to be unmoved by the criticism. On its website, EA broaches the subject in broad terms: "Purchasing FUT Packs is always optional. In fact, nine in ten FUT Packs are opened through in-game play and more than three-quarters of FIFA 21 players have never spent in-game. Spending is always optional, and most players choose not to spend: Over three quarters of players have never spent in-game. Nine out of ten packs are opened with in-game points earned in the game." If EA Sports did have any interest in reshaping Ultimate Team mode moving forward it would be to its own financial detriment.
All love and hate for FIFA
No discussion of criticism facing EA's "FIFA" would be complete without mentioning what has left many gamers unnerved for years: BUGS. During gameplay there are some major errors that are as prevalent as they as are serious: the server capacity regularly reaches its limits, while the AI-controlled teammates and opponents are infamous for going haywire much to the dismay of players. "There is no other game that is as much associated with joy as it is agony among its community as 'FIFA,' according to Esports expert and host Konni Winkler.
And yet EA Sports is the undisputed market leader among soccer games. One reason is that there is hardly any serious competition. Konami's Pro Evolution Soccer (PES) was extremely popular in the early to mid-2000s, but has more or less subbed itself off after a change in strategy and rebranding as eFootball. And market experts don't tap new challengers, like Goals and UFL, to set up and give FIFA a game.
For EA competitors, the likelihood of success depends on their strategic focus. "A similar game based on real soccer with better gameplay alone is not enough to knock EA off its pedestal," says Winkler. Other publishers would need "a perfect mix of a special game mode, equivalent licenses for available clubs, leagues and players and low-threshold, at best free access."
So what's next for the soccer games after the FIFA and EA Sports split? 
FIFA's mum
FIFA has been uncharacteristically silent on the matter. Save Infantino's obdurate barbs mentioned earlier, little has been heard from FIFA. All that is really clear is the obvious fact that FIFA owns the FIFA name.
In May 2022, FIFA released a press release stating that is working "with leading publishers, media companies and investors from the gaming sector on the development of a new major FIFA soccer simulation game for 2024." The fact that FIFA is working with the renowned game developer 2K on its own game has, as yet, not advanced beyond a rumor.
EA kicks its marketing into high gear
The favorable market dynamic is taking some of the pressure off EA to perform from the get-go. Nevertheless, the U.S. company has been getting stuck in with its marketing and digital communication for several months in the lead-up to the release of "EA SPORTS FC 24" on September 29, 2023.
On the one hand, EA is currently investing in brand marketing in order to burn the new name of the franchise into people's minds post-FIFA era. EA is buying extensive advertising rights from real-life soccer clubs and leagues. In Germany, for example, EA Sports FC is partnering with Borussia Dortmund—to the likely tune of EUR 3m per year. In return, EA Sports generates permanent brand visibility in front of an audience of millions on TVs and digital devices at Dortmund's home matches via perimeter advertising in the stadium.
In Spain, EA Sports is reaching deeper into its proverbial pockets to be an official sponsor of La Liga. Starting this year, Spain's top soccer league will be called La Liga EA Sports FC for the five seasons. EA's gaming technology Hypermotion will headline the second division during the same time. According to Spanish media reports, EA Sports will pay EUR 30m per season for the naming rights, giving the deal a total value of EUR 150m.
PR Offensive 
On April 6, 2023, EA unveiled a new brand vision, identity and ultimately a new logo under the EA Sports FC umbrella brand. Hundreds of partner leagues, teams, brands and athletes ended up sharing the EA SPORTS FC logo on their own very popular social platforms. Among them around the globe include David Beckham and Argentine club Boca Juniors.
Through this concerted release via Twitter, Instagram, etc., EA Sports FC has probably already generated at least a nine-figure reach. Tiktok is a good gauge at the anticipation fans are feeling for the new title. Videos with the hashtag #easportsfc have almost a billion views. And putting Erling Haaland, Norway and Man City's star striker with a long blond mane, is probably not the worst idea either. His tweet alone has been seen nearly seven million times. 
Streamers bring PR and deep pockets
In the past few years, a streaming scene of its own has developed around "FIFA." For many of the streamers, it is the controversial in-game purchases of FUT packs that all but guarantee eyeballs. For years, so-called "pack openings" have attracted the attention of hundreds of thousands of followers. In principle, nothing better can happen to EA than this mass form of content by third parties.
And it gets even better from EA's point of view. Some of the streamers spend outrageous sums of money to buy the FUT packs for their shows. After "FIFA 22" was released, esports.com surveyed streamers on how much money they've invested in packs. In our home market of Germany, figures among major streamers ranger from EUR 30k to 95k in one year by a single streamer. Particularly coveted are rare cards from top players, which EA offers in the specially created categories Team Of The Season (TOTS) and Team of the Year (TOTY). 
EA expects billion-dollar profits
When asked by OMR, EA declined to comment on both the business model and the product strategy for "EA FC 24". But shortly before the release of the first EA game post FIFA, it doesn't appear that EA is banking on losses of any kind. Depending on the player and edition, the new game "EA FC 24" will set you back between EUR 69.99 and EUR 109.99.
The split from FIFA also gives EA Sports new freedom in marketing, as evinced by the recent cooperation with the Nike. Due to existing partnerships, like FIFA's with adidas, EA Sports had previously been severely restricted in its choice of partners. From now on, PepsiCo will also be involved in the "EA FC 24" title via in-game advertising, among other things. This position was previously allocated to Coca-cola as it was a FIFA partner. For the new business year, EA calculates has bullishly set a revenue target of between USD 7.3 b to USD 7.7b and profits between USD 915m and USD 1.055b.