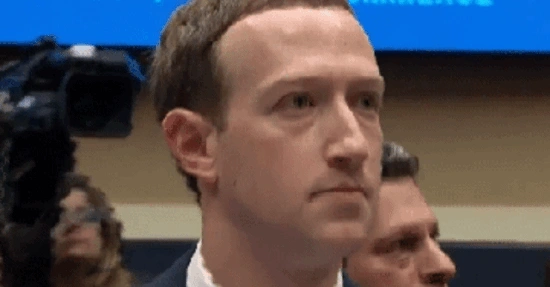 Earlier this month, Facebook bought Giphy. It's not the first time Facebook has snatched up a company that while frequently and widely used is not exactly a revenue-generating machine. The newly acquired GIF-platform was already heavily embedded in the Facebook family of apps and now it's integration is supposed to be taken even further. But is that the sole reason for the takeover?
Facebook ponied up USD 400m for Giphy, Axios reported and Facebook confirmed the move (although not the ticket price) soon after: "GIPHY makes everyday conversations more entertaining, and so we plan to further integrate their GIF library into Instagram and our other apps so that people can find just the right way to express themselves," wrote Vishal Shah, VP of Product for Instagram, in a company blog post. "We know that bringing the GIPHY team's creativity and talent together with ours will only accelerate how people use visual communication to connect with each other."
25 percent of Giphy's traffic comes via Instagram
Giphy was already well established on Instagram; searching for GIFs and "stickers" in Instagram's story camera means receiving results from Giphy—something that Instagram users are wont to do: "50% of GIPHY's traffic comes from the Facebook family of apps, half of that from Instagram alone, wrote Shah. GIF creators, whose uploaded picture files land at the top of the GIF tab in Instagram can receive millions of impressions overnight.
While GIFs were, initially, a vestige of the tasteless early days of internet design, their quality and popularity have taken off in the past decade, cementing themselves firmly into online culture and communication. Google Trends says that since June 2015, more GIF searches are made than searches for Jesus.

Giphy says it's search engine number two
Giphy is the most-used GIF library online. According to its About page the company delivers "10+ billion pieces of GIPHY content to a daily user reach of 700+ million people." Founder and CEO Alex Chung said in October 2019 that they are the second largest search engine after Google and service nearly 1 billion users a day.

Google snatched up Giphy competitor Tenor back in March 2018. At the time, Tenor said, "we passed 300 million users in 2017, and earlier this year we passed 12 billion search requests per month." Those same figures can still be found on the Tenor About page today. Even though it would seem that the figures would have to have risen significantly since then, given the fact that Tenor is integrated into Google's keyboard app Gboard, which is pre-installed on a number of Android phones.
Why the GIFcuisition?
The third relevant player in the GIF game is Gfycat. The last user figures they released stem from April 2018 and put MAUs at 180 million users, as CEO Richard Rabbat told Techcrunch at the time.
It's not entirely surprising then that Facebook would want to acquire the biggest player on the market when you take the overall popularity of GIFs into consideration as well as the face that Giphy is already integrated into Facebook's platforms. If another company beat Facebook to the punch that very well could have meant Facebook no longer being able to offer GIFs at the same extent and with the same usability as it does now. But is that really the only reason Facebook would have to gif their hands on the platform?
Follow the tracks
Well-known players in the US tech and VC scenes see other motives. "There are two reasons Facebook buys a consumer company. Eyeballs or data," tweeted Techcrunch Editor-in-Chief Matthew Panzarino in response to the deal. John Gruber, whose "Daring Fireball" blog has made him one of the better known Apple bloggers in the world, expanded upon that Tweet saying that the deal targets "all the messaging apps that don't offer Facebook integration for security/privacy reasons, Now Facebook has tracking pixels in, e.g. Apple's Messages.
To fully appreciate what Gruber is saying, you need to realize that Giphy's GIF search is typically integrated into many other platforms and apps. Giphy invites third-party developers to integrate their GIF library via an API, an application programming interface, or an SDK (Software Development Kit, so that the service can be better integrated and configured in another app.
Is Giphy Facebook's trojan horse?
Facebook has said "developers and API partners will continue to have the same access to GIPHY's API" and the Giphy team shared a similar sentiment on the deal as well. Both parties would seem to be quick to assuage any fears developers may have that Facebook intends to limit access to the Giphy library.
Several representatives in the US tech scene believe that the exact opposite is what makes Giphy so attractive to Facebook, i.e. accessing users through 3rd-party apps. "That this has now become even more important than ever, a brief reminder that Giphy's SDK for developers requires access to the tracking ID of every device," wrote Dominik Hofmann, founder of social video app Byte and of Vine, once acquired and now discontinued, after the deal was announced in a now-deleted tweet. He then responded to a user request for context on the (now deleted) tweet saying "Facebook can now better track you and competitors."
Giphy's standard SDK is embedded in 587 Android apps
The device ID that Hofmann is referring to is a unique number given to every smartphone and tablet. As the Facebook "family of apps" (which includes Instagram and WhatsApp) provides the mother company with an enormous amount of users, personal names and device IDs, it's at least theoretically possible to find them again through Giphy's SDK in other apps.
An analysis made exclusively for OMR by app intelligent service provider 42 Matters shows that the standard Giphy SDK is embedded in 587 android apps, including many camera and dating apps, but also surprisingly in Paypal as well. In Apple's iOS universe, the Giphy SDK has been integrated into 91 apps according to 42 Matters, including the iOS Paypal app, video editing app Unfold and in Dominik Hofmann's social video app Byte.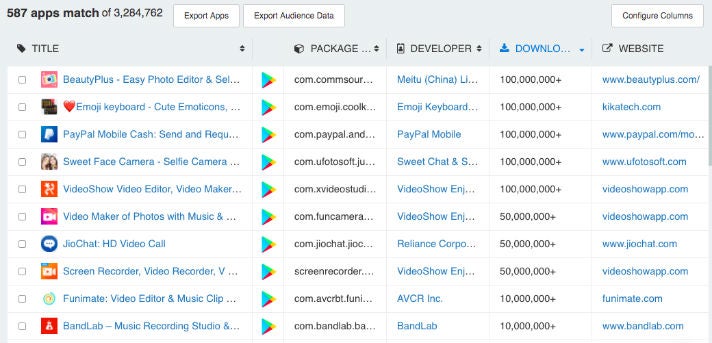 Major social apps among official Giphy partners
What the list does not include, however, are the major social apps like Tiktok, Snap and Twitter—despite the fact that these apps have Giphy integrated into them. "We can see if an app has integrated the (standard) Giphy SDK, but I guess, as you mentioned, that companies like TikTok and Twitter do the integration in a deeper (and server-side controlled) way," says 42-Matters founder and CEO Andrea Girardello. "For example, we checked Twitter manually and they implement in their own way, calling their servers and communicating over JSON." Girardello says that such custom implementations are very hard to detect, if at all possible.
We are in all of the messaging apps, in Snap, Instagram and WhatsApp", said Giphy founder and CEO Chung speaking at a conference in 2018 (The partnership with and integration in Tiktok was announced in August 2019). "We are a superset of all of these companies, because we are embedded in every one of those apps. We can pretty much hit everyone on the internet."
"Question: if you were a messaging app like Slack or iMessage or Twitter or Signal, and had Giphy integrated, are you as happy with that usage data going to Facebook as you were when it just went to Giphy?," asked Josh Elman from prestigious Silicon Valley VC firm Greylock Partners on Twitter after the deal was announced. Greylock has had holdings in Facebook; currently, they have shares in messenger app Discord.
Signal and Telegram refuse to transfer data to Giphy
There have been several messaging apps with Giphy integration who have officially stated that they will not be providing Facebook with any data in response to the deal. Telegram, for example, responded to a Twitter question saying "On Telegram, Giphy only sees your search term. None of your data is shared, and it doesn't know who you are.".
Signal also took to Twitter to reiterate that "GIF searches in Signal have been protected by a privacy-preserving proxy from the very beginning. The Giphy SDK isn't included in the app at all." Greylock's Elman tweeted in response: "You still can see usage data, though not on an individual basis."
Also Zoom, the virtual meeting app, whose profile and usage have skyrocketed during the corona pandemic, has removed Giphy Integration temporarily. On its company blog, Zoom stated that "to ensure strong privacy protection for users, we've temporarily removed the GIPHY integration in Zoom Chat. Once additional technical and security measures have been deployed, we will re-enable the feature." It's newsworthy as is on the surface, but even more interesting when you consider that Zoom's current security consultant, Alex Stamos, was Facebook's Chief Security Officer from 2015 to 2018.
Is Facebook trying to spy on the competition?
And that is apparently the biggest fear among a variety of competitors given Facebook's track record of employing dubious means to spy on the competition to either then acquire them or blatantly copy their most successful features.
In 2013 Facebook acquired Isreal-based mobile analytics company Onavo, which provided a VPN app that permitted users to send their data via a third-party server. That should provide more security and privacy, but as the Wall Street Journal first reported in 2017 (Paywall) monitored and analyzed the entire network traffic, finding out which apps and features were particularly popular among users, who were completely unaware that it was taking place.
Onavo identified WhatsApp as takeover target
Using the insights gained through Onavo, Facebook is rumored to have decided to acquire WhatsApp, for example. Confidential Facebook documents, published by the British authorities in 2018, show that Facebook used Onavo to find out that US users sent considerably more messages on WhatsApp than on the Facebook product Facebook Messenger.
Facebook is also said to have used Onavo to track Snapchat's performance. After Snapchat declined Facebook's USD 3 billion takeover offer, Facebook simply copied the Snapchat stories feature for Instagram.
Antitrust authorities skeptical of Onavo
There is also another Instagram feature that may be based on insights gained through Onavo: Boomerangs, the mini-clips that loop back and forth (similar to GIFs). Startup Phhhoto developed a similar feature in 2014 and the app had 10 million users at its peak—before it was copied by Instagram. In 2017, Phhhoto shut down.
In February 2019, Facebook finally removed Onavo from app stores  after repeated criticism. Nevertheless, antitrust authorities in the USA and in Europe continue to examine Onavo's role.
US senators criticize the Giphy deal
The Giphy acquisition did manage to do something that few issues in US politics can: generate bipartisan unity. A group of both Republican and Democratic senators have criticized the deal citing antitrust concerns, as the Verge reported The group included Republican senator Josh Hawley, as well as Democratic senators Amy Klobuchar and Elizabeth Warren, both of whom recently ran for President.
Instagram CEO Adam Mosseri defended the deal to Axios, denying that data acquisition was the catalyst for the deal saying, "The most interesting thing to me is how quickly some people jump to data always, which is a reminder of how important privacy is and how often we oversimplify things." Mosseri went on to say that the primary motivations for the deal were to keep the platform running, the creator ecosystem and insights into which GIFs are trending.