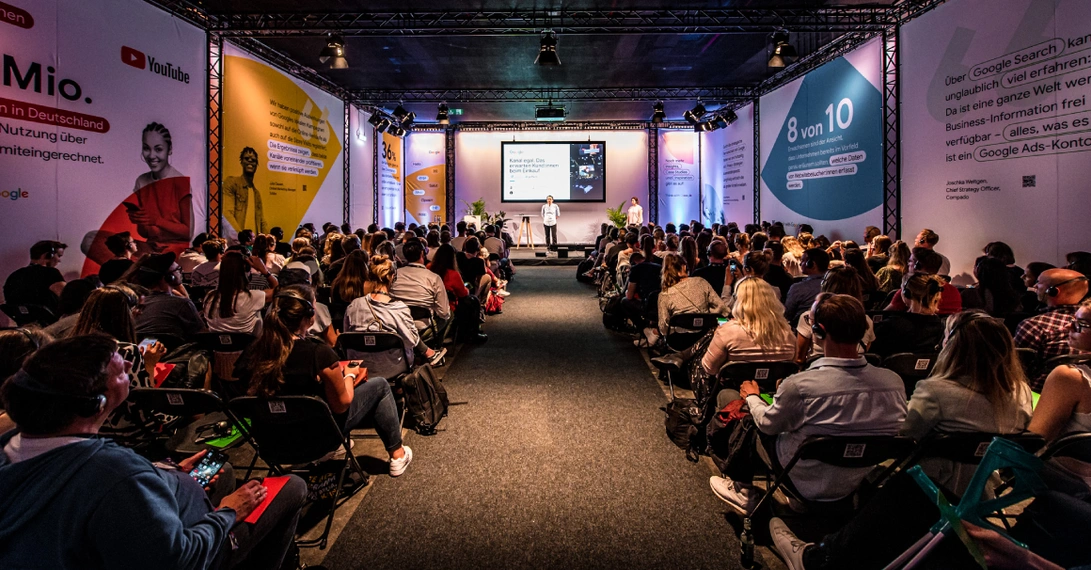 The application phase for Masterclasses, Guided Tours and Side Events is in full swing. In 90-minute deep-dive seminars, Masterclasses are one of the most-popular content formats at the OMR Festival delivering punchy insights and inspiration on a slew of current marketing topics. This year, we have a total of 240 Masterclasses. You have time to apply through April 26. Here's a look at a few Masterclasses to help you narrow down your selection.
On May 9 and 10, the OMR Festival 2023 will once again take place at the Hamburg Exhibition Center. A few hard facts about OMR23: We are expecting approximately 70,000 attendees, have north of 800 speakers and more than 1000 exhibitors and partners confirmed to attend. Expect to see our stages full of content on both days, Masterclasses, Guided Tours and Side Events teeming with all you busy marketing gals and guys. Click here for a list of confirmed speakers , or here for a list of exhibitors.
Wanna attend OMR Festival 2023? Then get your ticket now!

Here's how to apply for Masterclasses and Guided Tours
There are two steps you need to complete to apply for Masterclasses, Guided Tours and Side Events. First you need to secure a ticket for the OMR Festival here (with the Festival Pass one Masterclass, Guided Tour or Side Event is guaranteed). The ticket must be linked to your myOMR account. To do so, check myOMR—located to the upper right on omr.com—to see if your OMR23 ticket is displayed. FYI: You must log in with the account you used to purchase your ticket. Once you've taken care of that, it's time to move on to step two: the application. To do this, select the desired seminars, tours or events in the Masterclass, Guided Tours or Side Events timetable. Make sure that they do not overlap in time.
Go to the application tool for the Masterclasses, Guided Tours and Side Events, which you can find here. Here you can apply to a maximum of six combined spots per person for the Masterclasses, Guided Tours or Side Events. The application period runs from April 12 to April 26, 2023, so you have plenty of time to decide. It's not first come, first serve, as spots are awarded randomly. On May 3, you will receive an email with your assigned Masterclasses, Guided Tours and Side Events. All you then have to do at the Festival is simply go to the appropriate Masterclass track, to Guided Tours stand or to the location of the Side Event. You will find detailed information about the who, what, where and when in your confirmation email.
Now let's get to the content:
How audio engagement gets under your skin – and into your ads
Tuesday, May 9, 10:45 AM to 12:15 PM

Join us to discover Sonic Science – our Spotify research that takes a deep look at audio. You'll learn how digital audio impacts our bodies and minds throughout the day, and how that engagement transfers to audio ads. Hear all about what this means for brands and explore best practices that will boost your results. Click here to learn more.
The New Era of Audiencing with Decathlon
Tuesday, May 9, 10:30 AM to 12:00 PM 

The way most online brands segment their audiences often proves inefficient and hard to act on. Two humans of the same age with similar income and locations might have drastically different habits and routines which leads to wildly different consumer behavior. After all, it is not our attributes that define us, but our behavior. In her Talk during a recent CX Circle event in London, Zoe Allen, the CRO & Personalization Lead from Decathlon UK, explains her vision with audiences and shares best practices when it comes to behavior-based targeting as a part of her team's personalization strategy. Click here to learn more.
A new Era of AI – how to drive innovation and boost your business performance with Google Cloud solutions
Tuesday, May 9, 10:45 AM to 12:15 PM

Day of a business professional is packed, abilty to extract actionable insights from data and make sustainable business decisions is crucial for success and growth. In the Masterclass Google Cloud experts will deep dive into the best in class tools to optimise your day to day operations, leaving routine tasks to machines, connect data sources seamlessly, benefit from AI driven and enriched insights and boost creativity and performance of individuals as well as teams. Click here to learn more.
The Power of Contextual: How Diageo leverages Contextual Strategies and Creatives to drive attention to the Belsazar brand
Tuesday, May 9, 10:30 AM to 12:00 PM

Contextual is changing the advertising game. Seedtag has been able to leverage its leading contextual capabilities to allow Diageo to rise to the challenge of successfully launching its Belsazar brand in Germany. In this Masterclass, we will show you:- How brands can leverage the synergy between creativity and technology- How high-quality creatives can improve campaign performance while respecting consumer privacy- How data is essential for driving improved campaign results- The importance of measurement and attention throughout a campaign. Click here to learn more.
OBI at the forefront of the data-driven revolution in DIY retail
Tuesday, May 9, 10:30 AM to 12:00 PM

"Hey Siri … I mean: heyOBI, when do I need to cut back cherry trees?" Well, who else to ask for advice, when all you want is a cosy home & joyful garden? That's right: OBI! Because OBI is just revolutionizing the digital DIY-experience. John Krieger (Director heyOBI) & Dr. Max Backhaus (Head of CRM OBI next) together with Manuel Toenz & Nils Weber from Bloomreach x Valantic explain why the digital retail is not doomed yet, to remain forever a secondary after the internets top dogs like Apple & Google, but how focusing on data such as the Customer Lifetime Value will change the (DIY-) retail business models once and for all to keep up the pace in the digital race. Click here to learn more.
How to turn your digital advertising climate and nature positive
Tuesday, May 9, 10:45 AM to 12:15 PM

Did you know that every ad impression emits on average 1g of CO2? If you put it into perspective, an ad campaign with 1 million impressions causes as many emissions as a round-trip flight from Hamburg to New York. In total, studies estimate that the digital advertising industry is responsible for 2 – 3.5% of global emissions. As consumers are becoming increasingly aware of their own footprint, it is now more important than ever, that companies take action to decarbonize their digital advertising. Join our Masterclass to learn more about:
The climate impact of the digital advertising industry.

How nature-based solution can compensate for unavoidable scope 3 emissions.

How you can achieve a biodiversity and social impact at the same time.
Get (sh)it done smartly! Rethink what you know about affiliate marketing: The 3 new models for effective performance
Tuesday, May 9, 10:45 AM to 12:15 PM

Learn which three new performance-based marketing models will help you overcome the primary industry challenges: Increasing competitive pressure, complex customer journeys, rising relevance of gen Z, etc. Claudia Batschi-Rota (Regional Managing Director DACH at Tradedoubler) and Matthias Stadelmeyer (CEO at Tradedoubler), will dissect core challenges in eCommerce to teach opposing solutions that grow your business. She will focus on the growth areas of user-generated content, customer acquisition, and content to commerce to prepare you for the future of performance marketing. Claudia and Matthias will be accompanied by industry experts showing you live examples and actionable strategies you can start with right away. Click here to learn more.
"From Mountain Tops to Online Shops" – Exploring Sustainability in E-commerce with Tradebyte and Mammut
Tuesday, May 9, 10:45 AM to 12:15 PM

In a world where consumer behavior and environmental impact are intertwined, it is important to explore how eCommerce and outdoor brands can collaborate to create a sustainable future. Or at least try to pioneer the way to a more circular and responsible thinking about fashion in general. But how does the business capitalize from this transition? Find out the chances and challenges with Steffen Hack from Tradebyte and Pia-Maria Laux from Mammut. Click here to learn more.
How three brands are using partner marketing to grow their own way
Tuesday 12:30 PM – 2:00 PM

With digital ad spend monopolized by just a few gatekeeper platforms, many brands today lack control over their marketing. But affiliate partnerships provide a unique way of driving growth tailored to your business goals. In this session with Awin's CCO, you'll hear directly from three brands using partner marketing to do just that. From generating brand awareness and new customer acquisition to optimizing CX and forging brand loyalty. Today's affiliate partnerships are helping businesses of every kind grow their own way.
Click here to learn more.
The medias touch – turning traditional industry into digital gold
Tuesday 12:45 PM – 2:15 PM

If you never imagined the words "industrial products", "bearing" and "sexy" could fit into the same sentence, prepare to be surprised. Join Schaeffler and Deloitte as they look back at the growing-up journey of medias, a truly innovative B2B commerce platform that has now reached its rowdy teenager phase and is constantly revealing new ways to optimize value streams.
Click here to learn more.
Creativity on TikTok: How to be Strategic about your Creativity
Tuesday 12:45 PM – 2:15 PM

Keeping attention is arguable harder than getting attention with creativity, however, it's vital to build brand salience and stay top of mind long-term. This Masterclass from TikTok will guide you on how to strategically use the superpower creativity on our platform to drive growth. We'll answer questions like: 1. As communities play a bigger part in people's lives and become a tenet in modern marketing, how can brands navigate this evolving landscape on TikTok? 2. How can brands adapt and scale creativity in an efficient and effective way? 3. What can we learn from unique and innovative TikTok creatives from brands that have won on our platform?
Click here to learn more.
The Future of Beauty is Physical, Digital and Virtual
Tuesday 12:45 PM – 2:15 PM

We believe that the future of beauty lies at the intersection of Science and Tech. For us, beauty and technology are inextricably linked. In our master class we will show you our Innovation concept of Beauty Tech, that allows us to make beauty ever more personal, responsible and inclusive. We share how we work with technology like AI and AR and data today and tomorrow, what challenges we face and how we use Tech to create a comprehensive customer experience for our customers. We will showcase latest technologies and share our perspective on the next evolution stage of the digital transformation with Web3 and Metaverse. Join us!
Click here to learn more.
Exploring the Power of Customer Data Platforms: Live Demo of CDP Use Cases by Zeotap and Digitl Cloud
Tuesday 2:30 PM – 4:00 PM

Join our Masterclass to explore a leading customer data platform's UX. We'll demonstrate how easy it is to implement use cases, share best practices and explain how a CDP fits into existing tech stacks. Witness a live Zeotap demo of CDP use cases on how to unify, manage and activate customer data across multiple channels to deliver personalized experiences, and drive customer engagement and revenue growth. Whether you're a marketer, data analyst or business owner, this Masterclass is designed to provide you with the knowledge and skills needed to leverage the power of a CDP in your organization. Don't miss this opportunity to learn from the experts and take your customer data management to the next level!
Click here to learn more.
The customers you care about are on Pinterest. Here's how to reach them
Tuesday 2:30 PM – 4:00 PM 

Pinterest is the platform that drives the customers you care about from discovery to decision. That's because Pinterest uniquely nudges people through the full funnel in a more positive and trusted environment. Join our masterclass and learn from our experts about how to drive impact for your brand, no matter the business goal. Hear how brands are already achieving sales uplift, and higher returns on Pinterest,- and how you can do the same. Additionally, we'll share a sneak peek at some exciting new ad formats launching this year. Your audience is here waiting for you. Join this masterclass, and meet them.
Click here to learn more.
Are Big Brands the Only Ones Who Can Benefit from Data-driven Advertising? Equip Yourself with Data-driven Strategies for Campaign Success – From Cookieless Display to Dynamic DOOH
Tuesday 2:45 PM – 4:15 PM

Are you looking to maximize the impact of your marketing campaigns? This Masterclass will give you the strategies to successfully establish data-driven marketing in your business, while navigating the post-cookieless era. What makes or breaks your marketing? Learn how to understand your customers and the messaging that resonates with them, as well as the correct measurements to have in place. Discover how to use digital data-driven strategies to test and optimize your marketing, setting you up for maximum success – join us now and take your marketing to the next level! Click here to learn more.
How to increase customer LTV in a cookieless world
Tuesday 2:45 PM – 4:15 PM

In this Twilio Segment Masterclass, we'll cover the macroeconomic trends behind the move to a cookieless world and how consumers across EMEA have reacted. You can expect to learn how to deliver personalised customer experiences to increase lifetime value with the right tooling. We're excited to talk you through a Twilio Segment product tour, putting learnings into practice and sharing with you deep insights into how leading brands are leveraging first-party customer data. We're looking forward to welcoming you.
Click here to learn more.
The END of "Sorry, I don't understand" – How to Create Unforgettable Customer Experiences with AI
Tuesday 2:45 PM – 4:15 PM

Join us for a masterclass that's perfect for those who share our passion for customer experience and service! Discover how Conversational AI is transforming the customer journey by providing a personalized touch, instant support, and efficient issue resolution. During the masterclass, you'll gain insights from the most successful voice and chatbots projects worldwide and dive into the latest AI trends and best practices. You will receive a hands-on tutorial on how to begin (or even restart) your Conversational AI approach so that potential service gaps in your customer/employee journeys are a thing of the past.
Click here to learn more.
Marketers, it's time to meet the future of video technology. Introducing interactive video with Vimeo
Tuesday, 4:45 PM – 6:15 PM

Calling all marketers, creatives and video enthusiasts! It's time to level up on the video tech that's driving 5x the engagement for some of the biggest global brands. Interactive video is revolutionising how we think about content and the user journey by turning stories into immersive experiences. Join Vimeo's Interactive Video Experts at OMR to learn how … • to create shoppable videos for eCommerce & retail, so that customers can simply watch and shop. • to use the interactive video features that allow viewers to choose the marketing content they are most interested in and generate leads. • to gain valuable insights into how customers like to engage with your brand. • and the chance to create your own interactive video with Vimeo! Click here to learn more.
The No Non-Sense Guide to MarTech: Powering up with Programmatic Advertising
Tuesday 4:45 PM – 6:15 PM

Join this session presented by StackAdapt where we will review how programmatic is driving advertising revenue this year, and explore ways to thrive in the current economic climate. In this session, we will discuss trends and insights, break down programmatic channels, look at key strategies such as automated contextual advertising in a new cookieless era, and the benefits of using a multi-channel approach.
Click here to learn more.
Mastering digital channel management and retail media across Amazon and (r)etail
Tuesday 4:30 PM – 6:00 PM

Retail Media is the new buzzword. As marketplaces grow more relevant, certain questions continue to arise. Is more media budget always better?Is a one-fits-all strategy effective for marketplaces? The answers to these questions will shape the future of marketing and sales teams. Together with Medela, we determined how to effectively scale marketplaces and solved the following challenges: – Organizing growth on marketplaces – Assessing the time-to-scale for marketplaces and the necessary implied maturity – Proactively handling & resolving challenges within a global marketplace setup We present our general approach to channel management and retail media and how we created success with it as part of our cooperation with Medela. Click here to learn more.
Personalised, smart, human: How the digital Raiffeisenbank International cultivates proximity to its customers in times of automation.
Tuesday 4:45 PM – 6:15 PM

Every customer touchpoint can be efficiently automated today. But how do customers react when communication becomes increasingly impersonal? What impact does this have on customer loyalty? And what is more important for the success of a company: gaining efficiency or human proximity? The more personal the use case is for a customer, the more critical this question becomes. So how does a major bank like Raiffeisen Bank International approach this question? What aspects does it take into consideration? What solutions and technologies has it decided on, and what data is relevant for this? RBI, Merkle and Salesforce share their experiences on how to resolve the supposed contradictions in practice.
Click here to learn more.
Yves Rocher's Journey to Seamless Customer Experiences with Bloomreach.
Tuesday 4:30 PM – 6:00 PM

Join us as Yves Rocher, a global leader in beauty and cosmetics, shares their success story with Bloomreach technology. Yves Rocher faced the challenge of connecting their brick-and-mortar shops with their ecommerce platform to provide a seamless customer experience. With Bloomreach, they found a technology solution that allowed them to react in real time to consumer needs and behaviors, and prioritize their strategies accordingly. By implementing a high level of personalization across all channels, including their loyalty club, Yves Rocher achieved increased revenue and customer loyalty.
Click here to learn more.
Achieve more with less: Why social data is the secret sauce for your brand success
Tuesday 4:30 PM – 6:00 PM

In today's economic climate, most marketers operate on even tighter budgets and are pressed to make the most of their resources. In this masterclass, you'll learn why social data is one of the "secret ingredients" in a marketer's arsenal to achieve more with less. Accessing the right information is key to generating insights and enabling impactful actions across teams. Therefore, we will show you examples of successful brands and agencies and enable you to leverage the social data at your fingertips. PS: Afterwards, we're inviting you again to have the first after-work beer with us! 🙂
Click here to learn more.
A Step-by-Step Guide to a Successful Marketing Analytics Program
Tuesday 4:45 PM – 6:15 PM

In this workshop, Adam Greco, who has been part of hundreds of marketing analytics programs over the past twenty years, will share how to be successful with marketing analytics. The workshop will outline the specific process that should be followed to maximize your chances of success, while giving attendees an opportunity to apply some of the concepts from the workshop in real time and leave with specific steps that they can take back to their organization. Click here to learn more.
Facts or Feelings – what's really driving consumers in 2023?
Tuesday 4:30 PM – 6:00 PM

Breaking down consumer shopping myths – are we all creatures driven by hard facts or do we let our emotions take the lead when choosing a car? carwow shares a unique marketplace overview detailing real life user journeys and strategies that brands take on the platform to win the hearts and minds of consumers searching the 'messy middle'.In this masterclass, Sepi Arani and Andreas Balzer from carwow will share a case study on how partnering with carwow can supercharge online marketing & sales goals by tapping into the consumer psyche.
Click here to learn more.
Closed-Loop Marketing: How to achieve more connected, cost-effective, and successful marketing
Tuesday 4:45 PM – 6:15 PM

Planning, executing, and tracking marketing campaigns can be challenging, especially when juggling multiple brands and different markets. Budgets are limited and must be managed wisely. We will demonstrate how our Closed-Loop Marketing Solution can help you better streamline your marketing programs. Our solution combines technologies from Anaplan and Adobe to seamlessly integrate financial management and marketing automation to improve decision making and campaign management end-to-end. Marketing efforts are no longer disjointed. Our tool unifies data, workflows, and teams in one solution to enable closed-loop processes that make your marketing faster, more effective, and more cost-efficient.
Click here to learn more.
How to measure your audio and podcast ads on Spotify?
Wednesday 10:45 AM – 12:15 PM

Did you know that 64.2% of Germans regularly listen to online audio content and a quarter of them tune into podcasts at least once a month? With over 100 million tracks and 5 million podcast titles, the potential to reach these engaged listeners on Spotify is massive. But how can you ensure your brand message is heard and, more importantly, measured for success? Join us in this informative session to learn how Spotify's platform and advertising solutions can drive real results for your brand in 2023 and beyond. Click here to learn more.
A pioneer: METRO.digital tackles MarTech Transformation with IBM iX
Wednesday 10:30 AM – 12:00 PM

As customer centricity drives business growth, it is crucial for companies to understand and anticipate customers' interests and purchase behavior. The integration of technology into every aspect of Marketing, Sales, and Customer Relationship Management results into targeted messaging for each customer segment and a comprehensive understanding of their needs and preferences. METRO.digital is joining forces with IBM iX as a trusted advisor and implementation partner and is positioning itself as a data-driven pioneer in the wholesale and retail industry. In the joint session, we will showcase the transformation journey METRO.digital is taking, share progress, learnings and our roadmap of MarTech transformation for METRO
Click here to learn more.
Exploring the Future of Content Marketing: Creating User Journeys & authentic Brand Experiences with AI & Automation
Wednesday 10:30 AM – 12:00 PM

How can we improve the customer experience for today's audiences, which expect seamless and convenient interactions with a brand across all touchpoints? During the rise of AI and automated content creation: how can brands make sure to continue delivering relevant, high quality and beneficial content? And how can AI or machine learning enhance customer experiences, optimize marketing efforts, and automate repetitive tasks? What are the chances and risks of these evolving technologies? We will discuss these questions with our clients in the retail & FMCG industries and share exiting cases where technologies of tomorrow are already solving today's challenges. Click here to learn more.
Why Now is the Right Time to Connect with High-Value Audiences Worldwide
Wednesday 10:30 AM – 12:00 PM

With the easing of travel restrictions, international consumers (especially Chinese) are more eager than ever to spend on tourism along with luxury shopping and real estate abroad. In this session, you will learn how Petal Ads (formerly Huawei Ads), can help you seize this opportunity and efficiently target cross-border audiences, to reach valuable customers and maximize your revenue. Hear from top agencies and brands using this strategy to drive new sales for fashion and retail industries. Together with our top partners, we will also deep dive into how AI and machine learning can power quality brand solutions for agencies and advertisers and how non-traditional digital channels can drive brand reach and performance in 2023. Click here to learn more.
Efficient Growth Unlocked: Learn how to leverage Meta Performance and Signals solutions
Wednesday 10:45 AM – 12:15 PM

In today's fast-paced marketing world, efficiency is key to driving growth and staying ahead of the competition. This masterclass will explore strategies for unlocking efficient growth through a focus on Meta Performance and Signals solutions. Participants will learn how to leverage our advantage solutions and optimize signals to drive profitable growth. Through a mix of panels, interviews and presentations attendees will gain practical knowledge and skills to help them take their marketing to the next level.
Click here to learn more.
From Global Successes to Local Victories: Discover How Puma is Revolutionising Growth with Affiliate Marketing
Wednesday 10:30 AM – 12:00 PM

At PUMA, the mission is simple: we aim high, and when we score our goals, we aim even higher. This plays well in affiliate marketing with CJ by combining global reach with local proficiency. PUMA`s strategy is designed for each market's needs yet follows international principles. Driving growth in very different markets, from the mature to emerging, is a huge opportunity and yet also a challenge. PUMA and CJ will share insights into the global rollout and local strategy of PUMA's affiliate partnerships. We will explore how PUMA created more awareness for its performance and sport-inspired lifestyle products and expanded into new markets to increase its digital sales. This Masterclass is designed for all levels from rookies to experienced players. Click here to learn more.
The Future of Customer Engagement
Wednesday 10:30 AM – 12:00 PM

This year, cost efficiency and customer retention are on every decision-maker's mind. At the same time, we are experiencing a generational shift in technology through innovations in generative AI and companies are at risk of being left behind if they do not invest in change. Our Masterclass will help you be on the winning side with our fast, easy and cost-effective approach. Join to learn how to scale conversations with AI-driven bots on any channel, to equip your teams to deliver personalized experiences and to help customers before they even know they need it. Click here to learn more.
Unlocking The Secret Ingredient for Success: Läderach Chocolatier Suisse's Journey to Creating a "Premium" Customer Experience through Digital Transformation with SAP
Wednesday 12:45 AM – 2:15 PM

Läderach Chocolatier Suisse,a premium chocolate confectioner, strives for an exceptional experience everywhere they interact with consumers. Läderach fans have traditionally connected to the brand through retailers. Now, they want to connect directly – and that means digitally. Join this Masterclass to learn how to: Use valuable insights from Läderach's digital transformation journey to design a premium customer experience; Orchestrate a personalized experience across every touchpoint by activating data from across your ecosystem; Build the right strategy and roadmap to drive a successful digital transformation. You'll participate in interactive discussions, where you'll discover the latest trends, technologies, and strategies for success. Click here to learn more.
Show, don't tell: How Siemens implements credible sustainability communication on Amazon Prime Video.
Wednesday 12:30 PM – 2:00 PM

Communicating the sustainability of one's own company is on the agenda of many brands. But how do you get the attention of the target group and remain credible at the same time? Siemens decided to go far beyond the boundaries of classic B2B communication with its docutainment format "Alles auf Grün": via Amazon Prime Video into the living rooms of an interested public. Siemens and Merkle talk about their journey from marketer to publisher, about their learning curve in content marketing and the many learnings that have been generated to date. Click here to learn more.
Amazon Marketing Cloud: How leading brands unlock unseen potential in their advertising campaigns along the full funnel
Wednesday 12:30 PM – 2:00 PM

How does your advertising on various media channels affect sales on Amazon and other eCommerce platforms? Who is your most engaged audience and how loyal are your customers overall? The Masterclass explains hands-on what data the Amazon Marketing Cloud delivers and how you can derive your specific media strategy from it. Learn how some of the world's biggest brands are using Amazon's marketing tools: How do they reach customers at every stage of the marketing funnel and how do they measure their effectiveness? Discover previously unseen potential in your advertising campaigns and turn it to your business's advantage! Click here to learn more.
Watch out: How mobile ad fraud is attacking your budgets and what you can do about it
Wednesday 12:30 PM – 2:00 PM

The issue of ad fraud has persisted since the dawn of the Internet and continues to thrive, with fraudulent campaigns generating substantial profit for the perpetrators. While mobile platforms pose a greater challenge for fraudsters to fabricate metrics, it is still feasible. These fraudsters have employed advanced bot networks and fictitious app users to deceive advertisers into believing that actual users are downloading, installing, and using their apps.In this masterclass, we'll explore the evolving fraud strategies and debunk common misunderstandings. Additionally, we'll equip you with practical methods to identify if your campaigns are being targeted by fraudsters. Click here to learn more.
ALIEN NATION – a new species in town or how we start digital products & software development
Wednesday 12:30 PM – 2:00 PM

What happens when you transform or add new digital business models? This session will give you an overview of Salzburg AG's digital transformation from a traditional multi-utility company to a provider of sustainable solutions for green tech and energy. An exciting session reporting on the development of a new digital unit within a multi-utility group spanning energy and telecommunication products.You will get to discover true insights and experiences from the unit's setup and integration into the organization, as well as taking a backstage look at the bold shift towards customer centricity and new technologies. Click here to learn more.
Headless but not brainless – Rethink your Digital Business
Wednesday 2:30 PM – 4:00 PM

Let's clear up some buzzwords together and see what's really behind composable, headless, decoupled and MACH. What is the benefit of Composable Commerce for today's businesses? How is it different from classical commerce? When does it make sense to go composable? In this interactive Masterclass, you'll learn how to unify the content and commerce journey and create personalised, seamless experiences with content across multiple channels. The purpose: Reaching a faster time to market, higher conversion rates and better customer engagement. Be prepared for interviews and best practices with and from our experts. Be part of our different kind of Late-Night-Show and join IBM iX, welcoming our star guests from commercetools & Contentful on stage! Click here to learn more.
Creating a Customer Data Platform (CDP) Playbook for B2B Sales & Marketing
Wednesday 2:30 PM – 4:00 PM

B2B sales cycles are often scattered across multiple decision makers, longer timeframes, and multiple touch points. So when businesses are expected to build relationships with better CX and more personalisation, you're left with a big challenge. Enter the Customer Data Platform (CDP). CDPs are designed to collect, aggregate, analyse and enhance account-based marketing strategies across multiple touchpoints. In this Masterclass, we'll explore why B2B companies need to adopt a CDP and how to integrate them across your tech stack and sales/marketing operations. Join us to discover the practical applications of how CDP's can enhance your contact strategy across your B2B sales and marketing strategies. Click here to learn more.
Winning on Reddit: A Masterclass in driving brand success
Wednesday 2:45 PM – 4:15 PM

Join local and global leaders at Reddit for our intimate and hands-on Masterclass to learn how to "win" within our community of communities. Open to all brands looking to get started on Reddit, this special OMR IRL session will share practical tips, tools and best practice examples from the creative minds behind some of the most successful campaigns on Reddit. Whether you're looking to reach new audiences where they're most passionate and engaged, or to increase brand awareness, drive traffic or app instals, this session will equip you with everything you need to unlock long-term success on Reddit.
Click here to learn more.
From Likes to Sales: How Influencers are Driving Gen Z's Social Commerce Revolution.
Wednesday 2:30 PM – 4:00 PM

For a universe that's literally based on Likes, there's a lot not to like about social commerce today. Users, influencers and brands would be in the right to ask for a refund – but we think a radical shuffle of the system is actually the best way to the ultimate win-win-win scenario. Join a leading fashion brand, a mega influencer and Panoram as we explore what it takes for brands to be irresistible and relevant, for influencers to stay inspiring and believable, and for users to feel understood and motivated – the perfect way to get from "I like this" to "I own this". Click here to learn more.
Watch out! Your top 5 best-in-class ingredients for eCommerce in 2023
Wednesday 2:30 PM – 4:00 PM

Don't get left behind in the competitive world of eCommerce! Empower yourself with the must-know insights and strategies that will catapult your business to success. Our 5 essential ingredients will enable you to elevate your online presence, boost customer engagement, and grow your sales. We will touch on the latest AI developments, how to build resilient Direct-to-Consumer relationships, seamless customer journeys and much more.Apply to our lecture and don't miss out on the game-changing opportunities that await you at our masterclass! Click here to learn more.
Is your digital shelf shining?
Wednesday 4:45 PM – 6:15 PM

Whether you're a brand, manufacturer, or retailer, the need to sell smarter online is a requirement. This masterclass will help you ensure all your products are performing on the digital shelf, no matter how evolved your online sales channels are. You'll get the inside track on the changing mindset of the online shopper, understand how to overcome digital shelf volatility, and learn the ways you can turn every digital touchpoint into a profit-maker. Sign up to understand the benefits of digital shelf analytics and how it fuels profitability at every customer touchpoint.
Click here to learn more.
From B2B to D2C – Husqvarnas journey to customer centricity!
Wednesday 4:45 PM – 6:15 PM

With over 333 years of innovation and passion, Husqvarna provides professionals and consumers with forest, park, lawn & garden products. We traditionally distributed through a strong base of professional partners. In this Masterclass, you will learn more about our journey entering the D2C space by actively involving our dealers to ultimately provide a unique proposition for our end customers.
Click here to learn more.
Unlock the Chinese market: How to do B2B and B2C marketing in China?
Wednesday 4:45 PM – 6:15 PM

This Masterclass will provide you with valuable insights into the unique challenges and opportunities involved in B2B and B2C marketing in China. You will learn about the latest trends and strategies for engaging with Chinese consumers and businesses, including the role of social media, e-commerce platforms, and digital marketing tools. The class will also cover cultural nuances and communication strategies essential for successful marketing campaigns in China. Whether you are an entrepreneur, marketer, or business owner looking to expand your reach in China, this masterclass will give you the knowledge and skills you need to succeed in this dynamic market. Click here to learn more.
A new Era of AI – how to drive innovation and boost your business performance with Google Cloud solutions.
[WED]
Wednesday 4:45 PM – 6:15 PM

The day of a business professional is packed and the ability to extract actionable insights from data and make sustainable business decisions is crucial for success and growth. In the Masterclass Google Cloud experts will deep dive into the best-in-class tools to optimize your day-to-day operations, leaving routine tasks to machines, connect data sources seamlessly, benefit from AI driven and enriched insights and boost creativity and performance of individuals as well as teams. Click here to learn more.
Google Performance Max: Using Predictive Intelligence to Win Loyal New Customers
Wednesday 4:45 PM – 6:15 PM

There is no doubt that Google Performance Max will become the new standard. While some marketers see it as a black box and complain about the lack of control, there is a unique opportunity for savvy marketers to get ahead of the game.To emerge as a winner from the current economic downturn, it's essential to win loyal new customers and focus on profitable business growth. Learn how to steer Google's AI-based ad format by: • Feeding your 1st party data and predictive intelligence into it• Using best practices for structuring campaigns. • Optimizing creative ad strategies to attract shoppers across the funnelOur speakers run PMax for leading eCommerce brands worldwide and look forward to sharing their insights with you. Click here to learn more.
Power-up Your E-Comm UX : How to Design a Winning SOCIAL and LIVE COMMERCE Strategy for Your Brand (and make real extra 🤑)
Wednesday 4:30 PM – 6:00 PM

Join this class for a pragmatic step-by-step framework on how to create a winning Social- and Live Commerce Strategy for your brand. Learn from real-life examples like Marks & Spencer and Charlotte Tilbury how to create real value by engaging communities directly on-site. Explore the opportunities of diverse social shopping formats (live shopping, shoppable videos, and shoppable reels), and understand how to best leverage Social Media platforms for reach and discover the Do's and Dont's social shopping content creation. Click here to learn more.
Winning with email: get the edge over your competitors in 90 minutes
Wednesday 4:45 PM – 6:15 PM

The sharpest marketers today, constantly innovate and optimise their use of available channels. With email being one of the most readily available channels it seems a good place to start. But what else can it be used for besides a communication platform and how can it be used to maximise ROI? Join us to learn how to turn email from a passive channel to a proactive one, with Competitive and Inbox Tracker.In this masterclass you will: Get a sneak peek of your competitor's emails and deep insight into their performance through our competitive trackerDiscover how to increase your chances of getting your emails seen with the ultimate inbox optimisation tool. Learn how to turn your email into a fully-fledged source of competitive intelligence. Click here to learn more.