All work and no play is no fun at all. Here's where you can decompress at OMR22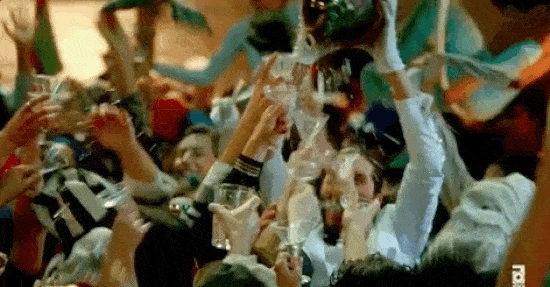 If you're like us, you're counting the days to OMR22 (only 8 more to go!) Then it's time to network at the Expo, stock up on insights on the 10-plus stages, in Masterclasses, Guided Tours—not to mention the Festival highlight par excellence: the Conference Stage. And after getting your content craving filled, it's party time. As always, there are two nights of parties with a great lineup of musical acts, but also parties galore in other halls at OMR22 as well.
The OMR Festival is back with 60,000 attendees, over 800 speakers, 1000 exhibitors and partners, and hopefully you too. The Conference Stage lineup, and the program on our Expo Stages (Red Stage, Blue Stage, Yellow Stage) and the 5050 Stage are set. Today, we are presenting the evening party plan.
At 6PM, live concerts will be taking place with local artists Rin, Zoe Wees and Kraftklub, while the Food Stage will have a chill vibe with good food and drinks–and a live cooking session with celebrity german Chef Tim Mälzer. If you want a bit more action, but aren't in the mood for a concert, there are booth parties all across the Festival with food, drinks and tunes. 
And if you don't have a ticket yet, you better get moving—right now.
Moonbootica and additional acts
Once again, the OMR Festival will feature some incredible, eye-catching booths from our partners. And here is where you'll find some of the evening's top parties—right there at those magnificent booths. And some of our partners are pulling out all the stops. IQOS, for example, will present a special concert by electro duo Moonbootica on May 17 and the day after the party will continue with DJs Luca & Azy. (Space is limited for both parties, so be sure to sign up for a spot at the IQOS booth. On May 17, New Work will have DJ Miss Leema playing tracks at their booth, Smarketer has beer and pretzels, Taboola is playing tunes and giving away prizes and Jellysmack is keeping it cool with ice cream.
InterNetX and Sedo are throwing a 90s bash with the best hip-hop of the decade and BSI is bringing a taste of Switzerland to Hamburg. Ströer invites you to toast the relaunch of their website along with t-online Editor-in-Chief Florian Harms. On May 18, WorkGenius invites you to take part in a discussion on the shortage of skilled workers at their booth party (with excellent drinks), while Bloomreach, valantic and Awin are each throwing parties until we have to kick you out.
Get there, connect, and go crazy
We will be releasing a detailed Hall map very soon. Here, you'll have an interactive map with the location of each booth pointing you in the direction of each party. Pro tip: remember Hall A1—that's the premium hall where all the big booth parties are on. 
Need a ticket? Get a ticket.
May 17 booth party lineup:
Sony

Amazon

Framen

Jellysmack

RTB House

NewWork

Salesforce

Sedo

Smarketer

Taboola

The Trade Desk

BSI

Facelift

Moia

HMS

Mawave

Fischer Appelt

Awin

IQOS

Outbrain
Party lineup May 18:
Ströer

Appinio

BloomReach

Elopage

Work Genius

AboutYou

Textildruck

Valantic

HMS

Mawave

Fischer Appelt

Awin

IQOS

Xandr

Gumgum