A nine-figure exit? How Oceans Apart became a DTC brand worth millions
When Swedish private equity firm Altor announced two weeks ago that they would acquire a majority holding of Rise Up Fashion GmbH, it was paid little mind by the business and startup press—let alone the general press. Rise Up Fashion is the company behind womens' fitness fashion brand Oceans Apart. Although neither side provided specifics, there are indications that the deal happened based on a nine-figure valuation. OMR snooped around the industry to shed some light on the deal, and then broke down the marketing playbook of the brand and then laid out how the people behind Oceans Apart were able to generate a massive amount of growth in such a short amount of time.

"I heard once that they make about EUR 50M."  "They are the exception in the DTC sector."  "They should be very profitable, but I don't know exactly how. I couldn't even tell you what they do." When we asked around the founder and VC scene for details and insights on Oceans Apart and the deal with Altor, that's what we heard—if we heard anything at all.
DTC after DTC after DTC
After taking a look ourselves, we had a bit more luck—at least as far as what Oceans Apart does. The brand sells "non-competitive activewear" for women: stylish leggings, sport tops, shorts and sweatshirts for yoga, a casual workout or chilling out on the couch. The products are primarily made with synthetic fibers, until recently were marketed as being "vegan and sustainable" and are only available through the online shop, i.e. a direct-to-consumer brand. A source of inspiration may have been Canadian brand Lululemon who started off with yoga leggings and grew to a 55B-dollar company that offers much more than just leggings.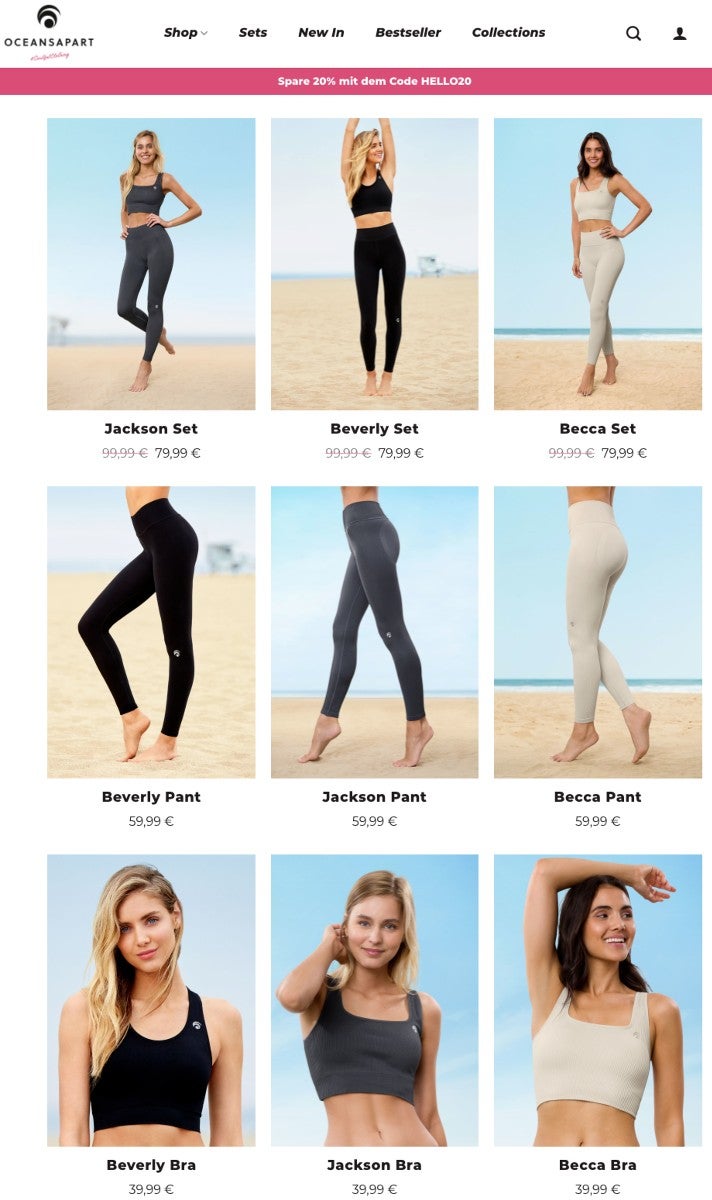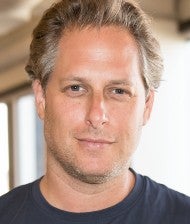 The brain trust behind Oceans Apart includes, among others, serial entrepreneur Pascal Zuta. Originally from Germany and now residing stateside, Zuta helped found and build up Fitvia, a German lifestyle tea brand, and Invincible Brands, which is the umbrella company for skincare brand HelloBody, makeup brand Banana Beauty and haircare brand Mermaid+Me. Zuta and his associates successfully guided both companies to exits; private equity firm Capital D acquired a majority stake in Invincible Brands in 2018, before it again changed owners in 2020 with German consumer goods company Henkel taking over. For its part, Fitvia was acquired by pharma company Dermapharm in 2019.
Born at career day
In the first episode of the Silicon Valley Update podcast by OMR (in German), Zuta said that he and co-founder Sebastian Merkhoffer sold Fitvia for nearly EUR 50M. He and Merkhoffer, and Björn Keune, then sold Invincible Brands for EUR 60M after just 23 months (The exit to Capital D and not Henkel, which is reported to have acquired IB for EUR 300M). Oceans Apart, according to Zuta, is now "larger than both of those companies combined."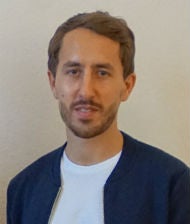 In addition to providing some context and numbers on the deals, Zuta also discussed how he met Merkhoffer. Back in 2013 or 2014, Zuta, who was CEO of Aeria Games, which was later acquired by German broadcasting giant ProSiebenSat.1, gave a speech at career day at his old university. When he finished, Merkhoffer approached him and told him about his lifestyle tea brand.
"Tea to pretty women on Instagram"
"I had the idea six weeks ago, two weeks later I sourced the product and built the website and within the first four weeks, I made EUR 11K in revenue," Zuta recalls Merkhoffer saying. When Zuta asked as to how he managed to pull it all off, Merkhoffer said (paraphrasing): "I just got on Insta and looked for pretty girls to send my tea to. They'd take a pic, post it and off we go."
The duo employed that simple recipe beginning in 2015 (with Merkhoffer as founder and "operator," Zuta as Investor and "advisor") to grow Fitvia; a few months later they also launched Invincible Brands (then known as Hype Ventures). In 2017, Zuta started Oceans Apart with Norbert Neef and not Merkhoffer according to business records; Neef was on board at Hype Ventures.
Chapter 1: High-priced products
Shortly thereafter, Susanna Wagner (today Chief Product Officer) joined as CEO and head of design and production. Her company Fashcon (according to the company website) had worked on projects for Converse, Zoo York and Frontline Shop in a similar scope. Since 2018, Jens Paul Engelmann (formerly of Hubert Burda) joined as co-founder and CEO.
The Oceans Apart team went back to the well and employed the successful recipe that both Fitvia and Invincible Brands used. The "Merkhoffer-Zuta playbook" is of course more complex than sending tea to hot chicks on IG. It begins with making the products more expensive than others in the market segment. The potential effect being that it appears to be higher quality and thus increases the desire for the brand, which in turn, boost margins (already high in DTC) further.
Chapter 2: Personalized discount codes
With high margins comes the option of offering high discounts—combined with influencer marketing. One of the core principles that all of Merkhoffer's and Zuta's startups have in common is getting female influencers to pose with the product and post personalized discount codes—up to 50% in some cases.
These discounts not only create "purchase pressure" among followers, but also helps the company track which influencers boost sales the most (personalized codes make allocating purchases to influencers very easy). Another reason discounts are a good idea: the potential they have to increase the average purchase amount. In an attempt to maximize this phenomenon, Oceans Apart uses 2-for-1 deals and also offers tops and leggings as sets for less.
Trash TV influencers
Another aspect that helps Oceans Apart stand out from other influencer marketing brands: The company marketing team not only works with "serious" beauty influencers, but also with "celebrities" from reality TV shows, such as the German version of "American Idol" ("Deutschland sucht den Superstar") and trash TV formats such as the Bachelor—in 2019 and 2020 both seemed to help significantly drive growth.
Why? With trash TV celebs, many viewers follow them on Instagram after the episodes so that they don't miss any of the drama, reconciliations or other gossip that the celebs share on social. In 2019, 10 of the top 20 fastest-growing influencer accounts in Germany belonged to reality show stars. The fastest among the fastest? Jennifer Lange, a long-time ad partner with Oceans Apart (until mobbing accusations surfaced and the company ceased collaborations).
Half of followers click Stories
Typically, TV celebs have a lower engagement rate on Instagram and below-average performance as influencer marketers, co-founder of influencer marketing service provider Como Sascha Firtina wrote several months ago in a post on LinkedIn. But in 2020, Como saw that reality TV stars performed very well in terms of Instagram story views, somewhere between 40 and 50%. The half-life of Reality-TV influencers, however, is very low.
It's very possible that this strategy helped Oceans Apart grow very quickly and generate a great deal of revenue. The most recent balance sheet in the commercial register is from 2019 and shows that Rise Up Fashion GmbH is already profitable at this time; with a surplus of EUR 180,000 and despite losses carried forward totaling EUR 1.97M. Given those commitments, it certainly seems that an annual revenue approaching the 8-figure Euro range is plausible.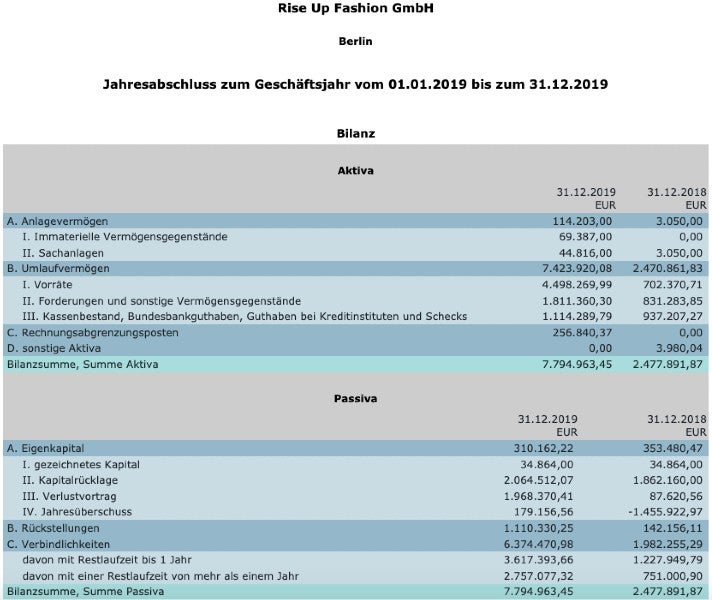 Over EUR 100M in annual revenue?
In 2020, Oceans Apart more than quadrupled its revenue and continued to grow in 2021, according to a press release by M&A consultants Carlsquare on the deal. According to sources close to the company, annual revenue is stated to be on the order of EUR 100M. This sum was, until recently, albeit without any timeframe, on the Excelling Ventures website, Sebastian Merkhoffer's holding enterprise. Merkhoffer did list himself as an investor in Oceans Apart, but has since deleted the information on LinkedIn. And Oceans Apart also no longer appears in the portfolio section on the Excelling Ventures website.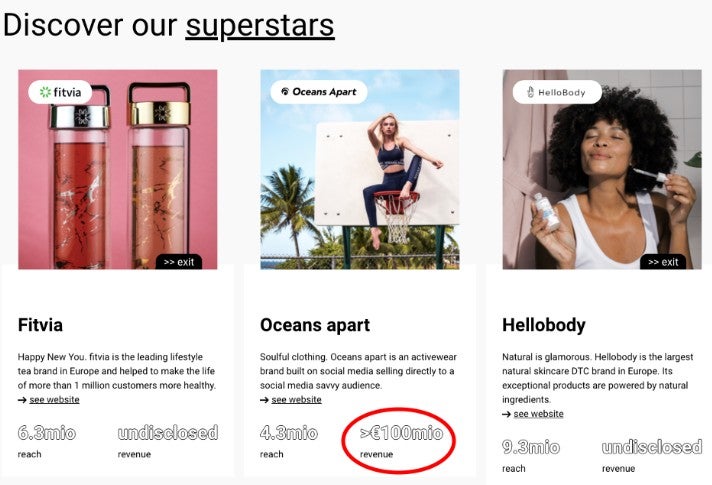 Nevertheless, there are additional indications that Oceans Apart could have generated an impressive sum of revenue within a few short years. In early 2021, for example, the company faced its first major challenge (as far as we can tell from the outside): the fallout from successful German Youtuber Sashka's video entitled "The ploy at the heart of Oceans Apart," where the product quality and image of sustainability via its paid influencer partnerships is heavily criticized. The video went viral, spawned several follow-up videos and has been viewed 1.2 million times.
Shitstorm after accusations of Greenwashing
Then in April came another video critical of Oceans Apart from one of the German public broadcasting network channels. In it, journalists accuse the company of greenwashing and that many of the sustainability certificates listed on the Oceans Apart website either do not exist in the form depicted or had no business displaying.
The video also generated a lot of attention (1.1 million views at present) and caused a shitstorm on the Instagram accounts of the company as well as those of some influencers who had collaborated with Oceans Apart. Shortly after the video appeared, "vegan and sustainable" vanished from the Instagram bio of the brand, and the company published an official response a few days later, in which it admitted mistakes in communication.
Google Suggest suggests "Skandal"
If you type in Oceans Apart into Google the second automatic suggestion is scandal (Skandal in German) and on YouTube it's the first. Oceans Apart is running paid ads on the term that direct to its statement and on Youtube they paid a prominent YouTube creator to publish a video about an "internship" at the company.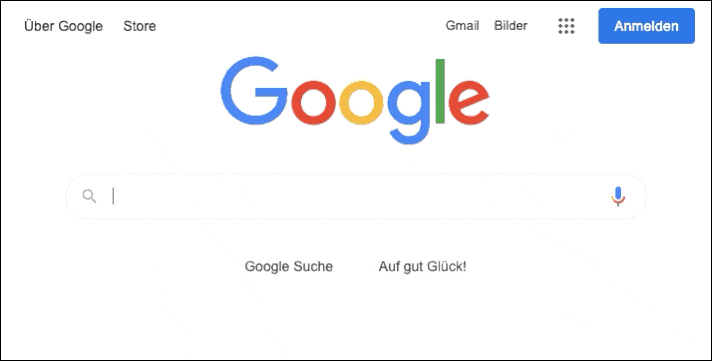 Chief of Staff Roland Püttmann-Holgado told OMR that the company had indeed made mistakes in communication regarding the extent of its sustainability and said that Oceans Apart would endeavor to communicate more clearly moving forward. "We put very high expectations on ourselves," says Püttmann-Holgado. "The company is working on improving the way we control and verify the working conditions of our suppliers and on ways of reducing our own carbon footprint." He went on the say that Oceans Apart and Rise Up Fashion GmbH have not only joined amfori, but also the Fair Wear Foundation. Members to the latter promise to fulfill an 8-part code of labor practices.
On the ropes but never knocked out
While the company image took a hit, company finances did not. According to Püttmann-Holgado, 100 some influencers paused their partnerships with Oceans Apart, but 90 of them restarted a short time later, including those who "generated significant revenues" for the company.
Given the baggage, it seems quite off-brand that Altor of all companies would take on Rise Up Fashion GmbH, since Altor has made sustainability a priority, been proactive in "building better businesses" and adopted a "responsible investment and ownership policy." "We are aware of the discussion around the sustainability efforts," said Head of Communication at Altor Tor Krusell when asked for comment by OMR. Krusell also referred OMR to the "RIO Policy" linked above and to Oceans Apart for concrete questions.
How much is Oceans Apart really worth?
So how much did Altor pay for its majority stake in Rise Up Fashion GmbH? Neither Oceans Apart nor Altor wanted to provide any specifics on the deal and also declined to give any details on the current company valuation. If Zuta's claim in the Silicon Valley Update podcast that Oceans Apart is "larger than both of those companies combined" really is true then Oceans Apart would need to be worth at least EUR 110M. And if the company's annual revenue really is in the 9-figure range, then the company valuation should be comfortably in the same range.
One entrepreneur from Berlin, who was not involved in the deal, said that Carlsquare, who advised Rise Up Fashion on its sale to Altor, typically does deals in the EUR 10-60M range—in rare cases deals eclipse EUR 100M. According to its own website, Carlsquare calls itself the leader for "small- and midcap companies." In the past year, says it completed 36 transactions worth EUR 2.5B. That would be an average of EUR 70M per deal.
Who stands to profit
About Altor, the investment database Nordic says the average round investment is EUR 70.5M. If Altor, for example, sought to take on 70% of Rise Up Fashion GmbH (In the official press release, Altor says it "will partner with a value creating investor"), it would be plausible that the deal took place based on a 9-figure company valuation. The deal still has yet to be finalized, "subject to review and approval from relevant authorities," as these deals always are.
Who is set to receive the bulk of the money if the deal is approved? According to the current list of investors, the majority owner is Coach Capital (57% share). Norbert Neef has half of the shares in Coach Capital, Zuta has a quarter and another quarter belongs to Zuta confidant Stefan Behrens. Additional relevant shares in Rise Up Fashion belong to managing directors J. Paul Engelmann and Susanna Wagner, as well as a long list of business angels and several VC companies, such as Richmond View Ventures. J. Paul Engelmann and Susanna Wagner "will continue in their roles and remain significant shareholders alongside the current shareholders and Altor," according to the Altor press release.
Chapter 3: Exit to a legacy company
What does the future hold for Oceans Apart? In the short- to medium-term, the company figures to intensify its internationalization efforts. At present, Oceans Apart (Püttmann-Holgado says the company currently employs a team of 160) is active in seven countries and in five languages: Germany, Austria, Switzerland, France, Italy, Spain and Poland.
If past exits by Zuta and Merkhoffer are any indication, Oceans Apart will next be sold to a legacy company. In the company announcement on the deal, Altor hint that an IPO is on the table as well. "The investment in Oceans Apart builds on Altor's successful investment track-record in the apparel and direct-to-consumer market. Altor has recently made an IPO of Revolution Race, the online direct-to-consumer outdoor sports apparel company, on the Nasdaq Stockholm stock exchange." Zuta and Merkhoffer do not appear to be finished any time soon as their holding companies Lion's Den and Excelling Ventures list several portfolio companies, who are potential exit candidates in the coming years.