Is LaVar Ball—the loudest man in sports—an idiot or a marketing genius?
Big baller brand
Brand Building via provocative PR: How LaVar Ball pumped up the "Big Baller Brand" by insulting everyone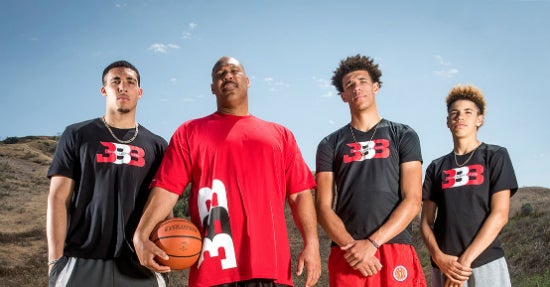 Until recently, he was nothing more than an unsuccessful ex-hoopster with three incredibly talented sons. Now LaVar Ball is the most controversial figure in the US sports world and knows exactly which buttons to push to get everyone talking—all as a ploy to establish his own sports brand that makes him and his sons rich.


Building a successful brand is anything but a slam-dunk. OMR hit the hardwood to find out how Ball intends to take the Big Baller brand above the rim, how far along he is and why his son is forgoing millions to make it happen.
LaVar Ball's basketball career didn't amount to anything more than a cup of coffee in college. He also failed in his attempt to be a pro football player in the mid-90s. Despite those setbacks, he is now one of the most well-known figures in US sports. And it's all thanks to his big mouth and his three sons, Lonzo, LiAngelo and LaMelo, who are exceedingly more talented than their pops every was. Since 2016, he and his boys have been working on their sports brand "Big Baller Brand," which is supposed to soon be competing with Nike and Adidas. In a year, the Balls have established the brand in the psyche of Americans—for better or worse—via a shrewd, incendiary PR style.
Loud, louder, shouting
Since his eldest boy Lonzo ended his college career at UCLA and turned pro, being taken as the number 2 pick by the Los Angeles Lakers in the NBA draft, LaVar has found himself in the spotlight. With all due respect to Lonzo and his as yet fledgling career, it's not been because Lonzo the athlete, but solely because of LaVar, the troll incarnate. His PR strategy is as subtle as a brick. Either he compares his boys to the best to ever play the game, ("the best player in the world", "my boys want to be the best players ever"), or he starts beef with the NBA's bonafides.
His bold proclamation that he could "take down Michael Jordan 1 on 1—arguably the greatest player ever to lace them up scored him 2.6 million views on YouTube when he doubled down on the absurd assertion. But there is a method to the madness as Magic Johnson is on record saying LaVar admitted to him that the claim was all marketing. The heightened media scrutiny and attention to his comments has helped give his personal brand massive media reach. His Facebook page, which was only created in June 2017, mind you, is already pushing half a million fans , while on Twitter he's got 194,000 users waiting for him to tweet.
Facebook engagement when LaVar explodes
If you haven't figured out why the US media hangs on every comment LaVar makes, just look at the ESPN's engagement figures on Facebook. Of ESPN's 50 most recent posts dealing with LaVar, they've generated an average of 7,600 user reactions (i.e. comments, likes or shares). Single posts like the visual statement of LeBron James's reaction to one of Ball's comments generate roughly 40,000 Likes and 10,000 Shares. Even for a Facebook page with 18 million fans, like that of ESPN, those are very good figures.

Quintly, a social media analysis tool, shows that ESPN Facebook posts average between 3000 and 5000 reactions. Anything dealing with Ball generates significantly more reach. Not exactly surprising then that the media eats up everything he says. In the end, LaVar's PR-ploy is a boon to everyone involved. LaVar now generates more search queries than Dirk Nowitzki—and actual star athlete—and even, at least for a time, more than all-world superstar Russell Westbrook, the reigning NBA MVP.
Shoes for 500 bucks
LaVar Ball leverages his reach to boost his "Big Baller Brand", a vertical sport brand, that sells shoes, shirts and headgear. But with the products, too, the Ball family keep on trolling. In the USA, it's now pretty much standard that NBA stars have their own personal line of shoes put out by Adidas, Nike and Under Armour—plus lucrative sponsorship deals. LaVar's son Lonzo opted against striking up such a million-dollar deal to sell his own line of Big Baller Brand kicks. Where's the troll in all that you ask? One pair costs USD 500! That's way more than what other players' shoes cost. LaVar's comment to critics of the price: "If you can't afford ZO2 [the name of the shoe], you ain't no Big Baller."
Ball's bet on his own brand is actually quite interesting. At present, he and his son are employing a strategy that forces them to forgo tons in revenue for the time being. Experts have projected that Lonzo Ball could earn roughly USD 15 million from a deal with Nike, Adidas and the like. Initial projections have the Big Baller Brand generating roughly USD 450,000 in profits annually—significantly lower than what LaVar's deal with an established brand would be worth. LaVar Ball is betting it all on the future: If all three of his boys make it to the NBA, he'll have an incredibly valuable marketing trifecta for BBB. And BB goes under, they can still give Nike and Adidas a call.
Provoking your way to millions isn't just for the states
Such in-your-face PR can also be effective outside of the US and A as plenty of examples in Germany attest. One such example that is Vegan chef Attila Hildmann—a high-profile chef in the Fatherland. After his new vegan joint in Berlin received a scathing review by a German tabloid he laid into them on Facebook  ("what a fucking bullshit article full of untruths "), shortly thereafter he appeared on Facebook with a shotgun ("Let's just see if I flip out") and then asked a group of journalists invited to try out the joint, who wants to slaughter the calf I brought? Hildmann is no stranger to confrontational appearances and his arrogance (he likes showing himself next to his Porsche) is infamous. But it's worked for his brand—he is hands-down the most famous vegan chef in Germany and according to his own figures sold over 1.6 million cookbooks.