Climate activist Luisa Neubauer, a Climate-Tech panel, sustainable footwear and more at OMR23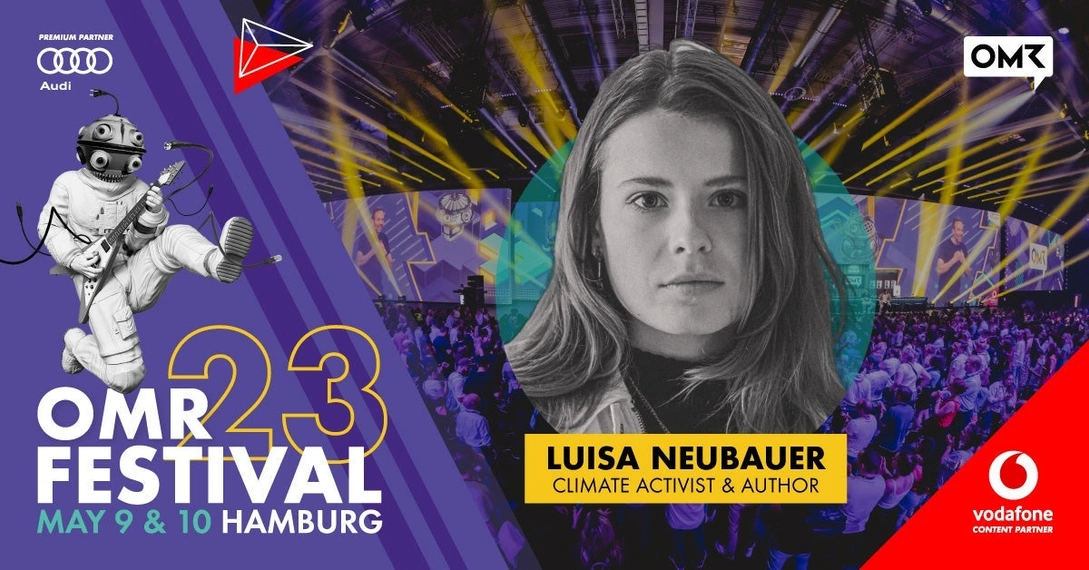 She is probably the most-prominent face in the German climate movement. She's the co-organizer of Fridays for Future and one of Time Magazine's TIME100 Next—a list of the top 100 up-and-coming individuals. We are talking about Luisa Neubauer and she'll be talking about her motivation, challenges and work as a climate activist on the Conference Stage at the OMR Festival 2023. Also: The biggest German climate tech funds in the panel, a solar unicorn, sustainable sneakers and more.

We are just a few weeks away from OMR Festival 2023, as it returns on May 9 & 10, to the Hamburg Exhibition Center. We're expecting 70,000 attendees, over 800 speakers and more than 1000 exhibitors and partners. All of you can expect a full program on seven stages, in our Masterclasses, on Guided Tours and at Side Events. Click here for the entire lineup of speakers, or here for each stage's Timetable. 
In 2018, Luisa Neubauer met the Swedish student Greta Thunberg at the UN Climate Change Conference, was inspired and, together with other activists, launched the "Fridays for Future" movement in Germany, following the example of the Swedish original. Listing the full scope of the movement's impact since would require a standalone article to do the movement justice. The very brief synopsis: Neubauer has helped organize hundreds of climate strikes, regularly confronts politicians, meets global heads of state and government officials and has attended four UN climate conferences as an activist. Her goal—and that of the global climate movement—to meet the UN's 1.5-degree target agreed to at the 2015 Paris Climate Conference. No matter what it takes.
Straddling pop-culture and politics
To inch closer to meeting this goal, Luisa Neubauer and Fridays for Futures have cleverly weaponized the rules of the attention economy. For starters, Neubauer is the host of the Spotify climate podcast "1.5 degrees," she's published three books detailing the ecological crises from different angles and in 2021 she and others won a formal constitutional complaint against the German government, which was historic to say the least.
While Fridays for Future has grabbed people's attention and thus thrust the topic into political agendas around the world, there are many founders simultaneously working on technical solutions. Mario Kohle, for example, wants to "save the world" with the solar unicorn Enpal and he'll also take to the Conference Stage at OMR23. He will explain why he believes he has found the formula for success for green energy for everyone and what contribution the startup is making to combating the climate crisis.
Climate tech and kicks?
At OMR23, we're also embracing debate in our "Panel: Climate Tech 2023." On Day 1 of the Festival, Germany's largest climate tech fund will discuss the role startups are playing in the R&D of innovative solutions on the Yellow Stage. Joining them will be Dr. Elisabeth Schrey, Managing Director of the German government's DeepTech & Climate fund launched earlier this year, Fabian Heilemann, Co-Founder and CEO of AENU, Fridtjof Detzner, Co-Founder of Planet A & Jimdo, Tim Schumacher, Founding Partner from World Fund, and Anna Alex, who is now a business angel after founding Outfittery and Planetly.
So while the panel does deal in major monetas for massive sustainability business models, the focus of the topic just before is on slightly smaller, but no less important ideas. The Impact Hub, Germany's largest community for social entrepreneurship, will take the stage to present its work. Anne Lamp, from Traceless and Dana Pietralla, from social tech startup Paged, will discuss their efforts to establish a plastic alternative in the mail order business and develop solutions for digital inclusion respectively.
On the second day, the Yellow Stage will feature a somewhat different sustainability story as purpose-led footwear brand Allbirds take the stage. CEO and founder Tim Brown was inspired to found Allbirds during his active career as a professional football player (he even represented the All-Whites of New Zealand at the World Cup). How? As he stated in the OMR Podcast International last December, "one of the many great things about being a professional athlete is you get a lot of free gear. But it's heavily logo'ed and laden with plastic. […]  In many ways it inspired me [to found Allbirds].
That is precisely what he did in 2014 and quickly turned a very successful Kickstarter campaign into a love brand based on sustainable principles. One of the major challenges in being a sustainable brand is the lack of consensus in its meaning. "Sustainability often means 100 different things to 100 different people. It took sometime, but we've defined it as a business in a really clear way, where I don't think we have all the answers, but we've got all the questions," Brown said. At OMR23, he'll discuss why it's now up to the artists, the storytellers and the creative industries to influence positive change and shift behaviors in everyday culture to reverse climate change in his talk Climate change—the biggest marketing challenge of our time.
By the way: An event the size of the OMR Festival is not sustainable. We're calling it like it is and no amount of well-intended and essential talks and panels on stage will change that fact. At the same time, however, we can show what measures we are implementing now—and have planned in the future—to make it more sustainable. One tiny example: our multi-use waste concept aimed at slashing the amount of waste the Festival creates. Don't misunderstand us: we are not claiming to be clean, but rather just want to show you our approach at educating ourselves on the topic and share with you the steps we are taking to get better. Click here for more information.