In a plot twist: Tiktok shows off its page-turning power with #booktok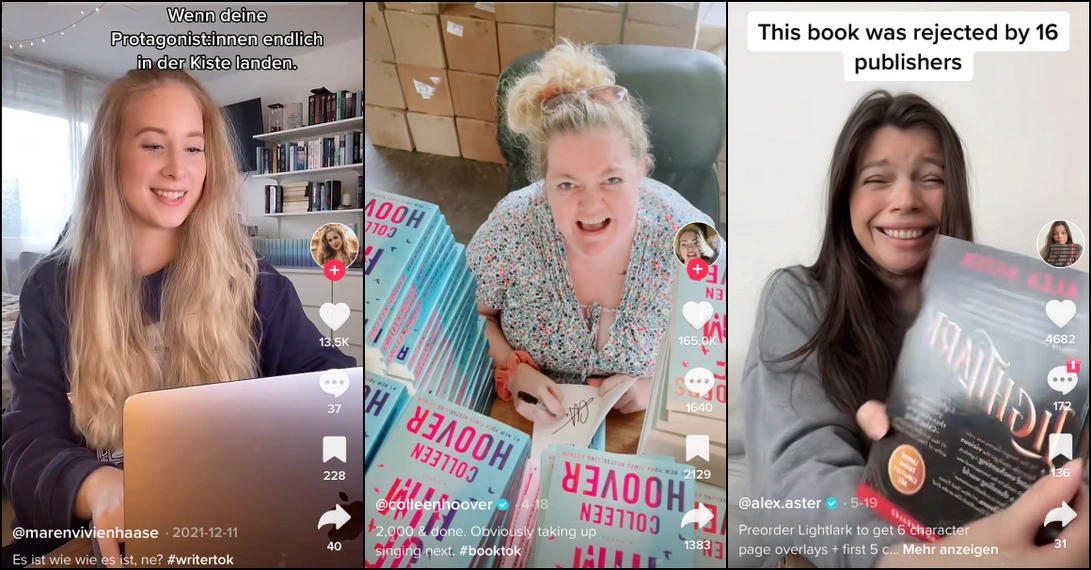 Millions of readers are recommending their favorite books with the hashtag #booktok. With nearly 60 billion posts featuring the hashtag, it didn't take long for the book industry to get the plot. Now some publishers, retailers and authors are using the popular hashtag for significant gain.
"Every 100 years, the island of Lightlark appears to host the Centennial, a deadly game that only the rulers of six realms are invited to play. The invitation is a summons—a call to embrace victory and ruin, baubles and blood. The Centennial offers the six rulers one final chance to break the curses that have plagued their realms for centuries. Each ruler has something to hide. Each realm's curse is uniquely wicked. To destroy the curses, one ruler must die."
When 25-year-old Alex Aster posted the above concept of her new novel as a Tiktok video  last March, her fans went nuts. Today the post, augmented with the #booktok hashtag, has generated 350,000 likes and 8000 comments. Shortly thereafter, Aster received an offer from a publisher; a 6-figure deal for the exclusive publishing rights.
Alex Aster's story is one of the most notable examples of #booktok's impact. #booktok has been trending on Tiktok since the beginning of the pandemic and plays off of previous book trends on social "Booktube" and "Bookstagram." A massive book community has formed around the tags and trends, first on Youtube in the 2010s and then on Instagram. Millions of people have recommended, edited, commented, shed tears and laughed along with the beloved—or loathed books—here. And they also brought in beaucoup bucks for publishes.
Record sales stateside
With the onset of COVID, the community found a new place in Tiktok to call home. Here, the videos primarily feature younger women stacking books of their must-reads for others on camera or are showing off their latest hauls. The most-popular genres among booktokers are fantasy, love stories and young adult novels.
Videos with titles such as "All my five star reads of 2021" and "Books I wish I could read for the first time again" generate impressions in the millions. The community also has its stars, book-fluencers if you will, like "caitsbooks", "lauryns_library" and in our home market of Germany Saskia Papen, aka "pastellpages," are playing a significant role in which books are read by tens of thousands of people in the community and beyond.
#booktok: an author's perspective
Creators, like Papen, have built a major followership thanks to the Booktok community. The significance of the hashtag, trend and community, however, has not only attracted readers. A growing number of young or aspiring authors also know how to take advantage.
One example is Maren Vivien Haase, from Freiburg in the south of Germany. Her debut novel, "Dance into my world," first hit bookshelves in September 2021 and her books are of the Young Adult genre, which, as mentioned before, has had significant success at attracting readers on Tiktok.
Parallel to the release of her debut, she told OMR that she saw how her fellow author from the US Colleen Hoover "blew up" on Tiktok. Hoover, who has already published ten novels, is among the most-well known authors on the platform. Her bestsellers are frequently listed as a "must-read" by booktokers. Her book "It Ends With Us" sold the second-most copies in the USA. The hashtag #colleenhoover alone has generated over 1.2 billion impressions. "When I saw the impact and the power of the community, I know I had to tap into it," Haase told OMR.
Catching up on Amazon
Tiktok, she says, is especially good for reaching people who are not yet familiar with her work. She also says posting content on Tiktok has the added benefit of not needing her content to appear polished and professional, as is the case on Instagram. "On Tiktok, I can just be myself and have fun with it," she says.
To reach new readers, Haase said she started by paying close attention to what was trending on the platform, i.e. challenges or frequently-used sound clips. "Then I tried to incorporate those into my posts about my books." She has since shifted her posts to a focus on herself as a person. Her videos now show glimpses of her personal life, explain her creative process and take fans with her to book signings or book fairs.
Haase has generated approximately 6000 followers since she began and her videos have been watched over 100k times. While her social content push has not vaulted her books to the New York Times bestseller list, like Hoover, she did increase her Amazon ranking from 270,000 to 5,550 thanks to the pre-orders of her book that she promoted with a Tiktok video.
#booktok shelves in bookstores
The success of some of the top-performing #booktok artists has not been lost on bookstores. Julia Benkel is a spokesperson for Thalia, the largest chain of bookstores in Germany. She tells OMR that "we have been keenly following the booktok boom for about a year as trends have a major impact on the behavior of younger audiences especially."
In Thalia stores, Benkel says that there has already been specially curated booktok sections and there are plans in the works to set up booktok shelves, just like US book retailer Barnes & Noble did. In Thalia's online shop, you can browse for books using the booktok category.
For retailers, Tiktok not only helps increase the demand for books by new authors, but also "older releases that have not been re-released, are appearing in the bestseller lists once again," Benkel says. Most recently, the 2012 novel "The Song of Achilles" caused a stir as the new interpretation of Homer's epic poem "The Iliad" by Madeleine Miller was unexpectedly the fourth-most selling adult fiction book in 2021—thanks to Tiktok.
Success for all—but at what price?
The booktok community, at least on the surface, appears to be a net positive for books. From readers and authors to publishers and retailers, everyone seems happy about the newfound popularity of books, both new and old. However, if Tiktok continues to be a catalyst for long-term growth, the book industry itself may have to pay a very heavy price. Just look at the music industry.
Tiktok has been considered a hitmaker and a career springboard, a b-line to the mainstream for artists since the platform appeared. About a quarter of the top-200 streamed songs in the USA from last year got their initial bump primarily on Tiktok. Tiktok is well aware of its influence on music and is one of the biggest players for music marketing. As a result, the industry has been forced into action with record labels releasing fake videos to create viral hits and even stars, such as Ed Sheeran, have reported that their label have pressured them into promoting their latest releases on Tiktok. Major labels are suffering considerable losses in their market shares.
If #booktok continues to trend, the book industry may face a similar fate. Mind, it wouldn't be a negative for everyone. Young authors especially see in booktok a genuine opportunity to become successful without being under contract with a major publisher—all they have to do is play by the Tiktok rules of engagement.