Where do you stand on the big white label affiliate controversy? Good, bad or does it matter?
Is it legitimate for affiliate publishers to piggyback off the reach of established media brands with coupon offers or product comparisons to vault said affiliates to the top of the Google rankings—something that would otherwise be much harder to pull off? That question has been hotly debated in the online marketing scene recently after Google cut into the visibility of these so-called white label sites. At the center of the controversy is an awareness campaign run by an anonymous Twitter user. OMR took a look at both sides of the story.
"Over the course of the past few days, we have seen a clear decline of visibility in Google's rankings for our coupon and product comparison offers that ran on (German publisher) stern.de, which has had a noticeable impact on site visits," confirmed Carina Laudage, managing director at major German media company Gruner+Jahr's Digital Products department, to OMR in late August 2019. According to SEO analytics tool Sistrix, visibility of Stern.de/Gutscheine (Engl. stern.de/coupons) in Google's search results dropped by approx. 40% in a single week. For stern.de/Vergleich (Engl. stern.de/compare), Sistrix saw a 45% decline. As Google is the most significant source of visitor traffic by a significant margin for both pages, it stands to reason that traffic declined on both pages by a considerable amount.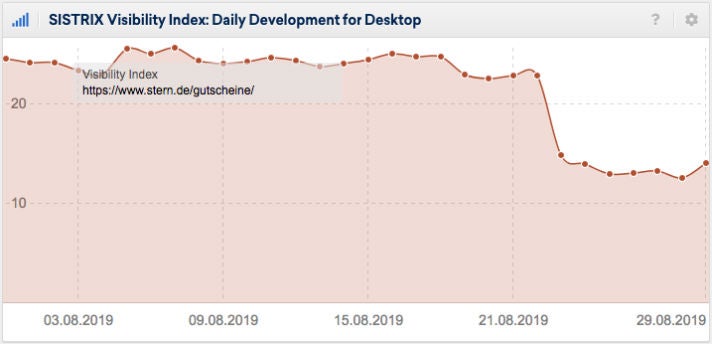 Imprint does not list the publisher as the operator
On Stern's coupon page, visitors receive codes that can be used for a discount in a variety of online shops. Any user who ran a search on Google Germany for "amazon gutschein" or "zalando gutschein" (Gutschein = coupon) saw Stern's coupon page at the top of the list. The comparison page is directed at consumers who are contemplating a purchase. Say you google "laserdrucker test" (Engl. laser printer test), you would see a page operated by Stern ranked number 1, where you could "compare the top 14 laser printers."
Both pages are monetized via affiliate marketing, meaning that when users click on a link on one of the coupon or comparison pages and then subsequently complete a purchase on one of those merchant pages, the coupon or comparison page operators receive a commission. Both pages list Heidorn GmbH (also the operator of gutscheine.com) as the operator and not stern.de.
An essential part of our monetization
Heidorn GmbH is thus engaged in what is called white-label affiliate marketing. The company operates affiliate sites in folders or subdomains on websites of partners – often media brands. Heidorn provides the content, tracking technology and contacts to merchants and affiliate networks. The partners provide the surroundings for the content and put their name on the "white label" solution. Revenues generated on white-label pages are shared according to a previously agreed upon rate according to Dr. Andreas Fruth, founder and managing director of Global Savings Group (GSG), another white-label affiliate marketing provider—at least for all GSG partnerships.
For both affiliate operators and for the respective media partners, such partnerships can be very lucrative. A sudden drop in reach, like Stern.de suffered, means a massive decline in revenue for the interested parties. "These offers are an essential part of the monetization of our website," says Laudage. Heidorn GmbH declined to comment.
40% of the company's digital revenue?
Online marketing consultant Philipp Klöckner wrote in a blog article that such "commercial content has previously represented between 20 and 40% of digital revenues across several publishing houses and assets." It's then no surprise that Gruner is searching for ways to reclaim its previous visibility. "We are engaged in talks with Google," says Laudage. "We obviously have a vested interest in offering the service to as many users as possible moving forward."
It's not just Gruner+Jahr and Heidorn GmbH singing the White-label visibility blues, as other affiliates have also seen a considerable decrease in traffic. "An analysis of current rankings shows that content commerce offers from 50 different publishers have lost up to 40% of their traffic around the world," GSG's Fruth told OMR back in August. Since then, the widely-read US SEO blog Search Engine Roundtable has reported that more publishers have been penalized by Google for their subdomain and subfolder leasing practice.
Major German media outlets Focus, Süddeutsche and Autobild take it on the chin
Some GSG projects have apparently also felt the effects; however, Fruth declined to name names. "We are unable to comment on our partnerships without the express consent of our partners." An analysis on Sistrix of coupon pages affiliated with media brands saw that the online offerings by German news magazine Focus, German newspaper Süddeutsche and automobile magazine Autobild and other international media outlets all suffered significant declines in visibility.
Is the decline in visibility a direct result of Google tinkering with its algorithm? For its part, Google did announce on the following on Twitter right before the decrease in visibility:

White-label pages: a million-dollar business
After white-label affiliate marketing grew considerably over a very long period of time, the trend had to suffer its first setback with the recent developments. German companies were especially successful with the practice around the world. GSG established itself as one of the largest players on the planet with 400 employees and annual revenue purported to be in the 8 to 9-figure range.
White-label affiliate marketing had also taken on massive importance for media outlets too. Whether it's Axel Springer, Burda, Gruner+Jahr, Spiegel Verlag, Ströer, Süddeutsche or FAZ in Germany, or Business Insider, CNN, Daily Mail, El País and L'Express beyond, almost every major media house operates affiliate pages under its own media brand. These not only include coupon and product comparison pages, but also sports betting, credit rating, and reviews of insurance and cell phone providers. Focus had at least seven subdomains operated by third parties on a variety of topics.
Competitors call the practice unfair
Not all players are exactly thrilled about the white-label trend. Torsten Latussek is the founder and managing director at Coupons4u and operates a coupon portal on Coupons.de under its own name. "Competition has increased considerably within the Google rankings due to the sheer mass of white-label co-ops with media brands," Latussek told OMR.
He says that because Google gives the domains of trusted media brands a boost, Coupons4u suffered a decrease in visibility and traffic. "The quality of search results declined since such co-ops meant that any random partner could act as a coupon provider as long as they had content that was curated relatively well. Since we are simply unable to compete against the reach of a news outlet, building our own high-quality brand is pretty much impossible," says Latussek.
"
A thin content offer that would have otherwise never been ranked this high
"
Another competitor from the test and comparison sector criticized white-label practitioners to OMR. "The success of white-label offers like Vergleich.Bild.de (compare.bild.de) and Stern.de/Vergleich (stern.de/compare) is based on thin SEO content without any actual added value for the reader," says Thilo Röscheisen, founder and CEO of test portal Allesbeste.de. "I don't have anything against subdomain or subfolder leasing per se. But I find it to be problematic when a thin content offer gets the highest page rankings solely through the domain authority of the host page, because it would otherwise never be ranked that high due to its lack of quality."
Röscheisen and his team publish tests on Allesbeste.de on electronics, household and other devices. "In contrast to many comparison portals, our test reports are conducted by certified experts on the subject. We test all of the products ourselves except in rare cases," he says. In his view, it has become very difficult for online shoppers looking for purchasing advice on Google to find serious, high-quality test reports. "On household devices, for example, there are only so-called comparison pages in the top-10, none of which carry out their own product tests."
"
Abuse on a bigger scale
"
The legitimacy of white-label sites has also been called into question by non-market competitors. Anonymous Twitter user "LoisH" has gone to great lengths to document the extent of the practice in the past months, including attempting to get Google to take notice repeatedly over an extensive period of time—successfully it would now seem.
"More than a year ago, I started to notice the number of White Label sites explode," LoisH told OMR in a written interview conducted on Twitter. "To me, that looked like abuse on a bigger scale. So I wrote an article about it on Medium.com." LoisH's main point of contention is that the companies behind the media brands do not "create, curate, manage or control the content made available at the subdomain or the subfolder."
"
Media brands relinquish complete control
"
"In some cases, on the White Label site it explicitly says that editorial staff of the media organization is not involved in the White Label site," says LoisH." The media organization gives away the control over a part of their domain to another company. But Google's search engine still treats it as if it's from the same organization."
After he became aware of white-label pages, LoisH published a critical article on the practice and on GSG to medium.com. He says that the feedback to the article, as well as the private messages he received, encouraged him to investigate the practice further.
Do white-label pages rank with duplicate content?
LoisH then invested considerable time and effort in drumming up public awareness for white-label affiliate marketing. For example, he documented in a spreadsheet visible to the public more than 220 white-label pages around the world and solicited Google employees via Twitter for a statement.
In subsequent articles on Medium, he criticized additional aspects, including that affiliate publishers were able to land on page 1 of the Google rankings several times with the exact same content thanks to white-label pages—a clear breach of Google policy.
Who is LoisH?
LoisH criticized the practice further to OMR: "This practice decouples revenue from journalism. If media organizations earn the bigger part of their revenue NOT by doing great journalism, then they have few reasons to reinvest the money into journalists," says the anonymous activist. He could only approve of such projects if they were more closely integrated into the operations of the media houses in question.
He declined to provide OMR with concrete comment on why he chooses to remain anonymous. He says he does not work for a competitor of one of the white-label companies he has criticized, but rather in an adjacent industry, " I work for a company, which has economic ties to some of the directly and indirectly involved companies."
How close are these partnerships?
With his consistent criticism, LoisH was able to generate an enormous amount of awareness for white-label pages and started a global discussion. The widely-read US SEO blog "Search Engine Roundtable" tackled the subject back in July; the company blog of SEO tool provider Searchmetrics published their own contribution (in German) two weeks later. After the announcement on Google's webmaster account on Twitter, "Search Engine Land" and Sistrix reported on it (in German).
A decisive point in the controversy is whether media houses are only "leasing" a subdomain or subfolder," or if they are responsible for and develop the content on white-label pages. Danny Sullivan, "Search Liaison" manager at Google, confirmed as much indirectly on Twitter in his response to Valentin Pletzer, Head of SEO at Burda Forward and thus responsible for major German brands Focus and Chip:

"Both teams collaborate closely"
GSG boss Andreas Fruth distanced himself expressly from terms such as "subdomain leasing" and "subfolder leasing" and from the assertion that media partners have nothing to do with the content on white-label pages in a written interview with OMR. "These content commerce partnerships, such as we pursue, are genuine partnerships we both parties invest heavily in a close collaboration between teams and are thus not in breach of any Google policies. Against this backdrop, it is unclear why so many pages lost visibility in the Google search results."
In contrast to traditional coupon portals, he says that content-commerce offers by GSG additionally create "useful editorial surroundings and content for commercial offers. "Content on our pages follow editorial guidelines laid out by the respective media brands and are regularly monitored there," says Fruth. Just how concrete the collaborations are and how often exchange between parties takes place is something he says depends on the partnership. But, he says, pages are never operated without any type of monitoring by the media partners. "We have partnerships, where every single coupon copy is proof-read." In addition, he says that there are joint meetings between partners at least quarterly, with many convening on a monthly basis.
SEO expert Philipp Klöckner takes sides
The potential percentage-based commission revenues should incentivize participating media partners to contribute to the success of the project. "It's the only way for the business model to succeed. Both either win or lose together. If the media partner does nothing, then the project is doomed to fail," says Fruth.
Industry expert Philipp Klöckner recently strongly criticized the measures taken by Google in the same blog mentioned earlier in this article. As someone with an excellent reputation in the SEO scene, his voice carries weight. He is not, however, a disinterested party—as he points out in a disclaimer: Klöckner has in the past consulted on an array of Rocket Internet projects (an early investor in and relevant shareholder of GSG) and has a minority share of GSG. "If that is of any relevance, should perhaps ask LoisH what his motivations are," says Klöckner.
"Why alter the algorithm?"
His bone of contention with Google's behavior is that Google is set to damage journalism by reducing the visibility of these white-label pages, because they will thus be robbed of a very relevant source of revenue. Furthermore, users are not harmed by white-label pages. In fact, he says that the opposite is true as the amount of faith that these users have in the respective media brands saves them time, time that they would otherwise have to spend sifting through thousands of other pages.
Until now, he says that Google's been very good about up-ranking pages that are useful to users. " How can such an interference—incepted by an anonymous fake-account—be superior to the years of data and conclusions of Google's Algorithm including all its signals and user feedback?" Klöckner says that by tampering with the Google algorithm "it will certainly flush up lower quality sites again while destroying consumer's surplus."
Heated discussion on Facebook
Klöckner's pleas led to a very heated discussion on Facebook, in which a host of established industry vets voiced their opinion, including Coupons4U CEO Torsten Latussek, Heidorn CEO Sven Heidorn and Sistrix founder Johannes Beus.
Meanwhile, the special imprint on gutscheine.Focus.de has been deleted. Back in July, GSG was listed as the operator. Now, clicking the imprint redirects users to the main Focus page. GSG is now listed in the "About Us" section of the coupon page as a partner.
What will Google do?
"The objective of media houses is to dovetail the content commerce offer as closely as possible with other shopping-driven offers. Therefore, they especially focus on recreating the 'look and feel' of the brand," says the GSG CEO. "That GSG and media houses cooperate on such projects is something we communicate in accordance with the legal requirements. Take Focus, for example. There is an "About Us" page, index, follow. Here, users are clearly informed that GSG is a partner of Focus and provides expertise in the creation of content."
Whether you see this practice as concealing the true intentions of the business practice or as an expression of a close partnership (and possibly as a reasonable reaction to the most recent developments) is a matter of personal opinion. In the end, the only thing that really matters for both partners is what Google thinks about the change.