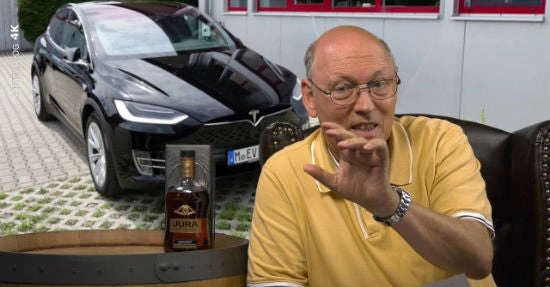 Horst Luenning Whisky influencer
German whiskey king Horst Lüning spends millions on domains and dominates Youtube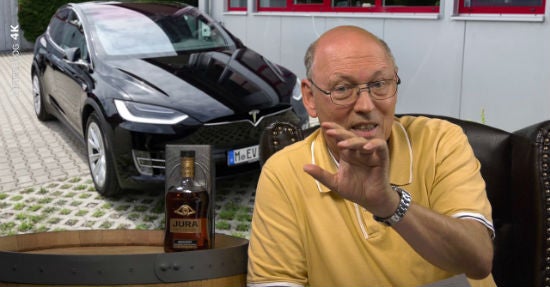 In early 2014, the domain whisky.com changed hands for a cool USD 3.1 million–and continues to be one of the most expensive websites in the world. The domain's new owner is a family-run business named Whisky.de GmbH from a tiny Bavarian village. Horst Lüning is actually better known internationally as a whiskey taster on YouTube, which has propelled him to cult status thanks to three YouTube channels with roughly 47 million impressions. But in recent years his fame has propelled him into the role of a Tesla influencer—helping net the auto company millions in revenue. OMR uncovers Lüning's rise to whisky fame and evolution to Tesla ambassador.

"You have the impression that you can taste the sea, the storm and the island breeze. The nose is dominated by smoke. Let's see how it tastes," waxes Horst Lüning on the aroma of Lagavulin 16, an Islay single malt. That video, one of the first uploaded to whisky.de's YouTube channel way back in November 2007 and seen over 200K times, is a blurry, almost archaic artifact beloved by fans and customers of Lüning's online shop.
Whisky and Internet Pionier
Together with his wife Theresia, Lüning founded, "The Whisky Store" back in 1993, after the couple took a shine to the spirit while traveling through Scotland. TThe shop really is one of the first of its kind online. The pair experimented every now and again with new domains and minor changes to the brand, thus thewhiskystore.de became whisky24.de, which became whisky.de—always employing the Scotish spelling of whiskey sans "e." The domains are still in the family's possessions and all redirect to the whisky.de homepage with the claim "Treffpunkt feiner Geister" (Meeting Point for Fine Spirits).
In early 2014 came the deal that pretty much proves all is well with the liquid gold business online: Lüning snatched up the domain whisky.com for USD 3.1 million and secured the family business one of the most expensive domain names of all time. The domain's previous owner, Michael Castello, who along with his brother, was a successful domain-name hoarder. Shortly after the record-setting deal, Castello stated in this article that the sale only took seven days to finalize and netted the deal's broker a 10% commission worth USD 310K.
Lüning goes global: Internationalization and YouTube content in English
The new domain in hand, the company set their sights on shipping whiskey globally. As Lüning stated at the time the initial plan was to "translate German content into English and then piggy back off the 33K daily users and 17 million impressions on the German domain that had already vaulted the .de domain to the top of the whisky portals."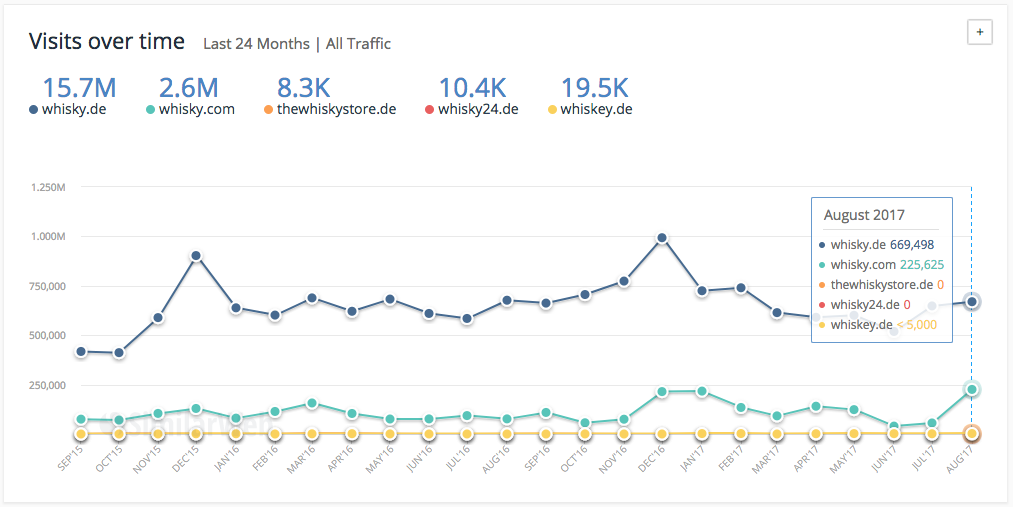 According to SimilarWeb, the .de domain continues to be the company's breadwinner. Over the past two years, the German page has netted about 650,000 visits a month with an average of 7.5 page views per visit. Conversely, the English page reaches 110,000 visits a month with an average of 2.7 per visit. The other, older domains in the portfolio, like whisky24.de, thewhiskystore.de or whiskey.de no longer play a relevant role. Despite reportedly receiving several offers, Lüning says whisky.com is not for sale. Mediaoptions.com, lists the domain currently as for sale at a price tag of USD 1.61 million.
Community building drives success
From the outside, it's impossible to conclusively say if the million-dollar investment has yielded a solid return. The company, in typical German fashion, is very reserved about it finances and did not respond to our requests for comment. According to press release coinciding with its 15-year anniversary in 2008, the Whisky Shop generated "EUR 10 million in revenue through sales of over 1000 different whisky products and annual growth is projected at 20%." Maintaining that kind of growth over the course of a decade would obviously be impossible.
OOne of the main factors in the success of whisky.de lies in its community building efforts, which was a priority from the beginning. The website itself contains a whisky database, where approximately 28,000 members have left over 70,000 reviews on various drams. The forum also displays all the hallmarks of a highly engaged community: In thousands of threads, almost all of which pertain to whisky, users have written over half a million comments. For an annual fee of EUR 60, members of "The Whisky Club" receive a 5% rebate on every purchase and, of course, a bottle of whiskey. In addition, there is a community newsletter, a free whiskey catalogue, a free whiskey book and a Facebook group with over 10,000 members.
Content Marketing on Youtube as a traffic machine
Since late 2007, whisky.de has operated its own Youtube channel and has since uploaded 1700 videos. The MO is almost always the same: Horst Lüning samples various bottle of whisky and talks about each sort's special characteristics. He doesn't use a script and the videos are all single shots. His own brand of charisma has helped him become the brand's face in the community and  industry. the most successful clip has over 400,000 views, the longest is half an hour and most of them contain a direct shop link to the product he's tasting. The channel has garnered a total of 25 million views and has some 36,000 subscribers. His son, Benedikt Lüning, who according to the company ledger is managing director along with his father, is increasingly featured in front of the camera.
Content on the YouTube channel has become more international since acquiring whisky.com in early 2014. The English-language channel, which was created just a few weeks prior to the domain deal, has 1000 videos, 22,000 subscribers and nearly 5 million views. According to German daily TAZ, company revenue has increased by 25% since beginning with content on YouTube.
Horst Lüning the brand—and Tesla influencer?
The strongest YouTube channel in the company's portfolio when it comes to subscribers, is that of Horst Lüning himself. Since mid-2012, he has posted videos on a variety of social, political and cultural topics. A mechanical engineer graduate, his most successful videos deal with comparing heating costs, the US elections and his rolex—always with a whisky bottle in the background with a shop link in the video description. 57,000 subscribers has seen his 1100 videos roughly 16 million times.
In addition to topics like "societal and financial secrets that political actors and the media would rather keep under wraps," Lüning has focussed his channel on electric car maker Tesla. Lüning himself drives a Model S and offers up details on his everyday life with the car, e.g. during a world record 24 hour drive.
Through his Tesla videos and the hundreds of thousands of views they have generated, Lüning has reached the status of an influencer. According to him, the affiliate link he has promoted has led to the purchase of an additional 21 Tesla Model S vehicles. The standard version without any special extras runs for EUR 60,970, which would mean at least EUR 1.28 million in revenue for Tesla. No surprise then that the company invited Lüning to the launch event for the Model 3 in Fremont, California (he declined.).  Tesla does not have any revenue sharing programs in place for affiliates, but rather rewards them with little extras and accessories for the electric cars.
The continuing whisky trend and signed pictures
There is no telling how long Lüning intends on remaining the face of whisky.de or if the junior Lüning will soon replace him. Senior, however remains the apex cult figure as signed pictures of him would attest. The overall interest in whisky does not appear to be slowing, if you believe in Google Trends. Internationally speaking, search queries with an "E" continue to lead the waymaybe they'll soon be snatching up another expensive .com domain.