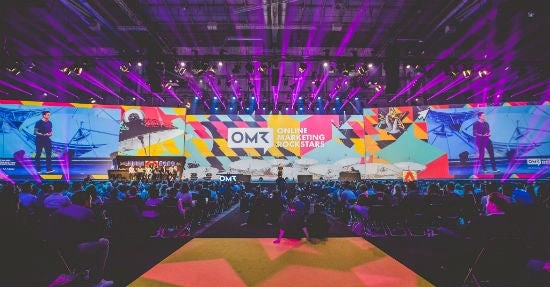 OMR Conference 2017 (Image: Julian Huke / OMR)
OMR Festival 2018 marks the eighth time that we've put on our little celebration of the digital marketing industry. As is the case every year, there are some new changes to this year's Festival worth keeping and eye on. Two stages, a new party format, a brand new app and much more! Stay informed on what's new and get the most out of OMR18.

A six pack to write home about
It's a hit on all six! Every year since we began, the OMR Festival has grown significantly every year—with 40K attendees, 300 speakers, 300 exhibitors and 4 stages, this year is no different. We're also stoked that we could finally lease a couple of halls more at for OMR 18, putting the grand total at 6. To eliminate lines (queues for you non-Yanks), we're opening up a second entrance to get you inside as quickly as possible. Eingang West (Entrance West), like we have in years past and for the first time ever Eingang Nord (Entrance North).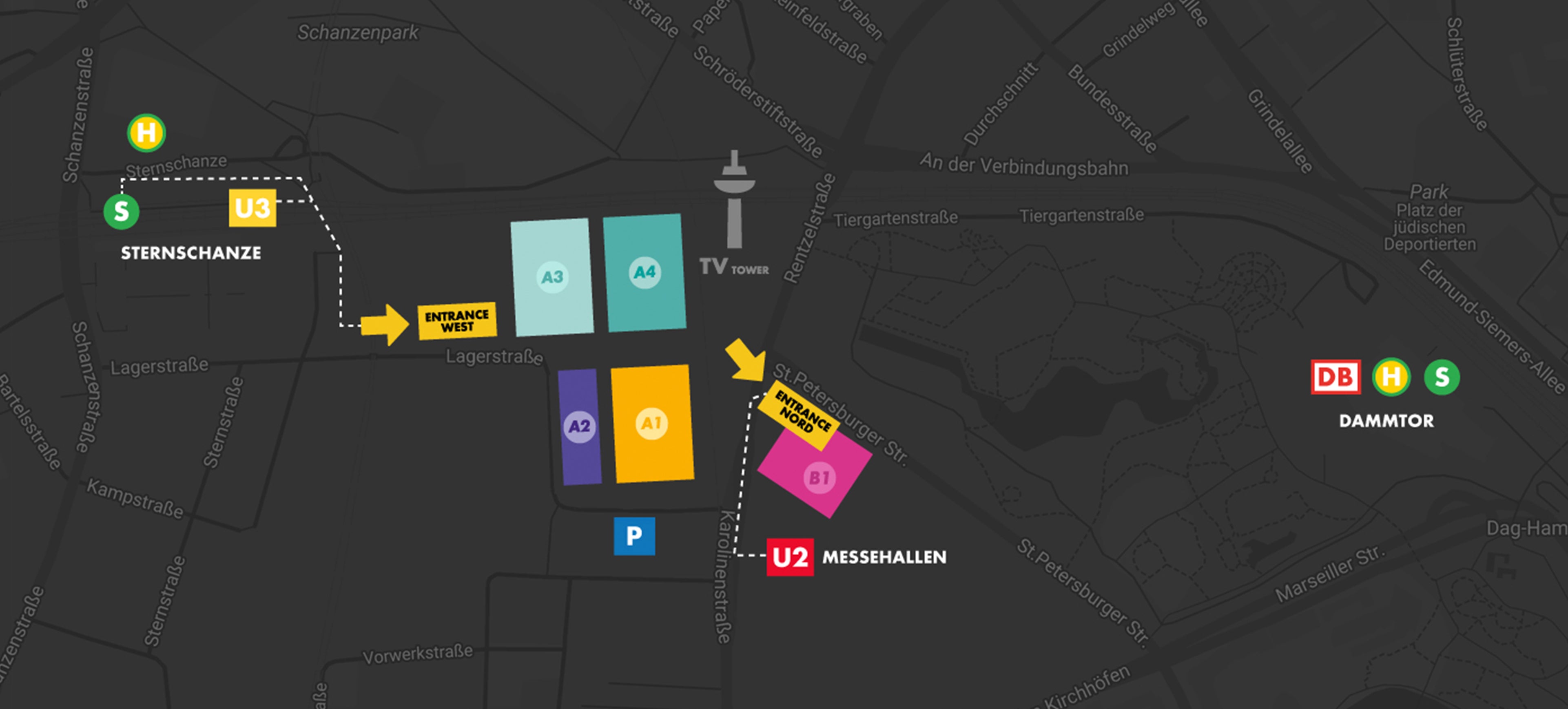 Check-in at the airport and at the TV tower (Fernsehturm)
You can check in at Hamburg Airport or near the Festival grounds near the Fernsehturm TV tower. This way you can get your attendee badge before the Festival starts on Thursday and skip the accreditation counter Thursday morning. But if you can't do so ahead of time, don't fret—we've got 130 accreditation counters spread across both entrances.
Hamburg Airport (Solely for air travelers, located past the security checkpoint):

Monday, 9 AM – 10 PM
Tuesday, Wednesday and Thursday, 7 AM – 10 PM
Friday, 7 AM – 1 PM
Right next to the "Telemichel" TV tower in front of the Hamburg Exhibition Center: (Messeplatz 1, 20357 Hamburg):
Monday, 12:30 PM – 10 PM
Tuesday and Wednesday, 8 AM – 10 PM
Cashless Payment that works
Plastic please! In 2017, we gave Cashless Payment a try and it was a huge success complete failure. At #omr18, we've got a mixed system in store. No, we won't be taking cash, but you'll be able to pay everywhere with your EC or credit card. But we're not giving up on paying with your wristband completely: You can load up the chip in the wristband with one of the money boys and girls who will be running around the Festival, again using your EC or credit card. You can then use your wristband to pay at any stand.
Any left over balance on your card will be refunded to your credit card or bank account after the Festival. On omr.com there will be a link to a refund form available right after the Festival. Just fill it out over the weekend, while you're recovering from the Festival.
Two Expo stages and two dedicated Masterclass areas
Twice as nice! A single Expo stage just isn't big enough to handle all the topics and speakers we want to showcase at OMR 18. That's why this year we're filling two Expo stages on both Festival days. For some practical tips and concrete recommendations, we've got the all new Deep Dive Stage (Hall A2). If you'd like new insights on strategy, visions and new paths to fine tune your masterplan, feast your eyes on the "Big Picture" stage in Hall A4.
We've also increased our offer of 90-minute seminars – Masterclasses. 120 sessions in total—in two dedicated Masterclass areas. More Masterclasses and Tracks guaranteed.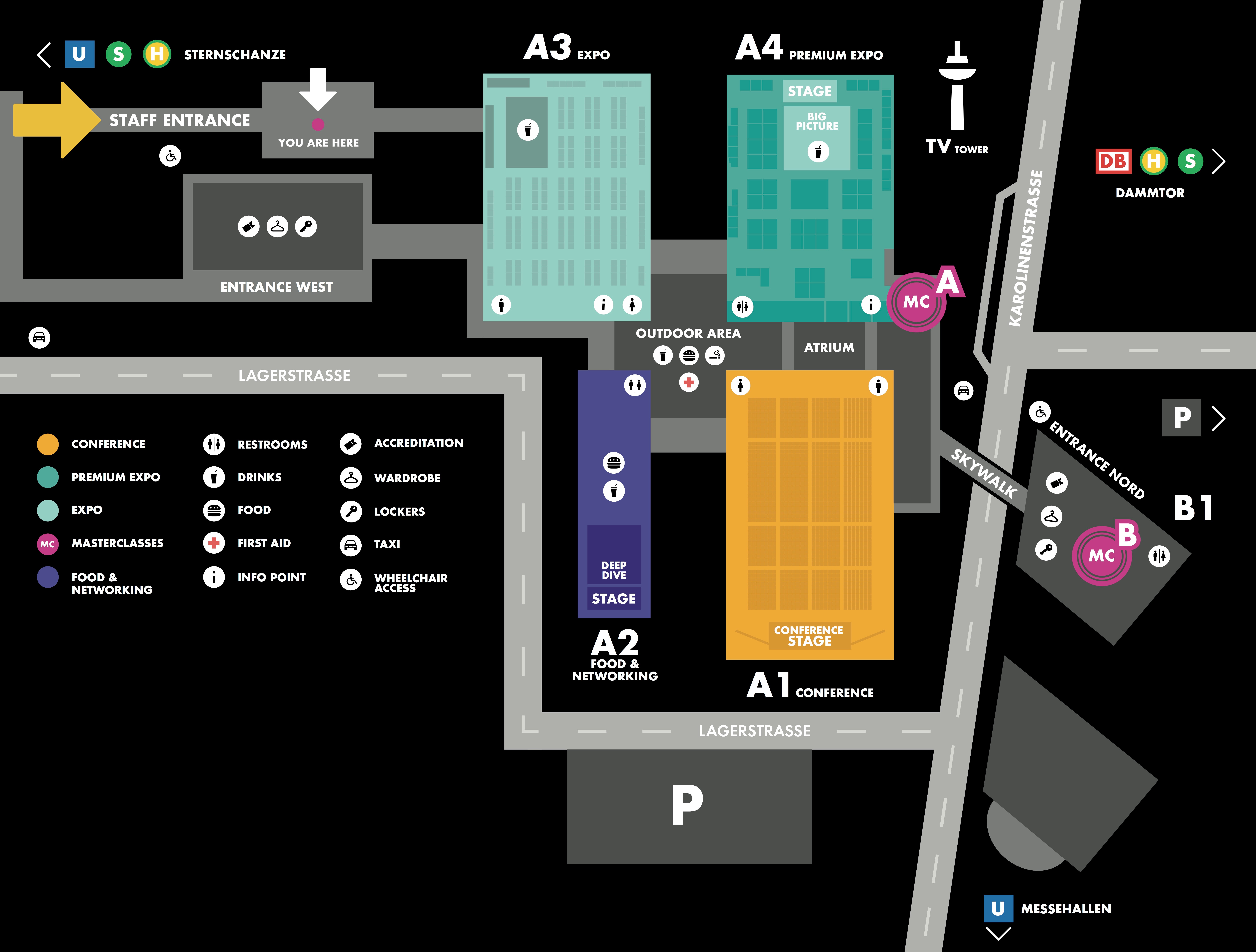 Party throughout the city
An OMR party first! Introducing OMR City Night! At a slew of select locations in and around Schanze and the Reeperbahn, OMR City Night is our way of keeping the party going—from Friday night til Saturday morning (if you're still fit enough that is ;). Partner locales include restaurants, bars and clubs, where you can construct your party plan however you want, by music, food or location. Please note: Just like in 2017, there will be live concerts for all Conference Attendees / all-incl ticket holders in 2018 in the Hall next to the Festival's "Main Event." The only difference this year is that at midnight, the music will stop—but the party won't be over! Just head over to an official OMR City Night location in Schanze or on the Reeperbahn. OMR City Night is of course also open to Expo-only attendees. Please note that we cannot guarantee entry to every location; some may charge a cover. Read all the deets on the Parties here.
Still need a ticket to OMR Festival 2018? Then get yours here. But act fast—they're running out!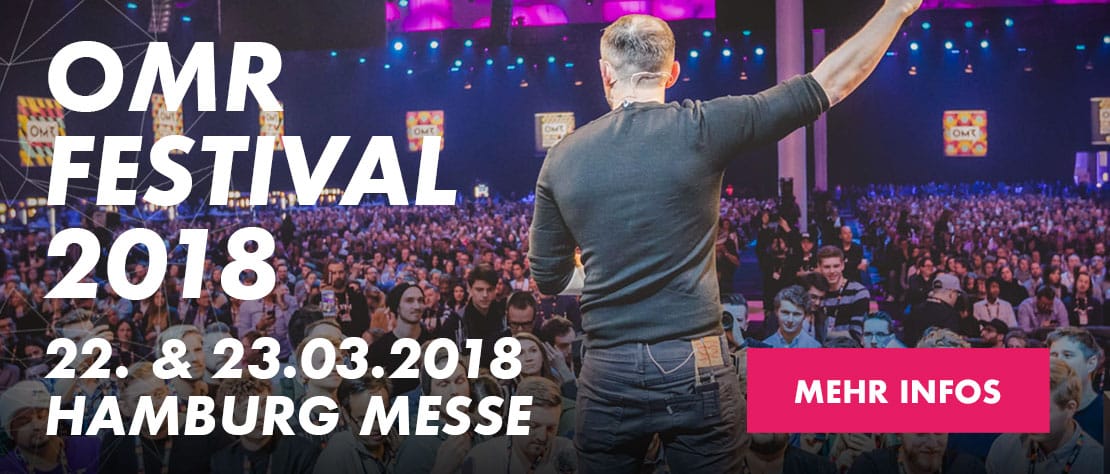 The Official OMR Festival 2018 App
Where can I find which exhibitor? When and where is my Masterclass taking place? Who's speaking on which stage on which topic? Which Side Events and parties can I attend? We're having trouble ourselves keeping track of everything that's on at OMR Festival. But don't fret! We've got you covered: with our brand new OMR Festival App, you can find the 411 on everything OMR18—and even create your own personal schedule! How you ask? Right this way, we'll show you how!

The first thing to do—if you haven't already—is to download the app. iPhone users can find it HERE, Android user you need to come over HERE.
After installing the app, scan you your Festival ticket or enter your ticket number.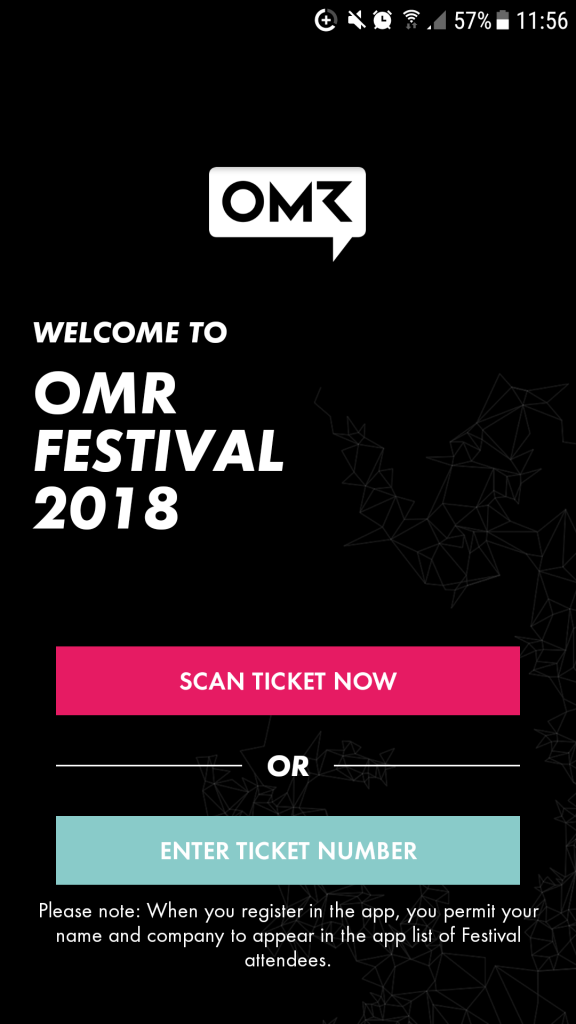 To scan the QR code on your ticket or badge, just hold your phone's camera over the code: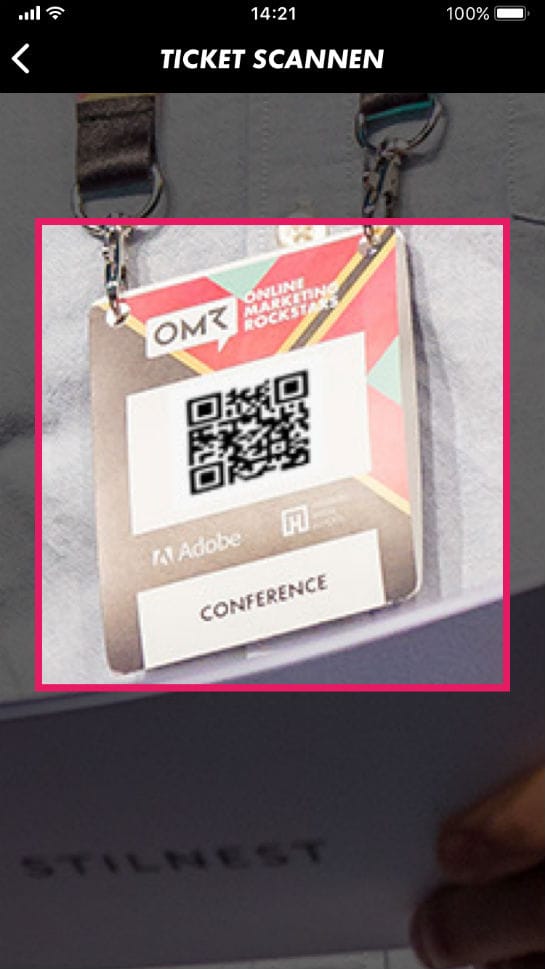 Or just enter your ticket ID number, which you can find in the confirmation mail that you received after purchasing your ticket or right on the ticket itself below the QR code: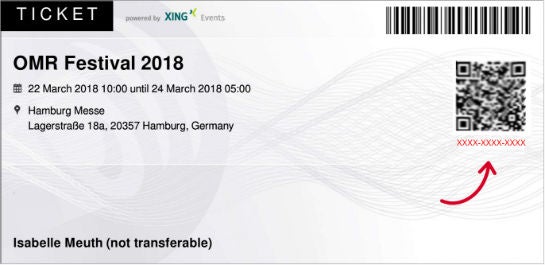 Now it's time to create your profile. Now you're ready to use the app in its entirety. The home screen offers you several options: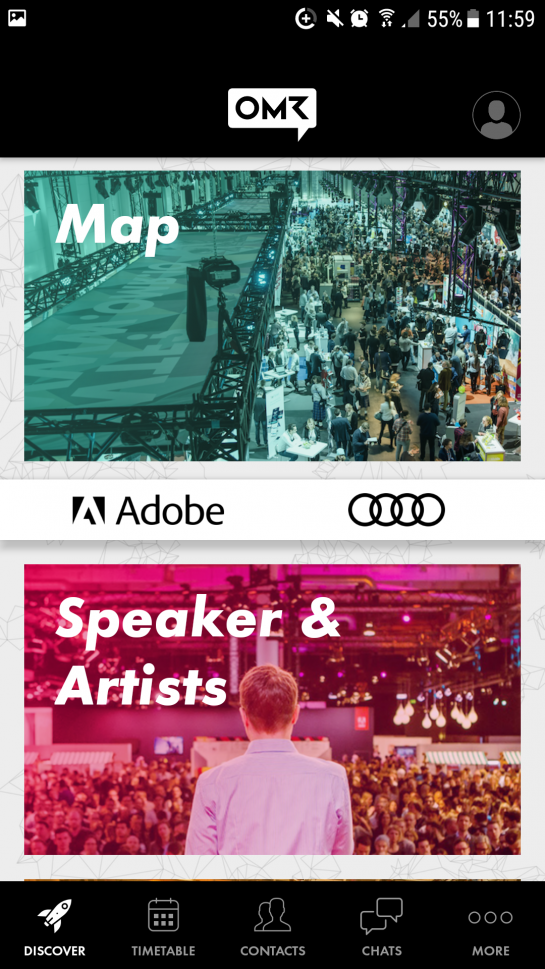 To view the complete Festival program at a glance, click "Timetable":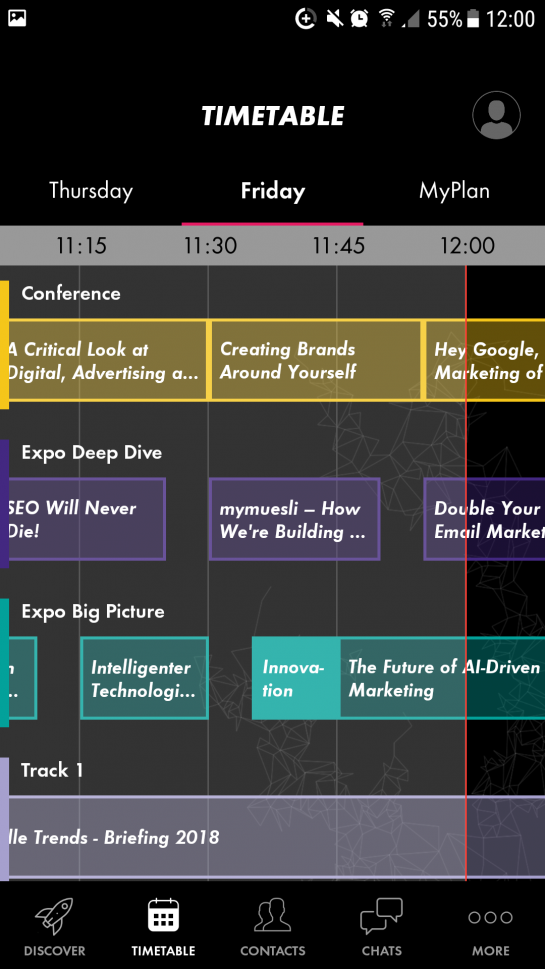 You can also click individual timetable slots. If you want to add one to your personal schedule, just click the star to the upper right. Masterclasses you are confirmed to attend, are automatically added to your plan via your ticket ID. After you've added a few favorites, you may see something similar to the following beneath MyPlan: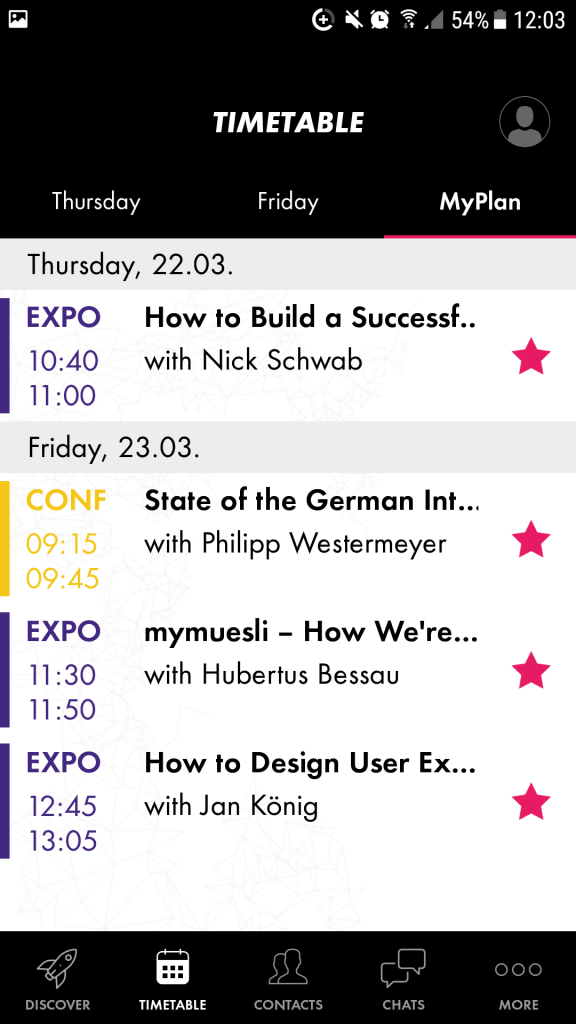 Our app also has everything you need to know about our exhibitors too. Just click "Exhibitors" to learn more. You can sort them by branch or by favorites.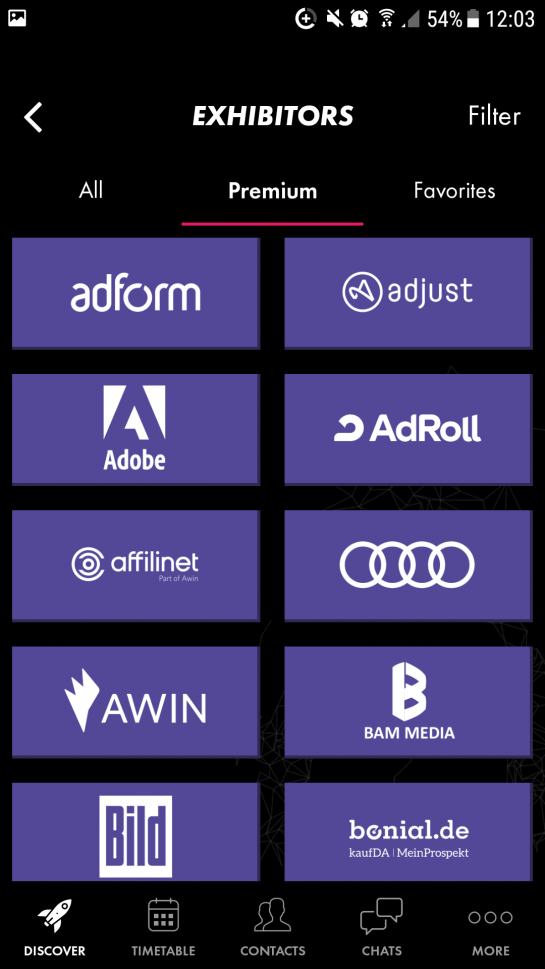 The app can of course do much more. You can network using the app and add and search for potential leads and contacts to your app. You can follow what's going on on social media and what's being written about OMR and lots, lots more. Download it now and give it a try yourself!
We'd like to thank our partners at Fabrik19 for developing the app!