Spot on! We tricked Spotify with TikTok: 18 million views via #OMRCuts to crack the top-10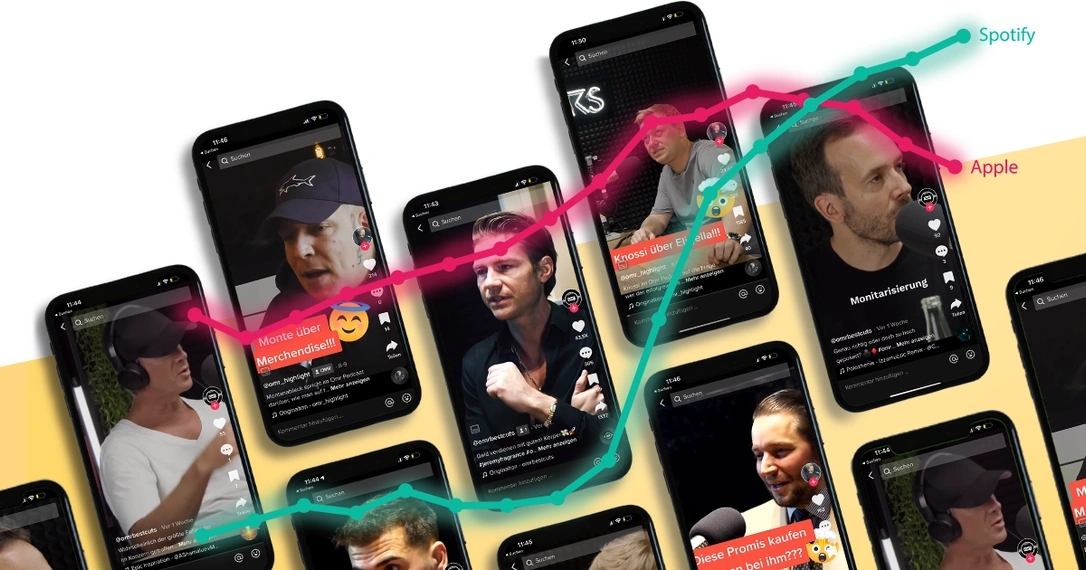 Clips using the hashtag #OMRcuts generated over 18 million views. Graphic: Amely Richter
It's hard standing out amongst the tens of thousands of German-language podcasts. But after learning a cunning trick from The Hustle CEO and founder Sam Parr, we generated a surge of views numbering in the millions—and thanks to the engagement from our community, we even cracked the top-10 on Spotify. Today, we're breaking down the campaign behind #OMRcuts—and unveiling who the winners of the 5K prizes are.
In retrospect, we're quite happy we listened to Sam Parr. If for nothing else, because the name #OMRcuts rolls off the tongue much better than the Glöckler-Parr challenge. That was OMR founder Philipp Westermeyer's initial suggestion for naming the challenge—but Sam shot it down immediately saying it was simply too complicated. Ok, that's all beside the point. The main story is that when OMR's Philipp and guest host Philipp Glöckler from the Doppelganger podcast spoke to The Hustle founder Sam Parr, he said that he had also used a trick to make his newsletter, and subsequent media empire, The Hustle more popular. What trick is that you ask? Parr and his team asked users to cut short video clips from the episodes that his team had published on Youtube. These were then to be published on Tiktok under the hashtag #mfmcuts. The highest performers were awarded with USD 5000 per person. Within ten days, the videos generated a total of 30 million views.
"You have to do this," Parr said. Consider it done, we thought. Let's go.
Our campaign ran from August 7 to 14. Typically, we would have welcomed somewhere between 300 to 500 new followers on Spotify during this period. This was no typical week, however. We added over 4-fold more in followers than the most-optimistic estimate during the week (2,382). So the question is, does that have anything to do with #OMRcuts. Um, yeah, it does. Because all in all, user-created videos have generated more than 18 million views on Tiktok. So the Parr principle applies to the Fatherland, as well.
#OMRcuts by the numbers
Of course, we took a very close look at the impact of the campaign on how we performed. First off, the number of views for our YouTube videos more than doubled during the week compared to the previous week. Especially those videos featuring guests who have extensive social media reach in their own right saw a spike in views. German streamers MontanaBlack and Knossi, luxury watch retailer Marc Gebauer and perfume influencer Jeremy Fragrance did well, as did Markus Lanz, a presenter at German public broadcaster ZDF. Furthermore, views for individual episodes of the OMR podcast also increased significantly—once again MontanaBlack saw a major bump. Just for the additional streams we had for his episode, we would have had to spend more than EUR 10,000 in media budget.
The higher reach and call-up figures were also reflected in the podcast charts in the end, which of course made us even happier, because this increases attention for the format once again. And in the end, our mission with the OMR Podcast is to reach and inspire as many listeners as possible, so strong growth is a key pillar in succeeding. The more visible we are with the podcast, the easier we can be found. On Spotify, we saw a particularly strong upward trend. Before the challenge, the OMR Podcast was a mainstay in the top-100, but, in all honesty, in the lower half between the 70s and 80s. During the challenge, we climbed to 11th place and were suddenly ahead of extremely popular podcasts like "Baywatch Berlin" or "Gemischtes Hack." On Apple, the effect was not quite as strong, but still significant, where we went from 30 to 10th.
Go figure: the higher the traffic, the better the numbers
But how exactly did #OMRcuts work? In a post on Linkedin, challenge participant Moritz Schmid gave a little insight into his work and three tips on how to increase the reach for highlight clips on Tiktok. For starters, users should focus on podcast episodes with celebrities who have a high reach—just like we mentioned before. Schmid, for example, spliced together clips from episodes with Montana Black and Knossi. Samuel Schlesinger, @OMR_Highlights, took a similar approach as well. According to Schmid, it is key to keep clips as short as possible. In his view, clips that display numbers pique viewers' curiosity—like, for example, how much Montana Black paid for his estate. In total, the nine videos Schmid uploaded to the @omr_highlight channel amassed more than 1.7 million views.
Others, too, had some exceptional results as well. The campaign, however, is now finished. We've reviewed all the videos and accounts and determined four winners for the challenge—each of them can look forward to an extra 5k coming their way. Who? Samuel Scherzinger ("omr_highlights"), Edgar Patzel ("omrreviews"), Iman Sakhi ("omrpodcast") and Philipp Bruns ("omrcuts") are taking home the big bucks. Thanks to everyone who supported us on our reach experiment.