A villa? A yacht? Or maybe just spend your days on the golf course? With those options the Berlin Brands Group hoped to attract willing marketplace sellers to its website. The eCommerce company spent EUR 250m on acquisitions of DTC businesses. Simultaneously, Thrasio—OG among merchant buyers from the USA—is on a shopping spree in Germany with some EUR 200m at its disposal. With the recent influx of Thrasio clones popping up in Germany, the market volume is in the 9-figure range and could soon eclipse 10. Small wonder then that merchants are experiencing a mini goldrush. But what's the story beyond the hype and headlines? OMR got the inside scoop from several sellers.
"If I knew for certain that things would continue like this for the next 20 years, then I'd have no qualms whatsoever about selling," says André Kruse. But the FBA merchant knows that there is no guarantee. If you snoop around in the forums where FBA sellers talk shop you'll find people complaining about merchant accounts that were frozen without any apparent reason, about unfair competitors, aggressive lowest-price B2C competition from China to marketplace operators who change the rules arbitrarily whenever it pleases them or partners turned archrivals who copy bestselling products and sell them as their own without the "little guy" able to do a thing about it.
"I don't have to sell"
That all factored into his recent decision to start looking for buyers for his DTC brand Arganöl Zauber. Not out of necessity, but out of genuine interest. Over the years, his DTC brand has transformed from affiliate shop to an FBA brand offering its own line of unique products including nail oil, peeling and eye creams. With Arganöl Zauber, Kruse has generated annual revenues between EUR 250k and 300k with high margins.
At first, he explored company exchanges, but they hardly yielded any serious enquiries and the serious enquires that did arise where significantly below his target. Kruse is living the dream as one of many FBA soldiers of fortune. His business is completely automated, Kruse says, he only needs to invest a couple of hours into the job each month and earns more than in many other full-time gigs. It is the perfect side hustle. "I don't have to sell," says Kruse. But he would if the price was right and then he could concentrate on his main job as a vacation home agent.
3300 objects of desire—plus 4000 more
The chances of FBA merchants actually finding buyers for their businesses have increased exponentially in the past few months. Roughly one year ago, a host of Thrasio clones began popping up in the fatherland: Razor Group, Seller X, Orange Brands, Brands United, Merx, Amazing Brands, Marketplace Power Brands and a few others, which have already closed up shop. One of those is Thirtii, which via an aqui-hire has become Thrasio's official German pillar. Recently, the aforementioned Berlin Brands Group got in on the game with its promises of luxury.
Every one of these buyers is focussing on merchants and DTC brands who generate revenues in excess of 1 million on marketplaces, primarily Amazon. According to a study carried out by Hamburg-based Amazon agency Remazing, there are a total of 3300 FBA merchants in Germany and an additional 4200 in other European countries. As the buyers are primarily focussed on so-called "category leaders," Remazing sees a massive amount of competition for the few stars despite the sheer number of merchants in operation. Therefore, Reamzing also notes that it would make more business sense to focus on smaller merchants who may generate less in revenue or may not even be profitable, but entail a massive growth potential. However, recognizing that would require a fundamental understanding of the market—something in short supply among many of these newly minted FBA buyers according to the experts at Remazing.
Buyers scouting lower leagues
While many do not, there are indeed some buyers interested in "smaller fish." André Kruse told us that Brands United began contacting him some time ago and named a price of 2.3 to 2.6 times the "adjusted profit." "They never did provide any specifics on how they calculated adjusted profit," says Kruse. The possible deal failed at the time because he would have had to file a trademark for his brand.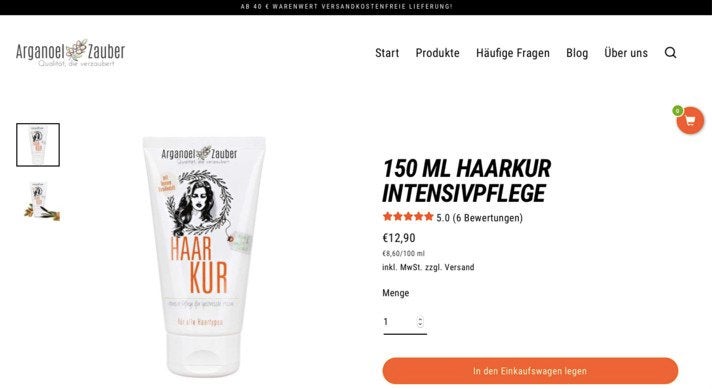 Kruse was also proactive in his interest, initiating contact with buyers as well, which led to Orange Brands quickly responding. "They found my brand to be too small," he recalls. Razor Group never responded to the inquiry he made via their online contact form, but did get in touch a few months later—with a standardized mail. "If I am really serious about acquiring a company, then I'm only contacting those that I am interested in buying and not casting a wide net only to then decline," he says. The FBA acquisition sector has an "extreme degree of startup character, but not in a professional manner." He has yet to hear of anyone who has sold their business through such approaches.
Marc Staller, founder of Seller-Coach and of the community "AMZ Hackers", knows several people who have sold their FBA business to buyers, but does confirm the core of Kruse's impression. Staller knows that every merchant with decent revenues on Amazon has received letters in the mail, emails or phone calls from one or several Thrasio clones. Staller says that their opening salvos "often consist of alluring multiples as bait." After the first dialogue, however, it becomes clear that "they are just casting a wide net." They can just pick out the best of the best. Staller says that up to now deals have only been reached with merchants with monthly revenues in the upper 6-figure range.
A good feel for niches, an incredible talent for SEO
Among those who did complete a sale are Philipp Ralfs and his partner Christopher Piehler. The pair first got involved in the FBA business three and a half years ago, purchasing white-label goods cheaply in China, slapping on their stylish brand and building up their brand Anchorgoods through clever SEO. "We always tried to find niches where competition was at a minimum," says Ralfs. A tried and true FBA approach.
Approximately two years ago, the pair of residents from Hamburg landed a direct hit. A wall mount for bicyclces. Target group: urban hipsters who want to hang up their fixie bikes in foyer of their studio apartments and then post pics of their sick wheels to Instagram. It became the most-sold bike wall mount in Europe on Amazon.
The looming shadow of "Lord Amazon"
Last year, Ralphs and Piehler generated upwards of EUR 750,000 in revenue, 80% of which directly stemmed from the bike wall mounts according to Ralfs. Dependency on a single product sold primarily on a single platform is an issue commonplace among FBA sellers. Ralphs likens it to being "subordinate to the landlord."
"We are also fully aware that being successful a couple of years ago in no way guarantees a repeat of that success. The SEO tactics we employed then to drum up awareness and sales may no longer yield the same results given the current amount of competitors on the market," Ralfs says. On top of that, he says that they never intended to pursue this endeavor to the end of their days. "We always planned on pushing it as high as we could and then see where we'd go from there."
A fine line between stupid and professional?
So it was a welcome development when the buyers did come calling—the first arriving sometime in May 2020 with several others following later in the year. The offers varied greatly and in the end they focussed on five offers that seemed serious. "We had to decide between the dumbest and the most professional," says Ralfs.
They ended up deciding against the highest bidder—although the lowest and highest bids only differed by 5%—choosing an asset deal with Razor Group in Berlin, who in the eyes of Ralfs and Piehler made the most professional approach. At its core, however, the process was similar regardless of the buyer: Ralfs provided the prospective buyer with the access data to Amazon Seller Central, answers to over 100 questions, information on suppliers and advertising partners and then they got back in touch a week later with additional questions.
Hard, but fair and cooperative
According to Ralfs, Razor was extremely diligent, leaving no stone unturned, but were always fair. "Negotiations had a partnership character and they offered us a managerial role after the sale, but we wanted a complete exit," says Ralfs. So they transferred the entirety of company data and figures to the Razor Group and liquidate their FBA holdings. Ralfs and Piehlers did agree to provide consulting services to Razor Group, currently a monthly call and a couple of hours per week.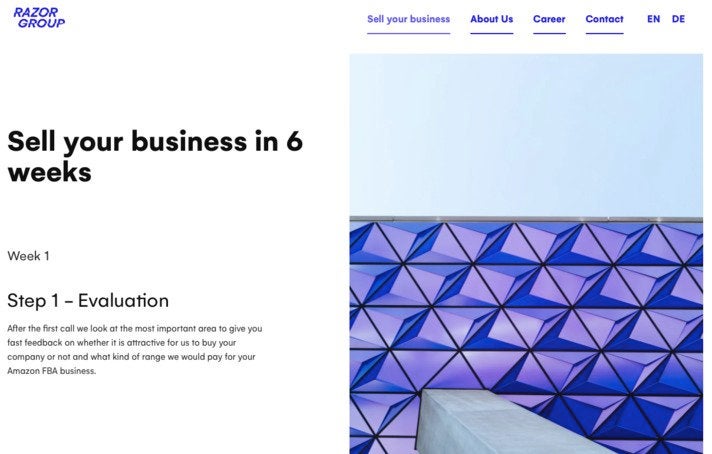 Ralfs and Piehler did, of course, do their own due diligence, asking other FBA's for their experience with Razor Group, but since they were one of the first Razor Group targets they had to trust their instincts—and the law. "I was fortunate that my partner comes from a legal background. I cannot stress enough how important it is for anyone thinking about selling to seek professional legal counselling," Ralfs says.
Brand building in the dorm
That's also the central recommendation of the buyer currently involved in negotiations with the Berlin Brands Group (which is why they'll remain anonymous in this article). Suffice to say, however, this individual, male, is no stranger to exits. He founded his first company while still at university, selling fashion articles—inexpensively imported from the Channel Islands—from the attic of his dorm on Amazon and Ebay. Then came sports articles, which led to his own sports brand.
Within three and a half years, the brand grew to EUR 9m in revenue. Then he sold the brand to a previous form of the company he's in talks with today, which focuses on clustering DTC brands and then scales them up through synergies and marketing measures. The seller and his partner stayed on board post-sale, but left soon after, according to the founder, due to differences in vision and unkept promises.
365 days and 10% profit
They immediately founded their next venture. They focused on leveraging their experience with marketplace eCommerce and sourcing from China. What they needed, however, was a suitable product range to get back into the DTC game. They found one that combined sustainability with "Home and Living." In the summer of 2019, they sold their first article, in their first full business year of 2020, the founder says they generated EUR 3.1m in revenue and 300K in profit.
Why sell such a promising company? "Primarily due to familial reasons," he says. "The business model we have is not tenable if you have a family." So they heard what Thrasio and the clones would offer him. "No one had a clue, though," he says. "For example, they told us that if we stayed on board they would build a fully functional IT infrastructure with a remote programmer in just a few months—that can easily take years."
The sale as a growth hack
The reason that negotiations progressed with BBG was simply that the growth prospects they offered for their brand were the most plausible. "Currently we sell on Amazon and Ebay, a sustainable niche platform and our own Shopfiy store, which we quickly put together, but is extremely profitable," he says. However, he says he cannot envision further growth in the markets he's already serving.
On the other hand, penetrating new markets successfully would entail incurring a great deal of costs. Selling to BBG is for him a kind of a shortcut, as "they operate in a significantly greater number of markets than we do," the seller says. "If we can plug our products into the BBG apparatus, then our revenues will expand." An important aspect as the sale is coupled with an earn-out, i.e. a portion of the sale's price that is made at a later date and is performance-based.
The allure of fast money
A sale is primarily beneficial if the brand has prospects of continued growth and figures to achieve more than what would have been possible with the means of the founder—the exact opposite of what the seller previously experienced. Where the buyer is unable to make good on its end and the seller is forced to watch as the revenues built up through hard work decline by half—which negatively impacts the agreed-upon earn-out deal.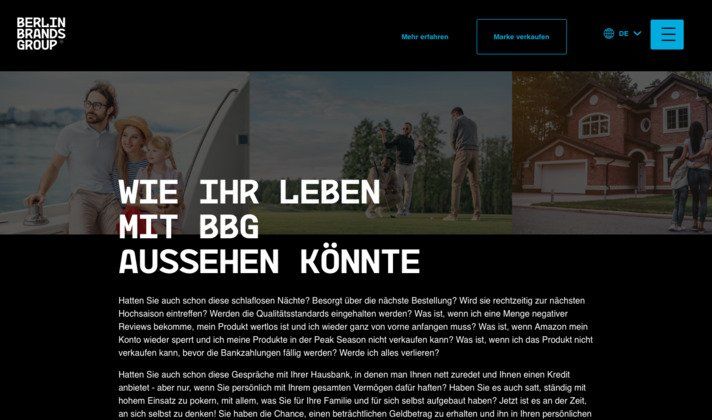 His advice to anyone thinking about selling: "Don't let the promise of easy money cloud your vision. An earn-out is always a rotten deal if the other party does not have the capabilities and competence to continue running your company." He's willing to bet on a company like BBG since he is not concerned that they will disappear over the course of the next couple of years—as was the case with some in the first wave of Thrasio clones.
The seller's company is not a typical FBA acquisition, it must be said. The brand is active on several marketplaces and has a successful shop which in January alone generated EUR 50K without running any ads. Only 5 to 10% of the total revenue was generated on FBA. A conscious decision the seller says. For an order of 100 shower caps at one of his former companies, Amazon charged him the EUR 1.80 in shipping costs each and every time. Ever since, he's been very cautious about being too dependent on the platform.
Financial independence just a couple of million bucks away
Argan-oil seller André Kruse knows how challenging it is to escape from the clutches of Amazon dependency. Kruse also runs his own shop and is currently working on a B2B deal with a bulk buyer in India. He, of course, is always looking for ways of further growing his brand and has several new products in the pipeline. But he is not about to go all-in. "It's not the dream of many to be an Amazon seller," he says. "Side hustles, like Arganöl Zauber, are all about financial independence."
He doesn't feel that he's gotten to that point yet, he'd need "a couple of million in the bank." And he can't envision an FBA buyer actually giving him that kind of cash for his business. The business with India, of which he is unsure just how big it can be, is something he'd never sell. At least not today. And besides, Kruse says, "no buyer would ever pay me the equivalent hourly wage for Arganöl Zauber.