"Team Ukraine Love is the best example of why Yes Theory exists," says Ammar Kandil in the OMR Podcast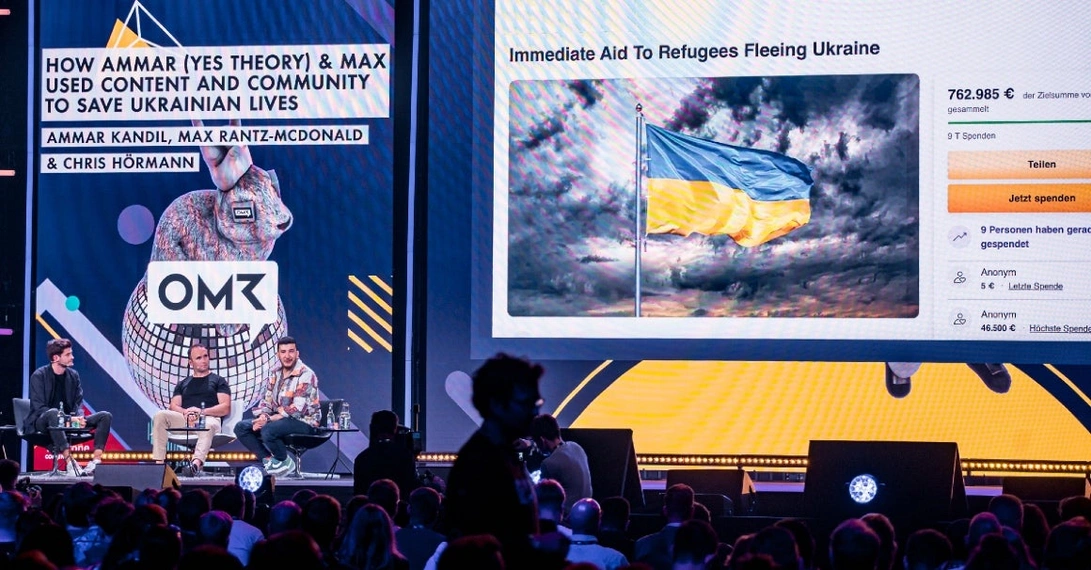 Max Rantz-McDonald (in the middle) und Yes-Theory-Co-Founder Ammar Kandil (right) are talking at OMR22 about their engagement for the Ukraine. Photo: OMR
The OMR Festival is a place for the unexpected. From the guests and speakers to everything else, it's a series of moments that surprise and inspire. While surprising certainly qualifies for talking robots and a 1960s school bus converted into a mobile recording studio (where today's episode was in fact recorded), inspiring perfectly describes my guests in this episode of the OMR Podcast: Ammar Kandil, co-founder of Yes Theory and Max Rantz-MacDonald, who organized a Global Citizens Live event among other things. Most recently, Ammar and Max set up Team Ukraine Love, an initiative aimed at assisting Ukrainian refugees at the Polish border. I spoke to Ammar and Max about Team Ukraine Love, about Yes Theory, mobilizing community and how they use social media for good.
A living room view of war
It's February 24, 2022. A dark day for Europe as Russia invades Ukraine. The images coming out of Ukraine are harrowing. "I was in tears every night," recalled Max Rantz-McDonald. "It's the first war with a living room view of what's happening. First-hand, real-time views of the atrocities going on. I knew I had to go." Within 24 hours Max was on the ground in Poland, driving the length of the border with Ukraine, speaking to refugees crossing into Poland to figure out what was needed. "Max has a lot of experience with the logistics of a disaster," says Yes Theory's Ammar Kandil in reference to Max's humanitarian efforts in the wake of the devastating earthquake in Nepal in 2015. "So he got to the border, got the lay of the land and, serendipitously, as [Yes, Theory] is planning on doing something, we see Max is already there."
Transparency through social media
Max and Yes Theory had worked together on projects in the past, but nothing as significant as this. "We were confident that we could get our community to help with supply-chain issues and get whatever else was needed to the border by joining Max's operation." The model that Max applied in Nepal and used in Ukraine along with Yes Theory was getting on the ground to get a first-hand look at the situation and go "content-heavy" to create "transparency through social media."
By seeing reports from someone they know and trust, it lends much-needed credibility to the operation. "Then you can get the word out internationally and raise funds through that, Max says" The final, crucial step towards ensuring that donations keep flowing is transparency. "You need to show people exactly what and where their money is being used for," Ammar points out. "In times like these, Instagram blows up with fundraisers. You want to do something, but you just don't know which one will maximize the value of your donation. Showing them creates a snowball effect."
800k in donations from nearly 10k people
In numbers, that snowball effect has yielded nearly EUR 800k in monetary donations, countless medical supplies and basic necessities, including power generators, blankets and items for children. Yes Theory is in Ammars words a community of 10 million people strong, spread across multiple platforms, united in shared principles—first and foremost, being open and intentionally seeking discomfort. "[Team Ukraine Love] is the greatest display for why Yes Theory exists," says Ammar. "Yes, we go on adventures and seek discomfort and all of that. But ultimately, the reason we have committed the past seven years of our lives to building this community is that in times of crisis, people need to act together."
Max took that sentiment a step further seeing in Yes Theory the moral compass for the internet. "A lot of times people look to Yes Theory for what is right and wrong. When Yes Theory arrived they added multiple layers of sourcing logistics, donations and creative input sourced from the community. I cannot tell you how beneficial it was to the entire operation to get Yes, Theory involved." One such example of the lengths the Yes Theory community was and is willing to go deals with power generators. "We got word that power was about to be cut, so I turned to Ammar and said, 'make this happen.'" Which, through a couple of Instagram posts to the community he did. "Within 36 hours a team of three from the Yes Fam was driving to the border with 100 power generators."
Team Ukraine Love is still up and running—go here if you wish to donate
Click below to listen to the entire episode as Ammar and Max talk community engagement, how they decide on which projects to work on, as well as the history and future of Yes, Theory and how the Yes Fam supports each other, and much, much more.