The scoop on the drop: where did the latest marketing strategy come from and how does it work?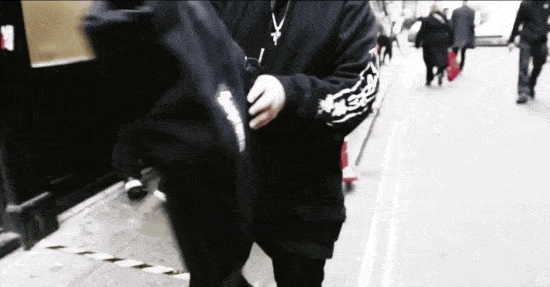 Is there a bigger boost to a brand's reputation and popularity than throngs of customers queuing up around the block just to have a chance at getting their hands on its latest merch? The fashion and lifestyle industry has perfected the practice with the "drop." While its roots lie in the sneaker and streetwear scene, the tactic is now employed by upscale fashion labels and even made its way online. OMR breaks it down, how it works, its marketing raison d'etre and its excesses.

Stroll down Lafayette Street on a given Thursday in New York's hipster Mecca Soho and you are likely to see throngs of people lined up, literally around the block, waiting to get inside the Supreme store. The same scene plays out seemingly every week: young people clamoring for the latest "drop," i.e. the sales start for the streetwear label's latest offering. New releases typically sell out immediately, and restocks to the inventory are limited and released without fanfare. The "drop" strategy figures to have played a significant role in Supreme's evolution into a billion-dollar enterprise after a minority acquisition by a private equity company.
6-figure views on YouTube for drop videos
This past summer OMR founder Philipp Westermeyer noted the crazy scenes in front of the Supreme store during his NYC trip this past June in his OMR diary (text in German): "While the Kith or Diamond Skateboards shop borders on a ghost time, people are lined up around the block for a chance to get into the Supreme shop—although most anyone would tell you that the both sell the exact same things. It really is a demonstration in brand power in real time. If you ask any one of the security guards, how long it will take to get into the shop, they say they have no idea. And besides, I needed to go to a place around the corner, grab a number and wait in line… Incredible, but true: people will put up with the hassle just to get into a shop that's no bigger than a few hundred square feet—although we live in the age of the internet."
The tendency of employing Supreme-inspired drops at brick and mortar shops shows promise online, too. Instagram and Twitter are full of details and specs on drops, announcements and the latest releases, plus reaction videos and images from people lucky enough to snag one of the hyped-up items. Videos on Youtube depicting channel operators capturing reactions of those lucky enough to land one of the dropped hot articles can notch views in the 6 figures. Typically they are young, fashion conscious and trendy individuals who tend to come from well-off homes.
The hype runneth over
Supreme drops are not always a peaceful affair. There are plenty of media reports and posts on social media depicting drops that get out of hand, so much so that the police have been forced to shut down shops or end drops prematurely as the teeming hordes posed a significant safety and security risk to participants.
Supreme NYC Line-Up (shutdown by cops) pic.twitter.com/9shRdu4N3e

— Supreme DROPS (@dropssupreme) April 11, 2017


But how are they able to get people so riled up in the age of mass production and digitalization, where products (at least in the Western world) are everywhere and easily accessible? One part of the recipe to success lies in limiting products and creating artificial scarcity, the creation of which generates buying pressure among the target group (here is an OMR briefing on the subject). Clever communication strategies, including in-advance announcements, stokes the "fear of missing out."
When kicks lead to blows
A very significant part of the success of the drop strategy figures is "brand power:" whoever wears an item by the label (typically featuring an oversized logo), immediately is among the "cool kids." Oftentimes there is an added push from pro athletes, teen and pop icons working as brand ambassadors to further boost the brand's popularity and, by extension, the street cred of the owner
That of course includes the originator of the "drop:" Air Jordans. In the 1980s, Nike started dropping sneakers with Jordans (and then later with Nike SB (skateboarding). To this day, "Jordan drops" are the most common cause of fistfights among sneakerheads. The invention of the "drop" as a phenomenon is a direct result of "sneaker culture," as this very good read by online marketing platform Grailed points out. On the platform, sneaker fans and resellers negotiate and bid on for the most part limited streetwear items.
Bucking the trend of digitalization
In the 1990s, streetwear manufacturers in Tokyo, and shortly thereafter in NYC–among them Stüssy, Fuct and Supreme—began using drops. Today, the most-popular drops in addition to Supreme's are those of the relatively young London skater label Palace.
Even if the roots of the drop stretch back to the "offline era" where brick-and-mortar shops played a significant role, the popularity of the drop has taken off in the Internet and eCommerce age. No wonder either given that luxury items and status symbols are merely articles possessing limited availability and maximum exclusivity, and that nothing better suits such a brand image than scores of fans lining up around the block. Simply put, the strategy's viability from a marketing perspective is very clear.
An entire ecosystem that continues to generate new attention
On top of it all: consumers spread oodles of info organically on social about drops and the new products themselves. The event character of the drop lead to an influx of pics posted to social from on-site or of the product itself—the ownership of which leads to added social capital and prestige. Furthermore, sneaker blogs and specialized platforms like whatdropsnow.com or thedropdate.com keep their audiences up to date on the latest releases. For drops that generate wide-reaching buzz, general-interest media outlets also report on the event—all of which further boost reach.
Another factor contributing to the rise of the drop is the reselling scene. There is a veritable sub-economy of small companies whose sole mission it is to purchase sneakers and rare streetwear items and resell them. The pros use bots to secure items and then flip them later at a massive profit. The attractiveness of a brand does not seem to suffer when consumers see that their products can command absurd sums of money.
A 16,800% increase in traffic
Brand makers are not only able to leverage drops into the creation of consumer need, but also provide insights into their creativity: "It's also about showing how often they are able to push new ideas," Bobby Hundreds, co-founder of California streetwear label The Hundreds, told Business of Fashion (Paywall).
While physical shops continue to play a massive role, drops are no longer limited to offline, but are reflected in the brand's online shops. Here in the shops, product releases are announced ahead of time and the amount of products available are limited. Digital drops also create massive hype. For Supreme, their eShop benefited to the tune of a 16,800-percent increase in traffic, according to Supreme's eCommerce boss Samuel Spitzer in this "Business of Fashion" article."
The fashion world scrambles to keep up
The practice has long since been adopted by players beyond streetwear brands. After Supreme's successful collaboration with Louis Vuitton in 2016 generated a ton of attention, other luxury brands began to follow suit: According to this report by the Business of Fashion (Paywall) brands like Moncler, Gucci, Fendi, Burberry and Balenciaga are employing drops in an effort to reach younger target groups. According to that BoF article, "luxury drops have been more about generating marketing heat with a thin layer of product than selling in large volumes" and Moncler CEO, Remo Ruffini, is quoted in the same article that "drops currently account for only a small fraction of total sales, though the overall impact appears to be positive."
Mega influencers like Kim Kardashian and Kendall and Kylie Jenner have used drops to sell out products from their cosmetic brands "KKW" and "Kendall + Kylie" within minutes. Major sports brands even provide consumers with specialized apps, e.g. "Confirmed" (Adidas) and "Sneakrs" (Nike), to provide them with exclusive access to limited edition products. Zalando, a major European online shop, recently promoted a slew of drops by partner brands during its "Bread&&Butter" event. Major fashion retailer H&M, whose profits early in the year shrank significantly, is focusing on reaching millennials with subsidiary brand Nyden. If you still need more proof as to the importance of drops in marketing, it's in black and white on the Nyden homepage: "There are no collections, no seasons – just a stream of relevant drops and events."
How long does the trend figure to last?
The strategy's prevalence led to fashion trade publication Fashionista to proclaim 2017 as the "Year of the Drop."  In the article, fashion designer Heron Preston says he thinks that the trend will continue to grow, while Lawrences Schlossmann, brand director of reselling platform Grailed, says that a drop's success will largely depend on the quality of the products being dropped. "If you are flash-dropping crap," Schlossman concludes, "it's still crap."