Streetwear OG Stüssy: The comeback of a true original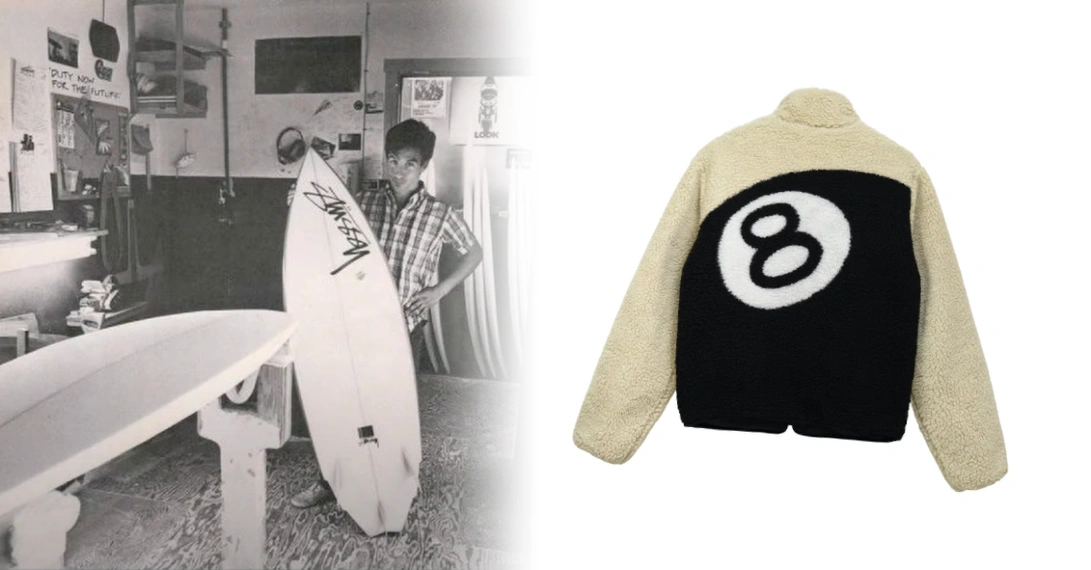 Among streetwear brands, the first that typically comes to mind is Supreme. And with good reason, as Supreme has absolutely been crushing hype marketing and perfecting now mainstay strategies such as drops and artificial scarcity, leading to hipsters round the globe lining up for a chance to fork over beaucoup buckeroos. However, Supreme did not just pop up overnight, but, as with nearly every other streetwear brand—and the streetwear scene at large, its roots can be traced back to a single brand in California, Stüssy. Today, OMR is revisiting Stüssy, where it came from, how it got to where it is and why, after years of toiling in relative obscurity, it is "in" once again—and what role TikTok has in its rebirth.

"Money cannot buy happiness. Then what the fuck is this?" Tiktoker Zach Jelks recently posited his 6.4 million followers in a video on his account "undos." A moment later, he's screaming in ecstasy and showing off his brand new green fleece jacket with a large 8-ball on the back. "The way it sits. And it is reversible!" The video has been seen over 14 million times and garnered 3.8 million likes.
The USD 220 jacket, which had Jelks on cloud 9 just a day before, is part of the Stüssy fall collection. And Jelks is not the only one giddy with glee on TikTok. Clips tagged with hashtag #8ballfleece have been viewed two million times, while the hashtag #stussy8ball has 1.5 million views. Other individual videos featuring the jacket have also generated millions of views. At times, the furor surrounding the Stüssy fleece jacket seems so great that even those who didn't buy one—or missed out on one–are jumping on the bandwagon, publishing videos featuring similar jackets from other brands, like Patagonia.
Stüssy: Surfs up for starters, then shirts and caps
The fact that Stüssy is selling out jackets in no time today is unexpected for several reasons. The first of which starts with the founding of the company. Shawn Stussy originally wanted one thing and one thing above all else: to sell his handmade surfboards. He began working on his own boards in So. Cal. at the age of 13. Over the years, he made a name for himself in the scene and finally turned his hobby into a profession. In 1980, he began sells surfboards in his shop with a special trademark: his signature, a handwritten, squiggly "Stüssy," which still functions as the logo. The Stüssy brand, as we know it today, was born.
Fast forward two years, in an effort to promote his small store and draw attention to the boards, he decided to include a freebie with every surfboard sold at trade fair, a T-shirt featuring the Stüssy logo. Instead of demand for boards booming, sales of shirts skyrocketed. Or would have, had Shawn not refused to sell them. But refused he did, until someone asked to buy 24 at once. Over the course of the next few days at the event, he sold 1,000 shirts, but only 24 boards.
Frank Sinatra Jr. (no, not that one), a surfer friend and Stussy's accountant, sees the potential and decides to invest USD 5000 in the expansion of the brand, according to the Los Angeles Times in an early portrait from the year of our lord 19 and 92. In 1983, they become partners; the company Stussy Inc. no longer just sells surfboards, T-shirts and Bermuda shorts, but launches collections comprising 100 items several times a year.
The International Stüssy Tribe
It didn't take long for Stüssy to cease being a brand exclusively for surfers. Punk had perhaps just reached its peak, the next cultural movement, hip hop, was in its infancy, but growing the first chart successes were not far off. Perfect timing, then, for Shawn Stussy, who was interested and felt comfortable in each scene, and expressed this mix in clothing designs, including sampling and influences from various underground subcultures that had not existed before.
This in turn made numerous like-minded people curious about and aware of the brand. The so-called "International Stüssy Tribe," a friendly group of DJs, surfers, skaters, party-goers and creatives from around the world, acted as a collection of testimonials and brand ambassadors in the company's early years, exemplifying a new lifestyle. In this context, Stüssy is considered the first brand to send fans and friends packages of clothes.
Alex Turnbull, aka Alex Baby, was a member of the "Stüssy Tribe" at the time. A hip-hop DJ, he later described the group as a "network of taste-makers, skate rats and musical vanguards, spread across the world's most culturally adept cities." To this day, many brands would try to replicate that mechanism. For Don Letts, a British musician, DJ, journalist, film director and also an early member of the Tribe, Stussy was engaging in viral marketing strategies before the term didn't even exist—without big budgets and with a focus on organic growth and word-of-mouth effects.
The inventors of the DTC playbook?
And Stüssy seems to have used yet another marketing ploy, which has blown up in recent years, to its advantage early on. Instead of displaying in large retail outlets, the brand sold exclusively through its own stores. For example, the first flagship store opened in New York in 1991. A strategy that up to that point had been pursued exclusively by large luxury brands, but today is an integral part of many DTC brands.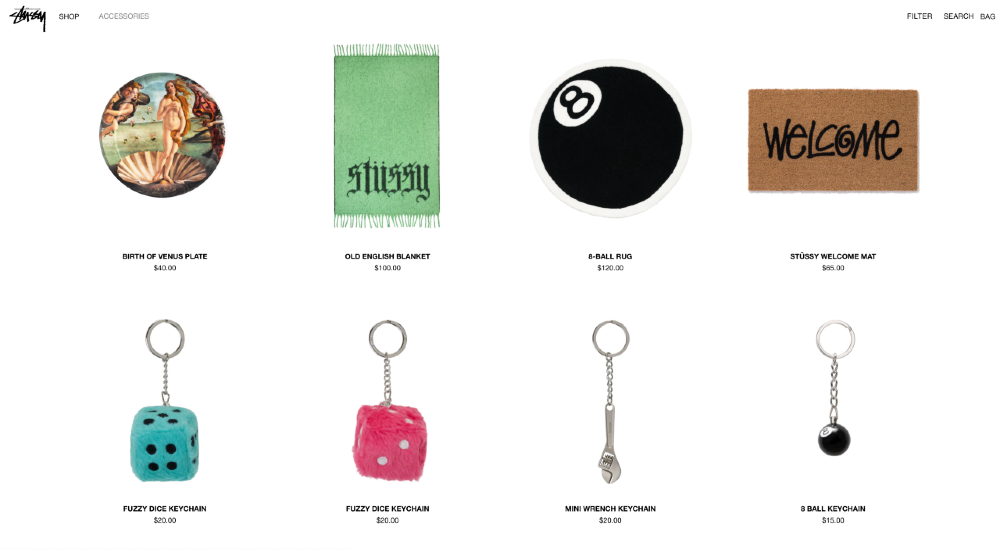 By the early 1990s, Stüssy was already generating roundabout USD 20m a year. And fans and even former partners were found worldwide who wanted to emulate the success of the first streetwear label. Many still refer to Stüssy as a source of inspiration and motivation, such as Japanese designer and DJ Nigo, who founded A Bathing Ape also known as BAPE respectively in 1993. Russell Simmons, co-founder of the legendary hip-hop label Def Jam, is said to have been persuaded by Shawn Stussy to found his own fashion label Phat Farm. And James Jebbia, with whom Shawn Stussy had opened the store in New York, founded Supreme a few years later.
Shawn's departure and upswing after the crisis
In 1996, the enormous hype became too much for Shawn Stussy and he left the company to spend more time with his family. The worst years for the brand subsequently follow, as later CEO David Sinatra, the son of Frank Sinatra Jr. describes it in 2015. But then, in the same interview, he describes the "crazy growth" by 2015, with sales approaching USD 50m. Depending on the source, today's sales are estimated between USD 40m to USD 58m.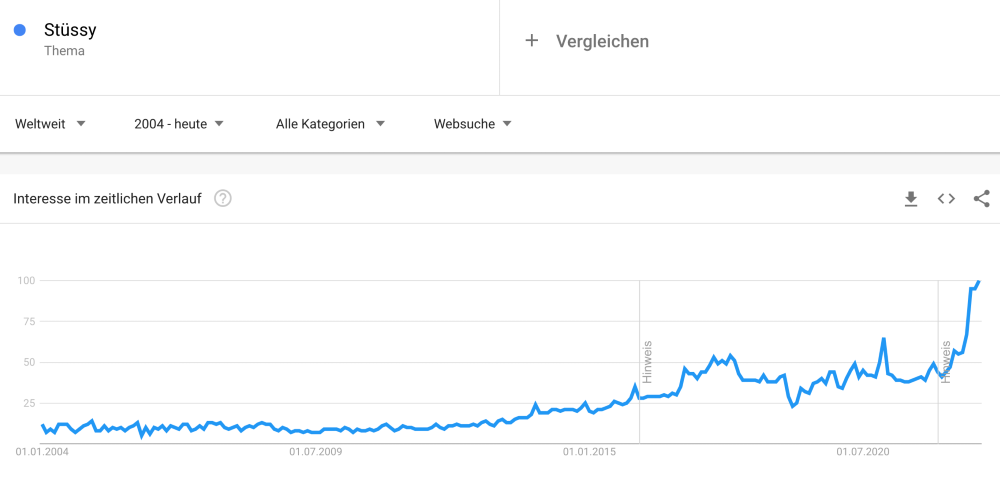 The past few months seem to confirm the brand's positive momentum, even more than 40 years after its founding. The label opened a store in Tokyo in mid-2021, followed by its first store in Paris in early 2022 and most recently in Singapore. Collaborations with brands such as Nike, Converse and Dries van Noten speak for the brand's continued (or rediscovered) charisma. The best proof, however, is perhaps the hype surrounding the current fleece jacket. It wasn't even listed in the collection's catalog beforehand. Nevertheless, it sold out quickly – and is currently being sold on StockX for twice the original price.