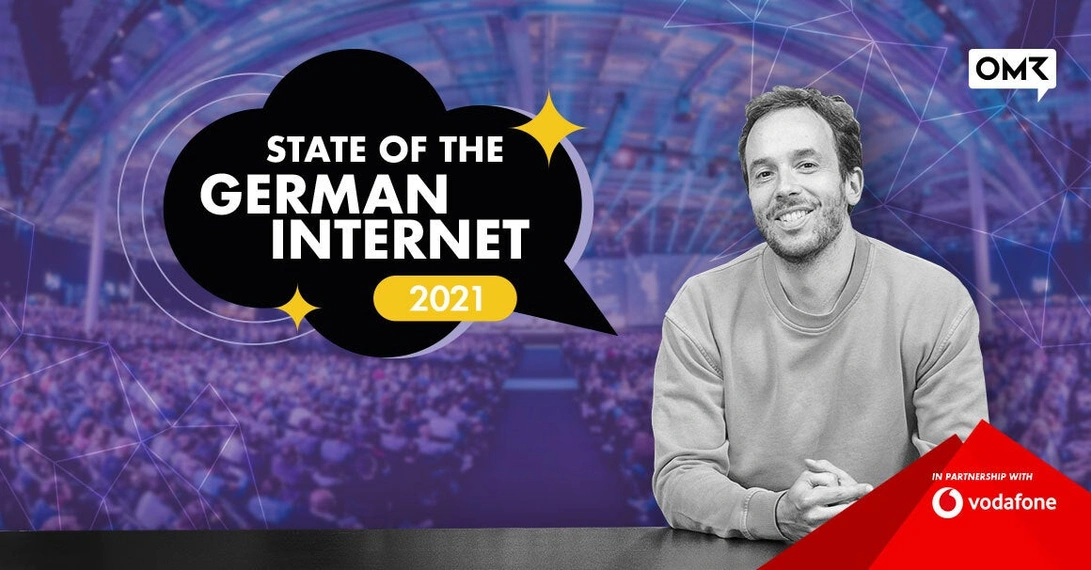 For the second year in a row, Philipp Westermeyer was not able to deliver his annual "State of the German Internet" keynote live and in-person to the 7000+ attendees at the OMR Festival. As is the case with so many things at present, corona caused us to go digital one (hopefully) last time. With that in mind, we are thrilled to present to you today our original video production of the 2021 State of the German Internet—presented by Vodafone Business. Another year of winners and losers, trends and strategies that defined the marketing year that was and six current marketing cases for you to use to give your business a boost.
Before zooming in on the micro, Philipp starts off the keynote with a look at the macro, namely how European digital companies as a whole stack up versus the big players in China and the States—and surprise, surprise, it wasn't that bad of a year for Europe at all. This year, however, Philipp decided to look beyond how the industry's biggest players fared over the year and get personal, crowning his 5 biggest winners of the year.
The D2C Playbook and the Creator Economy
Moving away from the macro of Silicon Valley's billion and, now, trillion-dollar companies, we identified 6 different practices, strategies and trends from 2021 that are not only worth keeping an eye on, but which you can apply to your business ASAP. Chief among these practices in the past year is the D2C, direct-to-consumer, business model. D2C, as the name implies, effectively eliminates the middleman and has a host of advantages when done right for large and small businesses alike. Well, how do you build an effective D2C business? In the OMR D2C Playbook, we break down what the model entails and lay out four essential steps every marketer needs to know. Step 1: checking out the 2021 State of the German Internet of course.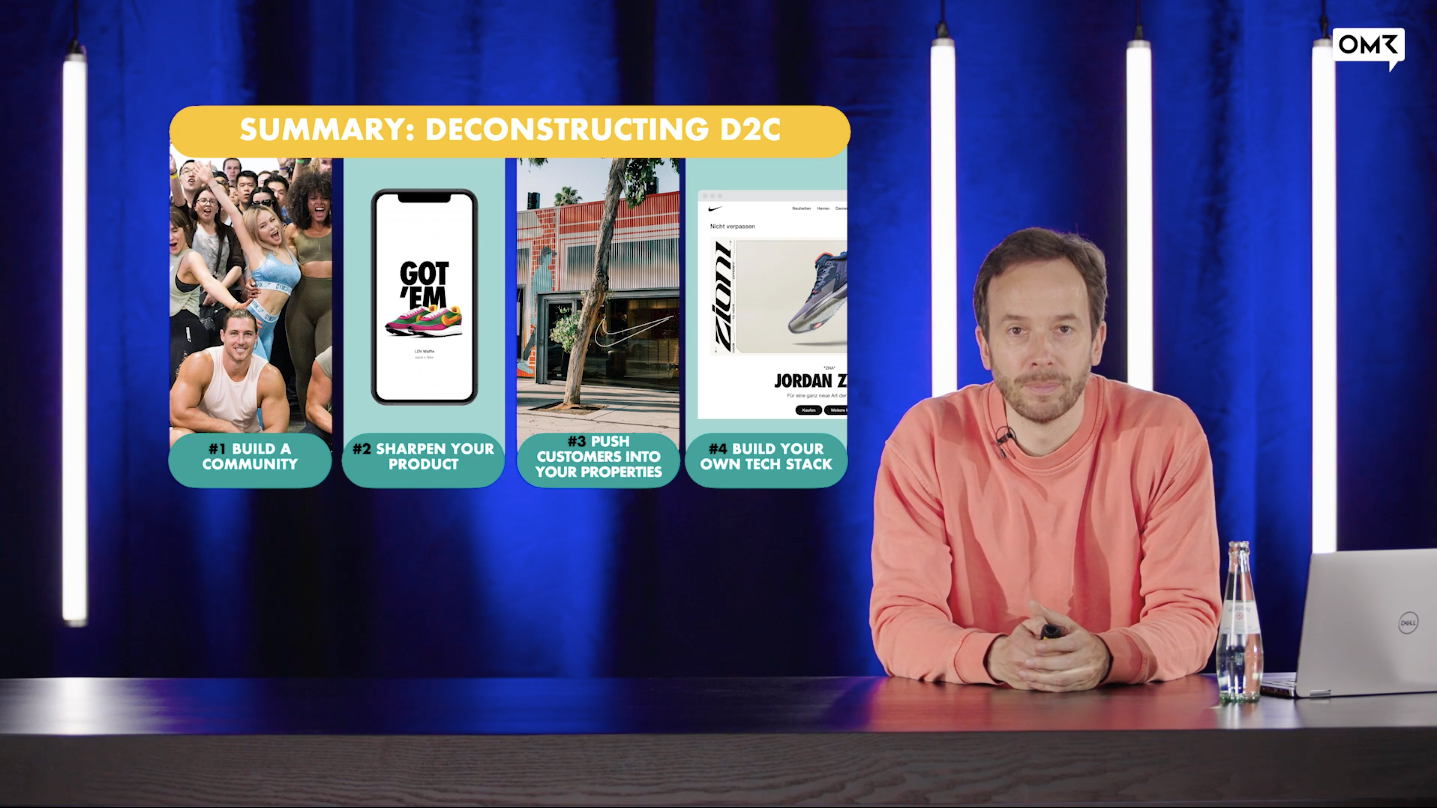 If your D2C game is up to speed, another buzzword trend that was everywhere in 2021 was the Creator Economy. Similar to D2C, what Philipp saw in this emerging trend is not only relevant for deep-pocketed companies and brands. The trend first caught Philipp's eye with Kylie Jenner's Kylie Cosmetics and when Mr Beast, one of the most successful YouTubers on the planet, transformed into Mr Beef opening 300+ burger joints in the US, it became clear that there was more to the strategy than the glitz and gloss of super influencers. Working with those influencers is, of course, an impossibility for the majority of companies. What you may not realize is that there are several smaller-scale brands in Europe—from fashion to protein bars and even ice tea—who have adopted and benefited from the exact same strategy. What exactly is the strategy and how can it work for you? Philipp has the answers for you in the "Creator Economy." 
From the Metaverse to the streaming world
From here we're off on a journey into one of the most captivating and futuristic topics in this year's keynote: the Metaverse. Originally coined by science fiction author Neal Stephensen, the topic has influenced many of the big wigs in Silicon Valley (if you want to read up, before moving on, here's our breakdown from last year ). The super, super simplified version of what a Metaverse is: a digital world that encompasses everything that we have in the analog world. The best example of a Metaverse are games, which are more than just games, where all manner of social activities are carried out. Fortnite and Roblox are two such games that fit the bill. In-game concerts performed by actual superstars, real movies screened, dedicated currencies and dance parties where people just meet up and let their avatars shake their digital booties are all core components. And what does that have to do with marketing strategy? Philipp highlights how and why brands should seek to gain footing in this universe—and how you can succeed.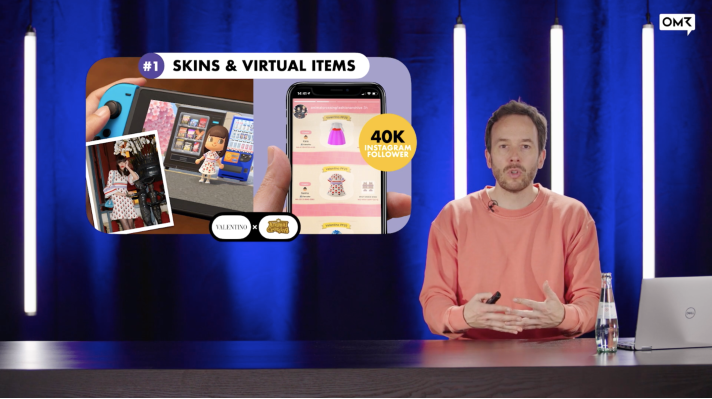 Sticking to entertainment, another strategy you might be able to incorporate is what we're calling the "streaming effect." Every year, there are a handful of TV shows and movies that advance to become pop-culture phenomena. From Bridgerton and Stranger Things to Lupin and Tiger King, these productions carry significant clout away from the streaming screen—and major brands and resourceful entrepreneurs have profited from them. Even Netflix itself it would seem has recognized the trend and recently opened up its own online shop. 
Customer acquisition on the cheap
The final two takeaways from the "State of the German Internet 2021" focus on arguably the two most significant metrics in digital marketing: Customer Acquisition Cost (CAC) and Customer Lifetime Value (CLV). Acquiring customers for less while extracting high lifetime value is the dream scenario for every entrepreneur. We found some examples in 2021 that showed how this dream can come true. If you are active in a sector where CACs are nightmarishly high, "Embedded Content" highlights how brands and companies are expanding their customer base by acquiring entire content portals and thus keeping their CAC to a minimum.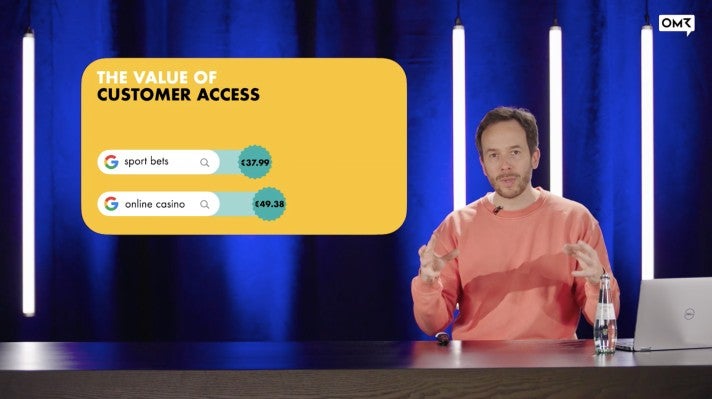 Closing out the keynote are a few head-to-head comparisons that are genuine headscratchers. We found three smaller brands, who ran separate campaigns on Facebook and Instagram which they also ran in almost the exact same form on Pinterest, Tiktok & Reddit. Do you want to guess how much they saved on CPM (cost per mille)? Do you want to guess how much you can save with a video campaign on TikTok instead of Facebook, or with a creative for underwear or frying pans on Pinterest or Reddit instead of Insta? The answer may shock you—but it shouldn't surprise you that the answer is only in the keynote.
We would like to thank No Agency for creating this year's keynote and Hamburg video production company Aussenborder for the video. And a special thank you to Michael Wanker who supported us with the concept.