State of the German Internet 2020: The brand new keynote from OMR CEO Philipp Westermeyer
Normally, Philipp Westermeyer delivers his keynote "State of the German Internet" each year at the OMR Festival in front of a 7K strong audience. There has, however, been little normal about 2020. Philipp, too, was forced to do something atypical—record his keynote as a video. We premiered it last week to participants in our first-ever Digital Masterclasses—but now it's your turn to tune in. Join Philipp as he takes a look at the consolidated power of the "Big Four," how German and other European companies are trending and takes a closer look at the industry through the eyes of a marketer.
As usual, Philipp kicks off his keynote by checking in on the big boys of Google, Amazon, Facebook and Apple—and compares their performance to their Chinese counterparts in the Far East, Baidu, Alibaba and Tencent. For 2020, Philipp cites some compelling examples of why corona has not only negatively impacted Google, Amazon, Facebook and Apple—but why and how they've thrived. Sneak peek: Did you know that Apple generated as much revenue in 2019 as the combined total of Red Bull, Puma and Bose with just its Airpods?
The Eyes of a Marketer
In 2018, we showed you some operative strategies on "How to Make Your Company Stand Out" and last year Philipp applied the Seven Deadly Sins to digital marketing. For 2020, Philipp decided to take a closer look at "Life through a Marketing Lens," singling out five everyday phenomena and providing you with actionable tips and tricks for reacting to and profiting from these new developments. As always, Philipp backs up his thesis with an array of unbelievable examples, highlighting those companies that have been especially clever.
State of the German Internet 2020  by OMR 
The first trend Philipp decided to dub "The Consumer Led Revolution." What's that all about? As we are currently seeing with the Black Lives Matter protests, people are becoming more vocal about problems in society. In the keynote, Philipp discusses how you can react, adapt and incorporate such societal unrest—and does so with the best cases of Walmart, Oatly and Vinted. One of the key takeaways here is that even smaller companies can take advantage here. A single Edeka supermarket from a small German town, for example, decided it would stop selling fireworks for New Year's Eve—putting it squarely at odds with German, and European, tradition—in the name of the environment and the wellbeing of animals. The decision resulted in thousands of positive comments and likes.
Is a new way of reaching your customers to reinvent the wheel?
Trend number two Philipp took a look at with his marketing lens is the newest marketing craze for reaching customers. Gone are the days where the funnel reigned supreme. Today, it's all about building a "Flywheel." First, he breaks down what a flywheel is, surely drawing on inspiration from our article we published earlier this year. One player who's done an especially good job of building a flywheel is car rental company Sixt. Instead of having to acquire new customers each time through price comparisons, Sixt set up a flywheel in its app. Here, users can user car-sharing services, hail taxis and, of course, book a rental. Sixt's strategy is to propel users from one usage circumstance to the next and thus set the flywheel in motion.
Then Philipp sets his marketing sights on illuminating the "Rise of Dark Social," the current exodus of users away from social platforms to chat apps. The example here is the presenter himself: While a few years ago Philipp published his trip to the US to see Dirk Nowitzki and the Mavs play, he now shares his trip to actor Til Schweiger's (Inglourious Basterds) Mallorca finca in a variety of friends and family groups on Whatsapp. That data, of course, remains hidden, aka dark, from marketers. Philipp then uses three recent examples by colleagues to highlight just how you can approach the shifting paradigm and how you can reach your customers via Whatsapp and Instagram directly.  
Trust is the name of the game
The last two trends both pertain to gaining and maintaining trust amongst your customer base. With "Too much Choice," Westermeyer highlights that there is indeed too much of a good thing, especially when it comes to customers' experiences which can suffer significantly when overwhelmed by excessive purchasing possibilities. Currently, companies that focus on a single product have a leg up over the competition by thus simplifying the purchasing process. Wanna an indicative example? Kiel, Germany-based wine merchant Schneekloth sells its wine, where the perfect accompaniment is depicted right on the bottle's label, (e.g. cheese (Käse in German)—and just like that you're ready to wine and dine.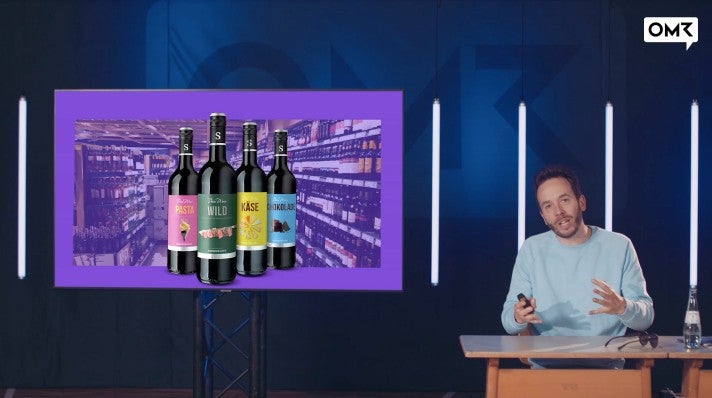 As the final chapter in the State of the German Internet suggests, it's all about "The Trust Struggle." To highlight the trend, Philipp focuses on successful niche providers, like German music instrument company "Thomann," who has leveraged product reviews into a very powerful tool to cut into Amazon's dominance. Through a variety of strategies, the Thomann crew has succeeded in getting their customers to leave very detailed reviews. These reviews help prospective customers find the right product and are instrumental in creating a community that is willing to spend more than a tenner what Thomann's selling. 
Enough of the written word—watch Philipp's new keynote right here:
Our partners
Big thanks to:
The State of the German Internet keynote was designed by No Agency; Keynote video production by Hamburg film production company Aussenborder.