The smiley turns 50—the unlikely origin and rise of a copyright worth millions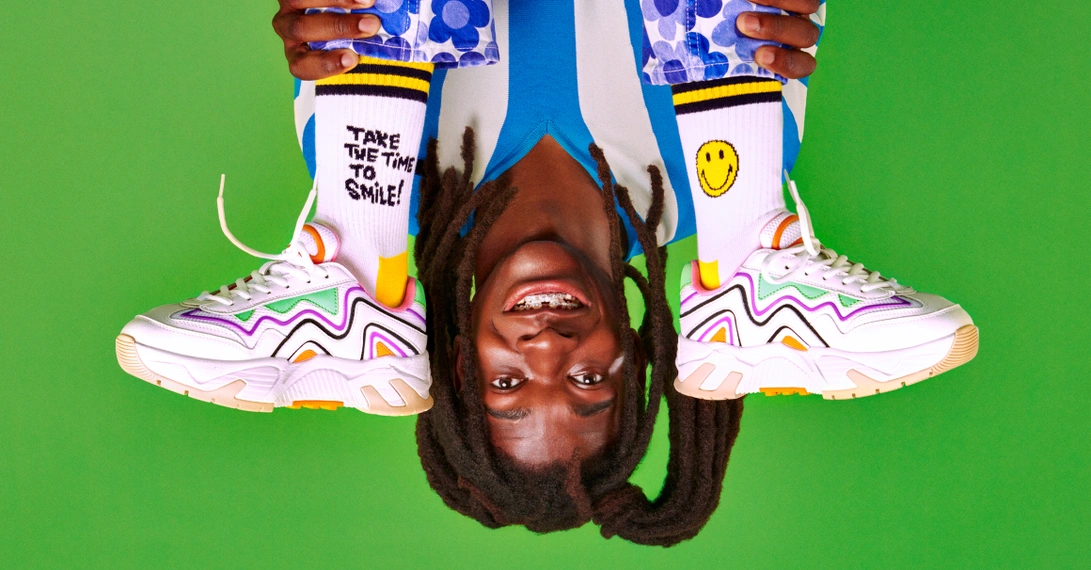 Peace, recycling and heart. The list of symbols more widespread and more well known than the smiley is short—and it may even top that list. What's neither of those things, however, is the company behind the famed smirk, the French "Smiley Company." They built a massive business atop the beaming grin, working with household brands like H&M, Champion, Eastpak and Fossil, among others. To mark the 50th anniversary of the smiley, we're breaking down the story of the smiley, how the current CEO hopes to transform the licensing company into a stand-alone brand and how the business model brings millions in revenue smiling down on a small team.
Who invented the smiley?
Much like the telephone, the airplane and pizza, there is no consensus. People have been using the symbol to communicate for as long as humans have existed. The inventor of the smiley as a means to generate revenue, however, has one very clear answer: Franklin Loufrani. A journalist from France, Loufrani first used the symbol in the now defunct France-Soir daily in 1972 (the publication technically lives on as a populist propaganda mouthpiece, which according to journalism watchdog Newsguard, "fails to adhere to several basic journalistic standards.") Loufrani wanted to denote the positive news items in the paper and did so with the now famed symbol. That same year he registered the smiley with the French copyright office. That move led to the formation of the Smiley Company, which now maintains smiley usage rights in 100 different companies. In 2021, products using the smiley generated USD 350m in revenue—and a healthy chunk of that was directed to the Smiley Company as licensing fees.
From France with love
"My father created the smiley copyright with the goal of launching a licensing business," Nicolas Loufrani, son of founder Franklin and current CEO of Smiley Company, tells OMR. "Prior to our business, and after its founding as well, there were instances of anecdotal use. Our business, however, made it world-famous." What's lost on many people in light of the smiley's commercial success is that in the years after Loufrani's trademark, the smiley was a symbol synonymous with counter culture. In the 80s, it became a symbol for acid house, a form of electronic music born in Chicago—and started popping up on ecstasy tablets. The ensuing hysteria meant that by the end of the 80s and through the early 90s, hardly any products featuring the symbol could be found. 
In 1996, Nicolas takes over the family business. He professionalizes his father's original licensing ideas and founds the Smiley Company. He soon sets up licensing deals with Levi's. "We aimed to partner with the biggest and best brands and retailers in the world, to create products that spread joy," Loufrani says. "We partner with enterprises that can boost visibility." He says that there are 400 brands around the world using the smiley license right now, including the aforementioned Eastpak, H&M and Fossil, plus Moschino, Karl Lagerfeld, Michael Kors and Levi's competitor Lee. 
License to smile
"Licensing is the foundation of our business, but we also closely collaborate with our partner brands," says the Smiley Company CEO. Loufrani points out, that it's not all about netting a commission. His team of fewer than 50 is also involved in product conception and design and employs a clear design strategy that the Smiley Company uses to attract new brands and partners. One of the most well-known examples is its long-standing collaboration with US hype brand "Market." Originally launched as "Chinatown Market," it gained notoriety by playing with its image of dealing in fakes of bigger, more well-known brands—something it now does in conjunction with those very same brands it purports to fake. One of the symbols it has become synonymous with is the smiley, which adorns many of Market's products, the most famous of which figures to be the smiley basketball.
Market has nearly 900k followers on Instagram, also due in part to its strong meme and story gamewhich occasionally includes a-listers. Market is a helpful example for understanding why licensing today is so important. Disney earns billions annually by selling rights to Marvel superheroes, old-school Disney and Star Wars characters for use on certain products (Lego, for example, is a major customer). The Smiley Company is essentially playing the same game. "For brands, it's always about storytelling and constant communication," says Loufrani. "To earn the attention of Gen Z, major brands need famous characters, figures and symbols to tell convincing stories." 
Acting like a brand
Loufrani seems to be acutely aware that he too needs to use effective storytelling in order to acquire new partners. In 1996, right as the Smiley Company was getting off the ground, Loufrani was creating his own smiley collections. The brand takes part in fashion fairs, like Bread and Butter, launches concept stores. Gradually, however, companies start approaching him to acquire rights to use the smiley on their products. "That's when I saw that a buisness built on licensing could grow much, much faster than selling my own articles," says Loufrani. "My skillset is more suited to managing partnerships than overseeing wholescale production." 
Sometime around 2013, the Smiley Company discontinued its in-house production efforts. But it's not as if it were time not well spent. If anything, the ultimately failed endeavor has taught him what it takes to be able to pull off large-scale production. That has especially been helpful since 2017, when Loufrani launched the Smiley Studio, a vehicle through which the company develops its own ideas and concepts which it can pitch to potential parters. "We have a lot of ideas that we would like to implement. It's just a matter of finding the right brand to partner with who can realize our ideas. Having an idea we believe in, but not being able to find a suitable partner to make it happen can be quite frustrating at times," Loufrani laments. "We may have to realunch our own production company." That is a long-term possibility, it should be noted, as there are plenty of clothes, perfume bottles, bags and other itmes featuring a smiley. In fact, according to Loufrani, some 15,000 new officially-licensed products end up in reatil outlets every year—which are then sold millions and millions of times over.
A birthday bash two years in the making
This year, the Loufrani smiley turns 50 and Nicolas is pulling out the stops to celebrate the milestone. "I have spent two years working on it," he says. In addition to a tome of a look-book on the company history they are also releasing a short film and famous French graffiti artist André Saraiva created a smiley logo with a 50 over both eyes. Loufrani is also collaborating with 50 major brands to release a special collector's edition featuring the smiley. "My goal is to see each brand produce an iconic product," he says.
Among the 50 brands—which were curated by Sarah Andelman, creative director at legendary, but now closed Parisian boutique Colette—are Moschino, Carolina Herrera, Karl Lagerfeld, Michael Kors, Lee, Sandro Paris, Raf Simons, Aigle, Eastpak, Moleskine and Havaianas. The products range from fashion and accessories, such as bags, sunglasses and jewelry, to shoes, stationery, perfume, makeup and home decor like vases, cutlery and iPhone, iPod and AirPod cases. The collection is on sale in Galeries Lafayette, an upmarket French department store chain, other retailers all over the world as well as in Urban Outfitters in Europe. In addition to a worthy celebration for 50 years of good vibes, the campaign represents another milestone: it cements its status as a stand-alone brand among end consumers; the company Instagram account has roughly 190k followers.
Who invented the emoji?
Loufrani has followed in the footsteps of his father—and not just because he continued the family business and turned it into a brand. But also in the fact that he sees himself as directly responsible for the widespread use of a phenomenon we all take for granted: emojis. "I conceived the emoji language," he tells OMR. When he took over the company back in 1996 and analyzed the possibilities for the smiley, he created 3D faces, animals and other symbols that he compiled in a so-called smiley dictionary. He registered hundreds of them in the US patent office and published several of them in 1998 as GIFs. Loufrani is therefore the first to create emoticons using technology. But the idea to use such symbols in written text communication to express emotions is much, much older—just like the use of his father's "invention." Nevertheless, he strikes licensing deals on the use of emojis with Nokia, Motorola and Samsung in the early 2000s.
When the smartphone became widespread starting in 2007, the impact and use of symbols grew. But here Loufrani's dictionary is an outsider. Instead, the major smartphone manufacturerrs adopt the unicode standard, which enables emojis to be sent between devices made by different manufacturers. "Emojis today differ in style from mine," admits Loufrani. "But they are based on the idea that I developed. They employ the same categories that I conceived." Even though his emoji dictionary is no longer used, he welcomes the development. His dream, he says, has always been for language to express universal emotions.