Poparazzi: Testflight, Tiktok and pre-orders send app to the top in a flash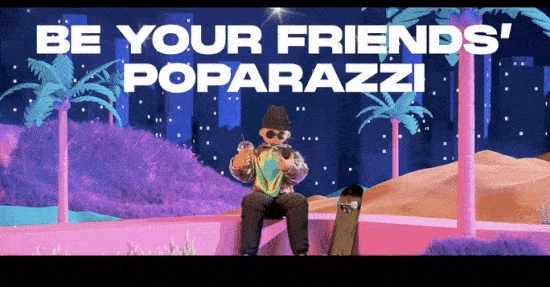 Talk about a start. The day after launch, social media app Poparazzi ascended to the top of Apple's App Store in 24 countries. While Poparazzi is without a doubt the darling app of digitally-versed zoomers, did its rise really come out of nowhere? Today, we are taking a look at how Poparazzi works and breaking down how the app's operators employed strategies and levers primarily used in the music industry to make a hit out of Poparazzi before the app dropped.
The people behind Poparazzi like to refer to themselves and the app as the "Anti Selfie Selfie Club." And Poparazzi is indeed a photography app that lets you share shots with other users (so far, it's only available on iOS). The twist is that selfies cannot be shared to a user's profile, rather only those taken by others of you—as if you fell victim to a paparazzi. In this manner, users are to be exempt from the pressure of chasing "perfect moments" to share with followers. If a user is unhappy with a shot taken of her or him, then they can simply delete it. The app also offers a private feature, so that only certain people may post to a user's account.
Part FB, part Dispo
Taken individually, the features in Poparazzi are not exactly groundbreaking, as other platforms have successfully put them to use. Tagging pictures and people in pictures has long since been a hallmark of Facebook and the features played a significant role in the platform's growth in the early 10s. , and since 2013 there have also been "shared photo albums."
Poparazzi also incorporates features from other sources, such as Dispo, a disposable camera app that launched in February 2021 and cracked the top-10 in several countries. For Dispo, the goal was to digitize the disposable camera experience at parties: Party-goers are encouraged to take pics of others in attendance throughout the night. The resulting album is made available after a short delay. One of the names behind the app was, until recently, David Dobrik, a prominent creator from the US, who, due to a rape allegation by one of his "Vlog Squad" members, has not only stepped away from social media but also departed the company behind Dispo entirely. Since the allegation came to light, Dispo has plummeted in the App Store rankings.
Tech-scene taxi squad ponies up for Poparazzi
Behind Poparazzi are two brothers in their mid-20s Alex and Austen Ma, who launched the TTYL ("Talk to you later") to the App Store in 2019. Thanks to TTYL, which at its essence was a digital walkie talkie, the brothers raised USD 2M in capital, (among others from venture capitalists Floodgate, who have also invested in Twitter, Twitch and Lyft). While TTYL was one of the first social audio apps so far it has never managed to break through to the mainstream.
Weekend Fund a VC company run by Product Hunt founder Ryan Hoover, invested in Poparazzi (as it did in Dispo). Nikita Bier, co-founder of tbh (to be honest), a "teen compliment" app that Facebook acquired in 2017, has been singing Poparazzi's praises on Twitter, giving off the impression to be involved either as an investor or consultant. Bier may very well have been instrumental in crafting the launch campaign as it was meticulously planned from a strategic perspective with four steps instrumental in the app's success at launch:
Step 1: Building buzz with Testflight
The Testflight app lets developers test their app without making it downloadable for all users. Instead, Testflight uses invite codes to provide access to a limited number of select users. After Apple's acquisition of Testflight owner Burstly, the app is one of the official products and services Apple offers to developers.
Testflight is primarily designed to test if an app functions as it is supposed to—and how users engage with an app. To this end, Apple increased the number of users app makers could invite to participate in such a test in 2017 from 2000 to 10,000. Ever since, Testflight has established itself as an App Store alternative as laid out in this 2020 article by Protocol. There are primarily two reasons why a developer may choose to use Testflight. Either their apps are not designed to withstand massive amounts of traffic or they want to drum up some hype before the official launch—as the case appears to be with Poparazzi.
Step 2: Tapping into Tiktok Influencers
To find users to take part in the first larger-scale beta test, the Poparazzi team turned to TikTok. On the company TikTok account poparazziapp, team Poparazzi posted a total of 11 videos in February that totaled 1.44M views, with the most successful of the bunch going viral after being seen 1.1M times. The clips are seemingly directed at zoomers (people belonging to Gen Z) with an unnamed teenage girl making faces while displaying three reasons why Poparazzi is going to be the next big thing and why many will soon be deleting Instagram as a result.
The Poparazzi team has also solicited the services of several other TikTok creators (evinced by an Instagram account for Poparazzi partner influencers, which has since been deleted) to plug the app via their personal accounts. According to Tiktok, videos with the hashtag #poparazziapp currently total over 13 million views. After scrolling through the clips for a bit, you'll find several videos featuring an influencer plugging the app with views in the six-figure range: 537,000 views, 527,000 views, 366,000 views (one of the few that also employed the #ad hashtag) and 210,000 views, to list a few.
One of the accounts looks like it was created solely for the campaign, as there are only two videos uploaded to its profile and its bio links to a typeform sign-up screen for Poparazzi beta. Once beta was closed, possibly after reaching the 10,000 threshold, the link lets users enter their phone numbers to stay up-to-date on when the app would be made available to the general public. In addition, Poparazzi prompted users to pre-download the app.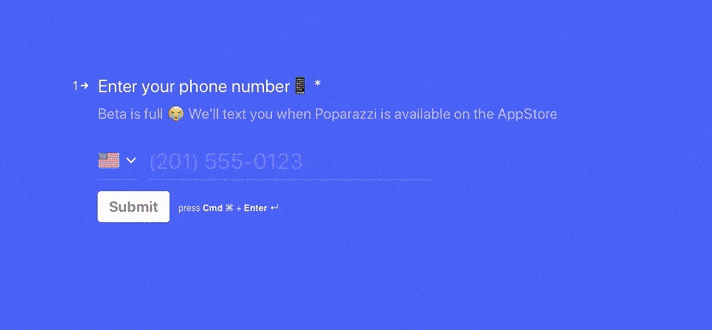 Step 3: Pumping up pre-orders
Generating as much buzz as possible long before the official release is a strategy that's frequently used in the music industry, especially in hip hop. At first, rappers and label execs would release "limited edition boxes" with additional merchandise to generate pre-orders (article in German) and thus help vault the album to number 1 when released (pre-orders are only tallied after an official release).
In the past two years, a new mechanism has come into vogue: releasing a track snippet on social media before the official drop, which ideally creates buzz, excitement and expectation for the upcoming release day. In this manner, whenever the song does drop, it's a hit immediately. On music streaming platforms the practice of "pre-saving" is widespread, where fans can save an upcoming song or release in advance so they don't miss out.
Apple's App Store has been offering pre-orders to app developers for years. If a user pre-orders an app, it's automatically downloaded to their phones or device on release day and users are informed that the pre-ordered app has been downloaded. As a marketing lever, its popularity has increased consistently over the years. The Poparazzi team stated in a release-day article to their blog that they had more than half a million pre-installs.
Step 4: Ramping up network effects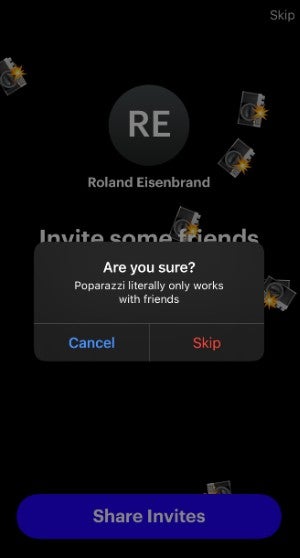 And once the app was available for the general public, all those pre-installs unleashed a viral wave that propelled the app to the top of the charts. As with other social apps that go viral, Poparazzi secondary network effects are not only incorporated into the core of the app, but the team actively pushed many of the principles that generate such effects to the extreme.
This begins with the onboarding process, which is very clean, meticulously designed and optimized throughout, and the aforementioned prompt to users to provide the app access to their phone book when signing up, as well as the fact that you automatically follow every one of your contacts, who already use Poparazzi. While declining to provide access to a phone book does not preclude users from using the app, something that is not entirely clear at first glance, the app can only fully function when it is shared with friends—a fact that another prompt clearly states—should anyone not want to invite friends.
Furthermore, Poparazzi is tethered to Snap via a built-in button that lets users switch to Snap and post pics from Snap in Poparazzi. Speaking at the Snap Summit a few weeks ago, Snap founder Evan Spiegel stated that Snap currently reaches 90% of 13-24 year-olds in the US, Australia, the UK, France and the Netherlands—the exact range of Zoomers, Poparazzi's apparent primary target group.
Topping 1M downloads in less than a week
It did not take long for the marketing strategy to bear fruit: according to App Annie, Poparazzi cracked the top-10 in 53 countries (including Germany, Australia, France and the UK, while reaching the top spot in 24 others (including the US, Canada, Spain, Italy, the Netherlands and Belgium). App analytics tool Airnow Data currently estimates the total number of downloads worldwide at 3.3 million. Investor Ryan Hoover tweeted out that the app peaked at 2000 downloads per second.
Will Poparazzi be able to maintain its success long term—or is it destined to quickly fade away like so many other flash-in-the-pan hype apps? That depends, as is the case with all the other apps "du jour," on how quickly they are able to grow and how successful they are at user retention. Josh Constine, former editor at Techcrunch and currently active as a venture capitalist, sees Poparazzi as the forebearer of a multiplayer future for social.
Benchmark invests USD 20M
Ed Zitron, Silicon Valley PR consultant, went off on an entertaining tirade describing the app as an overhyped trend saying, "It is very much a case of people in their 20s and 30s being funded by people in their 30s, 40s and 50s trying to make products for people who are 12 to 17 years old, while also creating a product that appeals fiscally to the 30-50 crowd with all the money."
Now, less than a week after launch, Poparazzi is said to be worth more than USD 100M. In a scoop by US journalist Eric Newcomer, major US VC fund Benchmark Capital (early investor in Instagram, Twitter and Snapchat) beat out other VC firms to invest USD 20m in Poparazzi. According to Forbes, the app is now valued at USD 135M.