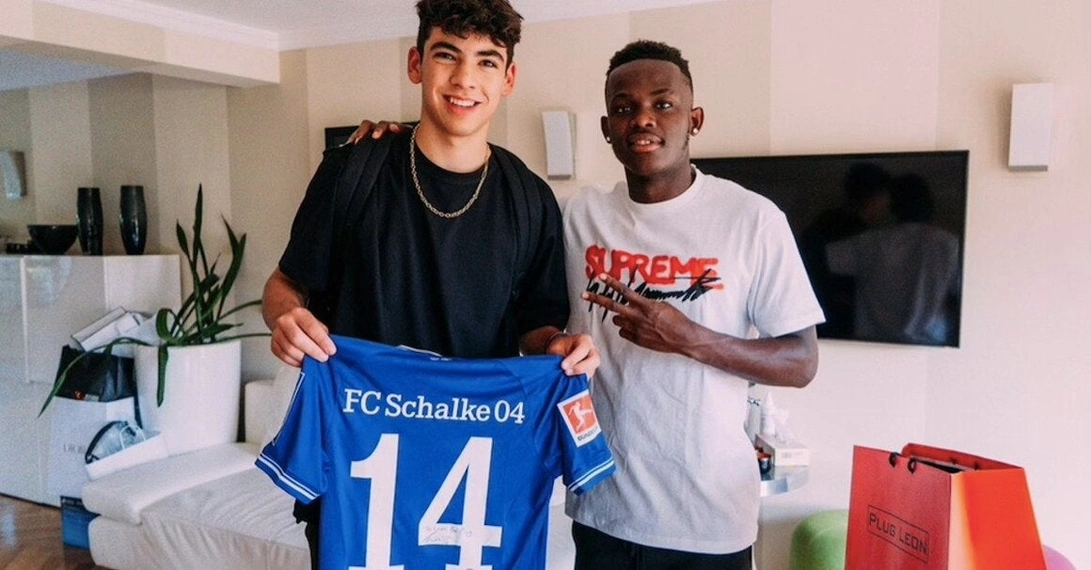 In hip-hop jargon, a "plug" is someone who can get anything. PS5? Holla at the plug. Rolex Datejust? Get the plug on it. Order today, delivery tomorrow. Express. "Plug Leon," the name of Léon Gissing's company, is a type of customer promise: Whether it's an ultra-rare pair of sneakers or a sold-out hoodie, 16-year-old Léon delivers exclusive streetwear to his clientele—oftentimes with same-day delivery. OMR caught up with the London-teen, who told us how he acquires the scarce goods, how he became the plug for big-time soccer players and why he manages his business exclusively through Instagram and WhatsApp. 
Business loan from M&D
"I've always been a sneakerhead," Léon Gissing tells me in a WhatsApp call for this article. He spent hours as a kid checking out YouTube videos, researching models, keeping tabs on what's new—and always bugging his mom and dad to buy him this and that pair. One or two pairs a year. Those were the rules.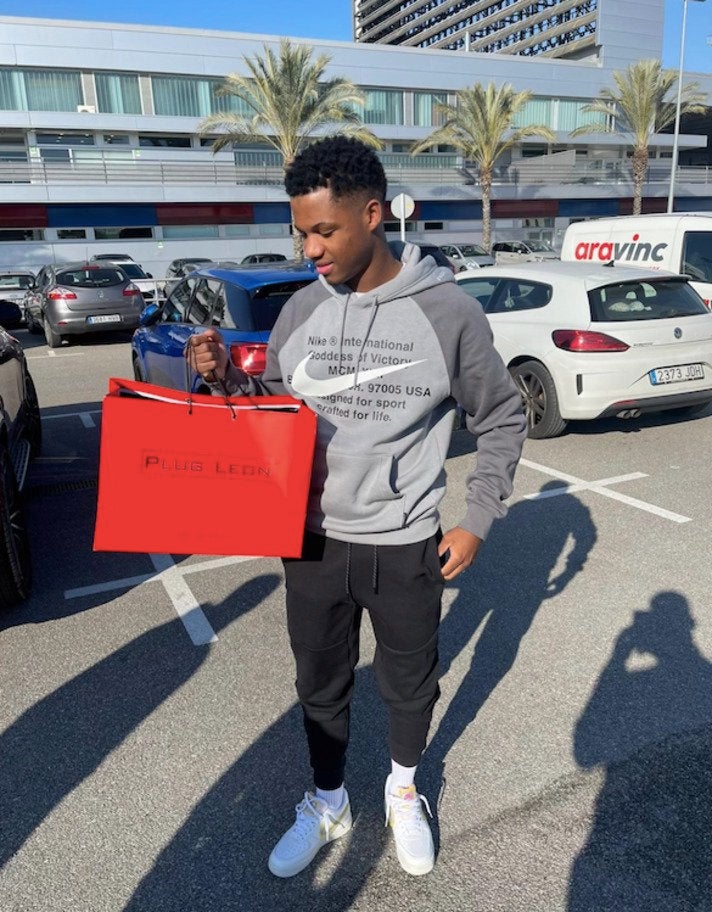 "So, I decided to start making money to buy the shoes I wanted on my own," Gissing says. 13 years old at the time, his father gave him some start capital: 160 pounds (roughly 180 euro, 220 US). He used the money on a pair of limited-edition sneakers, waiting hours for them to drop, resold them and pocketed 25 pounds in profit. 
Reselling sneakers on Ebay and Depop
Gissing repeated the method until he was eventually able to buy 2-3 pairs at a single drop (for more on drop marketing, check out our piece from last year) and then sell them on Ebay or social-selling platform Depop. 
There is a second passion in Gissing's life besides sneakers: soccer, football, fútbol, fußball. At some point, he decided to merge his two passions, the thought being that there are plenty of professional players who a) like exclusive sneakers and b) have the money to afford them, but, with the exception of the absolute superstars, no way of getting their hands on them and no time to wait in line for them to drop. 
Cold customer acquisition in dreary old London
The biggest hurdle is, of course, figuring out how to get in touch with soccer pros and offer them rare sneakers and streetwear items as a 13-year-old primary school student. Gissing's strategy: tireless effort—and business cards. "After the matches, I'd go to the players sitting in their cars and hand them business cards through the window," he says. Whenever a team arrived in London by train, he was there waiting at the train station. Before and after matches, he'd hang around the team hotel. "I was pretty much out working every night," says Gissing. "Other people asked for autographs, I gave them my business card."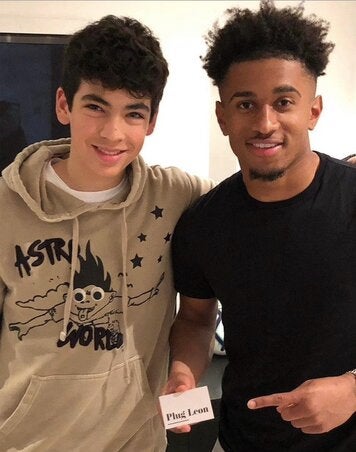 After ten long months of waiting and handing out cards, he finally gets a break—and his first big client: FC Arsenal winger Reiss Nelson orders a pair of shoes from Gissing. He's beside himself. The plan worked. From that moment on, his business grew sustainably through word-of-mouth marketing. "I sell to several hundred soccer players all across the top leagues," says Gissing. "I have at least one player from each Premier League club and half of the Bundesliga."  
"In certain respects, football is its own small world," says Gissing. In the club locker room, word spreads quickly who has the coolest gear. Then in the national team locker rooms the names, numbers and/or Instagram handles of the sneaker plugs change hands and thus spreads from league to league and club to club, from the UK to mainland Europe.
Networking, networking, networking
Plug Leon was able to grow so quickly because Léon, 14 at the time, had done his homework. He said he knew that he'd only be able to retain the clients he'd worked so hard to acquire if he kept delivering what they wanted. "While I was working as an online reseller I began putting together my own network, simply by talking to the person in front of me and behind while queueing up for the shoes," says Gissing. 
Once inside the shops, he connected with employees, got numbers and was given introductions, discounts here and had a few limited pieces set aside for him there. "I make sure I have someone for my Jordans, my Yeezys, someone for Dior, for Gucci, for Louis Vuitton, etc." says Gissing. The people, his network, that he says is the real secret to his success.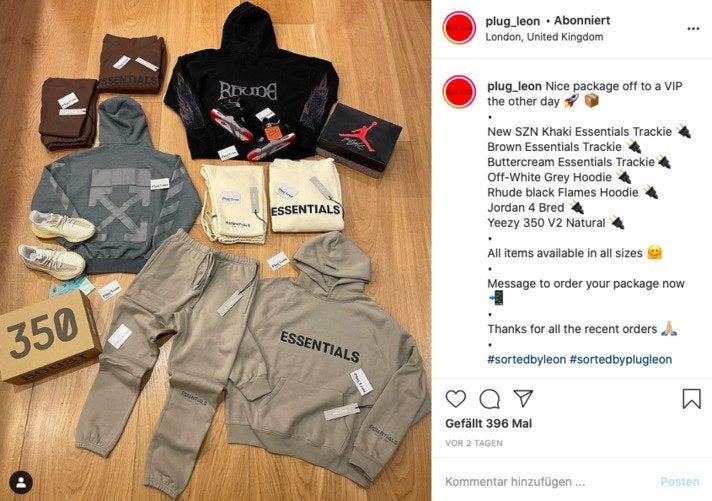 The close connection to his supplies is at the heart of the Plug Leon business model. "If you go into my basement, you won't find stacks of shoes," says Gissing. "I trust my suppliers that much, that I can get it on demand, that fast." He says running his own warehouse would not only tie down capital but it wouldn't work for his line of work. 
You'll find WhatsApp and Instagram, but no online shop
He says that nine out of every ten orders come directly from his VIP clients. "When a client writes me and tells me what he needs, I handle it." Everything is one demand, with one exception: If he has the chance to buy 20 pairs of an especially limited sneaker, for example, that he knows he'll be able to flip quickly, then he'll stock up.
In addition to serving his VIP clients on WhatsApp, Gissing also operates an Instagram channel, where clients can place orders via DM (and only via DM). He shut down the online shop because it added unnecessary complications to his business. Gissing now uses WhatApp groups to retain his VIP clients. Here, he says, there is a lot of joking around, like when one says to another, "Hey, I wore those yesterday. Why are you wearing my shoes?"  
Competition in the form of luxury boutiques
The ongoing pandemic has, of course, had an effect on Plug Leon's business. Even though he finds the current situation terrible and feels awful for everyone who's lost their job or worse, corona has been a blessing for his business. The first lockdown forced all of London's luxury shops to close. "In a manner of speaking, they are my direct competitors," he says. "When they closed, there was no other place soccer players could go to get their gear than right to me."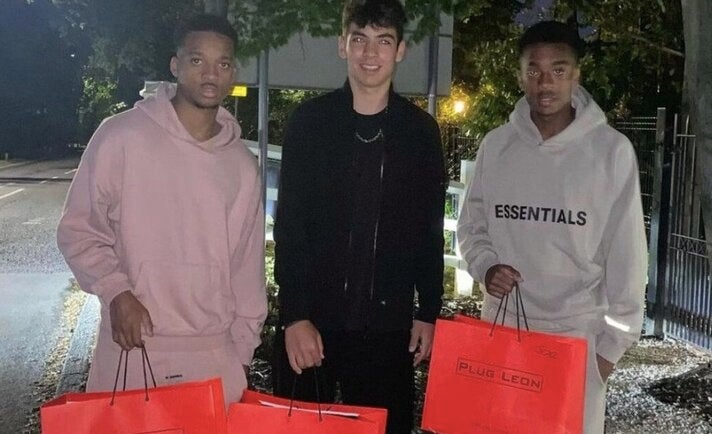 Just how lucrative Plug Leon now is, he declined to say. He says that he and his one full-time employee fulfill and send several orders daily. The prices, and with it his profit, varies greatly by model and where he can get it from. He wasn't willing to divulge much more than that. "My parents always told me never talk about money, unless you have to," he says.
With success comes jealousy, which nowadays means haters, who spam his Instagram comments with accusations that his business is ruining sneaker culture. Compassionate beyond his years, Gissing gets it to a degree. "I hang out with these footballers, play Playstation, I go to their homes, they invite me to a match—it's every kid's dream. Of course I expect that to be copied and people try to do the same thing," says Gissing. However, he says that he is still the only person supplying soccer players in both the UK and mainland Europe.  
Finer points make all the difference
Business at the moment, however, is a challenge. Since Brexit, everything he sends his clients on the continent is subject to tariffs. His plan to recoup the costs is through added value in other areas. "I'm not in the retail business," he says. "I provide a luxury service."
He is fully aware of how slim the margins are between success and failure and how the finer points can make all the difference. That's why right as Plug Leon was getting off the ground, he ordered several thousand bright red paper bags. On the one hand, they stand out in the pictures he appears in on personal deliveries to VIP clients. On the other, he saw what the big-time luxury players do and meticulously packs his goods and includes a personal message in every order—and of course his personal business card. You never know when one of his buddies or teammates will ask about their plug.