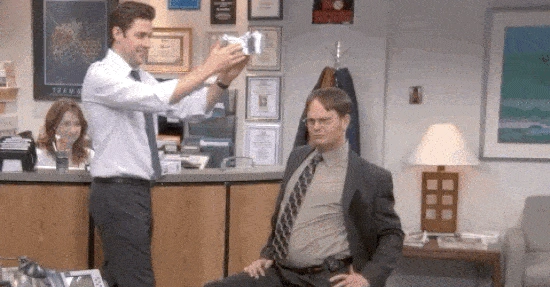 Who's leading the pack on current marketing trends? Which startups took home massive scores in exits or funding rounds? Which creators saw their profiles get a massive boost? These are the questions we ask ourselves every year when it's time to put together the OMR50 list. Just in time for the OMR Festival 2023, OMR, Ströer and HORIZONT are proud to present the OMR50 list for 2023.
As always, this list is the culmination of hours of talks, discussions and seemingly never-ending research among the OMR editorial team. In the end, however, it's all completely subjective and is more infotainment than science. So please, no hurt feelings? If you made it, rejoice that you made it. If you didn't, well obviously you didn't try hard enou—kidding, keep hustling and we'll surely see you next year 😉 All we ask is that you have some fun (re)discovering the most exciting minds in the industry with the OMR50 for 2023, presented by Ströer.
1. Jonas Andrulis and Richard Socher, founders Aleph Alpha and You.com
With the massive hype surrounding ChatGPT, artificial intelligence in general and so-called generative AI, in particular, is on everyone's lips. The two most exciting German figures in this field are Jonas Andrulis and Richard Socher. Andrulis held a leading position in Apple's AI research dept. for several years after the Cupertino behemoth bought his second company. Now, he's seeking to build a global champion with Aleph Alpha—out of Heidelberg: "I think it's necessary for us to have an independent AI company that's roughly in the same league as what's happening in the U.S. and China," Andrulis said in the German OMR Podcast.
Will Aleph Alpha be able to hold its own in the AI version of David v Goliath? Open AI has, after all, raised USD 11b from Microsoft and others. So far, things seem to be going well: while GPT3, OpenAI's "Large Language Model" on which ChatGPT was based, is said to have had 175 billion parameters, Aleph Alpha's Luminous World is said to have 300 billion. According to a media report, GPT4 is now said to have over a trillion parameters. Aleph Alpha is also rumored to be on the verge of being acquired by SAP. The German software company reportedly wants to invest 100 million euros in the AI startup.
While Andrulis has left the states, Dresden's Richard Socher has his sights set on revolutionizing AI from the US. He's a quick run down of his bonafides: doctorate in computer science at Stanford, founded a startup aimed at automating customer service and marketing using AI that was acquired by Salesforce in 2016, then Chief Scientist Officer at the CRM group. Now Socher wants to build an AI-based search engine and platform with You.com and has raised USD 45m for it; Salesforce founder Marc Benioff gave him the associated domain on his retirement. The name You.com signals massive ambitions: a search engine for everyone and anyone. He's not afraid to compete with companies like OpenAI and Google, Socher told The Information: "Once I set my mind to something, I don't give up."
2. Marlena Hien and Laurence Saunier, founders Bears with Benefits
The market for nutritional supplements has been highly competitive for years, and yet in 2018, Marlena Hien and Laurence Saunier launched a supplement business on Amazon with Bears with Benefits. But they have a gimmick up their sleeves: vitamins and nutrients are stuffed in sweet gummy bears. According to the company's presentation, these can prevent hair loss, make your skin shine or help during menopause. "Our primary customer is your standard multi-tasking mom dealing with the stress of everyday life," says Laurence Saunier in an episode of the OMR podcast.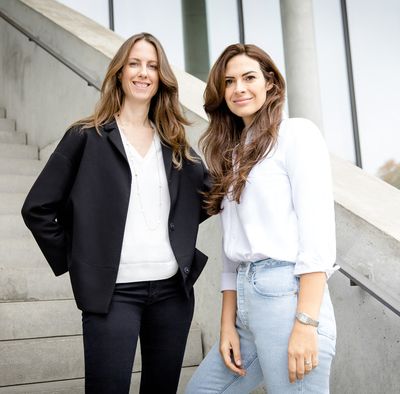 Three months after launch, they're best-sellers in their product category. Another three months after that, they're on the shelves at German drugstore chain Douglas. This year, they're poised to crack the 20 million sales mark—all without any outside capital. Bears with Benefits has also managed to become a D2C darlin with a community of just under 200,000 followers on social, and 80 percent of all sales come from their online shop. So all in all, the two have outgrown Amazon.
All of this is arousing interest among larger players. In November 2022, the founders announced an exit worth tens of millions. France's Havea Group, a network of companies distributing various cosmetics brands, acquires Bears with benefits. According to the group's own figures, its annual turnover in 2021 was over EUR 200m. Earlier, both founders had announced their intention to help other women in their ventures as investors. "We have experienced ourselves what it can be like to sit on the other side of the table. And we have experienced ourselves what it is like not to be taken seriously by men with a product for women. And of course, we want to change that," says Marlena Hien. So that can now start after the successful exit.
3. Christian Wolf, The Quality Group
Generations have sought to achieve the perfect body. Regular exercise and a healthy, varied diet – the rules for achieving this dream have hardly changed over time. What has changed, however, is the abundance of aids, so-called supplements, that are supposed to help and around which a huge market has sprung up. Christian Wolf has played a part in this. During his school years, he was a professional gamer—and overweight.


Honestly, he hasn't reinvented the proverbial wheel. And yet Wolf seems to be more successful than others right off the bat. This is also due to his flair for attention economy. Reaction videos, statements and provocations quickly give him a wide reach on social media. In 2020, just two years after founding the first brand More Nutrition with a focus on weight loss and diet products, he merged with Fitmart GmbH to form The Quality Group, a real heavyweight in the competitive, and very lucrative food industry—a fact also recognized by the private equity firm CVC Capital Partners. In May 2022, it acquired a majority stake in The Quality Group and Westwing founder Stefan Smalla later joins as CEO. The company is expected to generate sales of over EUR 300m. And Christian Wolf, now fit as a fiddle, is still a shareholder – and continues to respond to nutrition myths online.
4. Elisabeth Schrey, CEO Deep Tech & Climate Fonds (DTCF)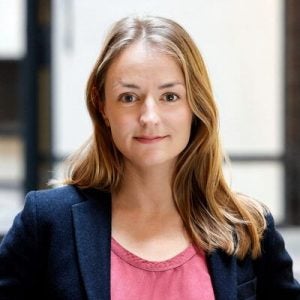 Elisabeth Schrey has something that all startups need: Money. As managing director of the German government's new Deep Tech & Climate Fund, it's her job to support innovative companies with a total of up to EUR 1b in the coming years. Initiated by the Federal Ministry of Finance and the Federal Ministry for the Environment, the fund will in the future act as a co-investor and partner to institutional investors and family-owned companies to ensure that innovative technologies and processes ranging from AI to Industry 4.0 to quantum computing can be developed in Germany and that the brains behind them do not migrate abroad.
The first EUR 3.5m will go to Berlin-based startup Xolo, which has developed a new type of 3D printer that is supposed to print faster and produce smoother surfaces than previous devices in this field. Schrey has a PhD in innovation management from RWTH Aachen University, and subsequently held several positions in investments and portfolio management in the industrial technology sector. It sounds like Schrey is the ideal person to turn the land of ideas into the land of implementation.
5. Bastian Nominacher, Alexander Rinke and Martin Klenk, founders Celonis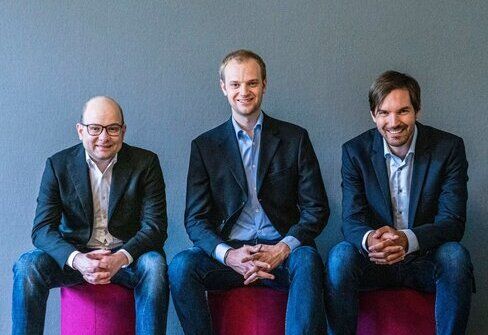 With a valuation of USD 13b, Celonis is the most valuable startup in Germany and one of the top 5 startups in Europe. In a Series D round last August, the Munich-based company raised a total of USD 1b (400 million of which was invested and 600 million in the form of a loan). This was not at all foreseeable when the company was founded in 2011: "At the beginning, nobody wanted to give us anything," said co-founder Bastian Nominacher in the OMR Podcast.

Admittedly, Celonis' business field is challenging: the company's "process mining" software sifts through huge amounts of customer data in search of opportunities for improvement. Ride service provider Uber, for example, reportedly improved its complaint management process with the help of Celonis. The analysis found that it was easier to credit customers a flat 5 dollars than to go through the time-consuming process of investigating every complaint. In the meantime, almost 3,000 people work for Celonis, which is optimistic about the future despite the current economic situation. After all, times of crisis are actually opportunities for optimizers like Celonis – because many companies want to become more efficient in order to reduce costs.
6. Nina Chuba, Musician
Since last summer, "Wildberry Lillet" has not only been a catchphrase within Gen Z. It is a trendy drink, like Aperol Spritz or Hugo, available in clubs, bars and restaurants across Germany. The two ingredients, the aperitif Lillet from Pernod Ricard and the flavor "Wildberry" from Schweppes, have been around for years or even decades. And the two companies even came up with the drink over a decade ago under the name "Lillet Wild Berry" – it's just that no one cared. Nina Chuba, whose real name is Nina Katrin Kaiser, changed that with a bang.


With short videos for the song "Wildberry Lillet," the 24-year-old, who once played a leading role in the children's series "Die Pfefferkörner," went viral on Tiktok. The result: nearly 100 million streams on Spotify, No. 1 in the singles charts, gold records, sold-out tour. The suspicion that this was all a planned marketing campaign for a drink that had disappeared into oblivion is contradicted by all parties. Nevertheless, they profited from the hype; in the case of Schweppes, later as partners for the video for the remix of the song. Meanwhile, Nina Chuba has released her first album. Unsurprisingly, it also landed at No. 1 in the charts. Glasses will have clinked at Pernod Ricard and Schweppes.
7. Björn Ommer, Professor at the Ludwig Maximilian University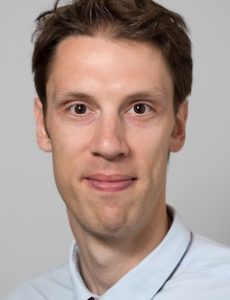 Ever since the Pope appeared in that now (in)famous white jacket, everyone has understood the revolutionary potential of AI generators when it comes to creating photorealistic images from text commands. Besides the tool Midjourney, which was used to create the Styler Pope, and Dall-E, which is backed by the ChatGPT inventors of Open AI, there is another important player: Stable Diffusion. This was developed at the LMU in Munich, by a team led by Björn Ommer, AI professor and head of the Computer Vision & Learning Group.
Unlike its commercial U.S. rivals, Stable Diffusion is open-source software. This not only makes how the code works more transparent. Stable Diffusion was also designed to work without a supercomputer in the background and run on a home PC. It was important to him to "democratize not only the use of this technology, but also the research on this model," Ommer once said in an interview. What is needed, he said, is awareness of the technology and its potential, both positive and negative. The force of the hype surrounding AI image generators surprised him, Ommer said. But he has achieved his goal: The debate about the opportunities and dangers of creative AI has been fully ignited.
8. Manon Littek and Janna Ensthaler, founders and CEOs GGF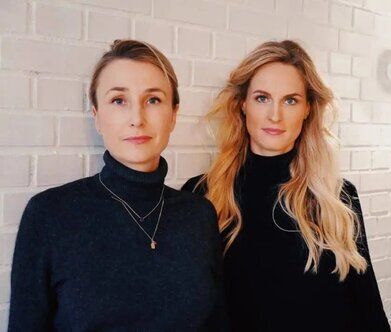 It is said to have taken Janna Ensthaler and Manon Littek less than a year to collect EUR 100m for their new Green Generation Fund. This makes it one of the largest vehicles of its kind in Germany. The fund's mission statement is "Backing outstanding Impact Entrepreneurs" and it aims to invest up to EUR 1.5m in startups in their early stages. The most important goal of the two investors is to reduce CO2 emissions. They see particularly great potential in the food sector. For example, the egg replacement startup Neggst is one of the first investments whose technology was developed at the Fraunhofer Institute.

Littek previously worked for food-tech investor Katjesgreenfood, among others. Ensthaler comes from the performance-oriented school of Rocket Internet, where she built cosmetics subscription provider Glossybox early in her career. That should ensure that among the startups she supports, the fight against the climate crisis doesn't fall short on business issues. Ensthaler's involvement in "Die Höhle der Löwen," where she can currently be seen as a "lioness," is a bit more glamorous.
9. Oliver Schusser, Vice President Apple Music and Apple TV+
There aren't many Germans who are big shots in Silicon Valley. One of these rare specimens is Oliver Schusser, a longtime Apple manager. This year, Schusser has finally arrived in the front row at the world's most valuable company. Beginning in 2018, he's headed Apple Music and Beats, and at the beginning of 2023, he will also  take over Apple TV+. Schusser is thus responsible for two major content and subscription bets of Apple and shapes the development of the entire industry.

Oliver Schusser is so highly regarded at Apple because he has managed to scale Apple Music internationally and steer it in new directions. He had gained experience in this as one of the architects of iTunes. Yet his Silicon Valley career began with a player with a completely different reputation. He worked for BMG in New York when it acquired Napster in 2002. A short time later, Schusser became VP of Marketing for Napster in San Francisco. After a stopover at Vodafone, his Apple career began in 2004 – with the task of making iTunes big in Europe. The fact that he succeeded in this laid the foundation for his career at Apple. He has now received the reward and at the same time the challenging task.
10. Nonakanal, Creatorin
A German fashion brand presents its first collection and more than 200,000 people watch simultaneously on the livestream – it's hardly surprising that the success can be traced back to an influencer. "Nonakanal" (she doesn't give her real name) launched her own label "Shadeswear" last year and, true to style, sold out the first collection in no time. This was preceded by hard content work: Nonakanal regularly publishes short clips with fashion and cosmetics tips, especially on Tiktok. In addition, she invites selected fans to "Girls Nights."


At one of these, she flies a small group of young women to Milan in a private jet so that they can help her choose her first collection. Nonakanal has amassed 3.2 million subscribers and 2.5 billion plays (according to statistics tool Infludata) on Tiktok in this way. The launch of Shadeswear did not go smoothly; there were complaints about delayed deliveries and similarities to products of other brands. Nonakanal's ambitions don't seem to be slowing down: she is planning a "Shades Festival" at the Lanxess Arena in Cologne in June.
11. Stepan Timoshins, CEO/co-founder Vaditim/Elevate
When Stepan Timoshin's parents cut off his allowance at the age of 14 or 15 because of bad grades, he began buying trendy sneakers and selling them again at a profit. Timoshin is so successful with this that he starts his own store under the name Vaditim, for which he books advertising with streaming stars like Knossi and Montana Black. This is also how he meets ex-footballer and streamer Sidney Friede and his friend Elias Nerlich (today perhaps Germany's fastest-growing streamer, see OMR50 2022). Together, the three founded their own fashion brand under the name Elevate. According to Timoshin's Linkedin post, the brand is already expected to generate sales of 30 million euros in its third year of existence.

12. Sasha Bühler and Katja Hofem, Director International Original Film / VP Content DACH, Netflix
Successful Netflix productions are increasingly coming from Germany. That this is the case (and should remain so in the future) has a lot to do with Sasha Bühler and Katja Hofem. Bühler was one of the driving forces behind the remake of "All Quiet on the Western Front," which won four Oscars in 2022, including Best Foreign Film. And Katja Hofem, who was previously managing director of Pro Sieben Sat 1 after working for the RTL Group for many years, was promoted to German head of programming at the streaming platform last year. In this role, she is to ensure that after global successes such as "Dark," "How to Sell Drugs Online (Fast)" and "Barbarians," further series hits will continue to come from Germany in the future.
13. Ole Obermann, Global Head of Music Business Development and IP Rights, Tiktok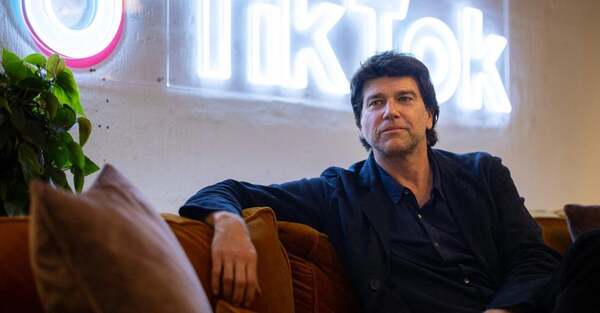 Tiktok has the music industry in its grip: If you want to turn songs into hits and musicians into stars, you can't get around the platform today. With its Spotify competitor Resso (so far active in Brazil, India, and Indonesia) and the distribution and marketing platform Soundon, Tiktok is reaching for further parts of the value chain. It is therefore hardly surprising that Ole Obermann, who previously held leading positions at Warner and Sony, has switched sides. As Global Head of Music at Tiktok, the German is now responsible for the platform's entire music strategy. The 50-year-old also wants to help advertisers license the currently popular songs for their marketing.
14. Kim Petras, singer / songwriter

Kim Petras, now 20, is a "digital native pop star": At the age of 15, she began posting singing videos on the Internet that went through the roof on YouTube and Myspace. At the same time, she wrote about her trans identity on her blog, as well as the hormone treatment she began at the age of twelve. At 16, she became the youngest person to date to undergo gender reassignment surgery.

Today, Petras lives in the United States. With British singer Sam Smith, she released the song "Unholy" in 2022, which went viral through a clever campaign on Tiktok and is streamed more than a billion times on Spotify. In February 2022, she became the first transgendered person in the world to win a Grammy.
15. Jaroslaw Kutylowski, founder and CEO DeepL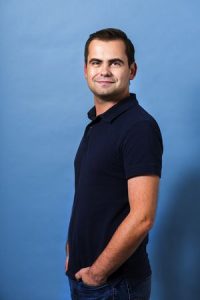 A German company that can rival Google—that made headlines years ago when the Cologne-based startup DeepL presented its translation software. Because the results were more accurate than those of Google Translate. Now CEO and founder Jaroslaw Kutylowski is planning the next step. The Cologne-based company wants to prove that German companies can generally hold their own against US competitors in artificial intelligence. Since the latest funding round at the end of 2022, DeepL has also been valued at more than USD 1b. Recently, the company presented a version that is supposed to make texts more beautiful and better on its own. The company now has more than 450 employees. BTW, Jaroslaw Kutylowski does not believe that AI is a job killer.
16. Gloria Bäuerlein, Founding Partner Beyond Capital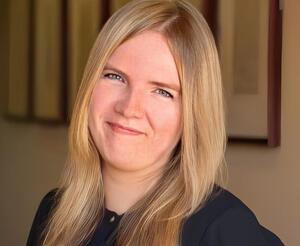 Women who build up a VC fund without a partner are practically a sensation. This is true of Gloria Bäuerlein. She has raised more than EUR 21m for her fund "Beyond Capital." The money comes from executives of large startups like Personio or the founders of Stripe or Coinbase. Interest in investing was reportedly high. Probably also because Bäuerlein is no stranger to the startup scene. After graduating from WHU, she worked for global venture capitalist Index Ventures before becoming Global Head of Strategy at Swedish health startup Kry. In parallel, she has already invested in more than 20 companies as a business angel, including the climate startup Planetly.
17. Fabian Spielberger, CEO at Pepper.com/Mydealz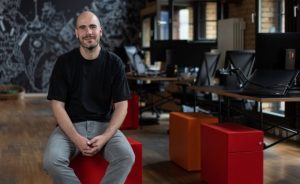 Fabian Spielberger is the defining figure when it comes to shopping communities in Germany. In 2014, he and Paul Nikkel founded Pepper, which operates communities such as Mydealz, Dealabs and Hotukdeals. He calls his company "Facebook for Shopping." At the end of 2022, Spielberger succeeds in a high-profile exit. He sells Pepper to Global Savings Group – one of the biggest players in the coupon and cashback market. Exactly how big the deal was remains a secret. The merger is expected to create a European champion with a global footprint. Both companies also operate international discount communities and are now looking to grow further. Spielberger remains on board as CEO of Pepper and will continue to shape the business.
18. Sophie Kühn, founder Miss Sophie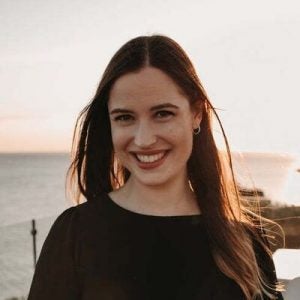 Sophie Kühn came up with the idea during her semester abroad on the beach in the south of France: because her nail polish chipped quickly, she looked for alternatives – and started her own from her one-room apartment in Berlin at the end of 2014. The nail foils from "Miss Sophie" quickly caught on, especially on Instagram, and the products were quickly listed by major players like Flaconi, Douglas and dm. Thanks to a combination of TV appearances in the Pro Seven magazine "Red" and smart performance marketing on meta platforms, the startup bootstrapped grows to eight-figure profitable sales. The brand is so strong in its target group that even large corporations like Paramount Pictures come knocking for campaigns. At the beginning of 2023, the Wilde Group took over Miss Sophie.
19. Philipp Schröder, founder and CEO 1Komma5°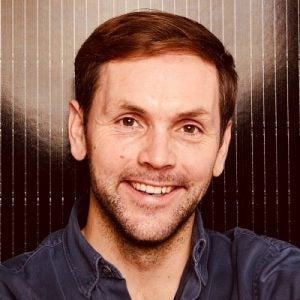 Philipp Schröder could soon become the next German Unicorn founder. The startup 1Komma5° is set to become a champion in the field of renewable energies, offering all solutions from a single source, from solar systems to heat pumps. The founder has been one of the defining faces of the scene for years. He was the first German boss of the electric car manufacturer Tesla and was then instrumental in building up the electricity storage startup Sonnen. When the takeover by the oil company Shell loomed, he left the company in order to start anew with the development of 1Komma5° after an 18-month non-competition clause. This year alone, 1Komma5° is expected to generate more than EUR 500m in sales – around three years after its founding.
20. Anne Imhof, artist

Anne Imhof almost became a boxing pro, now she's Germany's most hyped artist. Although the term is too narrow. Imhof creates art and won the Golden Lion in 2017. But she doesn't want to lock her work into the high culture cage. Would also fit poorly with a woman whose first performance consisted of volunteers she had boxing against each other to punk in a striptease bar. "Accessibility can't just happen on Instagram," Imhof says. After all, 79,000 people follow her there, including international rap stars like Shake070 and Rich the Kid. It's fitting that she recently collaborated with Berlin rapper Ufo361. What's next? A feature film? She was recently asked about this in an interview. Direct answer: "Absolutely!"
21. Benjamin Kremer and Noël Bollmann, founders YFood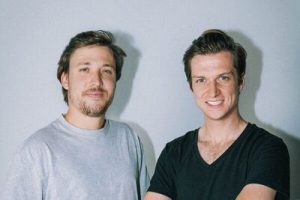 During their studies and later as bankers, Noël Bollmann and Benjamin Kremer didn't often have the time to cook for themselves, so they turned to kebabs, burgers and the like. Because there is a lack of healthy alternatives in the convenience food sector, they developed one themselves without further ado. At first, Yfood was just a drinkable meal, but today the Munich-based company's portfolio includes more than 30 products, including hot dishes, which are sold online and in retail stores. DHDL appearance including Thelen investment, a focus on paid social and influencer marketing with the really big names ensure impressive growth. At the beginning of 2023, the startup exceeds its own expectations with EUR 120m in sales. Shortly thereafter, Nestlé, the world's largest food company, joins the company and secures 49.95 percent – at a valuation of EUR 430m.
22. Anna Christmann, "Die Grünen," startup commissioner for the German Government
By their very nature, startups and politics don't go together very well: Startups want to be fast and unbureaucratic, while political work is usually the opposite. But recently, the relationship between the federal government and the startup scene has been particularly chilly. The Fund Location Act, which is supposed to make it easier for employees to participate, failed with the startups; in 2022, various well-known founders* complained about a lack of innovation policy in a fire letter to several ministries. Anna Christmann is supposed to make sure that changes. "I believe that founders rightly expected that politics would have the topic of startups even more on its radar," says the startup commissioner in an interview.
23. David Fischer, founder and CEO Highsnobiety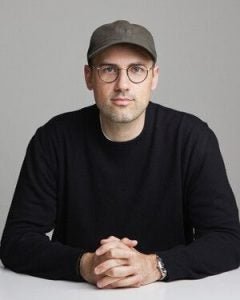 In 2022, Zalando celebrated the acquisition of a majority stake in fashion lifestyle media brand Highsnobiety as a win-win. The new subsidiary would be able to access the retailer's resources in the future and in return help it to make the platform a "more appealing online environment for customers and brand partners. This is the core competence of David Fischer, who started Highsnobiety in 2005 as a Berlin fashion blog and has developed it into a leading global tastemaker agency in the streetwear segment, including event business and his own products. To make this win-win a reality, he is on board as a minority shareholder. Fischer wants to take his "life's work to the next level.
24. Anna Engelschall aka Growingananas, Creator
Her career as a fitness influencer began rather curiously. Because Anna Engelschall didn't start doing sports to lose weight. She wanted to gain weight. Since 2017, the Austrian has also been sharing her knowledge online. Her videos on YouTube now have more than a billion views. As "Growingannanas," she has built an extremely large community here. The fitness and lifestyle influencer's YouTube channel alone now has more than three million subscribers. She also offers workouts, cooking recipes and fitness plans via her own "Grow with Anna" app. She has long since traded in her job at a software company for a career as a creator.

25. Anonymous, founder Kinder Spielzeug
The idea is as banal as it is brilliant: Youtube videos demonstrating toys to give parents buying help (and a time-out while the kids watch). Probably as a copy-cat of the US unboxing channel "DC Toy Collector", the "Kinder Spielzeug Kanal" (KSK) started in 2015. The creator quickly changed tack and told his own stories with well-known characters such as "Fireman Sam," "Bob the Builder" and "Peppa Pig." From 2018, the clips appear without commentary and with English titles. Then, at the beginning of 2023, the news: The anonymous operator sold his channel with 20 million subscribers and over ten billion views to the French media company Animaj – for a sum in the double-digit million range, according to insiders OMR spoke with.

26. Denise Kratzenberg, co-founder Cheex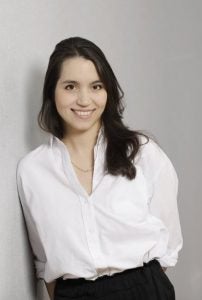 The porn market is one of the biggest in the world – and it's changing. First, U.S. production companies ruled with VHS and DVD, then came free platforms like Pornhub, and currently the trend is toward subscription platforms like Onlyfans. At the same time, the industry can't get rid of the smut factor. The Berlin-based startup Cheex wants to fill this gap. Founder Denise Kratzenberg has built up a platform with 100,000 subscriptions sold in just two years. In 2020, she launched the erotic platform together with Maximilian Horwitz. "I wanted to build something that makes people more sexually liberated," she tells OMR. Cheex offers erotic films, audio stories, live tutorials, workshops and a learning area in one subscription. By 2022, it was already generating seven-figure revenue.
27. Luciano, Musician
Since rap or, to use a somewhat broader but dusty term, "urban music" has been breaking records again and again for years, some will wonder when this hype will die down again. Patrick Großmann from Bautzen, among others, proved in 2022 that the trend is showing no signs of slowing. Under his stage name Luciano, he was the most streamed artist on Spotify last year across all genres; the album and single ("Beautiful Girl") with the most plays are also to his credit. And all this with the subgenre "UK Drill", which is otherwise less prominent in this country. At the same time, the 29-year-old has launched his own fruit juice, "Loco Juice" – what else would you expect in the Creator Economy?
28. Tijen Onaran, Business influencer and investor
Tijen Onaran's bestselling guidebook from 2020 is called "Only those who are visible take place," and the title is programmatic for her career. Tireless networking and clever use of media platforms as an interviewer, podcaster and columnist have given Onaran and her central theme of diversity a lot of publicity. 140,000 followers secure her a place on the reach Olympus of the German-speaking Top 20 Linked Influencers. But who there has their own Barbie doll or their own lipstick ("Tijen Red")? No one except Germany's business lifestyle icon. According to her shoulder tattoo, the investor and new DHDL judge prefers a different self-description: "Be your own fucking hero."

29. Armin Omerovic, founder Pegador
History sometimes repeats itself. Once again there is a German hype fashion brand, Pegador, which has become big mainly through rappers and footballers. It already went a similar way for LFDY, Peso and 6PM. Behind Pegador is Armin Omerovic, who founded the company in Emsdetten in 2012. The brand has been attracting attention since 2020 because soccer stars wear cargo pants and strikingly ripped jeans from the brand and pose with them on their Instagram channels in front of millions of followers. This saves Pegador expensive marketing campaigns. Pegador is now also available at Snipes, Zalando, Peek & Cloppenburg and many other retailers. On Instagram, the brand is followed by almost 350,000 people. In 2021, Pegador reported a net profit of EUR 2.8m.
30. Naomi Jon, Youtuber

She has made broccoli her trademark: Naomi Jon has more than 2.7 million followers on YouTube and more than a million on Instagram – and she calls them broccoli and herself "Mama Broccoli. Or rather, "Mama Broccoli," because Jon has produced her beauty videos in English from the very beginning, making her one of the small group of German influencers with international relevance.

Her distinguishing features are her colorful hair and her eye-catching features. Jon has also already arrived in the "Creator Ecomony": Through the store of her fashion brand Unprofashional, the Lower Saxon, who now lives in Berlin, keeps dropping new collections, and she even has her own perfume.
31. Noel Robinson aka Noelgoescrazy, creator

The scheme of Noel Robinson's good-humor viral videos is simple but successful: The Munich native dances at passersby on the street (usually after first scaring them), then pulls his hood off his head to reveal a surprisingly voluminous Afro hairstyle. On Tiktok, he has already amassed 30 million followers and 7.8 billion plays with clips like this. Since the beginning of the year, the 21-year-old has also been acting as a brand ambassador for Adidas. For example, he also produced videos at the World Cup in Qatar, which again pushed his reach. Most recently, "Noelgoescrazy" was one of the world's fastest-growing channels on Google's video platform thanks to his "YouTube Shorts.
32. Steffi Sinzenich, founder Gaumenfreundin.de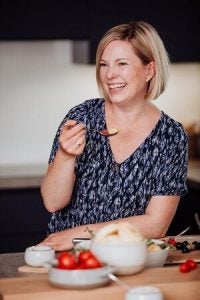 Every year, OMR takes a close look at the SEO winners of the year – surprising digital stories always turn up. This was also the case with the winners of 2022, as last year the Google visibility of the food blog Gaumenfreundin increased by 452 percent. Anyone googling "pasta salad," "raclette ideas" or "bread baking" in Germany will find the recipe website among the first search terms. Behind it is Stefanie Sinzenich, who has built up a small company with a few employees from a personal cooking blog started in 2013. Since 2017, she has been doing the project full-time. She has also already launched three cookbooks for families with children (her target group). On Instagram, she has 126,000 followers.
33. Max Knabe aka HandOfBlood, president Eintracht Spandau
In 2022, Maximilian Knabe aka "HandOfBlood" turned the e-sports scene upside down with his "League of Legends" team Eintracht Spandau. The joint venture between Knabe's influencer agency Instinct3 and Jung von Matt/Nerd stands for a unique storytelling approach – incomparable in e-sports and gaming. As president, Knabe is the star in the content pieces, which are brimming with self-irony. "We launched like we've been around for 100 years," he said on the OMR podcast. The market entry with the claim "Here is Real" earns Eintracht Spandau bronze at the Effie Germany 2022. In addition, "HandOfBlood" has around 3.7 million subscriptions to his YouTube channels, and his videos have generated over a billion views.
34. Isabell Schneider aka Honeypuu, Streamer

In the global streaming circus that is Twitch, the usual suspects are usually at the top of the view rankings. In the male-dominated industry, one woman stands out: Amouranth, who has brought it to 6.4 million followers thanks to revealing content, so-called hot tub streams. All the more surprising, then, that in the third week of January 2023, HoneyPuu, a German female streamer, achieved the highest number of hours watched worldwide. Yet 23-year-old Isabell Schneider forgoes reach levers only-fans-style and focuses on streaming games. When the building-block game Minecraft, which was released back in 2009, had new attention at the beginning of the year, she was in on the action – beating out Amouranth.
35. Ben Unterkofler, Sebastian Stricker Iris Braun and Tobias Reiner, founders Share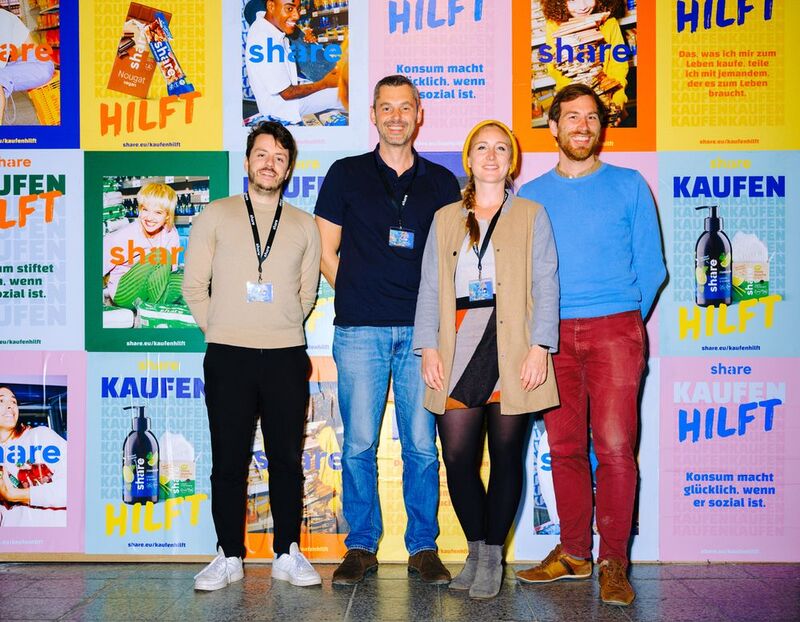 The current top international brand among all German startups is Share, according to Jung von Matt.  Share offers around 120 different consumer products: Food, beverages, care products and stationery. With every item sold, Share donates to social projects. "That's just smart and hits the zeitgeist," says Jung-von-Matt's Jonas Bailly. According to media reports, Share has already sold more than 100 million products. And Share's management, led by Sebastian Stricker, is said to have meanwhile attracted the Bitburger brewery, the Gerolsteiner mineral water company, and the Mulliez family, which is behind the French retail group Auchan, as investors.
36. Anne Lamp and Johanna Baare, founders Traceless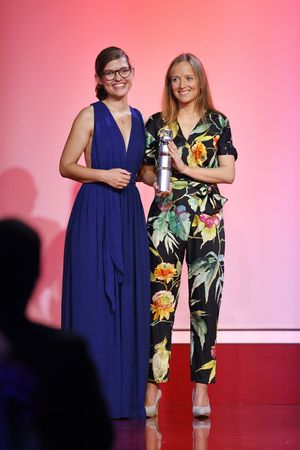 The name of their startup translates as "trackless," and that's what it's all about. Anne Lamp and her co-founder Johanna Baare are working on a solution to replace conventional plastic. Instead, packaging material and the like are to be produced from leftover grain that can rot. Engineer Lamp developed the technology to produce granules from this during her studies. In 2020, the startup was founded in Hamburg, and in 2022 it was awarded the German Founders' Prize. In the meantime, pilot projects are also underway with the mail order company Otto and the airline Lufthansa. Freezer bags and trash bags are also to be made from the plastic substitute.
37. Leo Mahalo, artist

Tiktoker Leo Mahalo is a real social media star in the USA. He has over 8.3 million fans following him on the platform. Why is he someone for OMR50? Leo is a German who only went through the roof on Tiktok after moving to Los Angeles. His content idea? He artfully paints, mostly using a sharpie, expensive products – from iPhones to iPads to Lamborghinis. He earns money with brand deals and maybe one day with his art. Singer Jason Derulo recently wanted a work of art by Leo Mahalo and got it as a gift. Now Mahalo is probably going after his home country, too. Most recently, a portrait appeared in the Bild newspaper, where he also announced a planned move to Berlin.
38. Elina Dimitrova, Social Media Manager Tiktok, Cosnova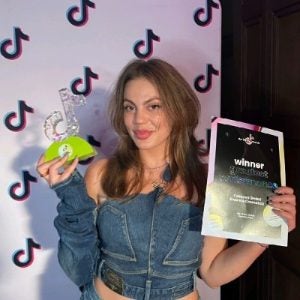 How does a brand produce short videos that work on Tiktok? Hardly anyone in Germany can answer this question as well as Elina Dimitrova. As Social Media Manager at the cosmetics company Cosnova, she is responsible for the Essence Cosmetics brand account, among other things. Essence products are the focus here, but they are presented in a way that is so appropriate to the platform that it goes down very well with many viewers. The result: In the OMR Tiktok brand charts, for which survey partner Wecreate evaluates which brands generate the most median likes with their Tiktok videos, no other brand has taken first place as often as Essence in the past twelve months.
39. Adrian Bianco, founder Sabukaru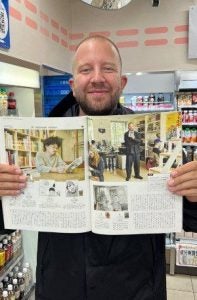 Adrian Bianco might have been well on his way to becoming a big shot in Germany's advertising industry. He created social media concepts for sneaker stores, worked for Dojo and then led a team of eight at the Vice agency Virtue. Nevertheless, three years ago Bianco put all his eggs in one basket, quit his job as well as his apartment and moved to Japan. Since then, the agency Bianco Bianco, founded on three square meters in Tokyo, has developed into the contact point for Western brands that want to gain a foothold in Japan. Consulting for fashion brands, advice for brands like BMW, photo shoots for Ikea and Mini. But that's not enough for Adrian Bianco: at the same time, he is building Sabukaru, a publisher for fashion, art, mangas and various subcultures – Japan's Highsnobiety.
40. Giulia Gwinn, professional soccer player, Bayern Munich
Since 2019, national player Giulia Gwinn has played for FC Bayern, winning the German championship in 2021 and making it to the final of the European Championship in 2022. Over 515,000 people follow her on Instagram—making her the German soccer player with the biggest reach. After suffering a second cruciate ligament tear in her knee in October 2022, she is currently working on her comeback for the 2023 World Cup.
41. Johannes and Thomas Heinze, founder and CEO Popcore
Popcore is not a new music genre, but the name of a real hidden champion of the German games industry. The Berlin-based studio was only founded in 2018 by Johannes Heinze and Thomas Heinze. At the end of 2022, the company, which has grown to 150 employees, will be sold to Rollic, an Istanbul-based subsidiary of the publisher Zynga, which in turn belongs to the listed U.S. gaming group TakeTwo (including "Grand Theft Auto"). According to Popcore's own figures, free-to-play games such as "Parking Jam 3D" and "Pull the Pin" have been installed more than half a billion times on smartphones and tablets. According to the latest publicly available figures, profits in 2020 were over EUR 1.4m, an increase of over 40 percent compared to the previous year.
42. Nadine Breaty, Creator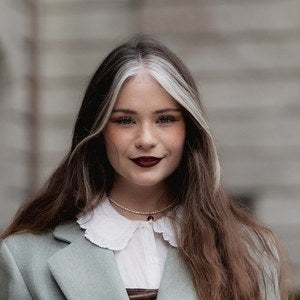 As a 30-something, you might get a culture shock when you watch Nadine Breaty's Tiktok videos. That's because the 24-year-old deals with all manner of topics that many people growing up are concerned with—while  dancing, in keeping with the Tiktok cliché. In a short time, the Rostock native has gained 10.4 million subscribers on Tiktok and 3.4 million on YouTube. All the more pleasing for "adults" is the news that Breaty also addresses issues such as mental health and exemplifies a positive self-perception independent of common beauty ideals: She addresses her Piebaldism disorder, which leads to light hair strands and skin spots, as well as her borderline disorder and depression.
43. Alex Hofmann, co-founder and CEO 9count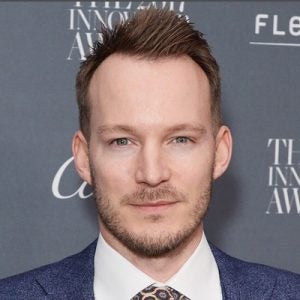 Alex Hofmann led musical.ly in North America in the mid-2010s, where he grew the app. After it was bought by Bytedance, musical.ly became Tiktok – or so we've heard. Now he's got his next thing going. His company 9count has just launched the app Wink, which has already reached No. 1 in the app store charts in the Netherlands. Through Wink, users can quickly find new friends around the world and chat and play games with them. This is all supposed to be friendlier than on other social platforms. Wink went viral, however, because of its avatar chat. Here, users can start a video chat with others – just as a digital avatar version of themselves.
44. Laura Haller / Oliver Schellpeper, Brand Manager / Head of Digital Marketing, Stada
Instagrammers who swear by the hangover-relieving effects of the drug Elotrans created such demand for the over-the-counter anti-diarrhea drug in 2022 that manufacturer Stada has had supply problems. Too bad for people with diarrhea. A smart move for Oliver Schellpeper, Head of Digital Marketing at the pharmaceutical company, and Laura Haller, Brand Manager responsible for Elotrans, among other things. Because Stada fueled the hype about the powder on an Instagram channel for Elotrans with whimsical comments about debauched party nights and alcohol consumption, in which the anti-hangover effect was the focal point.
45. Michael "Gercollector" Spegel, Creator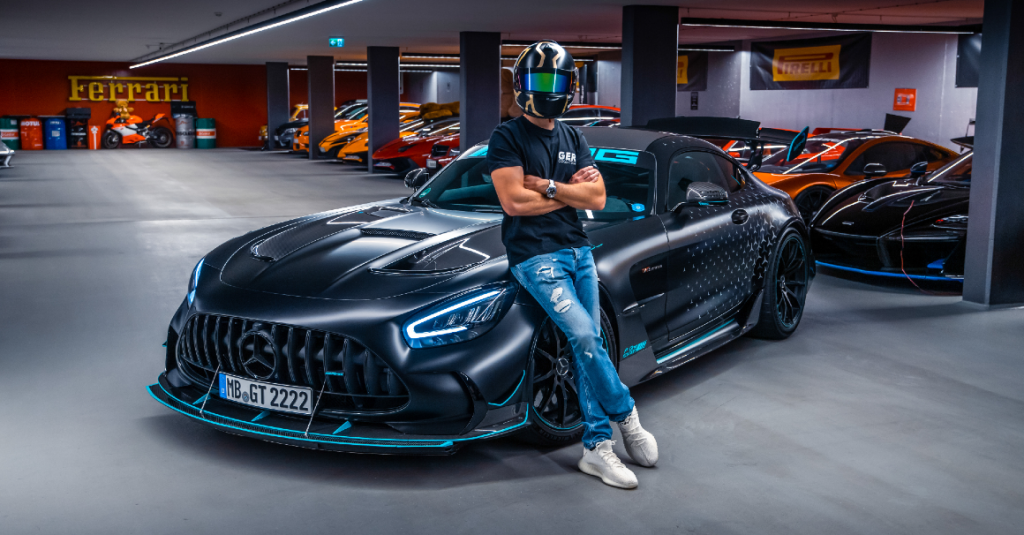 You probably all know car influencers like JP Kraemer, Sidney Hoffmann or Matthias Malmedie – and would perhaps recognize them on the street. But Gercollector has more Instagram followers than all three. However, he hides his face behind a helmet and still reaches millions of followers—all thanks to his incredible private car collection.
46. Alexandra Schulze aka Sashka, Youtuber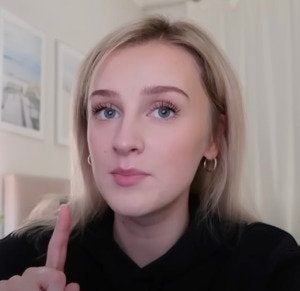 Defluencing is a buzzword and no one in the OMR cosmos will bet on the threat of influencers turning away from advertising deals en masse. Nevertheless, the phenomenon should be taken seriously – in a positive sense. The criticism that the German "anti-Youtuber" Sashka, whose real name is Alexandra Schulze, repeatedly makes in front of her 600,000 subscribers – for example, of Shirin David because of her advertising deal with McDonald's – is an important reminder to all marketers. Reach is not everything – and authenticity is a currency whose price is not defined by the creator, but by the community. So maybe have a listen to the meta-defluencer Sashka.
47. Jonas Weber, Co-CEO COLORSxSTUDIOS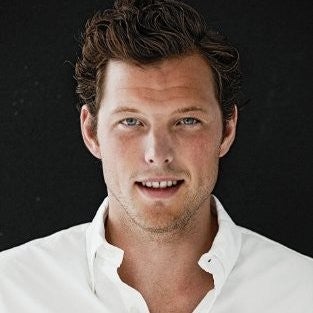 Billie Eilish was there, Quavo and Takeoff too, Alicia Keys too. But we're not talking about a well-known music festival or the big US talk shows. We're talking about YouTube channel. COLORS." Launched in 2016,  the concept has not changed to this day: an act or a group, a monochrome, colorful background and a song performance. With this format, the channel has brought it to almost 2.5 billion plays and 6.7 million subscriptions, all only on Youtube. Many people don't know that COLORSxSTUDIOS GmbH, a company from Berlin, is behind the globally successful project. The three founders were and are still only active in the background. Only Jonas Weber, who has been co-CEO since the beginning of 2018, is also present as such on Linkedin.
48. Rose Friedericke Curschmann aka rose.friederike, Tiktoker

"If you want to be beautiful, you have to suffer" seems to be the motto of Rose Friederike Curschmann, who demonstrates curious cosmetic products on her Tiktok account. With more than 138 million views, the 25-year-old has produced perhaps the most successful German-born Tiktok video of 2022 in the process. Which one? The beauty creator had bought a new mic for ASMR videos (for which quiet sounds are recorded especially close to create a tingling sensation in viewers). Because a lot went wrong during the shoot, Curschmann published a compilation of all the "fails." And it even ended up in Tiktok's official review of the year.
49. Niklas Kolorz, Youtuber
Mai Thi Nguyen-Kim proved with her "maiLab" format that it is possible to be successful with science content on YouTube. Nikolas Kolorz is now following in her footsteps and Youtube has just named him the most successful "Breakout Creator" of 2022, i.e. the most-promising newcomer of the year.


While the Queen of Science-Tube has mainly dealt with questions related to everyday life, Kolorz focuses on more offbeat areas of science: What happens when you die in space? Can extinct animals be revived? Are there aliens on Titan? With this mix, Kolorz has already won over a million subscribers.
50. Hatice Nizam and Ayse Auth, Owners Haarwerk Frankfurt
Good marketing idea: Hairdressing salon offers passers-by free makeover in exchange for Tiktok clip. Bad idea: see above. The Tiktoks Haarwerk Frankfurt has elicited net views in the six- to seven-figure range. But at first, it's mainly because the Tiktok community makes fun of the makeovers: "When Haarwerk comes, run!" The owners, twins Hatice Nizam and Ayse Auth, aren't deterred—in fact they see the opportunity, aaaaand turn their salon into a meme. A self-deprecating clip with Tiktoker Marius (3.5 million followers) goes viral. And while the tide may have turned the sisters take it all in stride: their reach is stable.
Copy: Christian Cohrs, Henning Eberhardt, Roland Eisenbrand, Martin Gardt, Torben Lux & Florian Rinke