Hamburg welcomes Hollywood: Ashton Kutcher to speak at OMR Festival 2022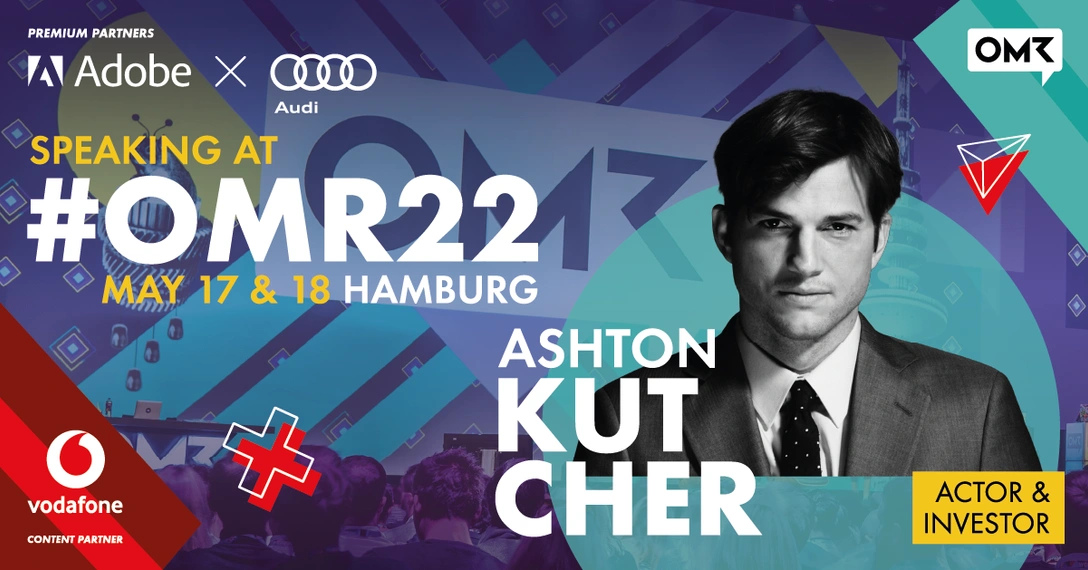 Actor, investor, producer and philanthropist Ashton Kutcher will take the Conference stage on May 18, 2022. A Tinseltown fixture for over two decades and a prolific tech investor to boot, Ashton Kutcher is a man of many talents—including tackling pressing societal issues. Kutcher's non-profit organization, Thorn, creates technology to combat child sex abuse. Additionally, he and his wife Mila Kunis are raising money for Ukraine and have already collected over USD 35m. With such diverse areas of interest and activities, Kutcher is an absolute must-see guest this May 18 in Hamburg.
Recently, OMR announced that Academy-award winner and New York Times bestselling author Quentin Tarantino will also speak at OMR22. In addition to Kutcher and Tarantino, a host of industry stars will be on hand in Hamburg, including Kara Swisher, Scott Galloway, Lilian Li, Rutger Bregman and additional international top speakers.
Kutcher first garnered international fame and acclaim as Michael Kelso in the hit sitcom "That 70s Show" in 1998. He further solidified his A-list status through subsequent roles in films, such as "Dude, where's my car?," "Butterfly Effect" and "No Strings Attached." He also returned to the small screen as Walden Schmidt in "Two and a Half Men." At the same time, he has been investing in tech startups for years, first as an angel investor, later with his investment funds A-Grade Investments and currently Sound Ventures. With over USD 3b invested, he is considered the most active "Hollywood investor." Kutcher has been an early investor in Airbnb, Uber, Spotify and Warby Parker, among others. All that is more than enough to warrant his spot on the big stage at OMR22.
We are excited once again this year to be able to deliver our audience with a diverse Festival program that also focuses on the day's most pressing events. I truly look forward to my conversation in the OMR Podcast with Ashton and hearing about his tech investing efforts, his atypical career path and, of course, his charitable efforts combatting child sex abuse through his non-profit Thorn and for the Ukraine." 
Focus on the philanthropic—from child sexual abuse and the Ukraine
There is more to Kutcher than just the bright lights of Hollywood and his activities as an angel investor in the tech scene. With his nonprofit Thorn, which he co-founded in 2012, he is taking on child sexual abuse—and using technology to do so. "We build software that fights the sexual exploitation of children on the Internet," Kutcher stated back in March 2021 on the OMR podcast. In addition to developing the technological tools to empower law enforcement and platforms, Thorn raises public awareness of the issue and lobbies lawmakers. Kutcher is also raising money to support Ukraine along with his wife Mila Kunis. At the beginning of March, the two had called for donations for humanitarian aid via Gofundme, with the goal of collecting USD 30m. On March 21, Ukrainian President Volodymyr Selenskyj personally thanked the two in a video call for approximately EUR 35m in donations.