How New Balance is making dad shoes cool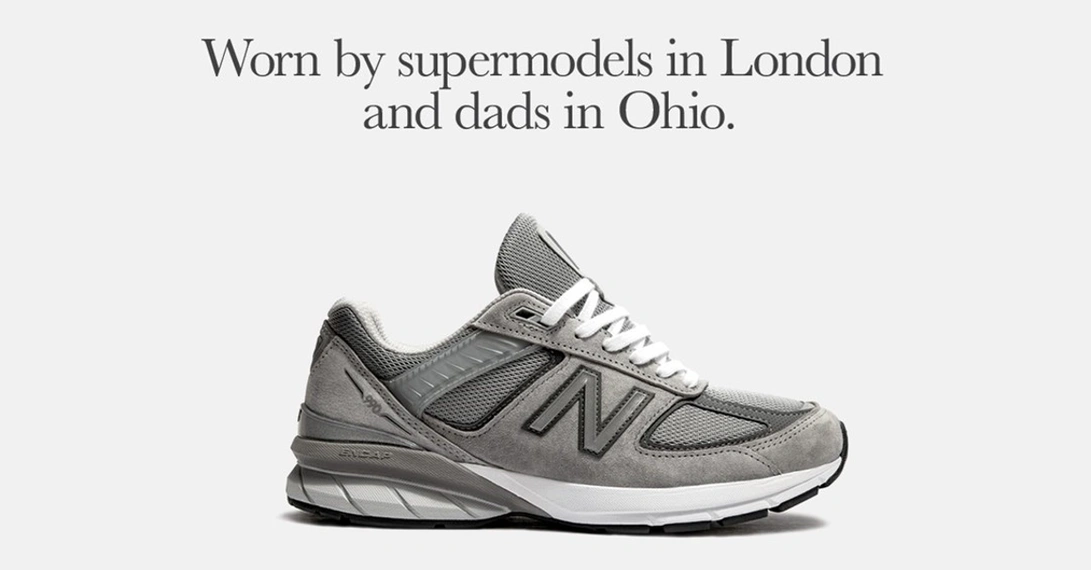 New Balance is back. Or maybe just now arriving—depending on who you ask. For decades associated with dad's, it's recently had to endure widespread fakes coming out of China and an attempted hijacking of the brand by neo-nazis. Today, New Balance has no such problems. The Boston-based footwear brand is hype-brand numero uno among sneakerheads and on the verge of eclipsing USD 7B in revenue. Today, we're taking a closer look at the strategy that has taken NB from cringy dad shoe to a hit with sneakerheads around the world.
Where Reebok failed, New Balance is crushing. NB and its old shoes from the 80s and 90s are on fire right now. How en fuego? NBs are "ranked as the third-highest performing brand in the performance footwear category in the USA, only behind Adidas and Nike and fifth in the athletic market behind these two and Jordan and Skechers. Success for NB has not been limited to the US either, as CEO Joe Preston is poised to grow company revenue from USD 3.3B in 2020 and USD 4.4B in 2021. For 2023, the company is taking aim at USD 7B in revenue. Going past the raw sales figures, NB is on par with the traditional hype brands in the sneaker game with New Balance shoes fetching a 42% markup on average according to sneaker resale platform StockX. So how has the brand been able to cash in on dad shoes?
Oldies, but goodies as newbies
New Balance was founded in 1906 by William Riley, originally as a manufacturer of arch support. The modern version of the footwear company began in 1972, when current chairman and owner Jim Davis bought the company. Davis turned a company of 6, able to produce 30 shoes per day, into a massive company with over 8000 staff members around the world and sales of sporting goods and articles in 120 countries. The primary focus of the shoes on running and leisure shoes. Instead of names, NB shoes are given numbers. Apple founder Steve Jobs, for example, liked to wear model NB 991 along with his black turtleneck when speaking on stage.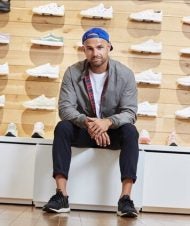 Since the 70s, NB has focussed on running and sports shoes, with some of the models gradually working their way into the leisure shoe category. This is one of the first factors lying at the heart of the company's new-found success: they've been wildly successful at creating hype and traction on retro shoes. "The sneaker-scape is characterized by re-releases of older sport shoes from the 70s, 80s and 90s, Daniel Benz, CEO of sneaker shop Asphaltgold told OMR. "New Balance has a wonderful archive of older models. It's also benefitting from the popularity of 'runner' shoes among millennials. Furthermore, the 550 model has been a major hit in the 'Court & White shoes' category."
The right collab at the right time
On the one hand, the company has been fortunate that clunky dad sneakers are in—but luck can only take you so far. "The brand is famous for its plethora of older models and as such has had no problem leaning on that tradition in its new releases of retros," German sneaker blogger Christopher Blumenthal (Dead Stock) tells OMR. "New Balance has launched some great collabs and acquired the talents of a premier head designer in Teddy Santis (who is also the owner Aimé Leon Dore)." By making a concerted effort to work with renowned designers, NB is able to increase the value and standing of its shoes. Another such example is the collaboration with Designstudio "JJJJound" from Montreal.
But the real coup de grace was the aforementioned collab with luxury streetwear designer Aimé Leon Dore. In 2020, founder and head designer Teddy Santis dropped a special model of the 550 shoe, which sold out within minutes. The partnership has been a massive success, and still is to this day, as New Balance is not only featured in a video on the Aimé Leon Dore homepage, but Santis was named Creative Director at New Balance in 2021. Under his watch, NB has launched collabs with Jaden Smith (Will Smith's son), Danish brand Ganni, US designer Salehe Bembury, sneaker Shop Size and several others. What each collaborating partner has in common: thriving communities on social in the 6-figure range and a reputation as a tastemaker.
A slew of hyped-up drops a month
To get a feel the recipe for success that NB uses on collabs, you don't need to look any further than Teddy Santis. In March 2022, Santis unveiled his first NB collection in 16 different colors. All the major fashion outlets run stories on the drops, thus setting the hype machine in motion. Right now, NB drops a new color for the popular 990 shoe every other month—which is sold out within minutes at retailers around the world. However, it's not as if NB is dependent on the reach of others. For example, NB has 6.5 million followers to the primary Instagram account, New Balance Lifestyle has nearly 900K), Tiktok has 190,000 followers and every video nets views in the millions, while the Facebook page has 8.5M fans. And it's here, to its very healthy community on social, where NB announces when new shoes will drop, including precise dates and times. The rest is taken care of by blogs and sneakerheads.
Its strategy of engaging in partnerships with top designers has played a key role in NB effectively transforming its collection of older models into something new and unique. The demand for the 550s by Aimé Leon Dore in 2020 have cemented the model as a best-seller to this day with several colors seemingly permanently soldout. The green and white 550 is being resold on StockX, for example, for over 350 euro, nearly 300% more than the €130 original price. Similar story with the Teddy Santis 990s. The hype has boosted the appeal of, traditionally speaking, colors that lack the wow factor, with even the grey 990s routinely selling out. If you're thinking that clever collabs is all it takes to revamp and rejuvenate a sneaker brand, you'd be wise to take a moment and look at Reebok. As we discussed in our analysis of its struggles and failures back in March 2021, Reebok, too, had a bit of street cred baked into its name, but was never able to capitalize on it. It failed to create compelling stories around its back catalog and inject new value and standing into its brand.
D2C or not D2C
Just as with many other sneaker brands, primarily Nike and Adidas, NB has invested significantly in its D2C efforts. The brand webshop has a modern flair to it, delivers over €50 are free, as are returns. Thus, NB is in direct competition with sneaker shops around the world. However, New Balance still has not capitalized on the power of its own shop by dropping shoes that are exclusively available through its own shop. Specialized shops like Asphaltgold are still looped into exclusive drops and receive shoes, like the Teddy Santis model.
Time will tell if that dynamic changes or not. In Dubai NB just opened up its first-ever self-owned brick-and-mortar shop—previously the company had worked exclusively on a franchise basis. This could lead to store space becoming a more exclusive space for NB and its fans—precisely the path taken by Nike and Adidas, oh by the way. Both brands are beginning to focus more on DTC approaches and only engaging in partnerships with retailers when said retailers have an added benefit to Nike or Adidas.
Made in USA and UK make the difference
Beyond the popularity of clunky shoes, close collaboration with top designers and regular drops, the focus on factories in the US and the UK further aid NB's storytelling. NB operates a total of six shoe factories in western countries, five stateside and an additional one in the UK, each of which churns out the most-expensive and very popular 990, 991, 992 and 1500 "Made in" shoes. "New Balance is not a brand characterized by a lot of bluster and attention-grabbing ads are also a rarity," says Asphaltgold CEO Daniel Benz. "Their down-to-earth philosophy gives off a very friendly vibe, which is very well received by its customer base. As is the fact that they continue to produce in factories in the US and the UK."
Sneaker blogger Christopher Blumenthal has this to say about the strategy: "The factories in the UK and the USA promise per se an increased degree of quality and craftsmanship. Now, it must also be said that the models produced there, the 992 and 990, for example, have seen their SRP soar in recent years. They have even managed to use the production process for marketing purposes, as New Balance is one of the few brands that permits visitors to its factories. As an end consumer that is a major display of trust," Blumenthal says. NB sees the primary advantage through a more pragmatic lens. "The fact that you can get product quicker to market, the fact that you can respond quicker to consumer trends if you're closer to the consumer … that's what domestic manufacturing affords you," CEO Joe Preston told CNBC.
Finding the right target group
In Preston's eyes, the company strategy helped the brand thrive during the pandemic. "It's part of our overall mantra of controlling our destiny, which has really come into play in the last couple of years with Covid," said Preston. "The supply constraints have certainly impacted our business, but we were still able to grow [revenue] over 30% in 2021." However, the shoes stemming from the US and UK factories only account for 25% of NB's global sales. 
By placing a focus on quality and thus putting itself in a position to command higher retail prices, NB has positioned itself to reach new target groups who are willing to pay a premium for sneakers made in the USA or UK. "At first, fashion-conscious consumers were driving the hype, consumers who were prepared to pay upwards of EUR 200 for a pair of shoes," says Daniel Benz. "Now, however, the target audience is as broad and diversified as the product line." Blumenthal sees it similarly: "The profile of a standard NB wearer has become extremely blurred recently. Just a couple of years ago, you would have said the primary audience in Europe is male, between 25 and 35 years or older. In the US even older. Now, however, it's become much more fashionable and styles have shifted. The once stodgy dad shoe has now become hip—even among females between 18 and 30."
Skip the stars and influencers
As NB has been very successful at spinning yarns around its own brand and shoes, it's been able to be very conservative and selective in influencer partnerships or collaborating with star athletes. While Nike, Adidas and others, can point to numerous athletes from the NBA, soccer and tennis, NB has partnered with NBA star Kawhi Leonard, Man City's Raheem Sterling, Liverpool's Sadio Mane and Arsenal's Bukayo Saka. The only other foray the company has into sports is as maker of jerseys for Roma, Athletic Bilbao, FC Porto and OSC Lille —major clubs for sure, but nothing upper echelon.
Through its athlete partnerships, NB engages in more than just sponsoring activities. Sterling, for example, just released his own NB collection  and Saka equipped his old school club with NB gear. And, of course, the two European soccer stars post the stories to their social media accounts followed by millions, thus helping NB promote its own story.