Save the date: The application phase for 150 Masterclasses at OMR Festival 2019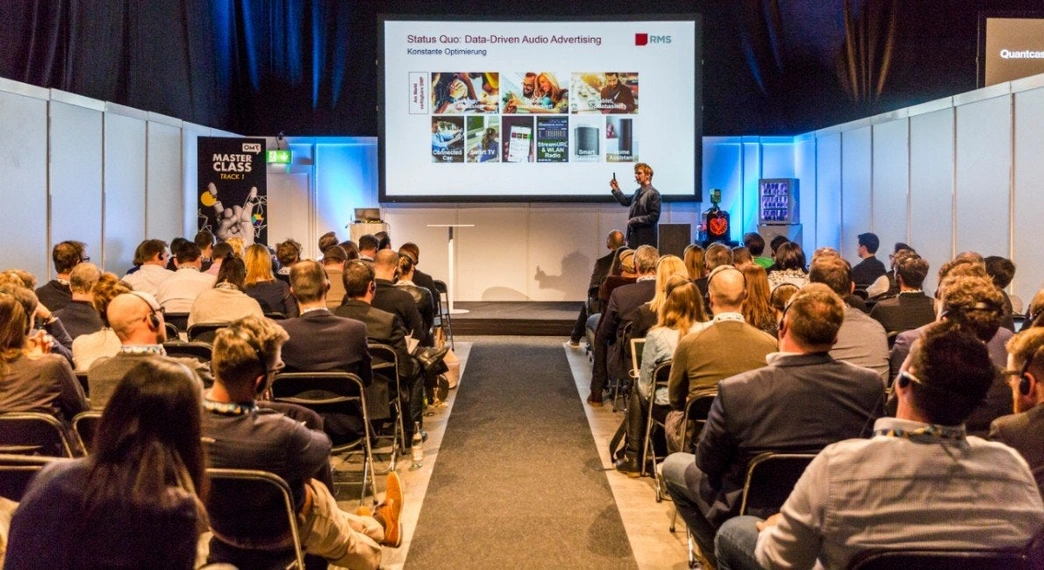 One of 150 Masterclasses on offer at OMR19 on May 7 & 8 (Image: OMR / Miguel Brusch).
The wait is nearly over! OMR Festival 2019 will finally launch in less than a month. Sure to be among the favorite offerings in 2019: Masterclasses. To keep step with the ever-increasing demand, we've scaled up the number of Masterclasses for 2019 to 150. Today, we're taking a closer look at a few Masterclasses and telling you what you need to know to have the best chance at snatching one of those coveted Masterclass spots.

Pinpoint practical strategies and approaches – That's the motto for Masterclasses at this year's OMR Festival on May 7 & 8. The concept and content is still the same—90 minute deep dive seminars held by us and our partners giving you actionable insights, practice-relevant knowledge using concrete cases. If it's a currently relevant industry trend, it's got a Masterclass. That's a fact. Everything from Content Marketing and eCommerce to Social Media, Video, Programmatic and China to be precise. Today we are presenting a handful of Masterclasses in detail. For a complete overview, check out our Masterclass Timetable. 
Applying for a spot in a Masterclass
If you want to attend a Masterclass, you have to apply for a spot. And to apply for a spot, you absolutely need an Expo Ticket at a minimum. You can apply as well if you have an All-Inclusive Ticket—but the All-Inclusive Ticket guarantees you 2 Masterclass spots. You'll find more information on the ticket categories here. For each Festival day, you may apply to attend a maximum of three Masterclasses beginning Monday, April 15, i.e. six total Masterclasses. Details on the application process will follow soon after. Please note, that a successful application does not guarantee that you will receive a spot. Demand is unfortunately too high for us to guarantee that. We will do our best to make sure that no one goes home empty handed. 
I Got 99 Problems but My CDP Ain't One: How to Tackle Customer Engagement Challenges

Tuesday, May 7, 10:30 AM to 12:00 PM

Following on from last year's resoundingly successful Masterclass, CrossEngage founders Dr. Markus Wübben and Manuel Hinz return to provide valuable insights into the current trends and developments in marketing and CRM. They will use concrete, practical examples to show how companies are successfully mastering current challenges and arming themselves for the future. Through intelligent usage of existing data and communication channels, companies can align with modern customer expectations, differentiate themselves from competitors and increase profits. Solutions in the still-young category of Customer Data Platforms (CDPs) have been developed to this precise end. Go to the Masterclass >>>
Riding the People-Based Attribution Wave Like a Pro
Tuesday, May 7, 10:30 AM to 12:00 PM

In a cross-device world, cross-device measurement is clearly a must. But for most mobile marketers, this concept remains a buzzword. Can it make the leap into the real world? The answer is yes! The workshop will demonstrate how this is done, why mobile is at the heart of it all, and what marketers need to know to actually make it work. No buzzwords guaranteed.
Go to the Masterclass>>>
Next generation performance marketing: Open Platform and Blockchain

Tuesday, May 7, 10:30 AM to 12:00 PM

Matthias Stadelmeyer, Nick Morris and Claudia Batschi-Rota from Tradedoubler will explain how an open platform and blockchain technology will offer new opportunities for brands and higher profits for publishers and will enable the development of new functionalities for payments, reporting and attribution. All relationships between advertisers and publishers will be automated, fully transparent and safe. Fraud and validation disputes will be minimalized. Real-time or automated smart contracts payments will grant a faster money flow for publishers. Merchants and publishers will be empowered to build closer relationships resulting in higher value between the parties and better performance. Go to the Masterclass >>>
Connecting the CX Dots: Harnessing the Power of AI to Maximize All Consumer Interactions
Tuesday, May 7, 10:45 PM to 12:15 PM

Scores of marketers preach the Holy Grail of Marketing: seamless customer experience. Yet there's an uncomfortable truth… it's really f**king hard. Consumers keep adapting and changing. Data is increasing. And the legal landscape keeps shifting. So despite plenty of developments on the marketing tech stack side, many marketers are left trying to figure out how to connect "the CX dots". Join Sebastian Mengewein and Alexander Handcock in our Masterclass, as they showcase how a selection of innovative brands are solving CX challenges and dive into the Selligent Marketing Cloud platform to see how theory translates into action. Go to the Masterclasss >>>
Connected TV: A fresh view on TV advertising
Tuesday, May 7, 12:45 PM to 2:15 PM

Connected TV (CTV) brings the same control over targeting and frequency onto the big screen, that we know from the online world. At the same time, results can be accessed in real-time to allow for instant campaign optimisation. CTV will lead to less advertising, which is at the same time much more targeted to individual households or viewers. By leveraging a lot more data and targeting options, TV ads will be much more personalised and thereby more efficient for the advertiser. The viewers benefit from a better TV experience when spots are addressing their actual interests. The example of the Omnicom Media Group shows, how the awareness for a new movie could be increased significantly. Go to the Masterclass >>>
Rewriting the Rules of Digital Advertising
Tuesday, May 7, 2:30 PM to 4:00 PM

YouGov has created a new way to deliver digital advertising, YouGov Direct. Via this platform consumers are now in control of their data, brands and media agencies enjoy improved targeting, and publishers are able to better monetise their data. In 2019 YouGov has been trialling the platform and technology, and in this session we will, with the help of our pioneering clients, debrief the audience on our trials. We'll share our learnings and show how: • We have distributed meaningful and efficient campaigns that deliver desired business outcomes • We are tackling the major challenges within the digital eco-system such as fraud, viewability and fair value exchange • Illustrate a practical and fully operational use of blockchain technology
Go to the Masterclass >>> 
When Physicists start thinking about Marketing
Tuesday, May 7, 2:30 PM to 4:00 PM

"Everything should be made as simple as possible, but not simpler. If you can't explain it simply, you don't understand it well enough" Albert Einstein. Today's Marketing world is complex – marketers juggle with all the different elements in Marketing that are coming along with the digital transformation. The real science is to combine and enhance all the different elements to enable a state-of-the-art Data-Driven Marketing approach. To help marketers navigate through the increasingly challenging marketing landscape, PwC has developed the ma.tomics framework. The agile change program helps your organization to target the right people, at the right moment, in a personalized way – that is, to become a Data-Driven Marketing Organization.
Go to the Masterclass >>>
Beyond the AI hype: Myths, Maths and Marketing
Tuesday, May 7, 4:30 PM to 5:30 PM

Everybody talks about AI – but what is it really? How relevant is it to marketing? What can it do? Learn from Mark Hammond, Senior Engineer at Quantcast, how artificial intelligence learns, how it understands preferences and on what basis it makes recommendations. In the second part of the master class, Sara Sihelnik, Country Director at Quantcast in DACH, shows where AI methods are used in marketing today – using concrete examples from marketing practice. After this Masterclass you will understand what AI can do, where the limits lie and what relevance it has for today's digital marketing.
Go to the Masterclass >>>
Challenges in implementing data-driven marketing approaches
Tuesday, May 7, 4:30 PM to 5:30 PM

Sneak peak into data-driven marketing cases at Operational VC Project A Ventures including: (i) The difficulties of executing on marketing attribution (ii) Tracking and optimizing TV campaigns (iii) Assessment of SEO brand/non-brand performance Speakers: Philipp Werner (CMO), Andres Almansa (Head of Marketing), Ole Bossdorf (Head of BI) at Project A Ventures.
Go to the Masterclass >>>
Powering creative decisions with data
Wednesday, May 8, 10:30 AM to 12:00 PM

In a world full of images, how is it possible to stand out and build your visual identity? Managing a strategy, choosing existing or customized content is essential to reflect your brand and to create a visual experience. At Getty Images, we use AI to challenge ourselves and our contributors on content we produce which helps us to stay ahead of visual trends. We are committed to offer innovative technology and base our subjective creative decisions on data. Have you ever wondered what would be the best performing visual content and time to post on social media? In this masterclass, Ben will showcase best practices, inspiring examples and how we empower marketers to shape the future of creativity.
Go to the Masterclass >>>
The Erosion of brand trust – understanding the phenomenon and gaining trust in the eCommerce landscape
Wednesday, May 8, 10:30 AM to 12:00 PM

Trust in business and brands is at an all-time low according to sources such as the Edelman Trust Barometer. In this context, the value and role of brands are increasingly being questioned by consumers seeking reassurance before making a buying decision. In this Masterclass we will seek to understand this phenomenon and provide suggestions on how companies can use social proof and build trust in a market that is shaken by consumers' mistrust towards brands and their marketing messaging.
Go to the Masterclass >>>
What's next in MROI?
Wednesday, May 8, 10:30 AM to 12:00 PM

Brands are increasingly frustrated with the structural limitations of standard MROI tools like Marketing Mix Modelling (MMM) or Multi-Touch-Attribution (MTA). They are looking for a new Gold Standard that helps them to take a true omni-channel perspective, double-down on content/creative optimization, understand brand to sales performance trade-offs and – last and not least – run in-campaign optimization. This masterclass explores what has recently become possible in Marketing Measurement based on person-level data sets, identity resolution, and advanced analytics. We will look at the potential of what we call "Next Gen MROI" but will also discuss barriers to adoption in the light of GDPR, media constraints, and traditional ways of working.
Go to the Masterclass >>>
Programmatic Strategies for Mobile First in Europe
Wednesday, May 8, 10:45 AM to 12:15 PM

Programmatic simplifies the mobile ad buying process for everyone, but how does it really work? Join us at our Masterclass and find out! We will share our knowledge and best practices to help you with your marketing efforts and drive your mobile advertising growth.
Go to the Masterclass >>>
The AI Maturity Model for Marketing
Wednesday, May 8, 10:45 AM to 12:15 PM

What does it take to become an AI-optimized brand, enterprise, or marketing organization? Nikos Acuna, Chief Visionary at Sizmek, will explore the very tenets of AI's impact on marketing through innovation at the intersection of data, technology, and creative customer experiences — and illustrate how companies can build a central AI and data practice to remain competitive in a cognitive world. You will learn: How to build an infrastructure for AI-powered customer experiences Deconstructing, differentiating, and implementing predictive AI for brands and agencies How the role of marketers will change over the next ten years, and how to future-proof your skills today and much more.
Go to the Masterclass >>>
The Trust Crisis in the Era of Google, Amazon & Facebook
Wednesday, May 8, 10:45 AM to 12:15 PM

Creating trust in your own brand and ensuring an authentic and credible appearance are goals pursued by every brand. The battle for consumer confidence is complicated by dominant US giants such as Google, Amazon and Facebook, who make the crisis of confidence omnipresent in times of fake news and GDPR. How do today's brands manage to evolve, promote and protect their reputation at the same time? How could performance marketing tactics counteract or even prevent a trust crisis? We answer these questions in our master class, which starts with a short keynote followed by interactive elements (Q&As, discussions, etc.).
Go to the Masterclass >>>
How to Win in China with Alibaba, JD & Social Media
Wednesday, May 8, 12:30 PM to 2:00 PM

Build and control your brand, increase awareness and sales in the most competitive market via China's dominant eCommerce platforms and relevant social media channels. Start to compete on Alibaba's Tmall and JD with supporting activities on Wechat, Xiaohongshu (Little Red Book), Douyin (Tik Tok) and others. This Masterclass will show best practices and your biggest mistakes to avoid in both eCommerce and social media to boost your China performance.
Go to the Masterclass >>>
Siemens Junelight – R/GA Transformation at Speed

Wednesday, May 8, 12:30 PM to 2:00 PM

The German technology group Siemens enters the B2C market. The reason: a new Smart Battery for the use of renewable energy. R/GA developed the branding including value proposition, brand purpose, name, design and tonality as well as an architecture that takes into account the parent brand Siemens. R/GA accompanied the launch with a campaign that included the website, digital, social media, ads, OOH, film, radio and reskinning of the app design. All in just a few months. The master class explains how R/GA is able to do this in the shortest possible time from a single source, which would normally require at least three different agencies.
Go to the Masterclass >>>
Scale Marketing
Wednesday, May 8, 12:30 PM to 2:00 PM

With MRM technology, marketing operations can be transformed from an ugly duckling into an enabler for growth, and the CMO's best friend. This empowers leading companies to continuously produce relevant content with agile processes and to make value creation in marketing transparent.
Go to the Masterclass >>>
Mailchimp as CRM and Marketing Automation Platform
Wednesday, May 8, 12:30 PM to 2:00 PM

Mailchimp has long moved beyond a pure email marketing tool: Today it is one of the most flexible and most affordable CRM and marketing automation platforms. Take some time out of your hectic OMR schedule and discover a wide array of features: From its new unique audience manager to flexible tagging and campaign management beyond email: This masterclass gives you an overview of how much value you can get from Mailchimp today.
Go to the Masterclass >>>
Samsung Ads: The New Era of Advanced TV
Wednesday, May 8, 4:30 PM to 6:00 PM

Seismic shifts are happening within the TV & Digital advertising ecosystem. Advanced TV has taken centre stage. The biggest screen in the home is presenting impactful and measurable opportunities for advertisers. For over 11 consecutive years, Samsung has maintained the #1 position in the global TV market. Samsung Ads enables advertisers and brands to use the power of the big screen with the accountability of digital by utilising Automatic Content Recognition technology to discover proprietary insights that help show the changing viewing behaviours. Samsung Smart TVs are at the centre of the connected home, so it's no surprise that marketers are looking for new ways to better reach, engage and measure the effectiveness of their campaigns.
Go to the Masterclass >>>
Strategic refocus – from acquisition to loyalty. The formula that drives the online champions, why is it hard to achieve and how can you get there.
Wednesday, May 8, 4:45 PM to 6:15 PM

Companies often spend 80x in acquisition than they do in retention. That is a natural consequence of the tools available for managing existing and new customers, however, that scenario is changing. With more ways to target your existing customers at scale with personalised content, retention and loyalty are now not only more achievable, but, potentially, the way forward into healthy growth. Join us to discuss in 3 large sections (i) what has been happening for non-profitable companies in the online space, (ii) why companies invest so much into acquisition and the pros and cons of such an approach, (iii) how can you overcome these hurdles and what does that mean for your teams going forward.
Go to the Masterclass >>>