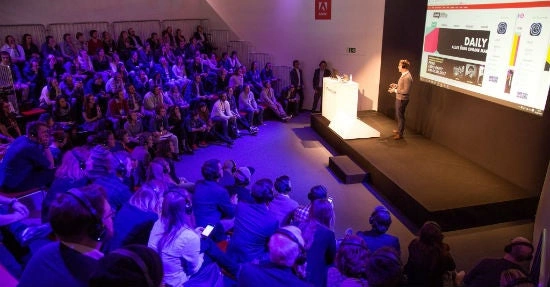 OMR18 boasts more than 100 Masterclasses
With over 40,000 attendees at this year's OMR Festival on March 22 & 23, we're expecting to nearly double attendance compared to OMR17. To keep step with the growing number of attendees, we're also doubling down on free content for all of you. That includes more exhibitors than ever before and cracking triple-figures in Masterclasses! Today, we're giving you the low down on the first big-name exhibitors you can rub shoulders with and which Masterclasses you can gain insights from.

MASTERCLASSES — 90-minute deep dives with industry pros
Experience has taught us that Masterclasses are one of the most popular content formats at the Festival. For the uninitiated, here's a summary: experts and seasoned pros take 90-minute deep dives on a current marketing topics and use concrete cases to deliver tangible and actionable insights. And because we're in a "classroom" setting, you'll have the opportunity to ask the questions you've always wanted to. And class sizes are limited to 150 to make sure you get the most out of the session. 
ESSENTIAL INFO: To be eligible to preregister for a Masterclass, you need to buy either an Expo ticket or the All-Inclusive ticket. If you haven't bought one yet, right this way please. 
When does preregistration start?
On March 5, preregistration will be begin for ten (10) days. You may preregister for a total of three Masterclasses per Festival day, meaning you are eligible to preregister for a maximum of six Masterclasses. Also please note that this is only the preregistration and does not mean you will be accepted to any of these Masterclasses. Unfortunately, the demand is too great to be able to guarantee that everyone will get a spot. However, we can guarantee that we will do our best to get you into your preferred Masterclass. 
Masterclasses — The initial English lineup
AI: What brands need to know—AI in Marketing: Learn how technology can help brands grow

Thursday, March 22, 10:30 AM to 12:00 PM (Track 6)

Although artificial intelligence (AI) has been an inherent part of our lives for the past 50 years, our fascination with it is as palpable as ever. For brands, harnessing Artificial Intelligence (AI) is the next big thing as it promises to make our daily lives better through serving and understanding the uniqueness of consumer needs, habits and behaviors. But how does this all apply to advertisers? Will AI bring the promise of a more efficient media buying and less budget wastage for advertisers. Hear from Dr. Peter Day (Director of Engineering at Quantcast) as he explains why the developments in advertising are leading the way in AI and how the talent and research being carried out are exciting and unprecedented.
App-Marketing-Mining Diamonds—Acquiring and Engaging High Value Mobile Users
Thursday, March 22, 10:30 AM to 12:00 PM (Track 10)

Join industry experts in a guided and personalized tour of everything mobile marketing. You'll leave equipped with today's modern strategies for app marketing success with topics and in-depth discussions spanning measurement, engagement, retention, and fraud protection.
Big Data meets Creativity—Data-Driven Hacks Meets Creative Trends in Fashion
Thursday, March 22, 11:00 AM to 12:30 PM (Track 5)

Two award winning speakers from different worlds. There is no holy grail of success for Fast Growing Fashion Companies. Their winning formula is in the combination of radical improvements into one seamless customer experience. Speakers will share with you real data insights from acquisition, activation and retention use cases and creative inspirations to get the right mix for your next marketing activities. Bring your challenges with you, speakers are ready to approach them in the last 30 minutes of Masterclass Session.
Visual Trends Briefing 2018—How to choose Images that Influence
Thursday, March 22, 12:30 PM to 2:00 PM (Track 4)

Join Jacqueline Bourke, Senior Manager, Creative Insights at Getty Images, to unwrap three key visual trends set to define what we'll see in brand communications, advertising and design over the coming year and beyond. This talk provides unique insight into forces shaping the marketing landscape; identified by expert analysis of imagery in advertising and consumer behavior, local insight from Getty Images' global teams and customers worldwide, and buying trends from the approximately 400 million annual downloads from the Getty Images website.
Stop Searching, Start Finding—Stop Searching, Start Finding: Search Marketing in the Age of Artificial Intelligence (AI)
Thursday, March 22, 12:30 PM to 2:00 PM (Track 9)

How do AI-driven technologies like natural language processing (NLP) and computer vision change customer expectation and behavior? And how does this influence search and content marketing strategies? Kathleen, Tina and Hermance will give you a sneak peek into what 'AI Marketing' is and share their learnings from two AI-driven Zalando projects. Take a look at how they use it as the connection between inspiration and existing content, and how increased user convenience influences transactions.
Data That Holds Your Audience—Practical Tips On How To Optimize Your Campaigns With New Data Insights To Achieve Your Marketing Goals.
Thursday, March 22, 12:30 PM to 2:00 PM (Track 12)

In the future human attention will be a scarce resource. The challenge for content creators is to engage and captivate the audience. In a playful manner we will demonstrate how to shape up your content marketing strategy to capture and hold your audience's' attention by uncovering the psychology behind online behavior and the latest consumer trends. This interactive Masterclass will have practical tips on how to optimize your campaigns with new data insights shared with you from across the Taboola network to achieve your marketing goals (and target the right audience).
300 Exhibitors — Here are the first 30
In 2018, it's an Expo first—both exhibitor halls open on both days! In years past, our Premium hall invited attendees to networking and inspiration on both days, while the Expo hall and its aspiring marketers only opened its doors on Day 1. This year it's all systems go in both halls on Day 1 and Day 2 beginning at 10 AM. Just who's coming to OMR18? A veritable who's who of digital companies—big and small. With over 40,000 in attendance, the booths figure to be bursting at the seams. Don't miss out on your chance to network and learn from some of the biggest names in the industry. 
Without further ado, here are the first 30 exhibitors! If any of the following exhibitors sound like they'd be good for business, just click on their logo and then in the next window click "make an appointment" to do just that. So, enough chit chat. SHOW ME THE EXHIBITORS!