The anti-Twitch: How Kick.com is luring users with juicy cuts—and few rules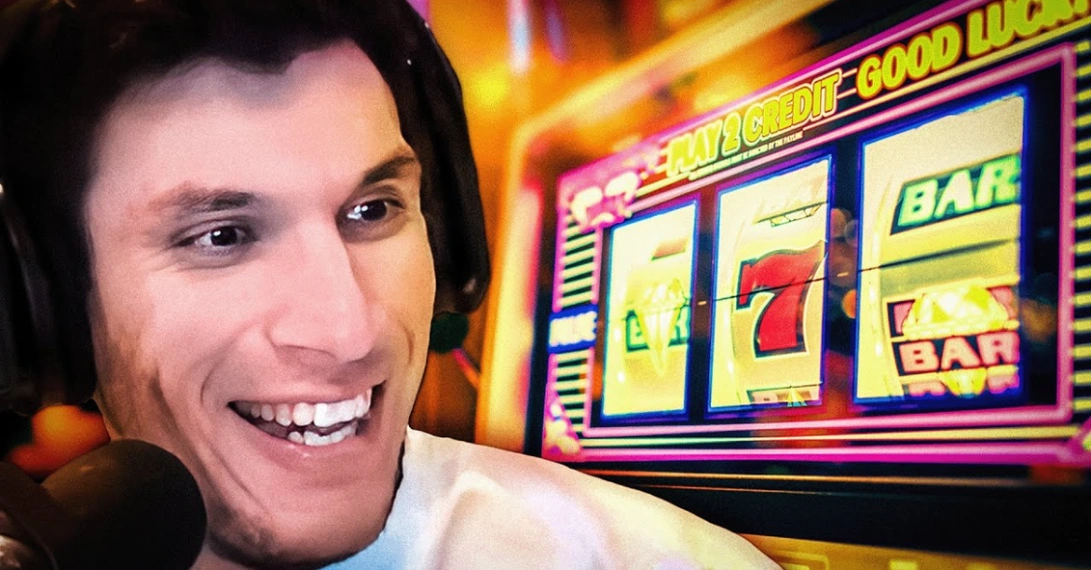 In mid-October last year, new gambling guidelines went into effect on Twitch. Since then, everything has been a bit stricter: streamers are no longer allowed to link casino sites or advertise with promo codes, and some big sites like Stake.com have been banned completely. Only a few weeks later, Kick.com, a new streaming platform, went live, promising more freedom as well as higher commissions. OMR explains what Kick.com is currently doing to attract prominent streamers and why the platform is primarily a marketing channel for Stake.com.

Slots, casinos, games of chance, no matter the name or category, gambling is a billion-dollar business and extremely popular. So popular, in fact, that streams and videos in which young people watch other youths gamble for big money achieve enormous reach. Even some of today's biggest German streamers, such as Knossi and Montana Black, generated a lot of attention with casino streams, especially in their early days. While one side celebrates gambling content, the other sharply criticizes it. Young people in particular are easily susceptible and are quickly seduced into gambling with money in online casinos themselves, say critics. The possible negative consequences: financial problems, gambling addiction.
Twitch fuels competition indirectly
In the fall of 2022, the market leader among streaming platforms took action. Twitch, which was acquired by Amazon in 2014, significantly tightened its guidelines regarding casino and gambling streams. No more links to corresponding sites, no more promotion and discount codes, streaming is only allowed from sites with sufficient consumer protection and deposit limits. Although the new rules were ridiculed at the time by some (link in German), four casino sites were even completely blocked—including Stake.com.
The crypto casino, which was founded in 2017 and where gamblers do not bet with euros or dollars but, for example, bitcoin, is considered one of the largest and, above all, best-known of its kind. The company is the official betting partner of the martial arts organization UFC, its main partners are Premiere League club Everton FC and English second division side FC Watford, rap star Drake has given a testimonial, and there is a Stake.com-branded online casino in popular video game GTA Online.
Has streaming become the most-important marketing channel for gambling?
Just about two months after Twitch was banned from being a marketing channel for Stake.com, Kick.com launched. To say that Kick's home page resembles Twitch's would be an understatement. Except for a different CI—Kick features neon green, Twitch purple—the structure and functions of the two sites are nearly identical: channels are recommended in the left margin, streams are prominently highlighted in the center, and the various categories are listed further down.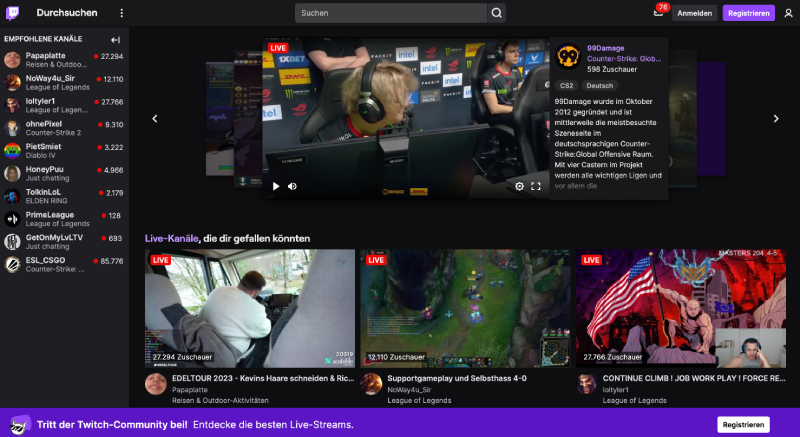 Above, the Twitch.tv homepage, below the upstart competition from Kick.com (Images: screenshots by OMR).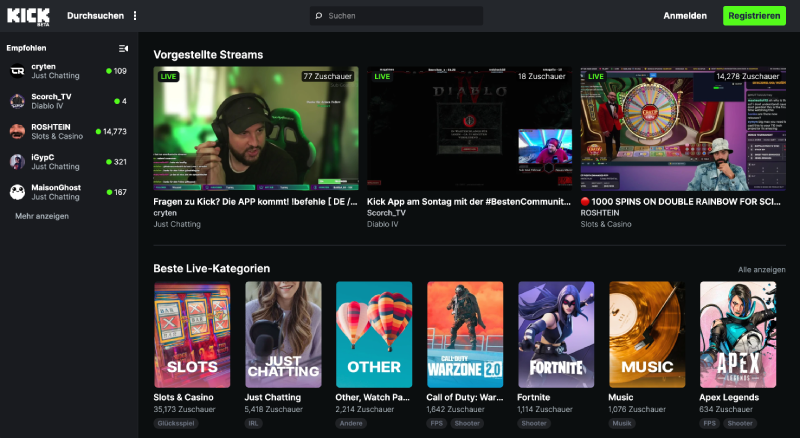 Right at the start, Kick.com convinces a prominent Twitch streamer to support the project. Tyler Faraz Niknam aka Trainwreck took on an advisory role, according to the Washington Post. However, he does not have a stake in the company. Niknam, who is followed by more than two million users on Twitch and who, according to his own statement, earned USD 360m within 16 months just through sponsoring gambling partners, had announced shortly before that he wanted to build his own streaming platform—so that he could continue to make gambling streams.
Rapid growth, big names—and lots and lots of money
Also with the help of this attention, 200,000 users register within the first 24 hours after launch, according to Kick.com. After 69 days, that figure is said to have skyrocketed to over 1 million. Other prominent and extremely wide-reaching supporters follow: after Twitch permanently banned him, controversial streamer Adin Ross is now exclusively on Kick.com, and Only Fans celebrity Corinna Kopf (almost seven million subscriptions on Instagram) is still on two tracks.
The fact that brand safety does not seem to be an issue for Kick.com so far—significantly more is allowed than on Twitch—is just one of the arguments with which the young platform seems to convince streamers. In addition, the company also takes a different approach to creator payment than the market leader from Amazon. While Twitch also adjusted the payouts last year (from 100,000 US dollars in revenue per year, streamers should pay 50 percent to the platform instead of the previous 30 percent), Kick.com communicated a clear and universally valid distribution right from the start: five percent to the platform, 95 percent to the streamers.
Does Stake.com have skin in the game?
Because there is no public information about the backers behind Kick.com, the rumor was that Stake.com itself had launched its own streaming platform after Twitch was banned. There are still signs of this today. There is no denying that there is a close relationship. Ed Graven, one of the founders of the online casino Stake, is also a co-founder of Kick.com. Kick.com denied a direct investment on the part of Stake.com early on, saying that Ed Graven was only personally invested. Both companies are also partners in the Alfa Romeo Formula 1 team.
Despite all the attention, considerable growth and proximity to Stake, Kick's reach is still tiny compared to the giant Twitch. The site managed just under 30 million visits in February, according to statistics service Similarweb; Twitch had around a billion in the same period. Co-founder Ed Graven, meanwhile, is talking about 1000 support positions that are to be filled in the medium term. And this weekend, the launch of the Kick app—so far, the platform is only accessible via the normal web browser—is supposed to be another step in the race to catch up with Twitch. It is doubtful whether the strategy will work. Despite the growing criticism of Twitch, no competitor has been able to hold on for very long.