How faceless car influencer "Gercollector" has reached millions and revved up his business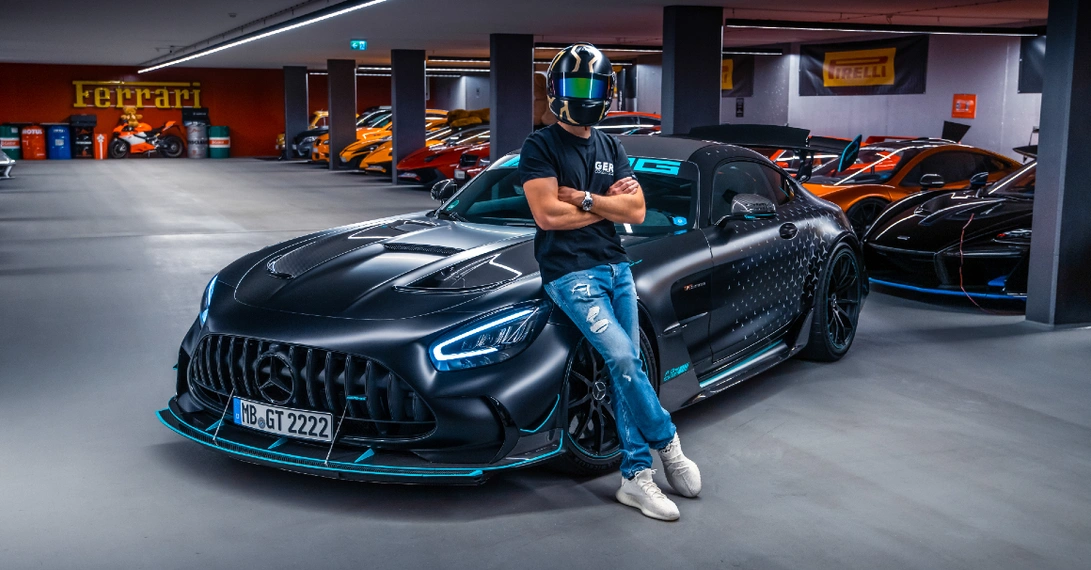 The Gercollector idling in his garage.
Meet Michael Spegel, aka Gercollector, an enigmatic German car influencer who lets his impressive cadre of expensive wheels do the talking, while he stays silent and hidden behind his trademark helmet. With north of 1 million followers on Instagram, he is Germany's top automotive influencer—and among the top car influencers in the world. We spoke to him about the anonymity, what strategies have helped him gain such a massive following and the business behind his social accounts.
A huge garage, over 30 rare sports cars aaaand a guy in a helmet. That's the standard setting for many of Michael Spegel's videos, the man better known as Gercollector. "You will only find limited pieces in our collection. The nice thing is: these are value assets with which you have fun. Every car in the collection is taken out for a spin, for laps on the racetrack," the Gercollector told OMR. He's careful to say "our collection" as his father started it way back when. "I connect a lot with the Ferrari F40 because I grew up with the car. But I don't have a favorite, the cars are too different for that." In addition to Ferrari's iconic model, Gercollector has several Porsches, Lambos, McLarens, Audis, Mercedes—the list goes one. Gercollector's love of expensive cars has earned him a massive following on Instagram, YouTube and Tiktok. Now he's building a business out of it.
The faceless influencer
"I've always loved taking pictures of cars and have since I was young. It was purely out of this passion that I started social media," says Gercollector. About five years ago, he launched his Instagram account, which today has more than 1.1 million followers. Initially, the content strategy was quite simple: nice cars coupled with nice photos. No sign whatsoever of Spegel's persona in the first few years. "For me, the primary motivation was always I want to have the cars in the foreground and never wanted to be seen myself," he says. In spite of the approach—or perhaps precisely because of it—the channel is growing strongly, amassing 370,000 followers by mid-2018 and doubling two years later, before eclipsing a million two years after that. Today, he employs four people for content creation, but still makes an effort to answer every question from the community himself.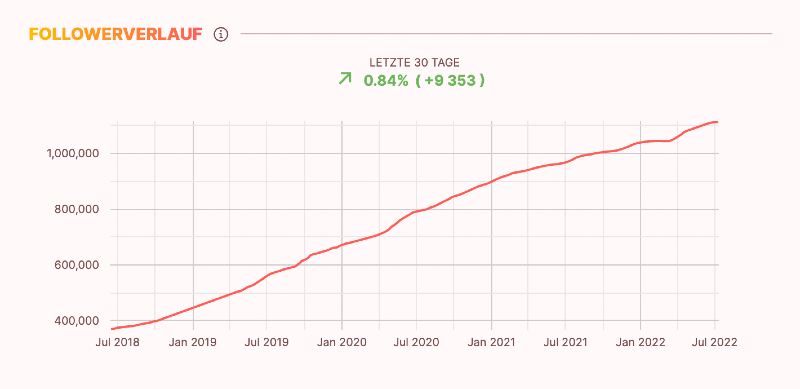 "Actually, I didn't show myself at all until two years ago. Then more and more comments started coming in, asking why I don't make a YouTube channel as well," says the Gercollector. The big question: how can you start a Youtube channel without really showing yourself? That's how I came up with the helmet solution." Thus in early 2020, Gercollector has become a core component of photos and videos—just wearing a helmet that hides his face. That's not to say that he is completely averse to any publicity, his real name is after all listed in the imprint on the Gercollector website. Despite his presence, the focus in his content remains on cars.
Revving up growth with car content on TikTok and YouTube
From a content strategy perspective, Gercollector keeps it simple and similar regardless of the platform. Whether it's Instagram, Youtube or Tiktok, he shows expensive cars from his collection and drives them around. "I have my own style. I try to take people into the driver's seat, to give them a feel for the sound. And I take them on a trip on the highway," he says. And that works increasingly through video content. "Instagram reels is extremely attractive, as people are no longer interested in pictures alone," says Gercollector. "For me, Instagram continues to be the most important platform, but for weeks there's been a strong shift towards Tiktok." Here, it's all about video shorts of engines revving.
However, this rapid rise of reach is not limited to Instagram and TikTok. In June 2020, his newly launched Youtube channel has just under 7000 subscribers, according to Socialblade. Two years later, that figure has reached 234,000 with just under 40 million views. In retrospect, he wishes he'd have started the YouTube channel earlier, as his early start on Instagram has been a key factor in his large, mostly organic, reach there. Things are much better on TikTok for Gercollector, where he has 830,000 followers and his videos typically notch over a million views. "I started Tiktok just for fun, but now it's a key contractual clause for most collaborations," he says.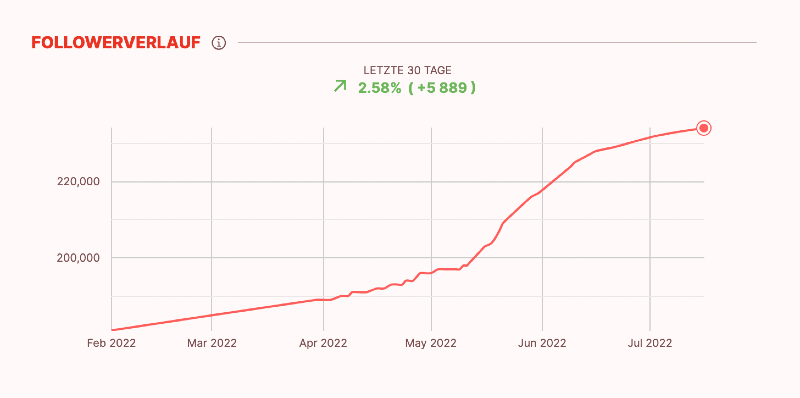 Partnering with top players
Gercollector has leveraged his reach into collaborations with the biggest automotive names: Audi, BMW, Mercedes, Aston Martin and Bentley, as well as tire makers Pirelli and Michelin and a host of tuning shops. "The top priority for me in a collaboration is that it's authentic. I'll only partner up with products I believe in and am only interested in long-term collaboration," says Gercollector. In addition to running standard-practice paid posts and ads, he also develops special campaigns in close collaboration with his partners. These include doing laps on the race track in a McLaren or a taking a 1000-kilometer road trip in the Audi RS e-tron GT. He is also frequently invited by his partners to test their latest sports cars and special editions.
Now, he's taken his partnerships to the next level. "Audi is the first time I've been a brand ambassador for a manufacturer," he says. The German carmaker announced the partnership about a month ago. As a part of his role, Gercollector is supposed to show "petrolheads" (i.e., combustion engine lovers) in his community that electric cars are also really fun. To this end, he repeatedly showcases the aforementioned RS e-tron GT—which is also the first electric car in his collection.
Specialized products in the company shop
Germcollector could certainly live off on his partnerships alone—and live comfortably. However, he also runs his own online store for an added source of revenue. "People have always asked me what products I use to clean my cars. So I got to thinking, why not launch my own line of products?," Gercollector recalls. He partners with Nanolex, a cleaning product manufacturer specializing in car care, and develops his own line of six specialty cleaners for rims, shine, interiors, etc. "My products are sold in several dealerships, select gas stations and, of course, in the online shop. DIY stores have also made the occasional inquiry, but I have no interest in mass production," he says.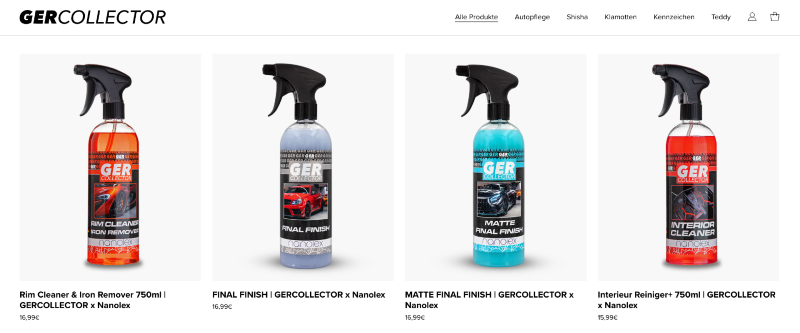 In addition to the car care products, Gercollector sells staples of classic merch—T-shirts, sweaters, hoodies and license plate rims with his logo. The biggest outlier, however, is a plush teddy rocking a Gercollector shirt. "The teddy and the helmet, those are my trademarks," he says. He says he received an oversized version of the stuffed animal as a gift from a friend and kept showing it off in the passenger seat until it became his mascot. Mercedes even requested the teddy as a co-driver for the legendary Mille Miglia car race.
When asked for figures on the business, Gercollector declined to provide specifics. He did say that he can make a very good living from his social media career alone—while adding a nice car to the collection every now and then. "Until two years ago, it was pure passion, which involved a lot of time. Now I do the whole thing full-time. And that's great. I can test the latest cars, have exciting collaborations and show off our car collection."