Scooter Braun, Pamela Reif and Ronnie Fieg are coming to the OMR Festival 2023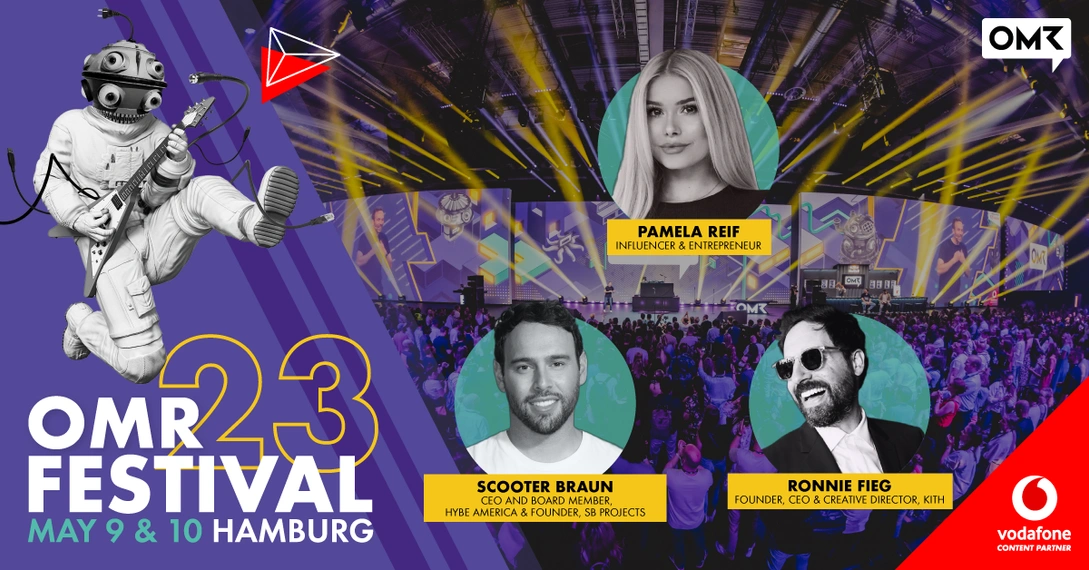 First speakers OMR23
At long last, here we are again—smack dab in the middle of the run-up to the OMR Festival 2023. Over the coming days, weeks and months, we'll be spamming your inbox and socials with the latest on speakers, exhibitors, Masterclasses, Guided Tours, Side Events and everything else you can expect to see this May 9 & 10. Let's kick things off with a little content drop. Lifestyle and fashion legend and Kith founder Ronnie Fieg, fitness influencer and entrepreneur Pamela Reif and CEO and entrepreneur Scooter Braun will be on stage at OMR23. Read on to find out why you won't want to miss them in Hamburg.
Before we get ahead of ourselves, a quick refresher on what the OMR Festival will be in 2023. Just like last year, we're expecting 70,000 visitors at the Hamburg Center. Just like last year, we're going heavy on the on-stage content. And again, just like last year, the biggest stars will be on the Conference Stage. What's new: there's now only one ticket category for all visitors. The good thing is that with it, you'll have access to every speaker and every hall (subject to capacity, of course). With that bit of housekeeping out of the way, let's get to the drop.
Wanna secure your spot at OMR23? Then click here to get your ticket.
The man, the Kith, the lifestyle legend: Ronnie Fieg
If you've read the name here before that's because Fieg was going to be in Hamburg for OMR20, before the pandemic put the kibosh on that (and everything else). You could say better late than never, but actually, the timing is just great: his lifestyle brand Kith is flying higher than ever. Kith just dropped lookbooks with Jerry Seinfeld, Edward Norton and Bryan Cranston and in addition Fieg took on a little part-time gig in November 2022 as the first-ever creative director for the New York Knicks. Simply put, he knows what's up in fashion and has an acute understanding of which levers and hype mechanics to activate for his clothing. One strategy: Kith stores are an experience unto themselves and have become a sort of place of pilgrimage for many fans—granola and ice cream on the house.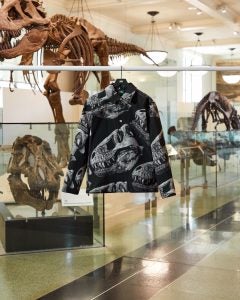 The bulk of Kith's sales is generated through the online shop—with pieces regularly selling out immediately after a new collection drops. Fieg and Kith repeatedly win the battle for attention—no small feat nowadays—with unique, cutting-edge product presentations with a-listers, via collabs with top brands, such as Coca-Cola, Versace, Nike, BMW, et al, and by evoking a strong sense of nostalgia. And prolly just to show he could, Fieg released a collection in co-op with NYC's Museum of Natural History, plastering t-rex's on jackets and shirts. His cleverness and versatility keep Kith relevant and fans await every new collection with bated breath.
The influencer queen
Back in 2016, we wrote about Pamela Reif for the first time. At the time, she had already amassed 2 million followers on Instagram–a massive number at the time. Soon after, she made her first-ever appearance on an Expo Stage at OMR Festival 2016. The Expo Stage was designed to accommodate an audience of 500. So many people crammed into the Expo Hall to see her speak that exhibitors nearby filed complaints. Today, the stages are considerably larger—and so is Reif's popularity. Originally from Karlsruhe, Germany, she has become one of the most-recognizable influencers in Germany and Europe and has leveraged her platform into the launch of several brands. On the one hand, there is her content business, revolving around her millions in reach on Instagram, Youtube and Chinese platforms. During the pandemic, it was her Youtube workout videos that show a considerable spike in views. That convinced large brands, such as Puma and Calzedonia, to collaborate with Reif on large-scale, international ad campaigns.
On the other hand, there is her food brand Naturally Pam—naturally massive. With support from the Goodlife Company, Naturally Pam produces and markets protein bars, granola, chocolate and other snacks. There are a total of 15 products sold in 7500 outlets all across the Fatherland, and in the online shop. Still in its infancy, the company figures to already generate eight figures in revenue. "In January 2021, I launched the brand. We sold everything within 20 minutes—although Paypal crashed after the first minute," she recalled in the OMR Podcast in mid-2022. "My best-seller, the oat bar, sells about 250,000 items a day." On stage at OMR23, she will discuss her various business ventures, how you can build reach today and which business she's planning on launching next.
Media mogul, innovator, CEO and entrepreneur: Scooter Braun
We are so excited we got him: in 2023, Scooter Braun will come to the OMR Festival. Born and raised in NYC, Scooter is one of the most-successful and recognizable music managers and businessmen in the world. As a manager, his artist portfolio features a who's who of the world's biggest superstars. But it would be reductive to label him as merely a music manager. A serial entrepreneur, investor, film producer, dedicated philanthropist, innovator and investor in companies like UBER and Spotify, Braun's broad scope of expertise makes him one of the most intriguing speakers ever to come to OMR.
Braun had his first taste of success in the music and entertainment industry while still studying in Atlanta. His career as an entrepreneur began in earnest in 2007 with the founding of SB Projects, a venture that bundled his ever-expanding managing, marketing and media activities. Through SB Projects, Braun manages an impressive roster of top-pop icons, including Justin Bieber, Ariana Grande, Demi Lovato et al. The venture, however, also has an extensive film and TV division that includes productions for Netflix, Youtube and Amazon Studios, among others. Three years later, in 2010, Braun founded Ithaca Holdings, which now houses SB Projects and through which he invests in a variety of entertainment and tech projects. In April 2021, Ithaca merged with South Korean entertainment and lifestyle giant HYBE for a reported USD 1b. Braun is CEO and sits on the board of HYBE America.
While his career as a talent manager, executive and entrepreneur is impressive, so, too, is his work on charitable causes. His quick response to tragic events, including organizing the "One Love Manchester" benefit concert and "Hand in Hand: A Benefit for Hurricane Relief" telethon with months of one another, earned him the reputation as the music industry's "first responder." Further, he's produced a charity single by Bieber and Grande, "Stuck with U," to raise money for First Responders Children's Foundation at the start of the COVID pandemic and serves as chair of the advisory board of Pencils of Promise, a global education non-profit, and supports Fuck Cancer, an organization focused on prevention and early detection of cancer.
On the OMR23 Conference Stage, Braun will discuss his work, success, failures and vision, while also sharing insights into his prolific career and talking about the importance of giving back as much as possible. If the Conference Stage appearance were not enough, Braun will also be appearing on the Red Stage, where together with PortalOne founder Stig Olav Kasin, he will discuss ways of combining traditional entertainment mediums with new concepts.