Scams, subscriptions and bot chats: How one German fauxporn Youtube star screws her fans
Private pics and promises of direct contact have fans blowing their loads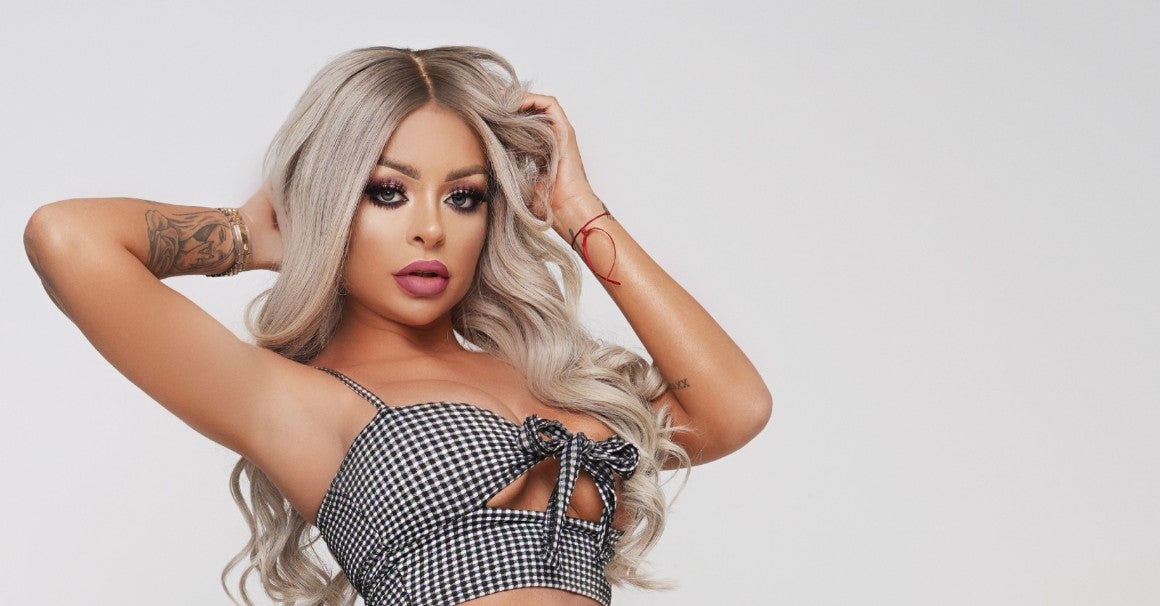 Videos boasting risqué titles, thumbnails teasing gobs of bare skin and steamy sexual indiscretions—all of which end up being more hot air than hot stuff. Katja Krasavice has teased, baited and badgered her way to a bulging fan base: 800,000 Youtube subscribers and 200 million views. The aspiring sex star has milked the shady practice for everything it's got—and spread it to other platforms in increasingly dubious ways. OMR got down and dirty for a closer look at the budding fauxporn star.


Three years ago today, Katja Krasavice launched her Youtube account and first thrust her way deep in the German digital consciousness.  She has since filled it with 133 videos, all of which follow a very similar MO: go heavy on the sexual innuendo, use thumbnails that double down on the double Ds and insert titles that get a rise in expectations. For example, there is "NACHTS Allein Zuhause (Home ALONE at night!) | Katja Krasavice"—a 4-minute clip about how she likes to unwind after a hard night of partying. Five million people have tuned in to keep her company. Another 4.5 million people watched Katja in "PETTING with Lucycat! 😛 | Katja Krasavice." Even if the content turns out to be shooting blanks, the click rates show just how effective the teasers can be.
Leveraging lusting fantasies at the local dildo mart
She polarizes and provokes, teasing her viewers and stroking their sexual fantasies—a proven recipe for success. In addition to successfully producing her brand of content, Katja Krasavice also engages in cross promotion and does a host of guest appearances. Two years ago, she made an appearance with Aaron Troschke, the CEO of influencer marketing platform Reachhero and former candidate on Who Wants to be a Millionaire with his own organic reach. The video shows the pair dildo shopping; a couple of months later they shot part two. Then in early 2016, she made an appearance on a German Youtuber's channel. Seen simulating oral sex, and then engaging in cheap pillow talk about said opening scene, the clip has generated 4 million impressions, and also plugs the link to the opening scene in its unedited full length.
In spite of her massive, um, reach, it's impossible not to notice that her videos do not use any of Youtube's available marketing options. There are no video or display ads embedded in her clips—which is probably not by design. Since Youtube adopted stiffer advertising guidelines in September 2016, Katja's content was no longer deemed ad-friendly. That meant she had to scope out other ways and channels to monetize her reach, like live-stream portal YouNow. Katja Krasavice has been active on the portal since March of 2015, totaling 18 million views in the process.  Here, users can purchase 'Bars' that they can then donate to their favorite streamers. Especially successful YouNow stars are rumored to net revenue in the six-figure range.
15 euro a month for what? A pair of "hot" snaps.
Her success is hardly limited to Youtube and YouNow. With 928,000 subscribers on Instagram and 185,000 fans on Facebook, Katja's popularity has spread to every major platform. She even has 56,000 followers on twitter —pretty good for a twitter desert like Germany. Snapchat (katjakrasavice) is no different. Although follower figures are not publicized, she seems to be killing it by offering paid content. On her second account (krasaviceprivat) she recently began publishing "exclusive snaps," as she teases on Snapchat and on other channels. Her less-than-subtle teases can be worded as "I get so w*t when I look at all these naughty girls." What does any of that have to do with paid content? That's easy: the supposed hotter, more x-rated Snaps can only be seen by fans who take out a 30-day subscription for €14.99.

Standing to profit from the subscription is not Snapchat itself, but an entity named Centro Publishers Limited from the British Virgin Islands. There are dozens of mostly female "Premium SnapCentro Influencers" listed on the domain snapcentro.de. They are sorted by name or category, including general descriptions like athlete or blogger, or the more specialized descriptors like erotic model, exotic dancer, nude model or porn star.
If you search for the names of the "premium influencers" directly, the first search results lead you to the corresponding porn site. Katja also pops up on the list. She describes her account as a place where "you can see all the hottest snaps no longer allowed on my public account. Here, I'll answer everyone and even send a couple of naughty snaps in a private chat. Come to my hot Snap zone not everyone can see." She also ads that "if you are a member, I'll do just about anything you want."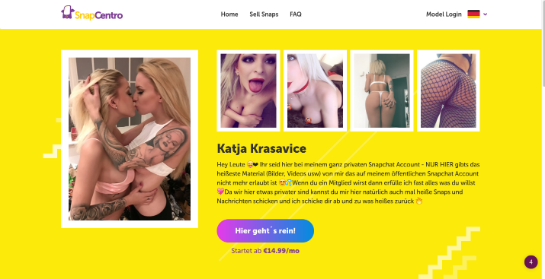 Ok, so what content can a successful female youtube star charge money for exactly on Snapchat? To answer that and thus quench our insatiable desire for the truth, err something, we decided to misappropriate company funds and subscribe to the pay service. What won't we do for science…
Soft-core porno for dummies
Signing up is pretty standard: enter our Snapchat user name and email address, and then confirm that we are, in fact, of age, and that we are aware that snapcentro.de is unaffiliated with Snapchat. Information on our person entered and confirmed, it's time to pay up either via credit card or direct bank transfer—both of which go to a Cyprian company called  CentroBill (Cyprus) Limited.
The founder of both companies, snapcentro.de and CentroBill, plus the affiliated porn hub adultcentro and an affiliate influencer platform modelcentro, is a fella by the name of Stan Fishkin. On Twitter, he's just a man named "standaman69," posing in front of a Ferrari. A real salt of the earth type guy. If you're still in need of convincing, a cursory Google search for "centrobill warning" reveals that neither he nor his company are the most scrupulous of enterprises. After completing the payment process, a landing page tells us just how we can follow Katja Krasavice's private account. Basically, she'll start following us after our payment, including our user name, has been confirmed. We are then granted access to her premium snaps for the duration of our subscription.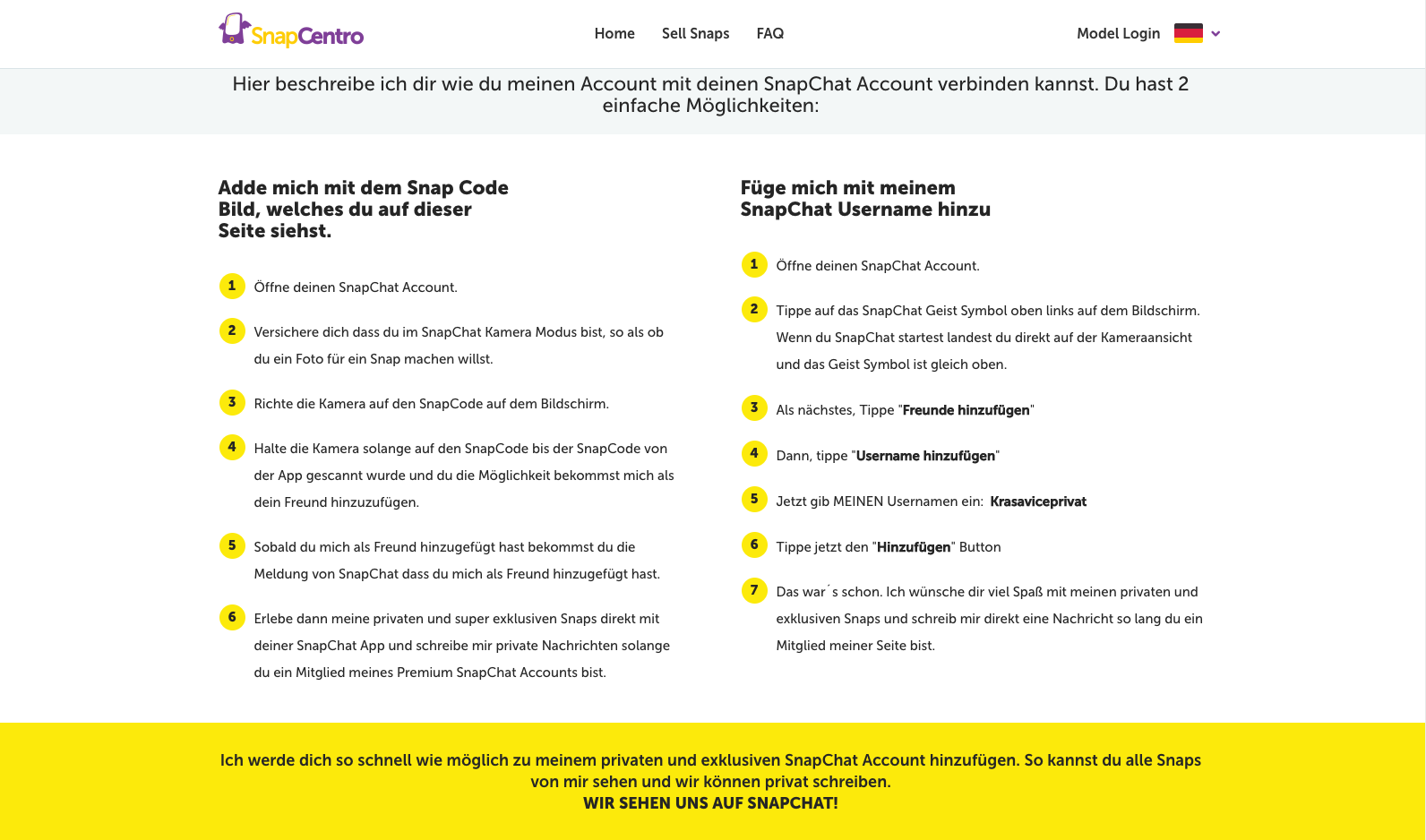 If you were thinking that the €15 monthly subscription would get you access to some serious nude content (as the teasers on Snapchat, Instragram, etc. would lead one to believe), we've got some bad news: The Snaps from the private account merely featured the scantily clad Katja and never in the buff. In fact, there is hardly any difference between the private and public Snapchat account that would justify any of her fans to pony up for the pay version.
Despite promises to the contrary, content is not available round the clock on the premium account. Shortly after we completed our subscription, Katja posted a content schedule. She said that while she "takes hot snaps every day," sometimes she won't post because "she wants to enjoy her life" or because "she's only human" or because "she's got the sniffles." Or because it's Monday—her day off. We've also not yet received an answer to our private message despite the promise of a "super hot chat." Disappointment for €15 a month.
Just how many of her followers on Snapchat, Youtube subscribers or fans on other platforms have paid for Katja's private Snapchat account, is unclear. However, because she followed us as a premium subscriber, we can see how many private snaps she has posted: 426.
Genuine testimonials or an army of bots?
The premium Snapchat subscription isn't Katja's only dubious source of income. In a video marked as product placement dated February 14, 2017, Katja can be seen plugging a flirt app and stating that she's got a "really hot profile with private pics," which you of course can only see once you've installed the app and signed up. She's also giving away her private cell number, a video of her pleasuring herself with a heart-shaped sucker (the "goods" are blurred in the short teaser) and a private date, "maybe even with a happy ending."
All you have to do to enter the sweepstakes is install the app and sign up ("guaranteed for free") and then send Katja a message. In the Youtube video she promises that the first couple of messages are free and that "if you are really interested in me, then you'll do it. I also really want to get to know people." At the same time on Snapchat she says, "Writing me there costs hearts, which cost money." On which platform and when she intends to announce the winner, she doesn't say. Maybe on Instagram or Snapchat, but she's not exactly sure when. "But I will definitely do it, so be sure to follow me."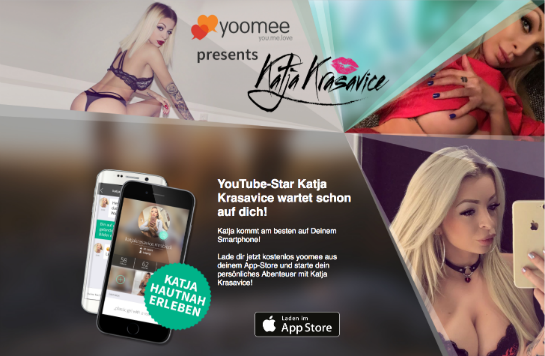 Although the giveaway is over and done with, we still wanted to have a go on the flirt app Katja was plugging. Through the katja-hautnah.de domain, we are redirected to landing page for  an app called Yoomee. The page, mostly in German, proclaims that "Yoomee presents Katja Krasavice", that "YouTube star Katja Krasavice is waiting for you" and promises we can "experience Katja up close." Right after creating an account in a fake name and without a profile pic or any interests, Katja, err "Katja," checks out our profile. We only have to wait a couple of minutes, before she sends us her first message: "Happy you're here. How do you like my pics?" We'd love to answer, but we have to first buy some hearts for €6.99.
Our spidey sense is now tingling. Could there be an automated system in play here, exploiting Katja's Youtube reach to pull users into the app and convert them into paying customers via fake messages? To check—because, hey, science—we create another account. Shortly after our account is live, here comes "Katja" again, checking out our completely bare profile and then soon after writes the exact same message, down to a T.  In the meantime, our first account has received some more action—three direct messages within 90 minutes: "Hey, feel like writing?," "Which do you prefer? Day or Night" and "Have you been around here for a while?"
Katja's flirt with Yoomee sees a sharp increase in app downloads
The app landing page lists Mobil Trend GmbH as the proprietor of Yoomee, which lists Christoph Matthiesen and Jannis Kiesow as CEOs. Mobil Trend's director of sales, Benjamin Marquardt, responded to our request for comment. He told us about the campaign with Katja, saying that they "happened upon Katja by chance and booked her through her management. The collaboration runs through April 14."
In reference to the misleading claims in the Youtube video, especially the free messages, he says that "was indeed somewhat unfortunate and it was briefed otherwise. We only saw the video shortly prior to publication, otherwise we probably would not have accepted it in that form." In spite of that, he said that there are also ways to acquire hearts without paying and thus send her messages for free.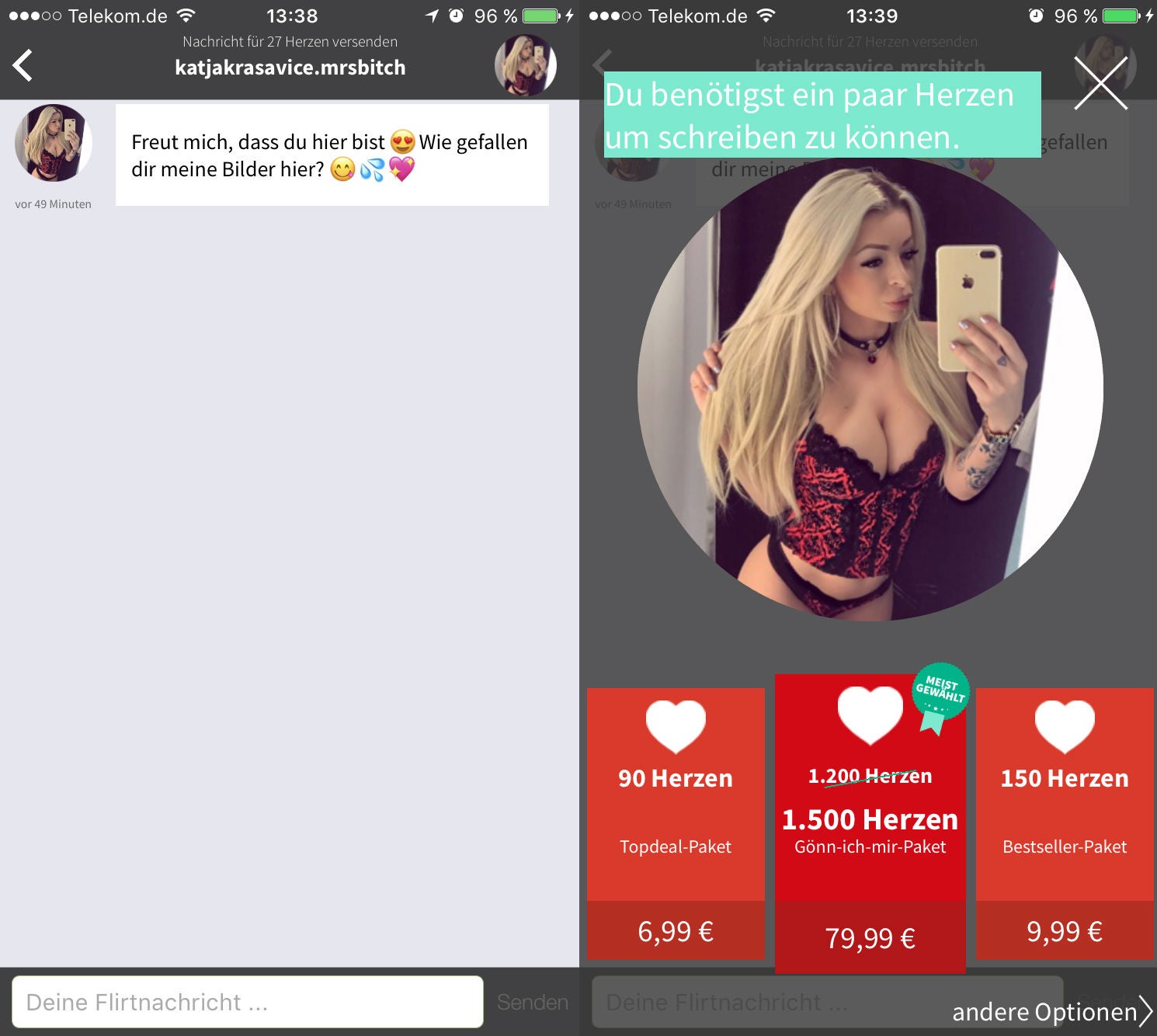 However, he did say it was part of the business model that users are not made aware of that immediately. "Obviously, we want to make money with the app. Competition is intense and monetizing users is becoming increasingly difficult. Still, we allocated free hearts to disappointed users so that they could have a chance to chat," says Marquardt. In the app's general terms and conditions it says that: "Yoomee engages professional animators and operators to animate and entertain, who are not labelled as such by the system. A real-life meeting with such individuals is prohibited. Users may only send messages within the portal."
App-stat tool Priori Data recorded a major surge in Yoomee downloads after Katja's video appeared—to the tune of 20,000 downloads from Google's Play Store and 10,000 in the Apple App Store within a week. Like most momentary blood rushes to extremities, the surge didn't last. "Two weeks after the campaign start, we had downloads in the mid-five-figure range. A return to the mean is completely normal. All things considered, the campaign was a success. Even if Katja is not the cheapest testimonial, we recouped our costs," says Benjamin Marquardt. According to him, however, the acquisition of user data is more important as it will be used to further develop the product. "The app had only launched a couple of weeks before the video went live, and would never have been able to collect that much data in that time frame otherwise." He added that the team is "now looking for more reasonably priced influencers."
Is Katja swapping Youtube for Youporn?
The line Katja toes between provocative entertainment and full-blown pornography requiring age restrictions continues to tighten. She regularly mentions how she loves being on camera, but isn't sure if she's ready to do everything publicly. One sign that she may be entering pornoville is a recent cooperation with erotic portal fundorado.com. In a Youtube video from February 1, 2017, Katja mentions an "extremely hot private video" making the rounds that you can only see on katjakommt.de (katjacomes). The domain redirects to fundorado.com.
Co-ops with questionable bed fellows
Katja Krasavice has engaged in additional paid co-ops with products in the past, whose business practices have drawn criticism and legal action. 
One such company is SMS service Bongo, where according to its website, "you can ask BONGO anything you can think of." Through paid placements in videos by YouTubers (link in German), Bongo reaches its apparent young target audience, and gets them to send their full name and city to the service. Users may then ask Bongo questions like "When does the bus leave" or "Who is the girl of my dreams," and expect to receive an answer shortly thereafter as demonstrated by this German youtuber. These answers are formulated cryptically, eliciting users to respond again—an important factor for a business charging €1.99 per text.
Their business practice has been the object of critical reports in Poland (link in Polish) and Germany (link in German), while according to this Guardian article from 2014 "the Australian company behind the service [was fined] £70,000, and ordered […] to pay refunds following complaints from parents […] because some children were unaware that texts cost £2.50 a time because the cost was not made clear."
Additional income sources include a club tour that she has been plugging for months— for example with a video purportedly showing her kiss a fan—and through sales of her own perfume on katjakrasaviceshop.com.
Special thanks to Oguz Yilmaz, who called our attention to the matter on twitter!