Fast fashion app Cider is Shein's top competition—and a unicorn just two years after founding
The biggest threat facing Amazon these days are the slew of fast fashion apps from the East. Shopee from Singapore, Shein from China and Meesho from India were downloaded more frequently than Amazon in 2021. Shein, especially, has successfully made the jump to the West with millions of shoppers stateside. Now, there's a brand new player in fast fashion, named Cider. Founded just two years ago, it's reached unicorn status thanks to millions received in financial backing. Today, we're swigging some Cider to learn about its appeal to a very young target audience and how strategies like drops, liveshopping and never-ending discounts have helped propel its rise.
It's called Cider, but it has nothing to do with drinks: Cider is a fast-fashion app founded by Michael Wang in Hong Kong in 2020 that is currently growing rapidly. Wang also co-founded the now defunct fashion rental app Ycloset, in which Alibaba, and others, invested a total of USD 70m. In the first half of the year, Cider recorded over two million downloads in the U.S. alone—an increase of 1,686 percent over last year. While the new app is admittedly light years from the level of Shein (and its 190 million downloads worldwide in 2021), it seems to have already successfully entered the key US market. And prominent investors have apparently taken notice. Among others, Andreessen Horowitz, Bytedance investor DST Global and IDG Capital, one of China's most-prominent VCs, have injected USD 140m into the company—valuing Cider at over USD 1b just two years after its founding.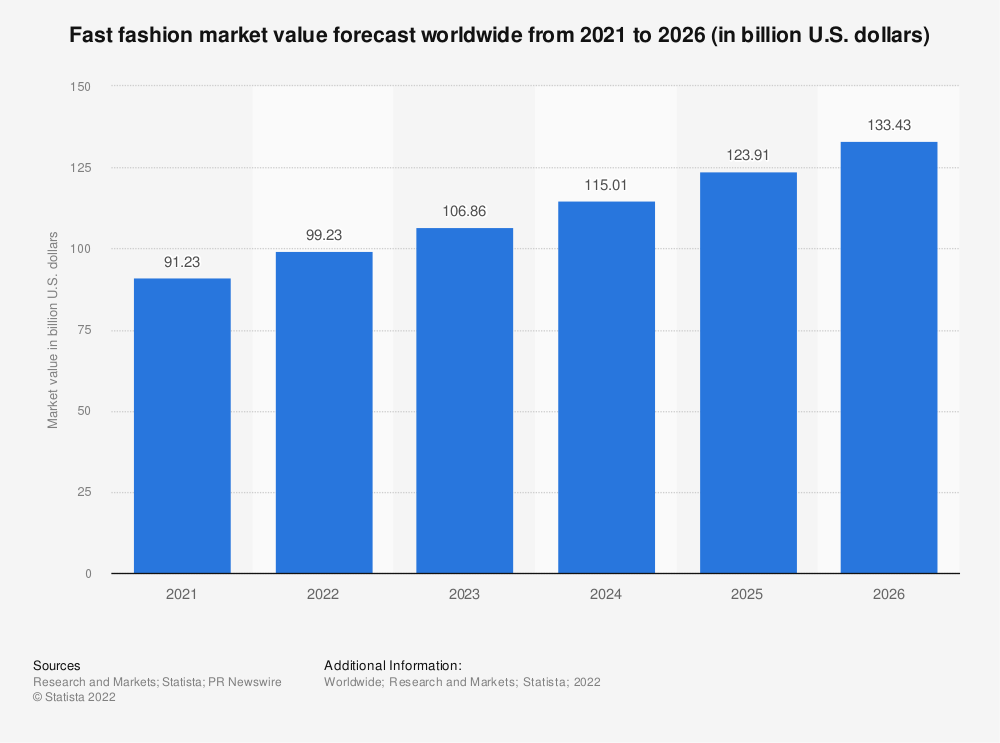 Fast fashion for Gen Z
Despite sustainability concerns, the fast-fashion market is large—and getting larger. From about USD 100b now, it could jump to USD 133b in 2026, according to recent studies. No wonder some digital competitors are jockeying for a slice of the market share alongside established companies like Zara and H&M. Shein perfectly embodies the best-case as its current valuation is sitting at a loftly USD 100b. From Europe, specifically Turkey, Trendyol is leading the next generation of fast-fashion companies, but Cider is now coming for the top spot.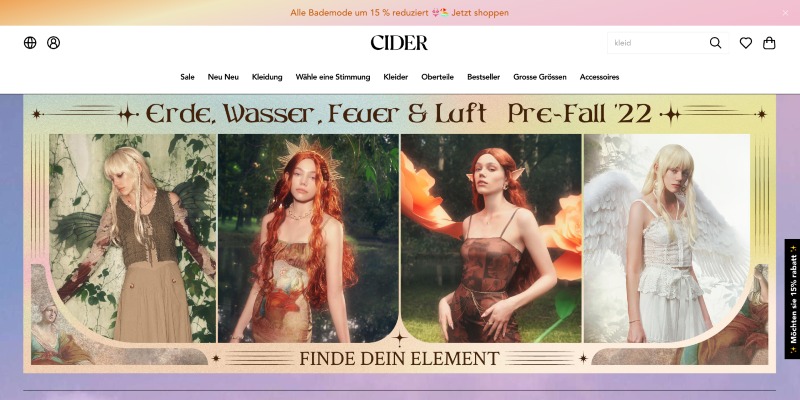 What the company and its investors are hoping for is to establish themselves in a niche that large competitors no longer serve with any dedicated strategy. Shein, for example, is currently employing a broad Amazon-style strategy, offering decorative items, tableware and dog toys as well. Cider, on the other hand, focuses entirely on fast fashion for Gen Z women: tops, dresses, skirts, inspired cuts, lots of floral patterns. Prices for the garments range from 14 to 30 euro. Smaller pieces of jewelry occasionally run for four euros. Everything is produced in and shipped from China—skipping the middleman entirely and sourcing directly from factories. The key to Cider's designs is real time retail. As with Shein, clothes can be conceived, designed and produced within three to seven day. This makes Cider incredibly agile when it comes to new trends and could, for example, copy luxury fashion styles that top influencers are promoting on Instagram.
And Cider wants to go further and rollout demand-based production. Andreessen-Horowitz partner Connie Chan offered up a detailed explanation of why she invested: "By building out a digitized supply chain that also gives feedback to factories on which styles are in demand, Cider is able to use data-driven buying, merchandising, and marketing strategies to create the ultimate flywheel of great selection and great prices. In addition, Cider is building community through community chatrooms, styling tutorials, and delightful wishlist giveaways." Unfortunately, Chan does not explain how sustainable meshes with cheaply produced clothes that typically end up in the trash a year after being sold. Furthermore, there are mounting suspicions that Cider is engaging in dropshipping, simply buying products from AliExpress and subsequently shipping them via the platform.
Drops, liveshopping, discounts, moods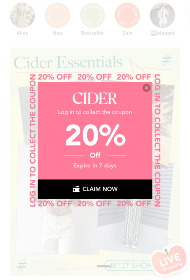 Those overarching plans are not apparent to anyone who opens the cider app or visits the online store. However, it is clear which levers the company wants to employ to draw users into the funnel. Other Asian players such as Shein, Shopee and Meesho rely heavily on gamification and bonus points for extended scrolling or frequent clicking on individual items (Philipp Westermeyer went deep on Gamification during his annual State of the German Internet address. Subtitles on, unless you speak German). Cider tends to follow in the footsteps of social platforms when it comes to design and retention levers. Of course, the app uses your run-of-the-mill discount offers with 20% off the first order. However, the focus is on functions like live shopping. Several times a day, there is a livestream with a host showcasing various styles and the reminder for the livestream floats along with users as they scroll.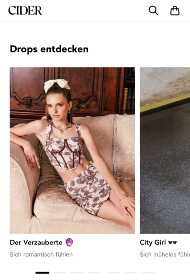 On the app's homepage, Cider also employs the Instagram look. Circular icons at the top are very reminiscent of Stories and redirect to new styles, bestsellers, products on sale, etc. In addition to livestreams and a never-ending supply of new discounts, another trick to keep users returning to the app are the "Drops." We went deep on drops here. The abridged version: Brands take to social to annouce the release of, usually, limited products with a precise start date. When it works, this "drop" triggers a snowball's worth of hype, everyone lines up to buy the product at the same time and the brand appears supremely in.
Cider employs drops, albeit in a relatively basic form. On Instagram, the company not only shows individual pieces, but often entire collections with thematically matching garments. The current feature collection, for example, is entitled "The Enchanted." These so-called romantic tops and skirts then end up as drops in the app. However, in breaking from a standard pillar of the drop strategy, none of these garments are limited in either time nor volume. In the end, it's mere curiosity about constantly changing styles that is to drive customers to the app repeatedly. Thematically clustered collections seems to be a core Cider strategy on the whole. On Cider they are called moods and you'll find moods all across the app and social channels. Customers can choose a mood in the store and the app (e.g. "I feel cute", "I feel retro") and get inspired by a curated product selection.
Community building a la Insta
If you want to win over Gen Z, you have to be strong on social. Cider is primarily trying to reach potential customers via a community approach. On Instagram, in addition to its core account with 3.7 million followers, Cider also runs Cider Gang with just under 50,000 fans. The channel primarily serves as a depository for user-generated content with customers in items bought on Cider and posted with the hashtag #cidergang. So far, the hashtag has been used on 16,000 posts on Instagram.
However, it's another platform that is tasked with building community. By promising exclusive offers and the latest news first, Cider seems to want Discord to be the central place for users to congegrate. However, the channel currently only has InCidera shade over 5,000 members. "Fashion is about style, fit, and expression, and this couldn't be truer for Gen Z. This generation values individualism and the ability to make decisions for themselves. They don't want to be told what to wear or buy. In that sense, I believe new generations will demand a greater variety of clothing styles, while also challenging companies to help them avoid breaking the bank and hurting the planet," said Andreessen Horowitz partner Connie Chan. Something she says the community is already engaging in discussions about.
On Tiktok, Cider content also revolves primarily around themed styles. Models showcase top date-night outfits, summer styles or unisex outfits to the 3.9 million followers in short humorous clips. However, most of Cider's Tiktok videos only generate a few thousand views, so you won't find any real viral high fliers. That's why influencers have to help this brand in the battle for reach. A look at the platforms shows, however, that Cider relies on small creators with 10,000 to 100,000 followers, who advertise their coupon codes and post content of them wearing Cider clothes.
A hit stateside—and elsewhere?
So far, Cider has been successful primarily in the U.S. despite its Chinese roots (the company also prefers to be perceived as a global enterprise). Currently, there are 14 open positions for the U.S. market and Europe, among others, mostly remote. 43 percent of all app downloads come from the US. According to Techcrunch, the UK, Germany, France, Canada and South Korea are the app's other top markets. Using web analytics tool Appfigures, we found that in our home market of Germany Cider has been downloaded roughly 550,000 times—325,000 of which in the past 90 days.
With the availability in 15 languages and delivery times listed as within 9 days regardless of location, Cider's strategy certainly is global. Returns are also free for every order. But to truly standout in Germany and elsewhere it's going to have take a page from Trendyol and go all in on influencers. A thriving community is a key component yes, but it cannot be the sole driver alone for attracting new customers.