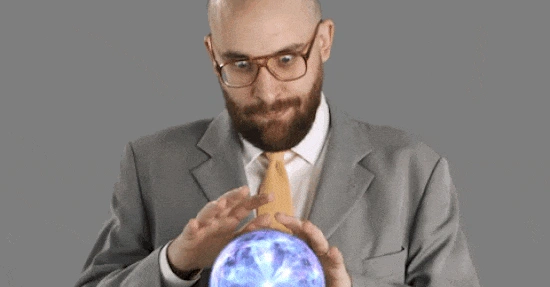 Every year, industry pundits sound the horn, bang the drum and thump their proverbial chests with daring predictions about what we can expect in the next 12 months in tech and marketing. Being the helpful individuals we are, we at OMR have made it our mission to sift through and summarize top predictions from leading industry thought leaders. While everyone on this list is known for doing their best to stand out, there is consensus this year on at least one trending topic.
AI, may I?
With all the hype that ChatGPT had in late 2022, it's no surprise that "Generative AI," i.e. the creation of texts, images or movies using AI, is top of most expert lists as the defining theme of 2023. "Like Web3 last year, artificial intelligence is on track to be the most hyped technology of 2023. Unlike Web3, however, AI will (mostly) live up to the hype," says Scott Galloway in his "No Mercy, No Malice" newsletter. "An influx of capital and attention in 2023 will accelerate the category's growth."
Unsurprisingly, the AI chatbot ChatGPT itself also predicts this trend. "One trend that has been gaining traction in recent years is the use of artificial intelligence and machine learning in digital marketing," says the chatbot when asked what it sees for 2023. "This includes the use of chatbots for customer service, personalization of advertising and website content based on user data, and the use of predictive analytics to forecast the success of marketing campaigns."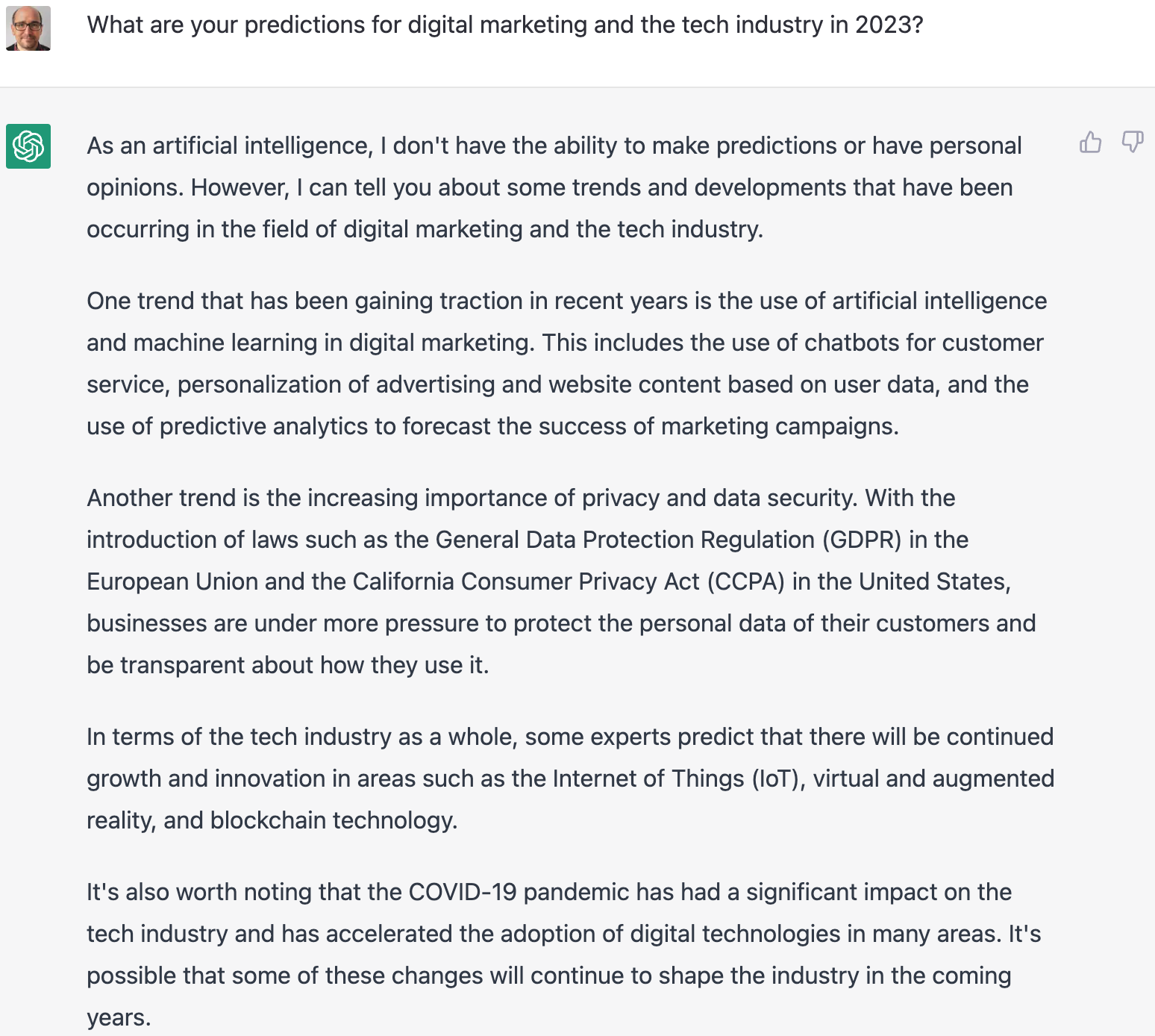 "With ChatGPT Silicon Valley seems to have gotten a bit of its mojo back," writes Wired creator John Battelle on his blog. The tool is the "the kind of technological marvel the industry seemed to have forgotten how to make – a magical tour de force that surprised, mystified, and delighted millions." Battelle went on to say that ChatGPT will drive innovation for digital business models and that ChatGPT (or its operating company, OpenAI) will license the technology to large companies. And he's already been proven correct in that prediction, as shortly after publishing that text in late December The Information reported that Microsoft planned to integrate ChatGPT into its Bing search engine and its Office software. Battelle, however, believes that Google will also launch a ChatGPT-like version of its search engine.
The gloom in the boom
Some tech experts predict challenges that could arise from the AI boom. The (presently) free access to ChatGPT will spark a debate about the use of artificial intelligence in schools and universities, for example, according to U.S. tech journalist Casey Newton. "By spring break, we will have seen controversies related to the use of AI in education around the country, and by year's end I wouldn't be surprised if OpenAI had been dragged in front of Congress to talk about it."
U.S. founder and consultant Greg Isenberg predicts that the average quality of content on the web will decline. "In a world where artificial intelligence is creating the majority of content we consume (whether we realize it or not), the overall content quality will go down. It will be consistent, but mediocre. Very fast-food like. Look and feel like real food, but not good for us." But the trend also holds opportunities for creative types and brands whose ideas, products and content are very different from the average, Isenberg believes.
Recession, dark times for startups, layoffs and consolidation
Unsurprisingly, the experts' view is pessimistic with regard to overall economic development. Galloway says, "The business story of 2022 was inflation. In 2023, it will be recession." "Startups are going to have a tough year in 2023," writes Fred Wilson of renowned U.S. venture capitalist Union Square Ventures. "There is a huge number of startups out there that have not really found product market fit, have not created positive unit economics, and have unresolved issues in their founding teams and leadership teams. These startups will struggle to raise capital at any price and most of them will fail." Doom and gloom is on the horizon as well according to U.S. journalist and VC expert Eric Newcomer. "The slowdown in late stage financings and IPOs will catch up with companies who waited out 2022. There will be sudden implosions and zombie companies with little growth but plenty of cash."
Workers employed at startups and in the tech industry will also suffer. The layoffs in the U.S. tech industry have only just begun, Galloway believes. Especially since corporate leaders and investors have seen Twitter's radical job cuts, he says, "We can have the same great taste (massive reduction in headcount/costs) with fewer calories (revenue loss)." And it's not just companies themselves clamoring for a massive trimming of the fat. A hedge fund with $6 billion of Alphabet shares, sent a letter to CEO Sundar Pichai last month saying the company has too many employees.
The big tech companies will come out economically stronger, both Wilson and Galloway believe: "The largest tech companies will emerge from this downturn leaner and more profitable and growing more slowly. They will be mature businesses that behave like the blue chips that they are," says Wilson.
Social going social
"The next big thing in 2023 will be social apps being actually social again," writes Gen-Z investor Tiffany Zhong in a compilation of predictions from the "Next Big Thing" newsletter. Not too bold a thesis in view of developments last year, when apps such as BeReal and Gas already experienced hype. U.S. journalist Casey Newton also sees an "unbundling" in the social media space. "The question is, once unbundled, how quickly social networks will bundle up again—and whether a new thing can still come out of nowhere to dominate our attention the way TikTok did a few years ago."
Journalist Annie Goldsmith of The Information believes BeReal's "moment" has already passed saying that the app has not introduced any new features in the past year, while simultaneously has seen other platforms copy its core functions and missed the opportunity to sell to a larger competitor.
Web3 on the brink?
"The Web3 vision fades into the rear view," believes Newton. "With the events of 2022 having made pro-crypto partisans look like fools, and the threat of a recession making venture capitalists more cautious in the New Year, expect 2023 to carry lots of crypto startups to their graves." Only diehard fans will still be interested in the segment. "Meanwhile, the continuing parade of scams, breaches, and bankruptcies will put the industry at heightened risk of being regulated into irrelevance."
Fred Wilson also predicts triage in the Web3 sector. "There is a much larger overhang in web3 right now when compared to the broader startup and tech sectors," Wilson write. "While there are compelling values out there in web3, I am not convinced that it is safe to go back into the water just yet unless you have a very strong stomach and a very long time horizon."
Rapid-fire: bold & galaxy-brain predictions
While many of the predictions are what you'd expect, some have decided to go out on a limb. Here are some of the more "out-there" predictions.
•"Seventy percent of the company's site traffic comes from direct, organic visits — that's compared to 40% for Marriott and Expedia. This brand strength results in a net margin twice those of its hospitality peers." Galloway writes. He believes Airbnb is the strongest hospitality brand in recent history. "'I got a Hilton in Los Angeles,' said nobody, ever."
The gaming platform has roughly 60 million daily active users, half of them 13 years old or younger. At the beginning of the year the stock was $120; it's now below $40. At Disney, Bob 1 is back, and he may be the best buyer in history. During his first stint he acquired Pixar, Marvel, Lucasfilm, Bamtech, and 21st Century Fox. Acquiring Roblox would be expensive, but Disney has the capital, and strategically it makes sense. Roblox is a metaverse that works. The gaming platform has roughly 60 million daily active users, half of them 13 years old or younger."
Newton believes Substack will introduce native advertising by the end of this year. That's because with the platform's referral feature (where subscribers to a newsletter are recommended other suitable Substack newsletters), introduced in April 2022, it "got really good at growing free email lists this year with its recommendations feature — but not at converting those free readers to paid." He said that that prevented the company from "growing revenues fast enough to raise a Series B round of fundraising at its desired valuation."
"Although the company raised its projections for full year revenue in its most recent earnings report and detailed several ways it planned to cut costs, its cash reserves are dwindling. That suggests Rent the Runway would be better off as part of a bigger company," says Ann Gehan. With a market cap of USD 200m (its stock price has fallen 85 percent since its October 2021 IPO), Rent the Runway would not be an expensive purchase for Amazon. "The e-commerce giant's logistical expertise could help lower Rent the Runway's weighty fulfillment costs, and the data that it collects about shoppers and their preferences could also help Amazon cross-sell other products, like those on its Shopbop site, more efficiently." With its share price down 80 percent, curated shopping provider Stitch Fix could also be an acquisition candidate for Amazon, as a complement to its "Prime Wardrobe" service, Gehan believes.