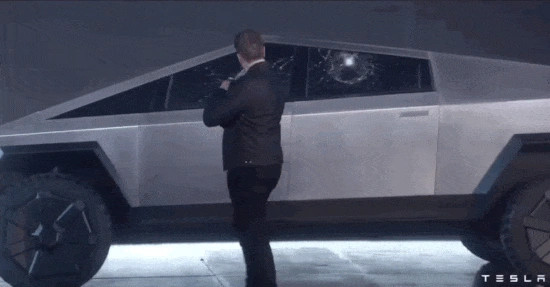 Let's play a quick game to start, ok? Good. Word association. Here goes: Cybertruck! I can feel the hate and jeers from behind my keyboard. There's no question that Elon Musk's new pickup model, the Cybertruck, has flooded our feeds so much that we're tired of hearing about it. Well, today we're betting that we can add something that you have not yet read anywhere else. A tease: Is getting 250,000 people to spend 100 bucks to post a screenshot and advertise for Tesla Musk's biggest marketing coup ever?
Before we get into the nitty gritty, a quick recap for all of you who kept scrolling right past all the Cybertruck posts and media reports. On November 21, Elon Musk, the man whose fame enables him to live a life that makes 8 year old envious—acts like his heroes, constructs rockets that can fly to Mars, etc., broke the Internet. To unveil his brand new Cybertruck, Musk held a live show streamed online, which can only be described as part Apple product launch and part Blade Runner.

"Made from rocket-grade steel"
The Cybertruck is a new, atypically designed Tesla pickup that has been available for preorder since the live event. The first models are slated to roll off the production line in 2021. The pickup is hailed as very robust, said to be made from the same high-grade steel as Musk's Space-X rockets and the windows billed as bulletproof. But when a steel ball was hurled against the truck's windows to demonstrate, two of them shattered on stage.


After the show, Musk posted a video to Twitter that shows the window surviving a pre-show test unscathed. Musk then said
in another tweet
that the window broke during the show because they bashed a sledgehammer against the door beforehand, thus cracking the base of the glass.
Shattered glass planned from the start? 
During the show, the Cybertruck's appearance dominated the trends. Users compared the new truck to old-school video game graphics. Another popular trope was the similarities between the truck's appearance children's drawings. Soon after, the Cybertruck made it to the internet hall of fame with its very own entry into online meme lexicon KnowYourMeme.com.


If the Blade Runner-esque Cybertruck design was the initial spark, the window fail during the show was gas on an open fire that caused talk of the truck to spread across the web like wildfire. While Lego joined the fracas a couple of days later
joking that it had a new truck of its own 
– "guaranteed shatterproof, some were doing what onliners are wont to do:
positing a conspiracy theory
or two
or three
that the window breaking had to be planned to generate more reach and awareness.
All Hail, the Meme-Lord Musk
That Musk is a sophisticant of internet culture and knows how to leverage it for his own benefit has been on display for months. For example, he made an appearance on "Meme Review" with Pewdiepie—the world's biggest YouTuber—to discuss and rank current memes. A couple of days after the Cybertruck reveal, Musk CEO announced on Twitter that 146,000 people had pre-ordered the truck "with no advertising or paid endorsement." When a user responded, "Memes are the best form of free advertisement," Musk agreed.

For the past couple of years, "Memebaiting," as it is known, has been an established way of generating free awareness online. One person lays the bait (usually a fail of some sort) and users take said bait and use it to generate memes that they share on social media thus giving the "bait" a massive amount of free publicity. A master of the practice is Balenciaga's head designer Demna Gvasalia.
An interest-free loan of roughly USD 25m
Cybertruck memes figure to have played an integral role in Musk being able to announce (on Twitter) that 250,000 Tesla pickups had been preordered. In a previous Tweet,  he said that 80% of all preorders were for the most expensive or second-most expensive model (price: $69,900 and $49.000 respectively) and that 20% were for the cheapest model ($39,900). If you do the math, then Tesla made USD 14 billion in revenue in less than a week.


However, to make a preorder clients are not required to pony up the full price, but rather a mere c-note, which is "fully refundable." So essentially clients paid 100 bucks just to reserve their place in line. What Tesla did—in the worst-case scenario—was generate a $25m, interest-free loan. For their part, customers received a screenshot of their preorder confirmation to share on their social channels—even more free advertising for Tesla. If you search for hits on Twitter,
you'll find hundreds of such examples
. What else is there to say? It's an absolute marketing masterpiece.