Skinfluencers? How four dermatologists have used TikTok to get 300K downloads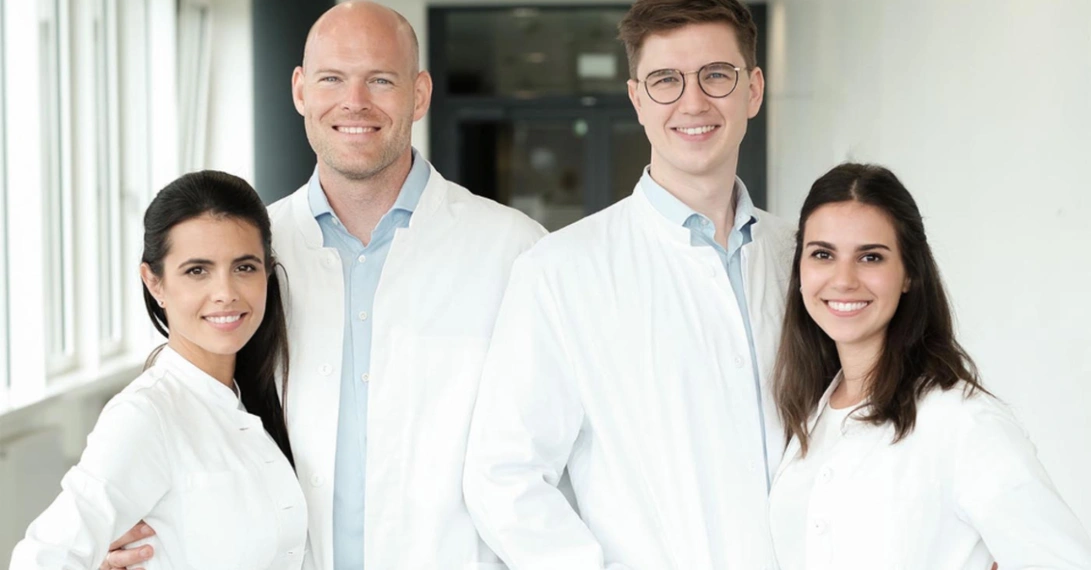 We've all been there. Some sudden discomfort or a blemish sends us frantically searching for an appointment ASAP, the earliest of which is days and weeks if not months away. For skin issues, dermanostic can help alleviate the wait. The app promises a diagnosis within 24 hours right from the comfort of your smartphone. OMR spoke to the founder, Dr. Alice Martin, and found out how she and her co-founder took to TikTok of all platforms to generate 300,000+ downloads and millions of views with a skin diagnosis app.

"One of the things about being a dermatologist is that friends and family are constantly sending you pics, and asking for a quick opinion. Oftentimes, because they were unable to get an appointment at the clinic," Dr. Martin tells OMR. Her colleague, Dr. Estefanía Lang, has had a similar experience. The pair met while working at a skin clinic and has worked together at the university clinic in Düsseldorf since 2018. "As we were able to provide clarity in the majority of instances," says Martin, "we quickly began exploring the feasibility of a digital business model." 
Drs. Martin and Lang were joined in their idea for an online dermatology practice by their better halves, Dr. Ole Martin and Patrick Lang; and the quartet took part in a competition for ideas at the Heinrich Heine University in Düsseldorf. While the two married couples did not bring home the 50K-euro top prize, but they did receive the audience award. "That showed us that our idea couldn't be that bad," says Dr. Martin. The same day she made the decision to go on hiatus from practicing medicine in the traditional sense. 
Digital night classes lead to 24h app
In medi-login GmbH, Drs. Martin and Estefanía Lang offer certified online courses in German, English and Spanish – something they continue to do to this day. "We've helped educate over 10,000 doctors on a wide range of digital topics," Dr. Martin says. While medi-login is the B2B platform, dermanostic is the B2C model, directed at patients, offering them an alternative to physically going to see the doc. "Take three photos of the problem on your skin and then answer a short questionnaire," the app says. Within 24 hours a specialist provides a diagnosis and recommendation for treatment, including a digital doctor's letter.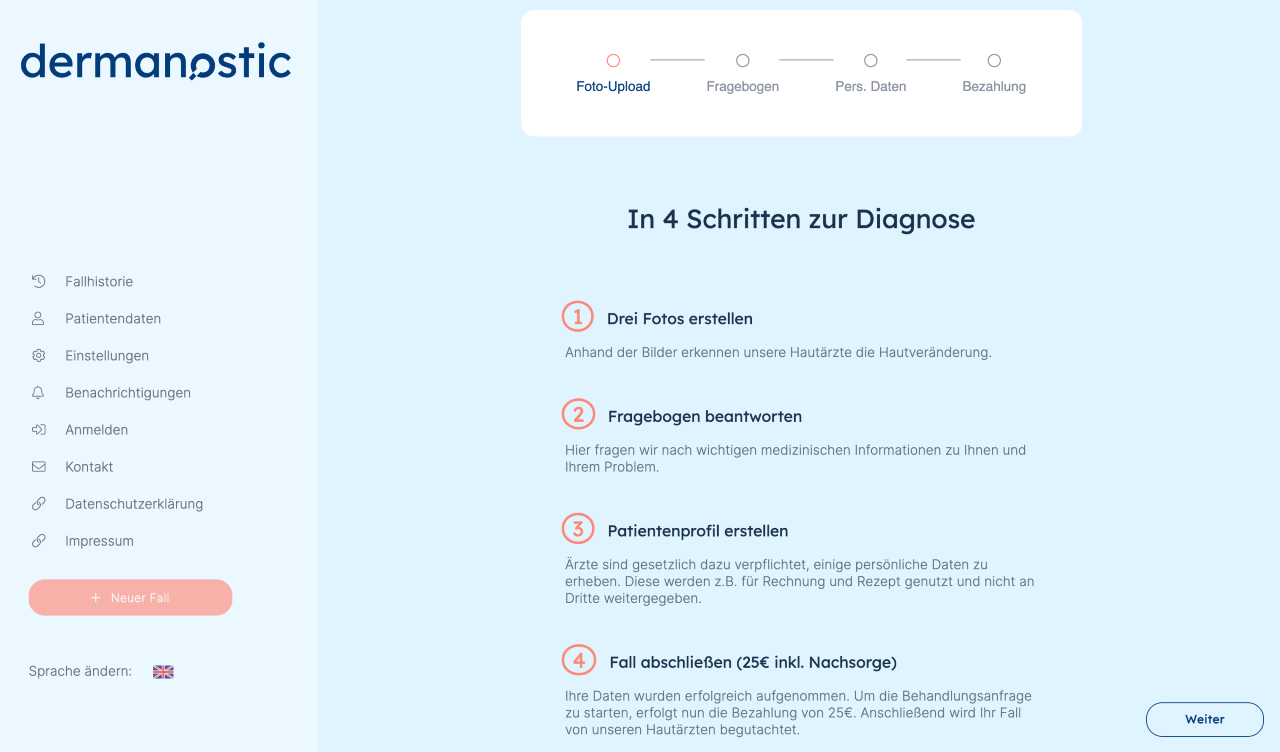 In retrospect, Dr. Martin says that it was by no means a given that they would proceed with their digital business idea after leaving the ideas competition empty-handed. "We knew, we'd have trouble convincing investors," Dr. Martin recalls. "That much was clear in the verdict handed out by the jury." The jury was unable to see past the idea, instead focussing on Estefanía, who was pregnant at the time, and on the founders, who were two married couples with zero formal business training. "Obviously, not the most common makeup when it comes to business founders," says Martin. It certainly gave us pause, but in the end we decided to risk it anyway. 
Persistence in attracting investors and corona boost
"Finding investors was as difficult as we foresaw and took a while. And many of the rejection letters essential cited the same things that the jury in Düsseldorf did," says Dr. Martin. Eventually, we cobbled together several business angels and were able to launch in October 2019. "The start was sluggish, but then once things began rolling, they stayed rolling," she says. The founder couples set up an investment vehicle to attract investors, eventually convincing a trio of holding companies and some individuals to invest in the business. The couples retain an 80% stake in the enterprise. 
It took another month or two, before patients began uploading images and descriptions to the app. Coinciding perfectly with the first corona lockdown, the first wave of patients began receiving treatment via the app. "We decided to launch an open beta and treat the first 1000 for free," says Dr. Martin. The quartet leaned on its personal and professional networks to drum up awareness, as well as making the rounds with local newspapers to explain just how the app works. "We were fortunate that most practices were closed at that time due to corona, which in turn helped the app spread quickly," recalls the Dr. Dr. Martin says that it took about three weeks for the first 1000 diagnoses to be made. Then the price of EUR 25 per treatment was introduced. 
The business of digital skin diagnostics
The image-text method employed by dermanostic to make a diagnosis is not covered by Germany's social insurers. Therefore, patients must pay the EUR 25 cost for diagnosis out of pocket. Video consultations, however, are covered by social insurance. "It makes no sense in our view," says Dr. Martin. "The picture quality in many video streams is not high enough to make informed diagnoses when it comes to skin. It's a political decision. Private insurance companies do cover image-text methods," she says. The good doctor is optimistic, however, that in the coming year some pilot co-ops with social health insurance providers will be concluded. 
Dermanostic also had to overcome initial struggles with its marketing measures, since such practices in Germany are strictly regulated. "All advertising pertaining to health services must adhere to very specific rules, the pharmaceutical-advertising laws," Dr. Martin says. Dermanostic had its profiles on Google and Facebook – the platforms where the company first sought to raise awareness for the app – suspended for a time. "We had to be much more general in our choice of language and phrasing," she says. 
Marketing for dermatologists
Just as it did during beta, standard PR campaigns played a decisive role in creating awareness after launch. "Many of our patients informed us that they first heard of the app through the press and PR—and these channels, parenting magazines, newspapers and other periodicals, continue to be major awareness drivers for us," Dr. Martin explains. Then in the summer of 2020, dermanostic launches its own Tiktok account. What may sound off-brand at first, quickly becomes the company's biggest growth lever. 
@dermanostic

 

Akne per App behandeln lassen! 📲
For the videos, which typically feature Dr. Martin on-camera, she provides rapid answers to typical dermatology questions and issues. How to beat treat acne? What impact does nutrition have on skin? What are best practices when it comes to body hygiene? Roughly a year after launch, dermanostic counts over 150,000 followers and has more than 1.6 million likes. Social analytics tool Infludata registers nearly 100,000,000 plays for videos from the account. Dr. Martin says that roughly 10,000 of the followers came from various ad campaigns—despite the fact that the campaigns were designed to generate app installs and not produce more followers. For comparison's sake, the company Instagram account has round about 12,000 subscribers. 
From Tiktok to the tube
But it's not just the company's impressive performance figures on the platform itself that seem to make TikTok Dermanostic's most important marketing channel. German TV show Stern TV also first got wind of the company and Alice Martin through the company's TikTok presence. "Since then, I have received several invitations as a dermatology expert," she says. "Those appearances do not entirely overlap with the core purpose of the app, but they have helped us enormously nevertheless." 
The bulk of the company's upper 4-figure marketing budget is diverted elsewhere, however. "70 percent goes to Google, while 20 goes to Tiktok and the remaining 10 to Facebook and Instagram," says Dr. Martin. In addition, she says that there are two other channels that work extremely well on shoestring budgets. "We regularly book pre-rolls on Spotify and explain what the app does. It's had a fantastic effect so far," says Martin. The other place they've been inserting their filthy, filthy budgets? Porn sites. "A large segment of our patients are dealing with STDs and want to avoid a trip to the doc."
How much work does it take to operate a digital medical practice?
Slowly, but surely, the company's marketing efforts have paid off in app downloads. For both android and iOS, the app has been downloaded a total of 300K times. What that figure belies is that one download does not mean a single-use. "Most of our patients are recurring. They are happy with their diagnosis and consult the app the next time they have an issue, instead of going to the practice," says Dr. Martin. An overall rating of 4.8 on nearly 1800 reviews in the Apple App Store seems to confirm Dr. Martin's statement.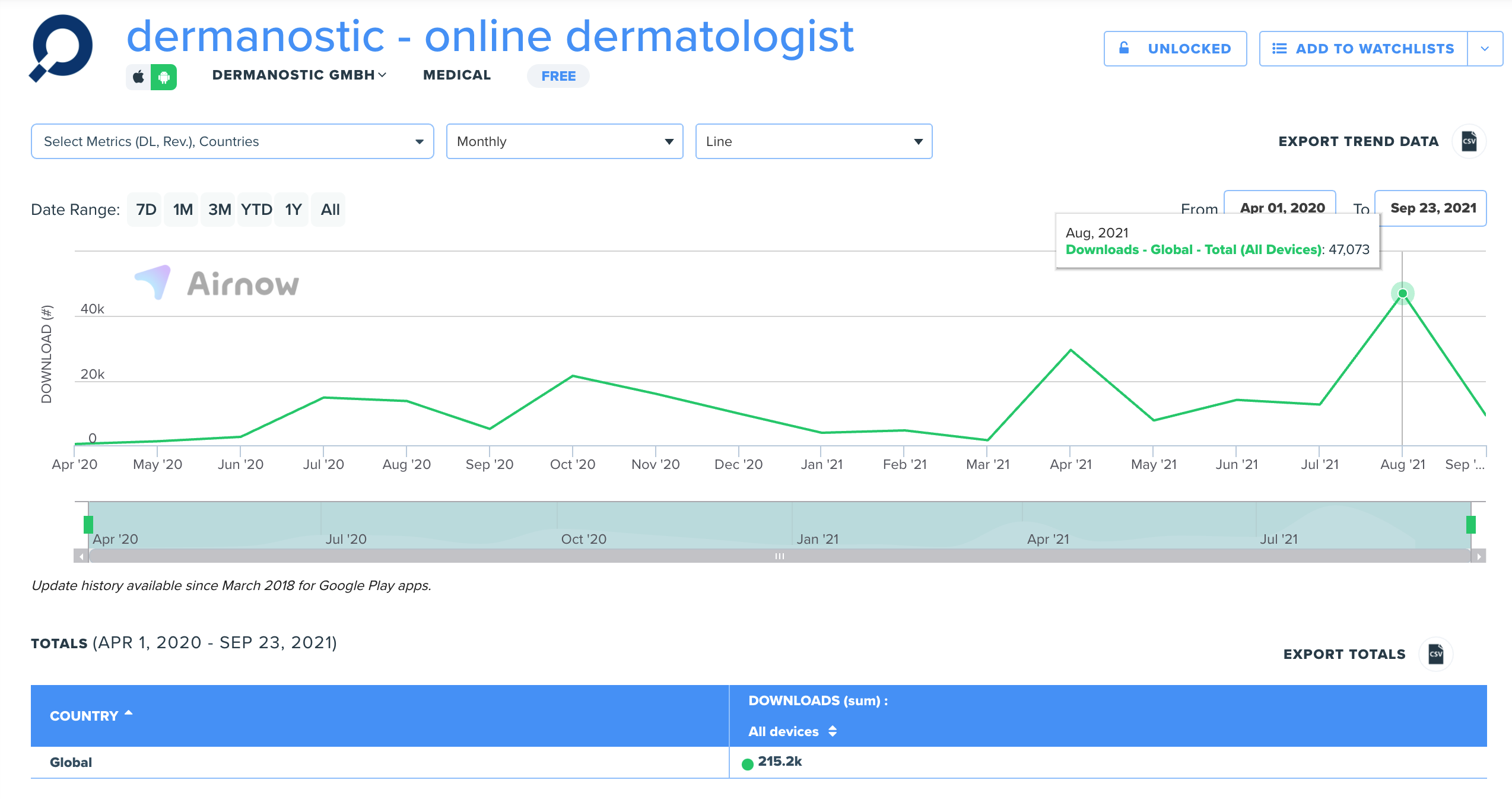 The company employs 10 doctors, each of whom received perfect scores on their qualification exams. Per day the team of doctors offers up roughly 150 diagnoses per day. "Some work full time, others half days and others still as a supplement to their own work in a practice," says Dr. Martin. On the whole, Dr. Martin says that the work performed for the Dermanostic app is very similar to what is done at a regular medical clinic. "It's not as if images are given a cursory glance and then a diagnosis is made on the spot. We often review and inspect images together and consider what the uploaded images depict. It's just like an actual visit to the doctor." 
In the end, Dermanostic is nothing short of an online dermatology clinic with set schedules, medical supervision and publications in medical journals. "We do all of this, at least in part, to show the social insurance providers that we are not a startup in the traditional sense. Beyond the medical team, we have an additional 25 employees working in IT, marketing, PR, sales and accounting," says Dr. Martin. And since the beginning of the year, all four founders have ceased working in clinics to focus on the work in the app. 
What's next for Dermanostic?
If her upcoming projects are any indication, Dr. Martin has a great deal planned for Dermanostic. She's currently working on a co-op a sex therapist named Gianna Bacio and the urologist behind the @doktorsex TikTok account, which has over 800,000 followers and is supported by social insurer DAK. Dr. Bacio has also partnered with Beiersdorf and Eucerin–both major medical brands. "We do not want to be reimbursed for our advertising campaigns—and it's illegal at any rate. So that means, whenever I talk about a product, my opinion has not been purchased. We are completely independent and are able to prescribe any product out there."
Dr. Martin's long-term goals, however, are much bigger. "We don't want to only provide privately-insured patients with our services, who figure to be able to afford them at any rate," says the doctor. "Our goal is to provide everyone with the same treatment and care. Long-term, we hope to expand the app to other countries, where there is limited or perhaps no access to doctors." Dermanostic is planning on Series A funding to reach profitability with a goal of raising EUR 2M. And just a few days ago, the company cracked the 30,000 patient mark.