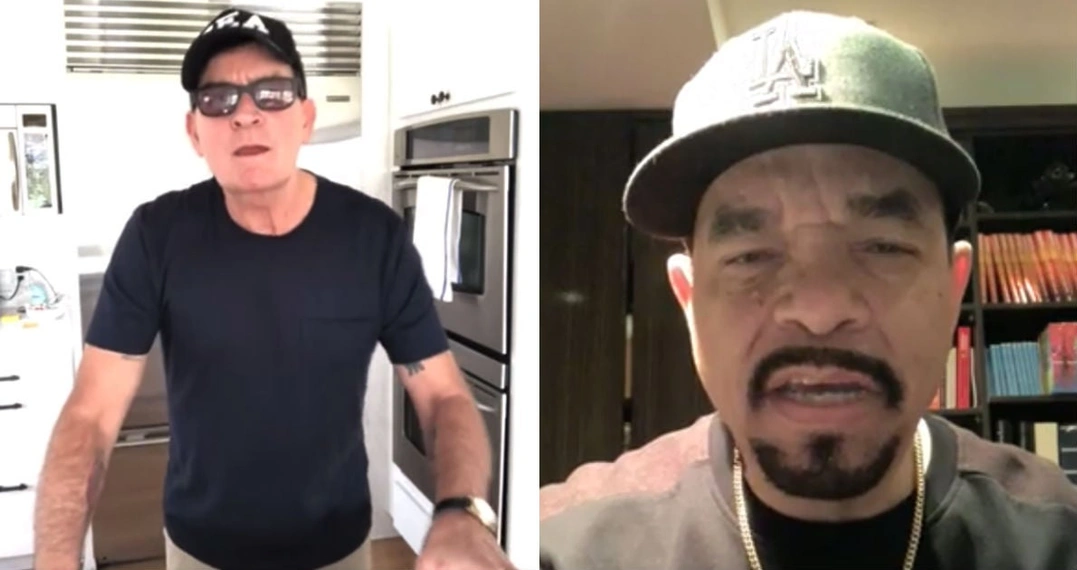 Charlie Sheen and Ice-T sending video messages on Cameo.
Charlie Sheen flips on the camera in his kitchen and records some praise for Andre Alpar and our podcast #askOMR. Legendary rapper Ice-T also sent a video greeting to the OMR team from his living room. No doppelgängers here—just the real deal US stars. And it's all because of Cameo, a US-based platform that launched in 2017. We took a closer look at the fledgling platform to decipher how it managed to get 15,000 (mostly) famous faces on its platform, what the business model for video greetings is and what marketing potential such videos have for your business.
Ice-T stands in front of his bookshelf, rocking a black pullover by Hugo Boss. His selfie cam is pointed at him and he launches into his 25-second performance. "Right now I want to give a shoutout to Martin," says the rap godfather and actor. "He is an incredible writer. He writes the best articles in Germany and especially at OMR." Of course, Ice-T did not come up with the message on his own. Part of the Cameo model is you write what the celebrities should say when you order your Cameo. Booking a 25-second spot with Ice-T on Cameo cost us USD 350.
When you navigate to Cameo, the first thing you see is a sample of the hottest stars on the platform at the moment (at the time of publishing, mostly NFL players since the season just kicked off). After clicking "Browse Talent" you are redirected to a landing page listing every celeb available for a video message via Cameo. Available celebs beyond Charlie Sheen and Ice-T include a slew of (ex-)athletes (Dennis Rodman, Kareem Abdul-Jabbar, etc.), actors (Wesley Snipes) and famous TV personalities. Not everyone of the 15,000 famous faces is exactly famous to the mainstream, with quite a few unknowns, influencer and Youtubers. Videos run between a buck and USD 2500. The celebrities themselves set the price.
Charlie Sheen plugs #askOMR
Last week, OMR-bro Andre Alpar published his Sheen video on all of his social channels. His Cameo from Sheen cost a cool USD 550. In his plug for Andre and our co-produced #askOMR podcast, Sheen's shtick has not lost any luster. "This dude knows what he is talking about," he says emphatically.
"I was a bit on the fence as far as who I should book. I am a fan of Charlie Sheen's old series 'Two and a Half Men,'" Andre told us. "He himself may be a bit "debatable," but I thought that it's better to go with someone who has instant recognition, leading to reactions in everyone. Good and bad." He said that he received his video greeting from Sheen three days after he ordered it (Ice-T sent us his after a day). If a celebrity needs more than seven days, the deal's off. Quick delivery is one of the perks.
"You only have 250 characters to brief the celeb with. My first attempt did not turn out well. Luckily, you can edit it up until the celeb accepts the job," Alpar told us. Providing a detailed briefing is key to ensuring the celebrity is able to deliver something useful. Apparently, many Cameo users book the service for birthday greetings to their loved ones. Most celebrity landing pages on the platform feature example videos that the star has recorded and sent. If, however, you in the market for a business plug, then you have to dig deeper into wallet. If you want an Ice-T shout out for a company instead of a friend or yourself, Ice takes USD 2500 and not the usual USD 350.
The Cameo Awareness Bump
Andre Alpar never wanted a greeting from Sheen, but only wanted it for marketing purpose. "My experience with online marketing is such that you need to try out everything. Once you do, you can understand it so much more," he says. "I downloaded the video and uploaded it natively everywhere. What's interesting from an online marketing perspective is comparing views. What's striking here is how platforms differ in the way they count views." On his social profile, the Sheen video tallied thousands of views within 12 hours. 1400 took place on Facebook, 300 on Twitter, 4700 on LinkedIn and a total of 800 on Instagram (posts and stories together).
The figures have continued to increase: with over 2,200 views on Facebook, 500 on Twitter, 14,000 on LinkedIn and a total of 1,250 on Instagram. Alpar says that engagement is typically higher within the first 12 hours, but after a few days, the views and comments generated on LinkedIn vaulted the professional platform to the top spot. There is another figure demonstrating the reach power such a video can have: after positing the video Alpar's profile views increased by 1,929%, as a screenshot shows.
From Charlie Sheen to Youtubers
As mentioned before, there are some 15,000 well-known faces on Cameo and the company launched in 2017. The founder trio consists of Steven Galanis, Martin Blencowe and Devon Townsend. Blencowe is a former NFL agent, which explains why so many NFL players are on the platform. The idea was born when Galanis saw just how well a video by one of his former NFL clients was received when he sent it to his friend. The feedback that Martin had got from Brandon was literally like, 'This is the best gift I've ever got.' And it kind of made us think, if you're not that person's agent or you don't know their agent or you don't run into them in real-time, it's impossible to get something like that," Steven Galanis told the Chicago Tribune. " So at that point we started dreaming up this marketplace."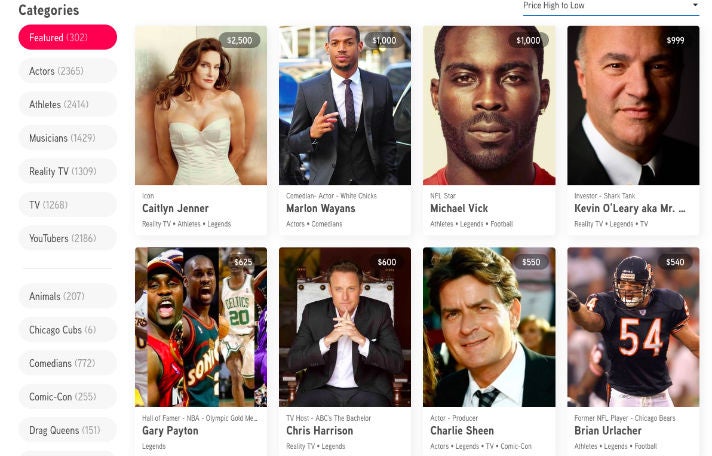 Reaching out personally to celebrities and through good old fashioned word of mouth, the portfolio steadily grew to the current 15,000. " "We have people from all different categories," Cameo CEO Steven Galanis tells The Post. "Venture capitalists, politicians, pastors, porn stars — you name it, we have it on Cameo," Cameo CEO Galanis told the New York Post. Galanis says the most popular star is Ice-T, who records up to 15 video messages daily for USD 300 each. "It sounds like a lot, but they really only take 30 seconds, don't require a film crew and they can do it right from their iPhone," Galanis says.
Greetings to a business model?
For many celebs, who are no longer at the peak of their celebrity, as well as Youtubers and influencers, the platform provides a nice little side hustle. If Ice-T makes 15 videos a day, he receives roughly USD 5,250. Cameo takes a 25-percent cut, which still leaves him with a 4K at the end of the day. In a perfect month, that would translate into 120K. For Cameo's current business models, the a-list celebrities are not key, but rather the total volume of orders on the platform. If you receive a Cameo video, you can share it to your social channels straight from the Cameo platform, thus laying the groundwork for a viral effect to take place the more frequently Cameo customers post messages on Instagram, Facebook and the rest.

According to its own internal figures, Cameo is experiencing explosive growth. Revenue increased five fold from 2017 to 2018 (Founder Galanis did not divulge exact figures). What he did says was that in December 2018 alone there were over 100,000 transactions; the total number of orders is now well over 300,000. Cameo averages 2000 requests per day. In June 2019, the team collected USD 50 million and the lead investor is none other than Kleiner Perkins. The company is rumored to be valued at USD 300 million. Galanis aims to invest the money in the creation of an international team. To that end, he hired German industry vetStefan Heinrich as CMO, who previously headed up the global marketing endeavors at Tik Tok. Galanis' long-term objective: attracting 5 million celebrities to Cameo.