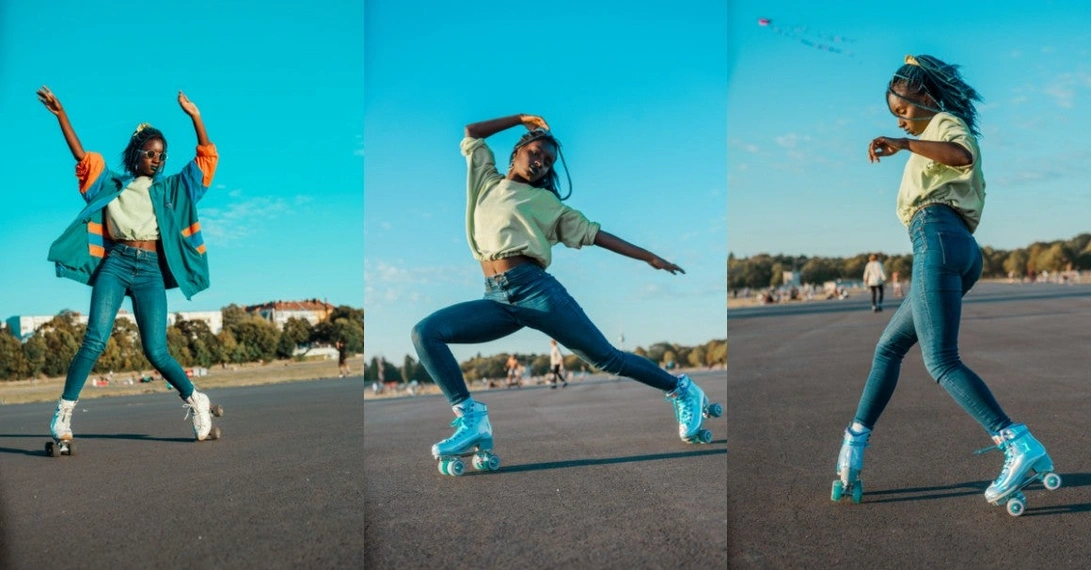 Oumi Janta showing off some Jam Skating moves in Berlin.
It was one just like all the others on her Instagram profile, Oumi Janta remembers. For whatever reason, however, it's the clip, the one where the 29-year-old is grooving to an electro beat on the abandoned runway of Templehof Airport in Berlin, that changed everything and made her famous around the world overnight. It was watched millions (plural) of times on Twitter and soul and R&B superstar Alicia Keys shared it to her Instagram page; just like that Oumi Janta had 600K new followers. OMR caught up with her to find out how she's taking to her newly found fame and how her fledgeling celebrity has made her a hot commodity for brands.

"At first, I didn't really grasp what was going on," Oumi Janta tells OMR. "It was a rollercoaster of emotions and feelings." Although that sounds cliché, a rollercoaster is the aptest way of describing what Janta has experienced in the past few weeks. A recap:
On June 22, Janta uploads a 52-second clip to her Instagram profile of her jamming in rollerskates. The rollerscate content that she had already posted in spades up to that point had got her 54,000 subscribers. The video really doesn't stand out from all the rest and Janta is certain that the video that made it, where she's dancing to the track "Ba:Sen (Pool Party Dub Mix)" by "In Deep We Trust" in the airport turned park Templehof in Berlin, performed similar to all the other videos as well. Data provided by social media analytics tool Socialblade had Janta on a pace to increase her followers by a couple of hundred a week, offset by a few unsubscribes.

Twitter, Facebook, 9Gag – and Alicia Keys
"At first, I saw that the video was being shared on IG more than usual," says Janta. "Impressions kept increasing for a few days. Then I found out the video was posted to Twitter, where I am not active." There were two accounts that propelled the video into viral status. @RachaelvsWorld (11,200 followers) uploads it on June 28, where, as of today, it has 13.5 million impressions, @SixBrownChicks (104,000 followers) uploads it two days later, where it has generated 4.8 million plays.
"A few hours later, the video had generated millions of views," says Janta. "Something I found out about on Instagram." A bunch of other Twitter accounts followed suit, posting the video, versions on Youtube edited to the full length of the track, shares on Facebook by the UK version of Vogue and Janta's clip dominates threads on Reddit and 9Gag.
"Then out of the blue famous women, like Alicia Keys and Viola Davis, shared the clip on IG," says Janta. "That really opened the floodgates with likes, followers and views." Academy Award-winning actress Viola Davis (Eat Pray Love, Suicide Squad, Fences, among others) shared the clip on July 1 to her 5.7 million subscribers, before Alicia Keys followed suit on July 8 to her roughly 20 million followers, which was commented on by actress Zoe Saldana and Brazilian supermodel Gisele Bündchen.
Over 80,000 new subs a day
All throughout the month of July, Janta's subs exploded thanks to the viral video: from just over 60,000 to just under 700k by the end of the month. Felix Hummel from talent agency YilmazHummel, who took over Janta's management together with his co-founder Oğuz Yilmaz, told us that there are days where "Oumi receives 80k new followers, a couple with 40k and 50k new subs and hardly a day with fewer than 5k." Hummel says the average engagement rate at the moment is 9.5 percent.

For her part, Janta still can't explain what it is about the video that made it go viral. In this clip for "follow me.reports," a German public broadcaster, her best guess is that the video's success lies in the vibes at the heart of the clip. She emphasized to OMR that she plans to keep doing what she's been doing until now, even with 700k followers. In 2014, she began sharing her passion on Instagram; she first began skating and dancing about a decade ago. Jam Skating, as it is known, is an African American skating style that combines elements of dance, hip hop and gymnastics, and has been her main profession for some time now. "I teach Jam Skating and usually organize Roller Discos," says Janta. "That's what makes me happy. If I am able to make a contribution to increasing the popularity of Jam Skating, then that is very satisfying."
Unsurprisingly, Janta's viral hit has increased her profile among brands. Hummel says, "she receives multiple offers from brands and musicians per hour." "But Oumi's not about to become a billboard." There is, however, an exclusive partnership with a major brand in the works.
Janta's viral hit brings incidental success
Janta is not the only one who landed a hit with the clip. The track providing the vibes is "Ba:sen (Pool Party Dub Mix)." Originally released back in 2012, it is enjoying a renaissance. In the comments section underneath the Youtube videos to the track by Polish DJ Martin Harmony and his project "In Deep We Trust," there is a plethora of new comments: "here from the roller skate girl" and "The person who posted this must be confused with large traffic today..Just thank the roller skate girl!"—just to highlight a few. There are in fact hundreds of comments in a similar vein, referring to Janta's viral clip. On the official account, the video has been watched 230,000 times—with only roughly 1200 subscribers. According to Socialblade, the channel had total views in the 3-figure range before Janta's clip exploded; there have been over 120k views in the past three weeks alone.
"In Deep We Trust" is also enjoying some synergistic effects on Spotify. While the most popular tracks max out at 47,000 views and the majority have views in the 4-figure range, "Ba:sen (Pool Party Dub Mix)" has eclipsed 1 million views and been the catalyst that DJ Harmony has 136,000 monthly listeners. Harmony is not the only musician to benefit from Janta using their music in her videos. DJ Ridney, for example, thanked her for the 25,000 requests he got on music discovery app Shazam in under a week.