#Booktok is changing the economy of books and sending the industry into a state of upheaval
Books are gaining in popularity once again—one more case of Tiktok made me do it.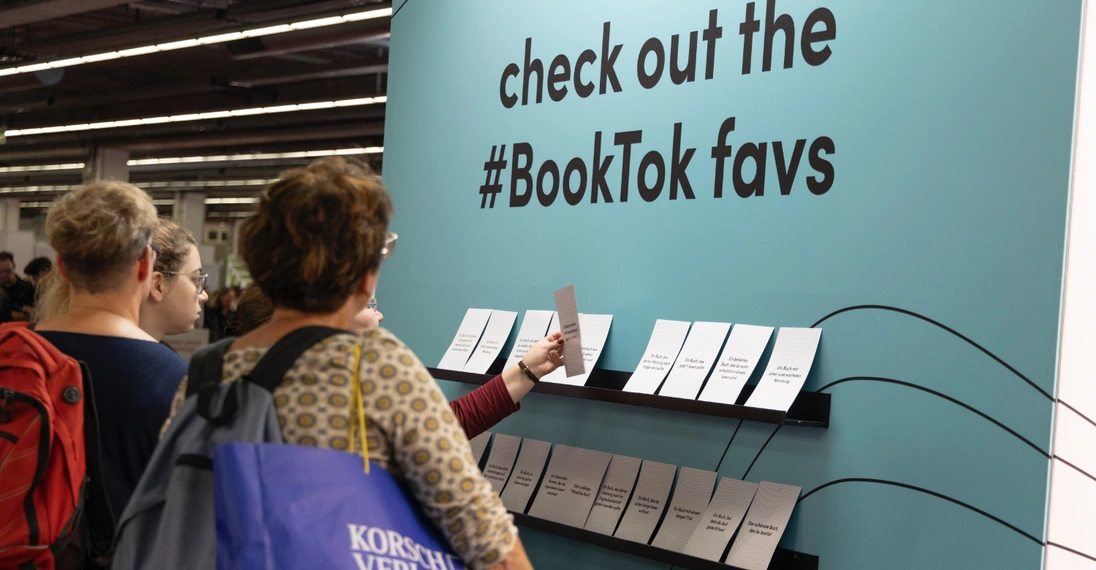 Das Thema #Booktok war in diesem Jahr auf der Buchmesse sehr präsent. Foto: Frankfurter Buchmesse
Booktok appears to have not only staying power, but to be on the cusp of ushering in significant changes to the book publishing industry. Like it does in so many other areas, the Tiktok community wields incredible power, with the ability to turn obscure items into viral hits and top-sellers overnight. Books are no exception. Booktok has become so powerful infact that it is a key part of the marketing mix for new releases. At the Frankfurt book fair, which just ended, it was plain to see just how powerful the phenomenon is—and industry incumbents are scrambling to keep up. 
Jana Crämer has one, a red best-seller sticker from German periodical "Der Spiegel," adorning her book "Jana, 39, ungeküsst" (Jana, age 39, never kissed). The equivalent of a New York Times bestseller in the Fatherland, it's been handed out since 1961, providing a bit of orientation on a crowded book market (Germans love to read). In the years that have followed, there have been other benchmarks that have become prevalent, but the true sign that an author has truly made it remains the same: the Spiegel best-seller sticker.
But that could be about to change. Jana Crämer's story of empowerment, which outlines her personal story of enduring body shaming and mobbing, boasts another sticker, right under her name. A sticker that's emblematic of the state of upheaval the book industry is currently in, a new currency for relevance and popularity: "Booktok Bestseller." 
190 billion impressions for #booktok
Booktok, the name of the Tiktok hashtag, has been trending consistently since the onset of the pandemic. In that time, videos featuring the hashtag have been viewed a staggering 190 billion times—a figure that has more than doubled in a single year. The name is a play on "Booktube" and "Bookstagram," both of which enjoyed a degree of popularity and prevalence on Youtube and Instagram respectively. Millions worldwide recommended, presented and offered up their takes on literary works. But those hashtags are #onlifesupport, as most of the primarily young community has taken to Tiktok to discuss books. It hardly seems a stretch to say that Booktok provides a major bump books, authors and publishing houses (We broke down the phenomenon in detail last year).
There are now Booktok book tables in large bookshops, where the currently popular books are presented, and books on Amazon are already specifically tagged with "Booktok" or advertised in the title with sentences such as "All of Booktok is talking about Lucy Score!". Tiktok, in turn, has been plugging booktok challenges. And at the recently concluded Frankfurt Book Fair, it was also possible to experience the importance of Booktok for the book industry on the one hand, but also for Tiktok on the other.
The debut of the Tiktok book award
Last year, the book fair and Tiktok unveiled a partnership and put together a stage program that was also streamed live via the app. This year, the Chinese company significantly expanded its presence once again, and was represented with its own booth and also provided plenty to talk about beyond its booth. "In a way, #BookTok was omnipresent this year - all the publishers were talking about it, with younger visitors in particular always referring to or asking about Tiktok," says Veronika Meijerhof, Head of Digital Marketing at Dtv-Verlag. And, of course, the awards also provided plenty to talk about in the run-up to the trade fair.
Another premiere this year was the "Tiktok Book Award." The categories are closely aligned with the digital world, as categories such as "Community Book of the Year" show. The nominated authors and books also show a strong focus on genres such as fantasy, romance and romantic fiction, although nominations from more mainstream publishers, including Kiepenheuer&Witsch and Suhrkamp, show that the potential on book market. 
43 million views on Tiktok
However, examples such as the award winners in the "Booktok Author of the Year" category show how authors can suceed in both worlds and interact with and build off of each other. Jana Crämer is not only successful as a writer, but also on the major digital platforms; Crämer has more than 600,000 followers on Tiktok alone and her videos have been viewed more than 43 million times. 
"I uploaded a single Tiktok more as a test and the very next day, countless people recognized me on the street, thanked me for my words and were interested in my books and appearances," Crämer told OMR. The award is an incredible accolade for her—especially as it was not only awarded by a jury of experts, but also by the Booktok community.
Kids like books
This Booktok community is extremely attractive for publishers. It is young, primarily female and likes to buy printed books in bookshops. Until as recently as a few years ago, many publishing managers would hardly have thought it possible that such a thing still existed. Most recently, an analysis by the Gesellschaft für Konsumforschung (Gfk) also showed that young people are becoming more relevant as a customer group. The purchasing intensity of 16 to 19-year-olds increased by 58.9% between 2017 and 2022. This means that while an average of 7.5 books were purchased annually by people in this target group in 2017, this figure had already risen to 12.0 in 2022.
Part of this success could also be linked to Booktok. A Tiktok spokesperson emphasizes: "If a book is trending on the platform, this is often reflected in the sales figures." This statement is still mainly limited to sales in younger target groups. However, the industry assumes that older users could also gradually become active on the platform - and that the Booktok phenomenon will thus spill over into new target groups. 
Publishing houses catering to multiple platforms
At the same time, the Booktok articles help to publicize books and stand out from the flood of new publications. In Germany alone, more than 64,000 new books were published last year. Of these, only a few become bestsellers.
At Dtv, the team led by digital director Veronika Meijerhof now creates content specifically for Tiktok. Although the publisher's reach on Instagram is currently even greater, they prioritize both platforms and create platform-specific content for both Tiktok and Instagram. In Meijerhof's eyes it's necessary step as they "are very focused on the users and the platform because we have found that the content doesn't work well otherwise."
Five times the views, four times the reactions
Dtv, which won the Tiktok Awards in the "Publisher of the Year" category, sometimes goes even further. Feedback from the Booktok community is now often incorporated into decisions regarding formats, layout or color sections of books, says Veronika Meijerhof.
However, opinions differ on the significance of the Tiktok Award, which Tiktok has introduced in Germany as its second market after the UK. For Dtv, the award has paid off, at least in the short term. The day after the award, there were five times as many views on Tiktok as in the days before and three to four times as many reactions.