Temu, Shein and Tiktok Shop are reaching deep into their pockets to penetrate Western markets
While Western eCommerce players are slashing their spend, the Chinese are ramping up their invest
(Illustration: Virginia Miersch)
Are eCommerce giants from the West like Amazon, Zalando, About You and the like, at risk of being overtaken in their home markets by Chinese competitors such as Pinduoduo (Temu), Shein and now Bytedance (Tiktok Shop)? While the former have been forced to slash costs, the latter are investing nine- to ten-figure sums to internationalize their business. Today, OMR highlights how Chinese heavyweights have already established a foothold in Western markets.
When year-end list season kicks off in a couple of months, the top 10 most popular apps will most likely include Temu. The Chinese shopping app has been downloaded 134 million times worldwide so far this year, according to estimates from app statistics service Appfigures. In fact, the only shopping app to have notched more downloads in 2023 is competitor Shein with 171 million. In terms of iOS alone, Temu (57.6 million downloads) is reported to have surpassed Shein (53.6 million downloads).
Temu parent Pinduoduo towers over Zalando
Temu is an online marketplace that primarily sells Chinese products: household items, clothing, accessories, electrical appliances. The assortment is broad, prices are very low. If, say, you are looking for some women's jeans, you will see pairs available for between EUR 15 and 20. Smaller electrical items can be had for less than 10 euro bucks.
Temu is a subsidiary of Chinese eCommerce group Pinduoduo. According to its own figures, it had around 850 million customers and 8.6 million merchants on its Chinese marketplace in 2021. In the past fiscal year, Pinduoduo generated the equivalent of USD 18.9b in sales and USD 4.4b in profit. The company is currently valued at USD 144b on the stock exchange. By comparison, the market capitalization of Zalando—the most valuable eCommerce entity in
Germany, is currently "only" valued at EUR 5.86b.
USD 2B for a team?
It seems now that Pinduoduo has set its sights squarely on expanding in the West. In September, Pinduoduo launched its sister marketplace, Temu, in the US, then followed that by launching that ensuing April in Europe with marketplaces starting in Germany, France, the UK, Italy, the Netherlands and Spain. 
It also kicked its marketing machine into high gear, ramping up spending by 45 percent in Q1 and by 55 percent in Q2 (both compared to the amount of marketing spend in the same quarter the previous year.). In total, Pinduoduo spent a total of USD 2.37m on marketing last quarter. The USD 690m in additional expenditures were most-likely allocated to promoting Temu. According to the Guardian, market analysts estimate Temu's advertising expenditures at around USD 500m in the quarter. It's within the realm of possibilities that Pinduoduo's ad spend will eclipse USD 2b this year. 
The pricing power of Temu
Beyond the advertising offensive, Temu is also hoping to win over new customers with unmatched low prices. Temu is a marketplace, but according to several sources, it is not merchants who set the prices on the platform, but the company itself. In addition, Temu is said to demand the lowest possible price from merchants on the platform (who are usually also manufacturers of the respective product themselves). 
Furthermore, Temu uses its pricing sovereignty to offset the acquisition of new customers through sales prices that are unprofitable. Above all, new customers are to be persuaded to install the app and register with gifts and products at rock-bottom prices. Those who register once receive several e-mails a day offering special offers and coupons.
Every order a net loss of 30 bucks?
Users making purchases on Temu are then sent their goods from China directly. While this increases delivery time, it also, according to estimates by logistics experts and consumer advocates (links in German), creates savings as shipments are typically under the duty-free limit of EUR 150. Nevertheless, according to an analysis conducted by Wired, Temu still makes an average loss of USD 30 per order.
Connie Chan, a China expert at Andreessen Horowitz, believes Temu is purposefully investing in explosive growth, entailing lots of customers and purchases, so that it can generate scads of data and thus better algorithmic product recommendations: "Such companies can't wait until they've built up a steadily growing user base, because their algorithm recommendations don't work with small groups of users."
Temu nipping at Shein's heels
So far, Temu has not publicly disclosed any revenue figures or targets, leaving us to go on estimates. According to Yipitdata, Temu's external revenue in May 2023 is expected to be USD 635m, one-sixth of Shein's. Bloomberg, on the other hand, estimates that Temu could already generate 20 percent more revenue in the U.S. in May.
Shein, once launched as an ultra-fast fashion store, is the first Chinese eCommerce company to really become a household name among Western users. In fact, the company does not ship to China, but mostly to the West. It has since expanded its product range enormously (to include electrical appliances, toys, office supplies, etc.) on the one hand and launched its own marketplace in May of this year on the other. After that, the company has been poaching retailers from Amazon.
Tiktok Shop taking aim at the top?
According to media reports, Shein has raised USD 4B in funding so far, most recently USD 2B in May 2023 at a valuation of USD 66B (one third less than in the previous round). According to an internal document obtained by the Financial Times, Shein is said to have turned over USD 22.7B in the past year. By 2025, sales are expected to grow to USD 80.6B, the group said ahead of a potential IPO.
In addition to Shein and Temu, another Chinese eCommerce player currently trying to gain a foothold in the Western world wis Bytedance, aka TikTok's parent, and Tiktok Shop. In China, Tiktok's sister platform Douyin is said to have already generated an eCommerce transaction volume of USD 202b last year–primarily on the backs of popular shopping streams there. After Bytedance temporarily pushed back the launch of Tiktok Shop in Europe and the USA, the marketplace has now launched in the UK and the USA.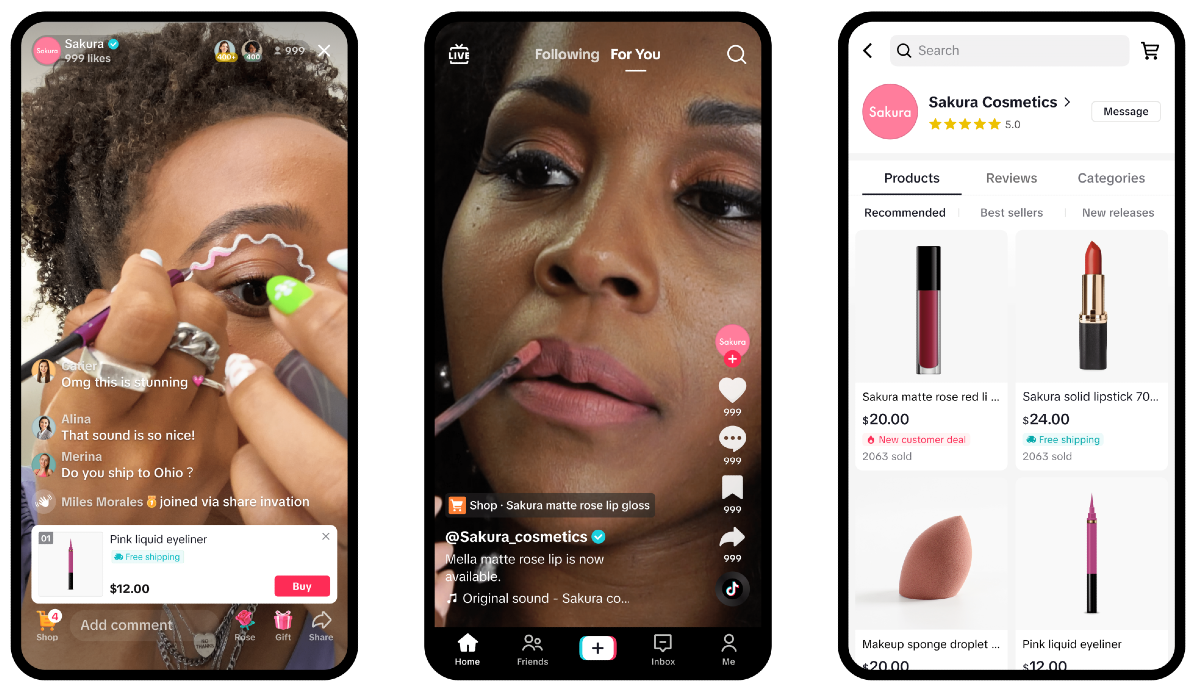 USD 500m to launch Tiktok Shop
According to The Information, Tiktok will invest approximately USD 500m in the first year to get the marketplace off the ground with new hires, an in-house logistics service and fulfillment centers, as well as subsidizing free shipping and double-digit percentage discounts.
In the US, the first products in the Tiktok Shop have already gone viral, selling tens of thousands of times. For merchants on the platform (some of whom apparently come from China), it is difficult to reliably calculate and then handle such "viral peaks," as a look behind the scenes by Business Insider has shown. In any case, Tiktok's own goals are ambitious: By 2028, Tiktok Shop is expected to generate USD 200b in foreign sales and USD 10b in domestic sales, according to The Information. However, TikTok is dealing with challenges once again, as Indonesia just banned Tiktok Shop because of the now illegal linking of social media with shopping.
Let's go to Tmall
Alibaba is yet another Chinese eCommerce player chomping at the bit to get its share of the Western revenue pie. As President Michael Evans explained in June, the group wants to bring its marketplace Tmall to Europe, which will focus on local brands selling to local customers. Alibaba already has a majority stake in the Turkish-owned marketplace Trendyol and launched Miravia, another marketplace, this August in Spain.
According to a report in the Chinese daily South China Morning Post (now part of the Alibaba Group), Guo Tingting, the Chinese Vice Minister of Commerce, is reported to have stated at a conference that Chinese "cross border commerce" is expected to have increased a whopping elevenfold in the first eight months of the current year compared to 2019. In contrast, according to the German eCommerce & Mail Order Association (in German), German eCommerce has seen sales decline in each of the past three quarters.
German entrepreneurs becoming lobbyists?
"I have two thoughts on what's happening. First, that they're doing is impressive. The speed at which they iterate and the quality and strength of their developers," About You co-founder and CEO Tarek Müller said in the German OMR Podcast back in August. Secondly, he did point out that new players from China have in fact taken advatange of loopholes, avoiding customs duties, possibly tax payments, as well as selling products that do not comply with local safety regulations. 
However, Müller was quite to point out that it was not unfair and shouldn't be held against these companies, because they've just found an advantage to exploit—fair game among capitalists. It's not his responsibility or that of actors at other eCommerce companies to take action, merely to raise awareness for such loopholes so that politicans close said loopholes in the interest of domestic companies.