Made in America? Nominal US footwear brand Autry is on pace for EUR 130m in revenue—thanks to the Italians
With a combination of retro sneakers and understated marketing with Italian flair, Autry may be the next major international lifestyle brand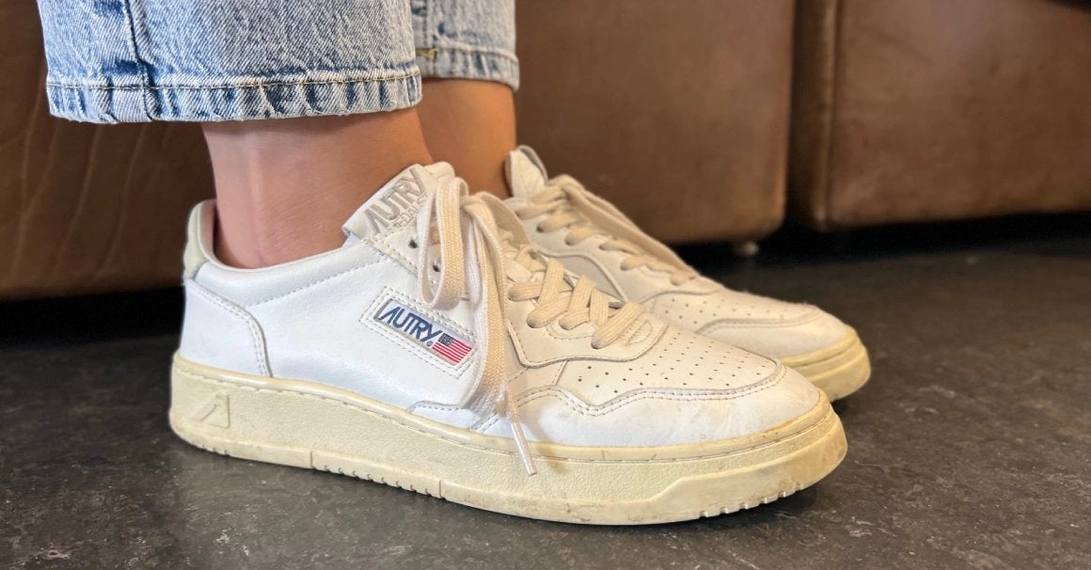 At first glance, they could just as easily say Reebok or Adidas. In fact, "Autry" sneakers have any instantly recognizable traits separating them from the competition. Its logo, a retro-looking US flag next to the word mark, is as inconspicuous as its design. Nevertheless, Autry shoes are having a moment—and the company has increased its sales many times over since 2019. Can Autry breakthrough and join the big brands in the long run? Or is just a trendy brand lacking staying power?
Right before the Corona pandemic, Christopher Blumenthal relocated to Cologne, to Belgisches Viertel, aka the Belgian Quarter. "Das Belgische," as they say in Cologne, is a trendy neighborhood, full of restaurants, bars and clubs, where people meet up for a latte macchiato during the day, stroll through boutiques away from the big shopping streets. Blumenthal is a sneaker blogger reporting on the latest styles and releases on his blog Dead Stock, which he launched in 2013. Autry first caught his eye in late 2019 while out an about in "Das Belgische." In smaller fashion stores, but especially on the fashion-conscious feet of fashion-conscious females between 20 and 40, for whom money was no object, he says. The types of people "who don't want oversized logos, but dress chic and are more defined by their sense of understatement." Things have since changed, Blumenthal says. "Autry has successfully entered the German market and people now realize this is a cool brand—even men."
Silhouette-based success
Autry has been aided by a clever distribution strategy, positioning itself in select luxury boutiques, such as Anita Hass in Hamburg, The Wants in Cologne and Uebervart in Frankfurt. According to Textilwirtschaft.de, it is also a particularly attractive margin that makes the brand appealing to customers. Meanwhile, the shoes are also available in large luxury department stores such as Berlin's KaDeWe or Galeries Lafayette in Paris.
And they are listed in larger sneaker stores, like BSTN and 43einhalb. On influential German sneaker marketplace Asphaltgold, there are a whopping 157 different Autry shoes online. "They are very classic court silhouettes, which are very durable," says Asphaltgold CEO Daniel Benz. He says that the brand's success can primarily be traced back to the "Medalist" model. Autry is currently one of Asphaltgold's top-selling brands after the heavyweight sport brands in Nike, Adidas, New Balance and Asics. According to Benz, 60 percent of the buyers are female, between 25 and 45, employed, family-oriented and "creative."
Brand benefits from US history
What's so special about Autry? Although the shoe with the "Stars and Stripes" logo has only been on the European market since 2019, it's been around for years. In fact, the brand actually originated in the USA, founded in 1982 in Dallas, Texas by Jim Autry. In the 80s and early 90s, the tennis, running and aerobic shoes enjoyed some success on that side of the pond. It's from this era that The Medalist stems. But success for the brand is fleeting and by the mid-90s, Autry is outro; its founder, about whom little is known, passes away in 2009, according to multiple media reports.
Today, however, the rebooted brand taps into this "heritage" to great effect—despite the fact that its current iteration is more vespa than truck. In 2019, three Italians snatched up the brand and have since revived the brand in Europe. Nevertheless, "if you as a company can show this heritage, you have a different standing with the clientele," Blumenthal points out. "They're making a comeback with the same products, and that can play well marketing-wise, because people value it and think, They've been around for so long for a reason, there's got to be something to it." The legend works, although the story may not be too familiar to most. "Us Europeans didn't experience hardly any of that history until the Italians brought it to Europe," Blumenthal says.
CEO projects sales in 2023 to top EUR 130m
So in 2019, three Italian entrepreneurs, Alberto Raengo, Marco Doro and Gino Zarelli, bring Autry back to the market and do so pretty successfully. In 2019, the company generates sales of EUR 3m, a figure that in 2021 climbs to EUR 30m. Italy's ironically titled "Made in Italy" fund, which focuses on investments in fashion, design and beauty, secures a majority stake in 2021. Former Gucci CEO Patrizio di Marco is also on board as an investor. In 2023, sales are projected to top EUR 130m and the company is forecasted to have an Ebit of just under EUR 40m, according to CEO Mauro Grange in an interview with MF Fashion.
The company currently produces more than 1.5 million pairs of shoes per year at five production sites in Indonesia. Despite the company's location in Italy and production in Indonesia, its focus on the U.S. retro image seems to be paying off. Retro models from the 80s or 90s have long been among the bestsellers for other leading brands as well, from Adidas' Superstar or Stan Smith, Converse's Chuck Taylors, Nike's Air Force 1 or New Balance 550. Each of these retros are designed to top tap into customer nostalgia and the underground cult status of the models. (We broke down how New Balance employed the marketing mechanic to great effect in this article).
Subdued marketing begets desirability
When it comes to online marketing, Autry tends to be subtle and understated. Their Instagram feed is populated with classic product photos, behind-the-scenes impressions from shoots, lots of aesthetics, i.e. more substance than noise. What stands out here and there subtle Italian flair. For example, in a reel in which a male model wearing Autry shoes and cap is seen in front of a beige house wall with an ice cream. When the cell phone rings, his ice cream falls to the ground. "Effortlessly cool. Gelato or not," reads the tagline. Another features the shoes are next to a pizza. Underneath it reads, "Autry CLC: Also great on a pizza date." As Italians are wont to do, a hint of national pride tends to always seep out. That notwithstanding, however, they seem to be very keen to maintain their US image: Many posts are commented on in Italian, but the social media team always responds in English.
Autry does only very scaled-back marketing, which keeps desirability high, says Benz. "There's no better marketing than the right consumers, with your shoe, in the right place." And of course, the big sneaker stores also have large communities of their own on social media, from which the brands represented there benefit. Asphaltgold, for example, has 753,000 followers on Instagram.
Pony up for a pair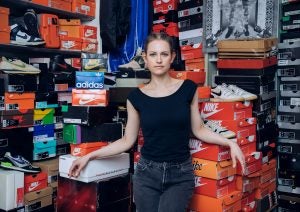 Julia Schoierer has been collecting sneakers for almost 30 years. Image: Schoierer.
In terms of price, the shoes are in the higher segment and a pair will run you between EUR 165 and 260 online. "The price gives the brand a certain exclusivity and suggests a higher quality," says Julia Schoierer from Berlin, who is also known as "Sneakerqueen" in the scene. She collects vintage sneakers, owns hundreds of pairs and organizes exhibitions on the history of sneaker brands and models and their socio-cultural backgrounds.
One reason Schoierer believes brands like Autry, Veja and On are able to gain a foothold in the mainstream market is that "the big brands have been so perky in the last 20 years, launching shoes with a very wide range of qualitative differences. There were, for example, general releases with much lower quality than the same model that was put out as a limited edition, hype release—and sometimes the other way around."
Close to established models
Companies like Autry and Veja are setting themselves apart from that, according to Schoierer, and want to hone their own image to reflect quality. "People rarely want a special product when they go to the store. They're looking for something that looks good, gives them comfort and that they can wear for more than one season because the quality is also right."
The recipe for success is largely based on using silhouettes "that are already strongly established in the sneaker scene and also appeal to the average consumer," says Julia Schoierer, citing as examples the Adidas Superstar, which was particularly popular in the '90s. "There were endless counterparts since the 2000s, e.g. for a while the Stan Smith was THE shoe if you wanted a normal basic." For Autry, he said, it's similar, "there, yes, the Medalist is the most popular silhouette and it's very, very close to, for example, the Adidas Continental or Supercourt." For the sneaker expert, this lacks originality: "As a collector, I find Autry uninteresting because the brand has zero cult status in my eyes," she says.
Returning home
Unique selling proposition, cult status or not, Autry has established a foothold on the market, for now at least, with its classic models in many different colors and designs despite an unassuming marketing strategy. The Italians have big plans for the future as they look to prop up Autry as a lifestyle brand; they've already released caps and hoodies.
According to "Made in Italy," the largest markets are currently still Italy, Germany and France. In Paris, CEO Mauro Grange is planning to open a large flagship store. But the shoes are also picking up speed internationally. Since 2022, there has been a comeback in the USA. There, the sneakers are now represented in large department store chains such as Nordstroms, Saks Fifths Avenue and Neiman Marcus.
It may be a challenge to maintain the exclusivity aspect as popularity grows. But Grange is thinking big: He wants to go to China and Japan; in South Korea, a pop-up store opened in Seoul in 2023, and the CEO could also foresee a store in Tokyo. "If we don't reach at least 300 million in sales within three years, I think we've done something wrong," says Grange.