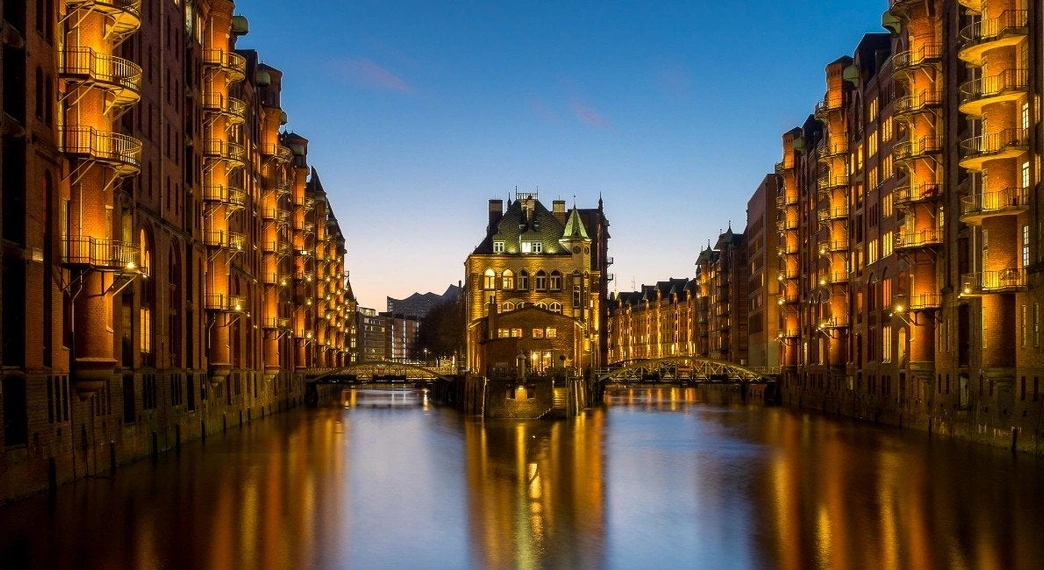 OMR19 doesn't just attract locals, but thousands of people unfamiliar with the Pearl on the Elbe. Every year, we put our collective noggins together to give you non-locals a heads up on where to find those "off-the-beaten-path" places that only true Hamburg originals know. Some are essential need-to-know spots for achieving peak OMR19, while other locations are personal favs that we felt compelled to share with you gals and guys. And no, we did not include the Elphi. Without further ado, your Hamburg city guide for OMR19.
Hamburg Exhibition Center—the heart of the action
Where: Messeplatz 1, 20357 Hamburg

Since OMR16, we've called the Hamburg Exhibition Center home. This year is the first we've ventured over into the B Halls across the street. That means more spacious halls, more space, a larger outdoor area and max festival vibes. Just for our Masterclasses alone, we reserved three halls. Then there's the Conference Hall, 2 halls full of exhibitors and in another OMR19 first: the Expo Big Picture Stage gets a hall all to its own.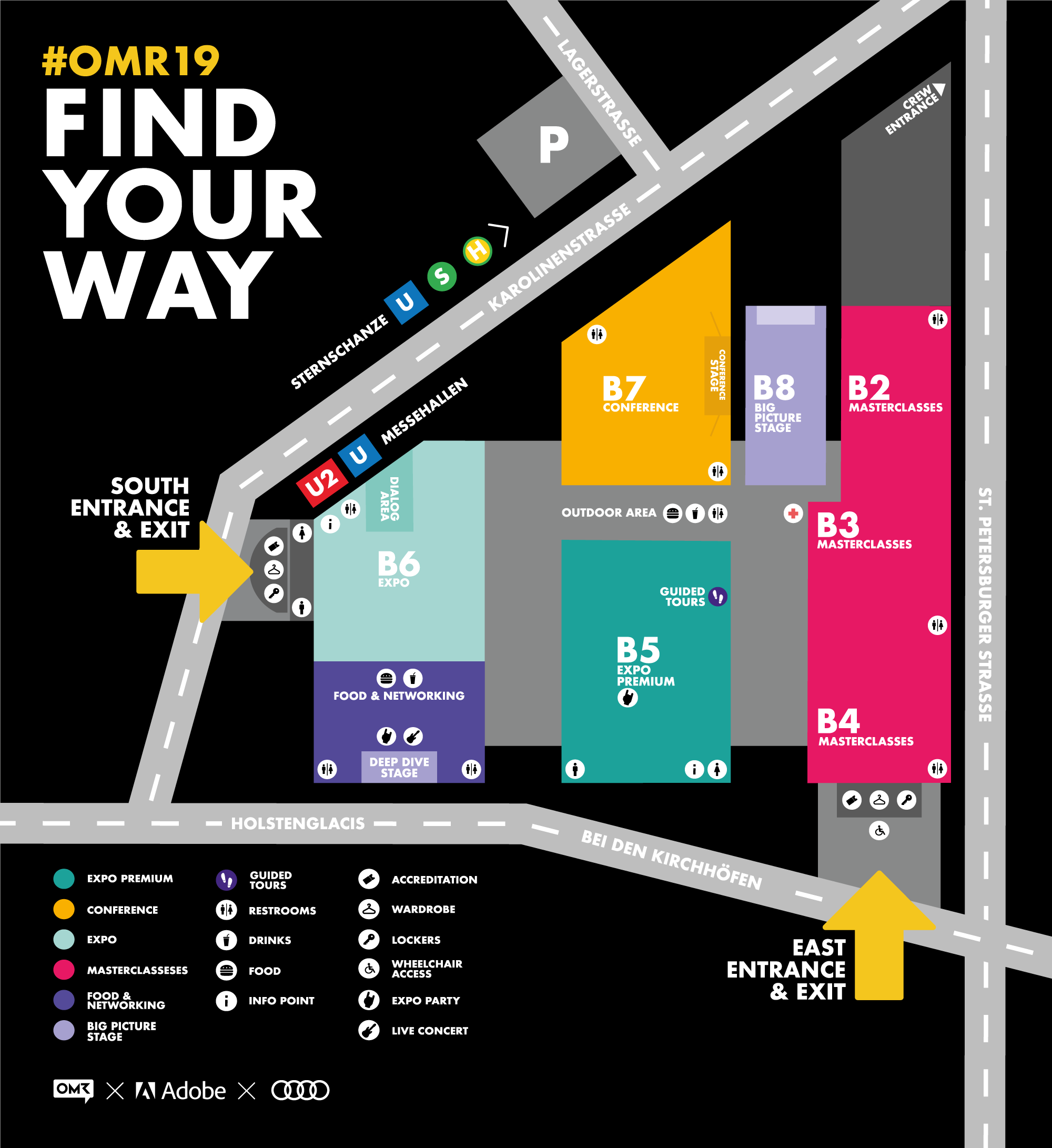 Side Hotel – Where the speakers sleep
Where: Drehbahn 49, 20354 Hamburg

The majority of our speakers will be sleeping at the Side Hotel. Pretty comfy digs, modern, young and just around the corner from the Festival. When you get to Hamburg, remember the name Side Hotel. The night before the official beginning to the Festival, we're throwing a mini event—something the Side accommodates with aplomb.
From A to B with MOIA
Where: All throughout the City

Since early April ridesharing service MOIA launched in Hamburg. These electric MOIA vans have been rolling all around town ever since taking you from point A to B. You can hail a MOIA via the app and then make your way to a virtual stop which is a no more than 250 meters (750 feet) from your current location, where the driver will give you and a maximum of five other passengers a lift. Passengers can get on or off on the way to your destination. There's even a solid offer right now: through the end of the OMR Festival, rides do not cost more than five euros. Download the app here and take it for a spin.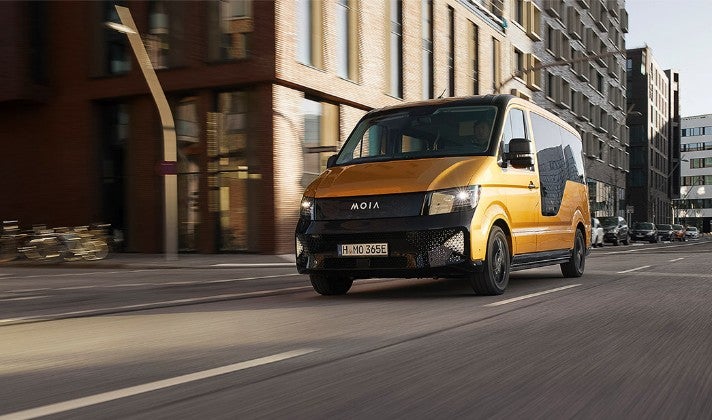 Nikki Tiger – Aftershow after our live acts
Where: Talstraße 9, 20359 Hamburg

Nikki Tiger is a relatively young player in the Hamburg night-life game. Located between St. Pauli and Schanze, Nikki Tiger is all about Japan. Tons of red, style and conjee characters on display that you can't decipher. And it's here, where the Aftershow party kicks off after our Live Concerts are over on Day 1 of OMR19 (May 7). Sign up here for free through May 2
OMR City Night – Your Party, wherever you want it
Where: Various locations in Hamburg

Just like we did last year, we're sending you off on your own to explore Hamburg after our concerts have finished for the night—together with our partner Thomas Henry. Of course this includes the aforementioned Aftershow in Nikki Tiger—but there are also a host of other bars and clubs on the docket offering you ample space to shake your booty and party to your heart's content. Check out the official list of party places here. 
The Table – Three Star Restaurant in Hamburg
Where: Shanghaiallee 15, 20457 Hamburg

At The Table by Kevin Fehling, there is not only fantastic cuisine—but a unique fine-dining concept as well. At a single table, the guests for the evening sit together an enjoy an 8-course menu prepared by the Michelin Star chef. Fehling recently gained back a third star from Michelin. During OMR19, the restaurant plays hosts the 100Dinner with 100 a-listers from the online-marketing milieu. But we can also recommend The Table for other special occasions and private dates.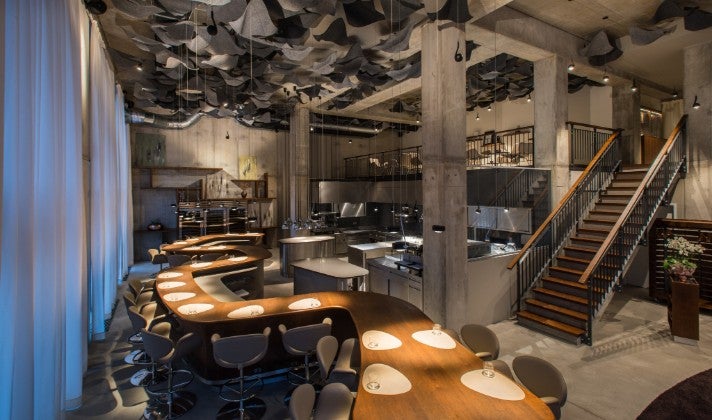 BSTN – Get your kicks
Where: Schanzenstraße 52, 20357 Hamburg

The sneaker business is something we write about regularly on OMR Daily. We are huge sneaker fans—at least some of us are here in the office. Pretty convenient then that Hamburg's freshest sneaker shop, BSTN, is just right around the corner. You can find the hottest shoes and some rare kicks to boot. Expect the occasional queue if something hot drops. At OMR18, the founders spoke on stage and discussed their business with us.
Bullerei – Food for body and mind
Where: Lagerstraße 34b, 20357 Hamburg

Another neighbor is the Bullerei, the restaurant by German TV cook Tim Mälzer—or is he now a German podcast cook? Since late April he's been the host of "Fiete Gastro," his podcast, co-produced by OMR. The food for body is also on point—as you can experience during OMR19 with several Side Events held by our partners taking place here. 
Shudu – Sichuan Cuisine, OMR Certified
Where: Steintorwall 4, 20095 Hamburg

There was a time when the OMR team was MUCH smaller than it is today. To celebrat e a successful Festival, there was no place we liked going to more than this gem across from Hamburg Central Station (Hauptbahnhof). Shudu is really a diamond in the rough and you'd be forgiven if you kept walking when you saw it—same story on the inside. But here it's all about the food (ask for the Chinese menu). OMR founder Philipp Westermeyer even celebrated his 40th birthday here back in February.
Suicycle – The sickest bike shop in Hamburg
Where: Wohlwillstrasse 12, 20359 Hamburg

Hamburg as a city that is very accommodating to cyclists—assuming the rain holds off. And some of the cities coolest bikes are on display at Suicycle in St. Pauli. There's a lot of love in these wheels and the build them too in their own shop on site. You may even seen OMR founder Philipp jetting around town in his very own Suicycle.