There could be up to 70,000 people in attendance at the OMR Festival 2022: What you therefore need to know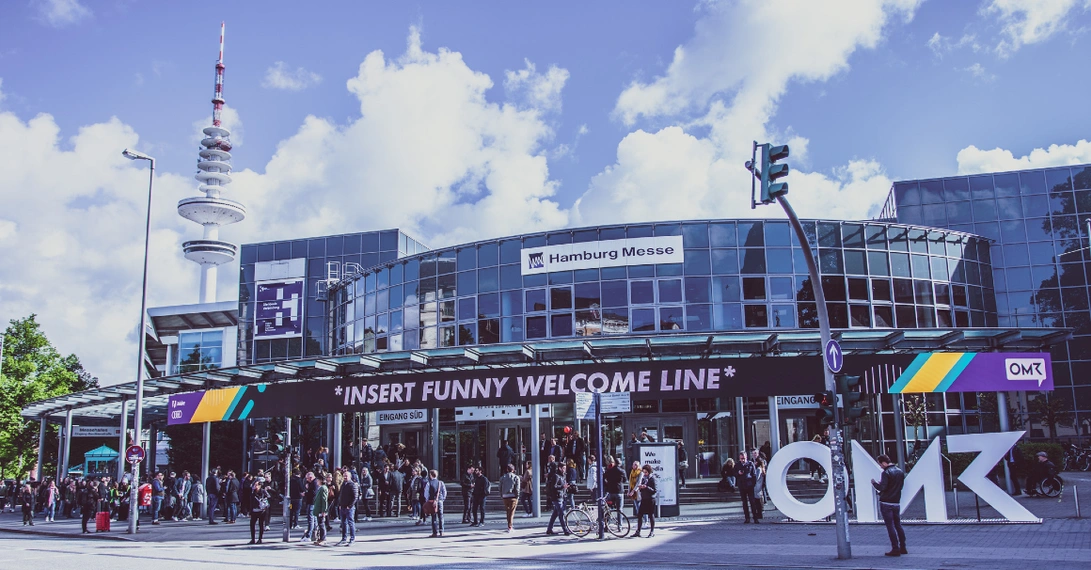 Here's some important information regarding admission to the Halls at the OMR Festival 2022 (Image: Bernd Rottmann)
Today, we're dropping a line that is from the "haven't heard that one in a while" category: The OMR Festival on May 17 & 18 is going to be massive and we're expecting up to 70,000 people. Of course, we are thrilled about it. But it's all the more important that with so many people on-site that you are aware of some of the procedures in place and that we are offering a free cancellation option to anyone out there that would prefer to avoid such a situation.
To avoid any frustration and disappointment on your end we want to be perfect clear: Admission to speaker and concert halls is based on capacity. That also applies to Festival Pass holders, who have access to every hall with their ticket. To repeat: despite having the right ticket, you may run into a situation where you cannot enter a hall despite having the right ticket if the area you wish to access is too full at that moment. That means you could miss a certain speaker, content, acts or meetings. We are not able to provide an exact prognosis regarding the distribution of people at the Festival. This year, we have significantly more stages, halls, new massive exhibitors, many well-known acts and speakers, but no way of knowing precisely where everyone will be or what the weather will be like. To this end, we would be remiss if we did not forewarn you about what could happen.
Here are our solutions
Our Event team is working non-stop to ensure that such delays are kept to a minimum and that when they do happen to make them as pleasant as possible by keeping you up to date. Our offer: if you wish to cancel or change your Festival pass, you can do so, free or charge through May 13 at 6 PM. Simply send a brief mail to ticket@omr.com. For example, you can change to the more inexpensive Expo Pass (approx. 50 Euro). With it you can still take in all the Expo Stages, the 5050 Stage, the Dialog-Stage, the Expo halls, Masterclasses and Guided Tours. We are very excited about the content offering included in the Expo ticket. But, the Expo Ticket will not grant you access to the Conference on May 18. Mai. 
Note: Expo Passes are still available for purchase. We can't wait to see you in Hamburg!
You can also keep your time queueing up to a minimum when entering the Festival by getting pre-accredited and picking up your Festival band and badge before the event starts. By doing so, you can just walk right into the Festival on May 17 & 18. To complete the accreditation process, you need your ticket QR code from the ticket mail or your myOMR account. You can find an accreditation station at the following locations:
East Hotel – May 11- 16, 11 AM – 7 PM

Simon-von-Utrecht-Straße 31

20359 Hamburg
IQOS Store – May 11- 16, 11 AM – 7 PM

Mönckebergstraße 17

20095 Hamburg
Ratsherrn Store – May 11- 16, 12 PM – 8 PM,

Lagerstraße 30a

20357 Hamburg
HVNS – May 11- 16, 11 AM – 7 PM

Oeverseestraße 7

22769 Hamburg
Bonus: When you complete the accreditation process at HVNS, you also have the chance to partake in the after-work event on May 12 and 13 at 7 PM.
Messe Central Entrance – May 11- 16, 11 AM – 8 PM

Messeplatz 1

20357 Hamburg
If you wish to complete the accreditation process for several people at once, you must do so here. Here's what you need to have with you:

1. Ticket QR codes from all of your colleagues

2. Consent from each colleague
Hamburg Airport – May 16 (7 AM – 10 PM), May 17 (6 AM – 10 PM), May 18 (6 AM – 1 PM)

Flughafenstr. 1-3

22335 Hamburg
This station is located in the security area near the baggage claim between Terminals 1 & 2. This means you can only use this station if you arrive by plane.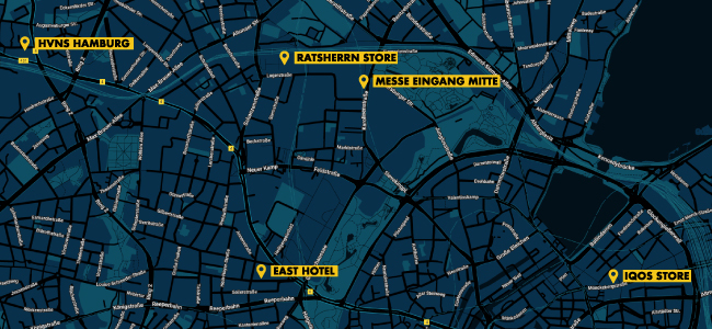 There's action on everywhere
In every hall, on 10 stages, a massive outdoor area: We are employing numerous measures to keep bottlenecks from taking place in any one area. This also applies to unwinding in the evening as we have some fantastic alternatives to the live concerts. At 6 PM for example the Food Stage opens up in Hall B6. Here there will be a live show with celebrity German chef Tim Mälzer and his podcast partner 8from Fiete Gastro) Sebastian E. Merget, Kitchen Guerilla chef Koral Elci will cook for journalist Linda Zervakis and Youtube star Leeroy Matata will also have a seat at the table. And that is just one exmaple of the tasty Food Stage lineup. Whatever is on, from live cooking to wine tasting, you're right there and can expect to get a taste of the deliciousness on stage.
Also kicking off at 6 PM on both nights in A1 will be booth parties thrown by out partners. This is the place to unwind over drinks, good food and good music—while having a chance to talk, network and mingle. IQOS will present a special concert by electro duo Moonbootica on May 17, and on the 18th the party continues with DJs Luca & Azy (Space is limited for both parties, so be sure to sign up for a spot at the IQOS booth). At the Lookfamed booth, CTO DJ Hardy is deejaying and offering good drinks, at the Audi booth there will be drinks and a look at the future of the automobile, Smarketer offering up a double dose of Germanness with beer and pretzles, at the Taboola booth you can look forward to great music and prize giveaways. That, too, is just a sample of the booth parties taking place each night.
Here are the parties for May 17:
Sony, booth: A0 B4

Amazon, A1 C10

Framen, A1 F02

Jellysmack, A1 A07

RTB House, A1 A06

NewWork, A1 F09

Salesforce, A1 D06

Sedo, A1 B09

Smarketer, A1 F06

Taboola, A1 B08

The Trade Desk, A1 F10

BSI, A1 C02

Facelift, A1 D13

Moia, A1 C03

HMS, A1 H11

Mawave, A1 H05

Fischer Appelt, A1 F01

Awin, A1 F11

IQOS, A1 D08

Outbrain, A1 D12

Ströer, A1 G10

GumGum, A1 B01.2

Audi, A1 B04

Lookfamed, A1 A04
Here's where the party is on May 18:
Appinio, A1 A12

BloomReach, A1 B11

Elopage, A1 F04

Work Genius, A1 H03

AboutYou, A1 H07

Textildruck

Valantic, A1 B11

HMS, A1 H11

Brandtale, A1 G01

Mawave, A1 H05

Fischer Appelt, A1 F01

Awin, A1 F11

IQOS, A1 D08

Xandr, A1 E01

GumGum, A1 B01.2
To help you find your way around, here is the map for Hall A1, where the booth parties will take place: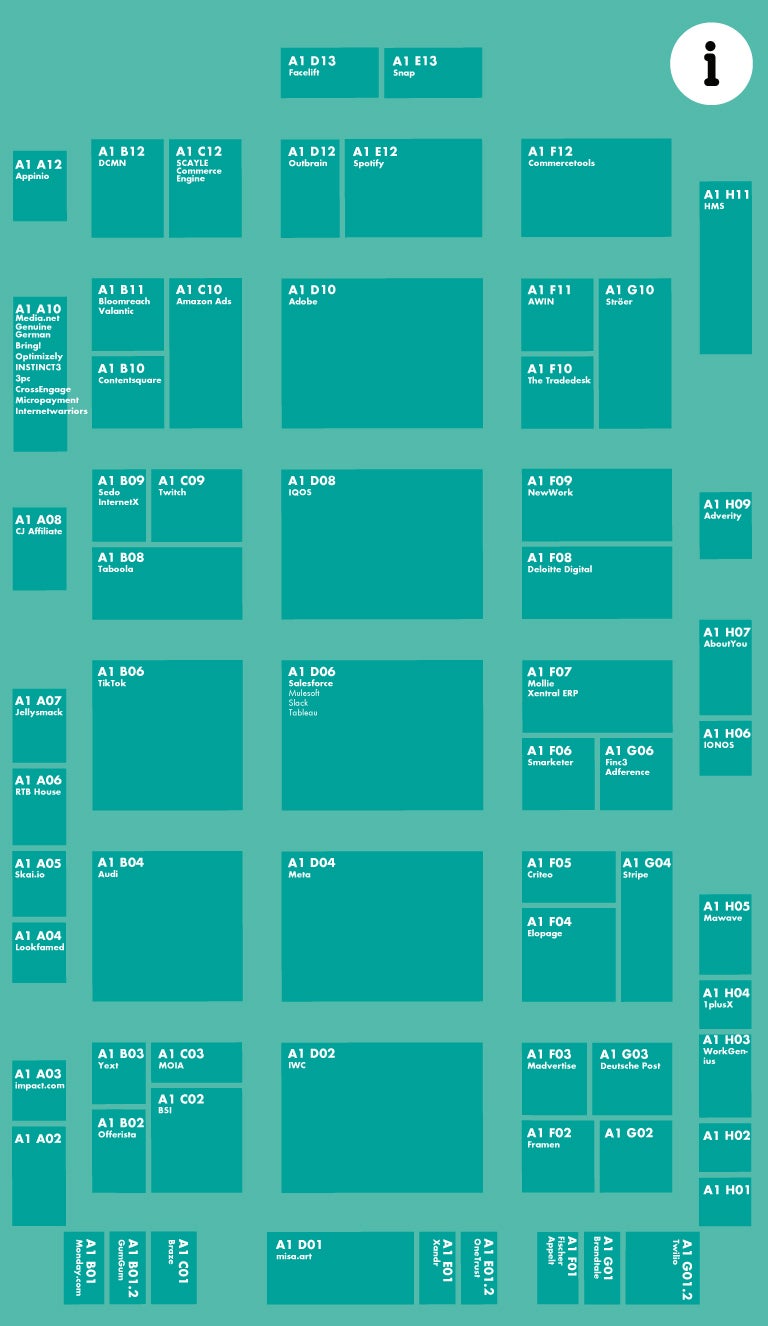 One last piece of information: Since May 1, there have been no mask mandates in the city of Hamburg meaning nowhere is forced to wear a mask. Our Festival, just like other large events, will take place without any size or admission restrictions. No one is required to show proof of vaccination or recovery status, nor show a valid test. The first large event to take place without restrictions in Hamburg was the gastronomy fair "Internorga;" we are the second. There have been no problems or complications as yet to report as a result of the fair. Of coure, anyone who wishes to wear a mask is welcome to wear one.