Eat with your mouth open! This German ASMR Youtuber smacks his lips on traditional German dishes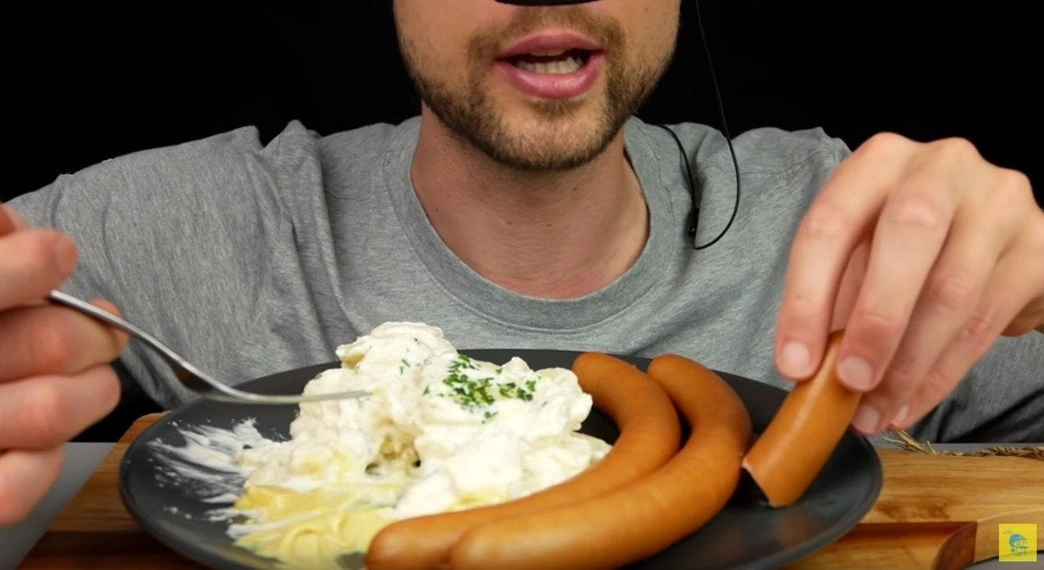 Gobs of goopy German potato salad and a trifecta crunchy sausages just out of the jar are the stars of the show.
Recordings of ambient sounds have been commonplace on Youtube and podcasts for years. Intimate whispers, soothing crackling sounds and the white noise of sanding objects attracts fans and views in the millions. The genre is called AMSR (autonomous sensory meridian response) and the acronym describes the comforting and tingling sensations that the aforementioned sounds elicit. Where the genre takes a turn to the gross (for some) is when the ambient sound is derived from chomping food loudly into a mic. One example armed to the teeth with munch videos is Berlin Youtube channel "German Freak ASMR." It features the less-than-appetizing sounds of eating heavy, dense German food with mouth agape straight into an ultra-sensitive mic. OMR spoke to the man behind the channel to learn his recipe for success.

"German Freak ASMR" launched on YouTube in April 2017 and has since generated close to three million impressions and 13,700 subscribers, with the top videos notching roughly 80,000 views. Nowadays, those are hardly figures that would make you raise an eyebrow. What is attention-grabbing, however, are the names of the channel, "German Freak ASMR – Eating sounds made in Germany," and the most-popular video "ASMR Eating Vienna sausage & German potato salad (No talking)!"—not exactly the bread and butter for successful mainstream influencers in the beauty, fitness or lifestyle sectors.
And the names serve up just what they promise. There are 300 videos in total, where there's little to no dialogue, just the fingernails-on-the-chalkboard sensation of audible eating sounds. The camera remains focused on the food the entire time with close-ups of Vienna sausages and potato salad, Strammer Max (sandwiches topped with eggs) and goulash. Further accentuating the focus on the food: the only part of smacker Dennis Hodel's face that is visible is below the nose. Just a mouth and chin. It's also due to the fact that Hodel is not yet ready to show his whole face just yet.
The path to ASMR food smacker
"I was going through a stressful period a few years ago and took to Youtube looking for meditation videos," Hodel told OMR. The list of clips suggested by Youtube included a host of ASMR videos, which was the first time Hodel came in contact with the genre. "I thought the genre was intriguing, so I clicked around a bit. Then I stumbled upon a video where it was just eating and smacking."
While many people shut off food ASMR vids just a few seconds in or just watch for the shock value, videos of people eating food loudly genuinely please Hodel. "For whatever reason those videos help me tune out everything else," says the 33-year-old. He quickly decided to try it out himself and embrace his German'ness and specialize in the gestation of German dishes–which at the time was uncharted territory for the ASMR genre. In May 2017, he uploads his first video to his channel.
Community and reach building with smacking noises
He was already in possession of video equipment as he had already made a couple of Youtube video projects. "I launched one during my university studies on financial topics and another was more of a comedy project," he says. Neither of his projects gained any traction or generated any feedback, which led him to discontinue them before they ever got off the ground. "I would have done the same with my ASMR channel, if I hadn't received any positive feedback straight away. But I was fortunate enough to receive some right away."
Initially, Hodel found inspiration on large ASMR channels from the US, but he always put his own spin on things and sought to develop his own style and incorporate feedback from the community. That led to an array of sausage snacking videos, which not only have an above-average number of views, but have also generated the most subscribes, followed closely by his fast food videos.
Co-ops with other ASMR Youtubers
Hodel's first relevant growth lever was when Becky, operator of US ASMR channel "Hungry Cakes" liked one of his videos. Hungry Cakes has 643,000 subscribers and approximately 185 million impressions since launching in October 2011. Although Hungry Cakes is the significantly larger channel, they still published a co-op video in early September where they both scarf down some burgers from McDonalds.
While the Food-ASMR scene in Hodel's home market of Germany is still very small, there are a host of successful channels beyond the Fatherland. "Hungry Cakes" is one and Hodel himself lists a host of other channels right on his website. Since the genre is very niche in Germany, Hodel experiments with other platforms to keep growing and boost the visibility of his channel. He's published five episodes of his podcast "Ohrgasmus" (Ear-gasm) on Spotify. On Pinterest he is testing out the same strategy as he is on Instagram: using visual statements and thumbnails to drive traffic to his Youtube channel. "I just started branching out. I want to test out every channel to find where my target audience is," he says.
Smacking home the bacon ASMR
Although his reach is relatively small, Dennis Hodel, whose "day job" is as a freelancer in online marketing, is testing out means of monetizing the reach he has. Four of his fans support him through membership platform Patreon. "I believe that it has the potential to be very big," he says. "Food ASMR is steadily gaining more traction than most people would think. And the people the genre resonates with are normal people like you and me, who use the videos to relax or to work up an appetite."
He says he has had two co-ops with brands: One with Tokyo Treats, a Japanese company that specializes in snack and sweets boxes, and chilli sauce brand "Food Narco Hot Sauce". Both brands contacted him, but he does proactively contact companies with co-op pitches. To this point, he has generated a modest 4-figure revenue, stemming from about a 10-hour weekly commitment, which covers preparation, actual filming, editing and community management.
If Hodel's channel continues to grow at this pace, it's pretty likely that he will land more deals. The ASMR genre has been around for just about a decade; numerous brands have discovered the potential and implemented ASMR videos for promotional purposes. That list includes KFC, Ikea, Dove and Anheuser-Busch, who created an ASMR ad for Michelob Ultra that ran during the Super Bowl. The birthplace of food AMSR figures to be South Korea, where it is known as "Mukbang," which feature live broadcasts of people eating copious amounts of food and have reached millions of hungry ears for years.