Vtubers have millions of subs and huge revenues—but the reality is, they don't exist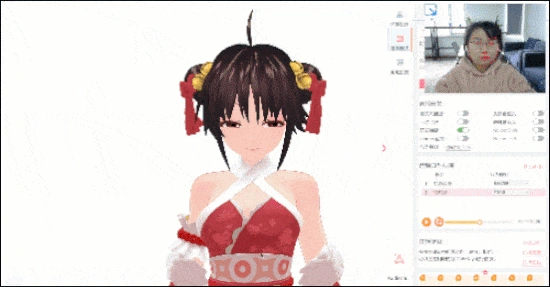 Tuning in to watch your favorite cartoon character as it sings, plays and interacts live with its gang of animated friends sounds cute and fun. But what if you're able to join in on the fun and games and actually speak directly with them? Well that's the essence of a (relatively) new phenomenon called vtubing: comic-book avatars, typically drawn in Japanese anime style, livestreamed and voiced in real time by real people. Around the genre is a rapidly growing business led by large agencies, such as Hololive, Nijisanji and Vshojo. Some of the players have earned seven figures by soliciting donations from fans. Today, OMR goes deep on Vtubers, discussing the status quo, highlighting the biggest agencies and characters, as well as the challenges and opportunities the upstart sector is facing.
November 22 is a special day for vtuber Takanashi Kiara. Launched on September 12, her Youtube channel is on the cusp of cracking the 500K subscriber mark. She starts streaming and sings karaoke alongside a live ticker tracking her subscribers. 13 minutes in, and 9 weeks after launch, she's done it: 500,000 subscribers. Not one to rest on her laurels, Takanashi keeps on singing for another 3 hours. A pretty worthwhile endeavor; many of her fans show their appreciation and support with cash gifts via Youtube's "Superchat" feature. Fans can donate to their favorite streamer to boost visibility of their messages and thus the likelihood that their idols will give them a coveted shoutout. By the end of the day Takanashi Kiara earns about USD 10k via Superchat, according to Youtube analytics tool Playboard.
"Voice Actresses" lend their voices to Vtubers
Takanashi Kiara is a cartoon character, a product of someone else's fantasy, albeit the young animated girl with her own story and voice—just whose, however, is unclear. Vtubers are voiced by voice actresses, whose real identities usually remain unknown and are subject to a lot of speculations among their fans. The company behind Takanashi Kiara is Vtuber agency Hololive, which is operated by Cover Corporation.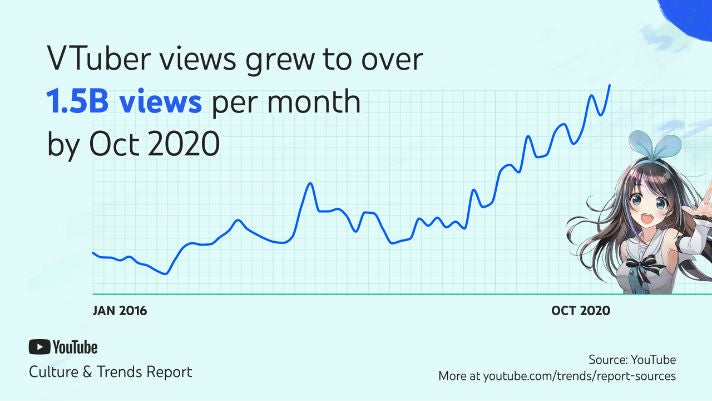 Hololive is one of the catalysts behind the escalating popularity of vtubers. According to YouTube, monthly impressions on the video platform eclipsed 1 billion for the first time in October 2020. In its "Trend & Culture Report," the Youtube team released a video on the topic, providing a solid introduction into the world of vtubing.
Kizuna AI is her name and she's the first virtual star
British vlogger Ami Yamato is credited as being the first to upload videos to Youtube Videos as a stylized avatar back in 2011. Yamato's avatar is heavily reminiscent of something from a Pixar flick or a Sims game. Vtubing truly began in earnest in 2016 with Japanese character Kizuna AI (here her history according to Wikipedia), a young girl in anime style, who said herself that she was the product of AI. There are many similarities between her and other Youtubers, from the content of her videos to her engagement with her fans on other platforms—with the notable exception that Kizuna does not exist in this embodiment.
Originally responsible for Kizuna was Japanese startup Activ8, which apparently had an entire production team working on content creation. Activ8 eventually relocated everything pertaining to Kizuna to its in-house agency Upd8. At first, Upd8 has the same voice actress voice Kizuna. Beginning in 2019, however, Kizuna is voiced by other actresses—on the one hand an apparent attempt to ensure that Kizuna is not dependent on a single voice actress and on the other, to expand Kizuna's linguistic horizons and thus be better able to penetrate foreign markets, for example China.
One avatar & 500 million views
The measure did have consequences with Upd8 and Nozomi Kasuga, the Japanese actress who originally voiced Kizuna, parting in less than cordial terms. The parties have since reconciled with Kasuga back in the fold as an adviser to the company.
With over 500 million views and 4.4 million subs across two YouTube channels, and an additional 1 million subscribers on Chinese streaming platform Bilibili, Kizuna AI continues to reign supreme as the most-successful individual vtuber. Last April, Activ8 raised the equivalent of USD 9.3m  in series-C funding, the primary purpose of which is global expansion.
Hololive says yolo as operated of 16 of the 20 most-subscribed vtuber channels
Activ8, like the other vtuber agencies that came about in the wake of Kizuna AI, has as yet left the international market by and large untouched. Streams are typically live at hours that simply do not attract large audiences in the West. That appears set to change as not only Activ8, but additional Japanese vtuber agencies, have set their sights on foreign markets. That list includes Ichikara, operator of Nijisanji, a network founded in Japan in 2018 and which has since expanded to additional Asian markets, including China, Indonesia, Korea and India.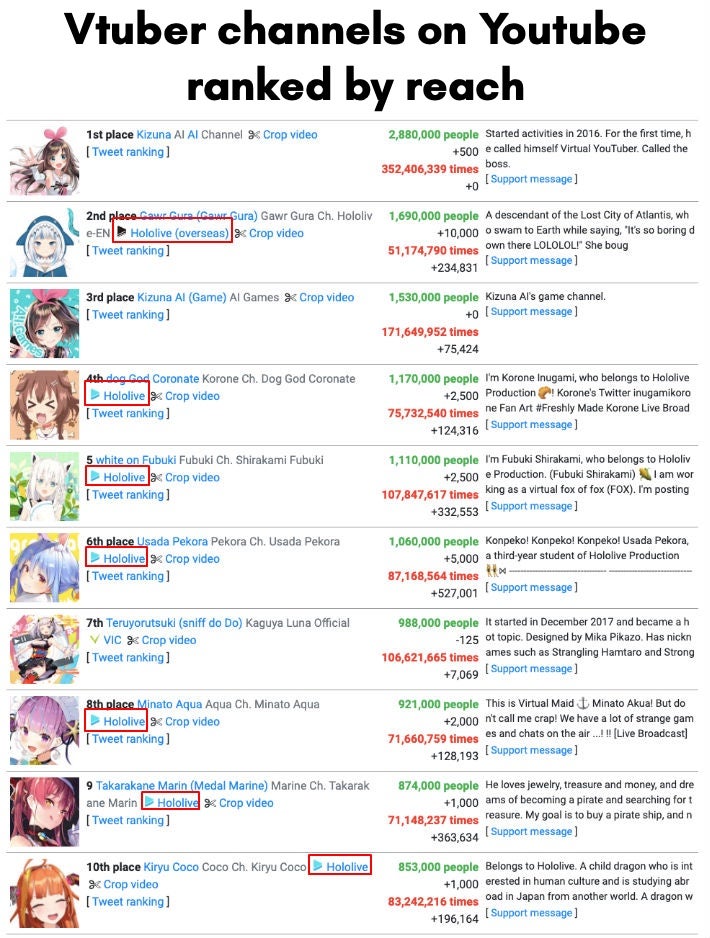 Far and away the strongest player on the market, however, is Cover Corporation, operator of vtuber network Hololive. According to this interview, founder Motoaki Tanigo was previously involved with Sanrio (the Japanese company behind, among other IPs, Hello Kitty), where he had developed virtual characters; in late 2016 he founded Cover Corporation. Today, 16 of the top 20 vtuber channels in terms of reach on Youtube are operated by Cover Corporation's Hololive.
Chat tips total over USD 1m
To get a better feel for just how dominant Cover Corporation is in the vtuber game, look no further than revenues generated from the "Superchat": Playboard estimates that 8 of the 10 top-grossing channels for Superchat tips are in the hands of Hololive. Kiryu Coco, the most successful vtuber in this department is said to have already passed the 1-million-dollar mark. Several reports have put YouTube's cut of Superchat revenues at 30%.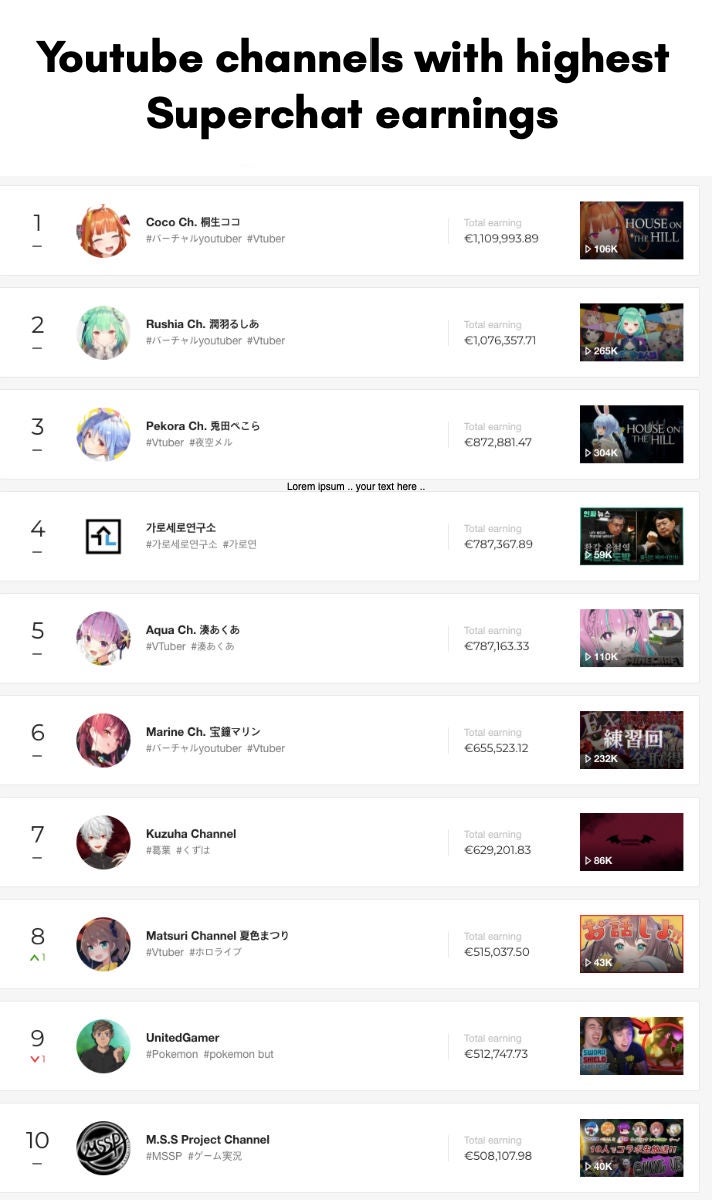 Cover Corporation, too, recently raised capital for its internationalisation plans, roughly USD 6.6m. In September, Hololive unveiled its first five English-language vtubers (here's the official press release). Hololive English is especially skilled at drumming up reach on Reddit thanks to its fans and their dedication and engagement pushing their English-language posts to the front page. Their prolificacy leading to one user started a subreddit aptly entitled "What is the deal with Hololive and why do I keep seeing it on the front page?.
Being suggestive boosts reach, but slows promotions
Judging by the live streaming times, Hololive English is focussing on the US market. Stateside, you'll also find Vshojo, at the helm of which is Justin Ignacio, a former staff member at Twitch in its very early days. When it launched, Vshojo signed vtuber Projekt Melody, as she stated herself on Twitter. She started out as a virtual camgirl on Chaturbate and also gained notoriety via an article on Vice.
Projekt Melody's history is indicative of an underlying problem for businesses in the vtuber game: the environment is not exactly "brandsafe." There is a compilation of Hololive clips that points out that many viewers get a thrill out of the anonymity of the "voice actresses" as it gives them the "freedom" to blech freely and discuss bodily secretions at length. That's in addition to the sexual innuendos which are oftentimes as subtle as a brick—going from anime to hentai seems more a tiny step than a leap.
Entry barriers are mere obstacles
Nevertheless, there are a host of vtubers who have landed deals with big-name partners. Kizuna AI, for example, teamed up with Softbank and food company Nissin (famous for its instant ramen) to unveil a new iPhone model. In addition to partnerships, vtubers, and the platforms and channels that support them, primarily make money through memberships to the channels they stream on. Similar to standard practice on Twitch, fans can take out memberships to support the streamers. Memberships typically provide access to exclusive, premium content. Then there are the aforementioned revenues generated from Superchat donations.
Getting an avatar to come to life used to require employing "motion tracking," a much more cost-prohibitive technology. Over the years, the costs of animating an avatar have sunk considerably and with it so to have the initial hurdles for becoming a vtuber. Simple streams featuring only a head can be made using a smartphone—many of which are, however, only available in the Japanese app store. In Europe, there is the app Vtube Studio, behind seems to be an SAP engineer.
vtubers are just one example of many in a much larger trend, where the lines between the digital and physical worlds continue to blur. Rappers, like Travis Scott and Lil Nas X are giving concerts in Fortnite and Roblox, some artists are exploring ways of making money through digital works of art and avatars, all of which in the end could, at least in the eyes of some observers of the US tech and VC scenes, give rise to something that some people are calling the metaverse: "A world that exists in permanent parallel and entirely independent to the real physical world and complete with its own currency and economy, where people can communicate and interact with one another simultaneously and in realtime."
Thanks to Christoph Janke from Pendect for the scoop!