The Rockstars 50: The biggest names on Germany's digital marketing scene.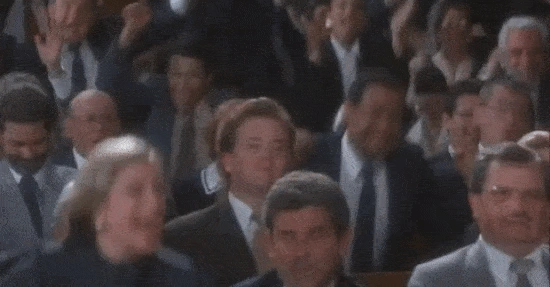 More than just the Autobahn and Bier—Germany also knows a thing or 50 about online marketing
Who generated massive buzz over the past 12 months in Germany? Who impressed without much or any fanfare? Who is poised to land a breakthrough in the coming 12 months? For the second year in a row, we've set about the task of answering exactly these questions and more to create our ranking of the most exciting, promising and influential names in Germany. This is The Rockstars 50 ranking for 2016-2017.

Last year, we published the inaugural Rockstars 50—and we are now back with year 2 of what is to be an annual event. As a digital market, Germany is uncharted terrain for most beyond the borders of the Fatherland. As a Hamburg, Germany-based company proud of our roots—and one convinced of the digital-know how and potential waiting to be tapped into—we have set about the task of shedding some light on the German digital marketing landscape.
Before we begin, we'd like to preface The Rockstars 50 by stating the obvious: lists like this are always subjective. Nevertheless, in the interest of objectivity, we conducted our due diligence, researching extensively and speaking to individuals from around the industry to get a grasp of the state of the industry. This list is the result of many lengthy and contentious internal discussions. We don't expect you to agree with us entirely, but hopefully you'll have fun reading and hear some names for the first time.
Without further ado, we are proud to announce the Rockstars 50 for 2016-2017 presented by our partner Ströer.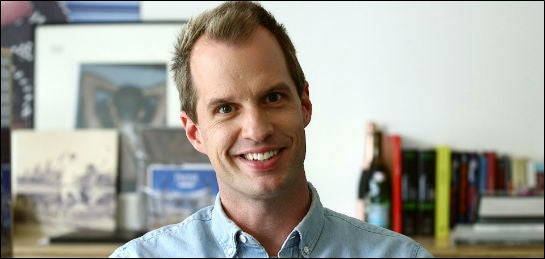 Number 1: Philippe von Borries, Founder of Refinery29
A purely digital media brand, founded by a German, worth EUR 500 million, employs over 400 and generates 9-figures in revenue annually? Ain't gonna happen, right? Oh, but it did happen! And its name is Refinery29. Perhaps the premise was slightly misleading, as founder Philippe von Borries moved to the USA permanently after spending a year stateside as an exchange student in his teens and founded the company there in his 20s. Yet, the success of Refinery29 cannot just be attributed to the sheer size of the US market and the potential audience for English-language content. In fact, it has more to do with von Borries being among a select few individuals in the world that really understand the role that content plays in attracting an audience.
Truth be told, Refinery29 was in fact a commerce project to begin with, where the primary role of content was to drive sales. "Until 2010 or 2011, investors were not willing to invest in content," says von Borries. Therefore, he and three friends launched an eCommerce platform for young women in 2005 interested in refining their style. The project only attracted some 2000 customers, but they formed a very loyal community. In the ensuing five years, von Borries and his Refinery29 team transformed wholly into a media brand for their young, female target group, with a single article published per week.
Today, von Borries and his crew are experts in distributed content. According to their own figures, the company reaches 27 million unique users per month through their own channels and 225 million via all major social platforms. Each platform has a dedicated team—130 staff members in total. The editorial team monitors which content formats should be boosted by the big platforms to generate maximum reach, and then fill them with suitable content. In doing so, Refinery29 has created some 1500 minutes of Facebook live content.
To monetize the site, Refinery29 employs content licensing and agency services instead of using a commerce approach. The "Digital Agency" supports brands holistically, from creation and distribution of content and advertising materials through additional means of marketing assets, e.g. events. As Refinery has a solid network of celebrity contacts and social influencers, the company is able to acquire them for campaigns.
Next up for Refinery29 is internationalization: In November 2015 von Borries opened up offices in London. And since the launch of a German version of the site in June, we're finally able to list Refinery29 as a German media brand.
Number 2: Rolf Schrömgens, Founder and CEO of Trivago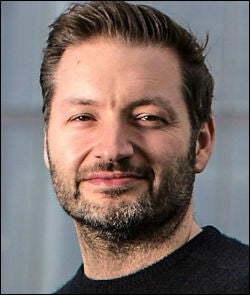 If you were to ask people in Germany what is the most successful German company, you'd be hard pressed to find anyone that would answer Trivago—even in industry circles. And yet, it's true. Trivago is currently among the top five most valuable German Internet companies. Even more unlikely is finding anyone who could name the low-key company's even lower-key founder Rolf Schrömgens and his two co-founders Malte Siewert and Peter Vinnemeier. Nevertheless, the Dusseldorf-based team has created a company focussed primarily on TV and search-marketing. Last year, they cracked the NASDAQ and has a current valuation of USD 4 billion.
Despite the substantial success, the trio are anything but "household names." It's presumably intentionally hush-hush, as their story would generate significant traction in the national and international media landscapes. After all, the company employs more than 1000 in more than 50 countries. No matter the location, however, the model is the same: a meta-platform for searching for hotel rooms, and revenue generation through paid clickouts from Trivago to other websites.
To drive traffic to Trivago to begin with, the company employs one of the largest search engine marketing budgets in Europe. Rumor round the campfire is that because digital marketing forms one of the core value sectors, Trivago has developed numerous proprietary technologies for steering, optimizing and linking the various marketing channels (essentially a tailored, self-made Adobe or Marin).
Number 3: Lisa & Lena, Germany's Biggest Instagram and musical.ly Stars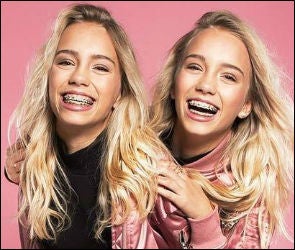 The numbers speak for themselves: 9 million Instagram followers and 15.8 million followers on musical.ly. Those figures put the twins from Stuttgart in 3rd place on Instagram—only German soccer stars Mesut Özil and Toni Kroos have more. Not bad for just a single year's worth of work.
They got to the top largely based on self-made video clips of them dancing and lip-synching to hit songs. "We always liked acting and singing, but then we discovered musical.ly and began shooting videos individually and together, and then posting them to our respective accounts," they told OMR recently. musical.ly is especially popular among teenagers, and has added millions of users around the world in the past few months alone; the app continues to grow in popularity in Germany, as well. By simultaneously posting their videos to Instagram, they have been able to consistently expand their reach even further.
The influence that Lisa and Lena have has been evident from the start. Very early on they teamed up with an entrepreneur from Stuttgart and began wearing clothing from his label. The approach was as simple, as it was effective: the girls raffled off the clothing worn in the posts on third-party accounts. Sales skyrocketed, while increasing their reach. Further cementing their standing among their fans is their propensity to engage with their Instagram followers directly via chat. Just a simple word or emoji in the specially created group chats is enough to excite their fans so much that they often respond by posting screenshots of the exchange.
The twins' reach shows no signs of slowing either. Just recently, US teenybopper Selena Gomez posted a video to her account of Lisa and Lena dancing to one of her tracks—adding a major bump to their international fan base. They also have their own online shop with Warner Music, through which they sell their own merchandise. Its not only reach that they've been expanding, however, as they had recently begun making cameos in a teen series on Nickelodeon, appeared live in front of their screaming fans at the Youtuber event Videodays and even landed a role in an upcoming German movie starring German action sensation and Fatherland favorite Till Schweiger.
At OMR, we have felt their power directly as we got the Lisa and Lena bump after running a feature article on the girls, which landed us a spot on Google's front page for the duo. At just 14 and with so much potential, it's hardly a hot take to say that we expect big things from them in the coming years.
Number 4: Tarek Müller, Co-Founder and CEO at About You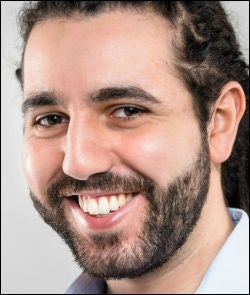 Tarek is on the right side of 30 and already one of the biggest names in German eCommerce. With support from the OTTO group, he and his cohorts defied the expectations of many and turned About You into one of the most famous and most-visited shopping destinations in the DACH region. What's especially noteworthy is About You's clever marketing strategy: from coupon and rebate campaigns in the lead-up to Christmas that generated hordes of app installs to large-scale campaigns with then unknown influencers with major reach. Furthermore, About You released a very effective and user-friendly app, tested out offline-shops as marketing channels and struck a major deal last year with German broadcaster ProSiebenSat1.
Number 5: Christian Schmalzl, COO Ströer SE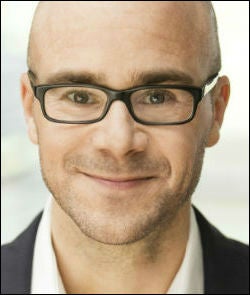 Last year Christian Schmalzl topped our inaugural Rockstars 50 and 12 months later we're still certain we made the right choice. There are, of course plenty of other influential individuals in the industry (the other 49 spots in this list anyone???). But Christian and his team at Ströer kept on keeping on in 2016, acquiring companies that stand to profit from Ströer's marketing power, and thus expanding the company's portfolio.
For one example of how that can successfully play out, look no further than number 6. Outdoor advertising spaces are becoming increasingly digital and Ströer is keeping step. Not even the take over and restructuring by T-Online has slowed them down. Just look at the company stock over the past 5 years: 240% growth!
Number 6: Fredrik Harkort, CEO Bodychange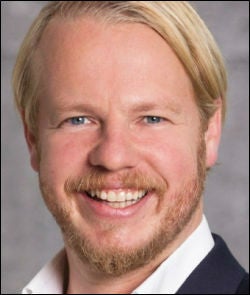 Seeing Fredrik Harkort in a t-shirt, hardly conjures up images of a man throwing back protein shakes and meticulously counting carbs. With professional fitness freak Detlef "D" Soost and former heavyweight boxing champ Vladimir Klitschko on board, he doesn't have to. His approach of using testimonials and influencer partnerships to drum up excitement for his products has been a massive success. After the acquisition by Ströer, Bodychange can be seen plastered across outdoor advertising spots in Germany—and according to the start-up scene, the boost in presence is having a huge impact on revenue. Despite external physical appearances, Fredrik has indeed had a hand in sculpting the bodies of hundreds of thousands of guys through clever marketing.
Number 7: Alex Hofmann, President North America at musical.ly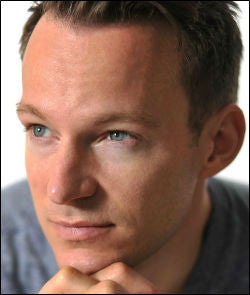 To penetrate the rarefied air of Snapchat, Instagram or Twitter, a platform needs 100 million regularly active users. musical.ly is the closest to becoming the next big thing—according to Gary Vaynerchuk at least. In June, musical.ly recorded over 100 million users for the first time. Playing a decisive role in this success was German Alex Hofmann. Hofmann and musical.ly's founders Luyu Yang and Alex Jun Zhu know each other from their time at SAP, who have entrusted Hofmann to oversee the important US market. It is yet to be seen if musical.ly as a platform will be able to keep up with its massive competitors in Facebook/Instagram. Management is doing all it can to cement its claim in the "top-4," e.g. by releasing the live.ly video-streaming service for its "homegrown" influencers and most recently "Squad" to position itself in the hip group video chat segment.
Number 8: Roman Kirsch, CEO and Founder of Lesara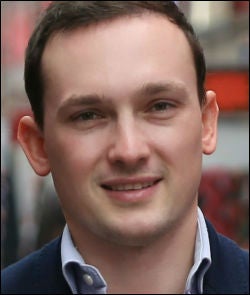 In 2012 Roman Kirsch stood on stage at OMR Festival. Back then, he seemed to have only just come of legal age—which irritated some in the crowd. But any irritation attendees may or may not have had quickly dispersed once Roman began discussing his analysis and marketing KPIs from fab.com. He had just sold his first start-up, Casacanda, to fab.com and was in charge of the company's presence in Germany—until the Fab guys went nuts and threw everything overboard. Shortly thereafter, Roman started his next project. It didn't take long for a veritable who's who of the European VC to come calling to Lesara—a mix of US-fashion discounter wish.com and ALDI. It's no wonder either, as industry insiders see Lesara's value in the 9-figure range. And Roman, for his part, is back to his old analytical and quantitative marketing tricks.
Number 9: Nils Regge, Founder of Truventuro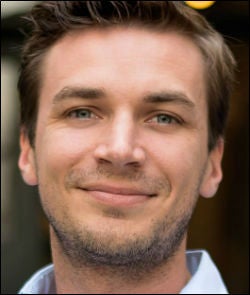 Nils is the search whisperer. He's had it down since his very first company, Casamundo, which located vacation homes for holiday goers around the world. Take any business model designed to acquire new customers via search, optimize a bit and then unleash the adwords. After Casamundo was purchased by a Dutch group in 2010, Nils has been active at his Hamburg-based holding company, where he has most recently boosted business for cruise agency Dreamlines, finance intermediary Finanzcheck and accommodation broker HomeToGo. Each time the model is the same—and so is the success. Dreamlines was given a EUR 100-million valuation by VC investors—Finanzcheck and HomeToGo figure to be in the same ballpark as well. Sounds simple enough, but it takes more than just having a Google account and the right landing page—but Nils seems to know that well enough.
Platz 10: Yi Shi, Founder and CEO of Avazu Holdings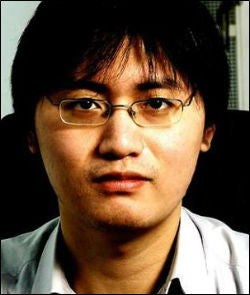 It's a fairy tale in the age of globalization: Chinese teen travels to Germany, learns about Online Marketing, makes a pretty penny, returns to his homeland and starts a million-dollar digital marketing company. Make believe it is not—it is the story of 27-year-old Yi Shi. In 2000, at the ripe old age of 11, he made the thousand-mile trek to the Fatherland. Four years later, he began making a name for himself in the SEO and affiliate marketing scene. When he fell ill on a trip and spent 3 months in Shanghai, he founded mobile advertising company Avazu. Today, Avazu is a holding of four companies, employees 100 employees and generates profits in the 8-figure range. In 2015, listed company Dalian Zeus acquired the company as a part of EUR 280-million deal. In 2016, Yi Shi donated 300K to his alma mater, the Goethe-Universität Frankfurt, for a lab—although he never completed his studies.
Number 11: Ulrike Handel, CEO Ad Pepper Group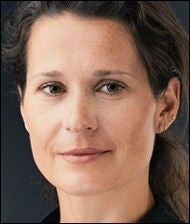 It might be one the biggest comebacks in the German online marketing industry. This past February, the Ad Pepper Group recorded a positive EBITDA across all operative companies for the first time in its history, and also posted a best mark in revenue. The turnaround is a huge success for Ulrike Handel and her team. The one-time Springer manager was named CEO at Ad Pepper in March 2013. She sold off companies, streamlined management and focused on its affiliate network, webgains. When Ulrike began, Ad Pepper stock was plodding along under a euro; at the time of publishing, that figure had increased to €2.44 per share. While the future would seem to be very bright indeed, Ad Pepper will have to go it alone moving forward—Ulrike is leaving the group this April to become CEO of Dentsu Aegis Germany.
Number 12: Jean Pierre "JP" Kraemer, Founder JP Performance & Auto Youtuber
At OMR festivals past, the insights, atmosphere and speakers have all been the source of inspiration and excitement for many a festivalgoer. But we've hardly ever seen reactions to a speaker announcement like we've been getting for auto Youtuber "JP Performance." An outpouring of emotion is to be expected from (mostly) males when discussing cars. And the genuinely heartfelt and authentic manner in which Jean Pierre Krämer presents his "Personal Love Brand" has made him an absolute hit. From backyard tinkerer to major influencer, initially on TV, now primarily digital, JP has amassed a ridiculous amount of reach with 700K subscribers and 230 million views. Beginning in March, Krämer will be on tour appearing in the largest arenas in Germany.
Number 13: Nicolas Lecloux, Co-Founder and Head of Marketing at True Fruits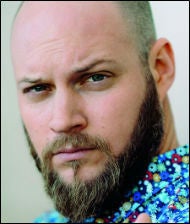 The most provocative campaign in Germany in 2016 came from the mind of Nicolas Lecloux. The founder of True Fruits and his two co-founders Inga Koster and Marco Knauf went heavy on the sexual innuendo to plug their smoothies. The tactic generated hard-core awareness as three of the four billboards were banned in Munich. Since True Fruits was founded in 2006, Lecloux has been pushing the envelope and using the pub to maximize product marketing. The double-entendres may not be please everyone, but they have given pleasure to some 500K Facebook and 80K Instagram fans. Revenue for 2016 figures to be approx. EUR 40 million (2015: 29.5 mil.), while their market share for smoothies is at 58 percent.
Number 14: Bonez MC, Gangsta Rapper and Youtube Star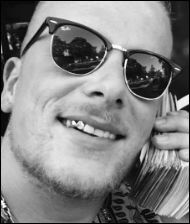 Every year, Google publishes a list of the most popular YouTube videos. In Germany, the list is usually full of Youtubers like Julien Bam or Lochis, or celebrities like Jan Böhmermann. However, what the list does not tell you, as it excludes music videos, is that Youtube in Germany is dominated by hip hop—especially gangsta rap. The most successful rapper of the bunch is Bonez MC, aka John Lorenz Moser. A member of the Hamburg-based crew 187 Straßenbande, Bonez MC has the second, fourth and sixth most watched video  in Germany and has received over 100 million total views—putting him ahead of everyone else. With a myriad of other successful collaborations by 187 Straßenbande, they have established themselves as the Godfathers of music marketing in the digital age.
Platz 15: Soheil Dastiyari, CEO of Territory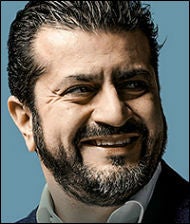 The Internet is responsible for turning the classic value chain in media and marketing on its proverbial head. Media companies with holdings in pet-food, shop and eCommerce platforms, who are able to sell ads and traffic generators like Google and Facebook end up as the big winners. How can Old Media expect to make more in the long-term in this brave new world? Old school German media giant Gruner+Jahr took a bold move to address the issue in 2016: under the name Territory, they founded a content communication agency, which bundled several internal departments and purchased those competencies it lacked. At the center of the day-to-day operations, is CEO Soheil Dastiyari. His job figures to be one of the most exciting in the industry—and the most challenging. Territory employs more than 1000 staff members and its clients include Lufthansa, Daimler and Deutsche Bahn among others. Its targeted annual revenue? Upwards of EUR 150 million. It's good to have goals.
Number 16: Bianca Heinicke, aka "BibisBeautyPalace," Germany's biggest female Youtuber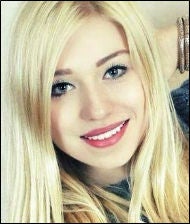 For those beyond her target group, the success of the videos on "Bibi" Heinicke's channel may be taken as a sign that end times are near. And whether or not Bibi sufficiently marks her paid ads is up for debate. Despite all that, from a purely business and online marketing point of view, Bibi's business model is beyond reproach. Her success is proof enough that no other channel operator in Germany knows how to reach and to inspire their target audience like Bibi. She's the clear number 1 in views and subscribers. And while other first-gen Youtubers have seen their relevance and reach take a down turn in the past year, hers continues to grow. That not only puts her at the top of the list as far as reach is concerned, but also makes her the highest female earner.
Number 17: Markus Witte (CEO) and Thomas Holl (President), Founders of Babbel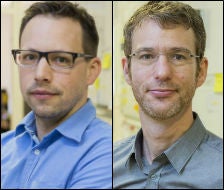 Take a quick glance around on your favorite news site. There is a very good chance that you'll see an ad from language-app makers Babbel: "Aged 35, speaks 11 languages," or "One language in three weeks." A click there doesn't toggle an app install immediately, but redirects users to the company blog. This clever content marketing piques users' interest in learning foreign languages. To put it in a language everyone understands: 120,000 downloads a day, over 1 million paying customers and revenue in the upper 8, lower 9 figures. And those numbers also have founders Markus Witte (CEO) and Thomas Holl (President) well on their way to reaching their official goal of being the global leader for online language learners. Babbel has generated USD 32 million in venture capital. Most recently, the Berlin-based company landed Ex-Business Insider CEO Julie Hansen to head up operations in the US.
Number 18: Anja Bettin, Founder and Owner Philosophy Brands and CEO of Nuwena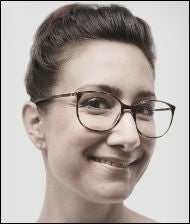 Recently, performance marketing has been the dominant factor in online marketing. Now, there is a shift as brand building, storytelling and influencer marketing gain in importance. Anja Bettin has a hand in them all. As a first-generation brand builder, she has played a decisive role in the incredible success at Bilou—the shower foam brand from Youtube star BibisBeautyPalace (see number 16). At Bilou's exclusive retail partner, German drugstore dm, a month's worth of the product was sold in just 2 days. After fellow German drugstore Rossmann began carrying the product, a third of all shower products sold came from Bilou. Since its inception in 2015, Bilou has regularly expanded its product range. And now it's expanding its spokespersons with additional influencers plugging the line on all the major platforms.
Number 19: Raphael Brinkert, CEO Jung von Matt/Sports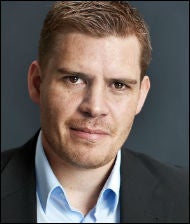 Humble he is not: "If you are wondering what we've been up to lately, we've been writing sports history," wrote Raphael Brinkert on Facebook. No need to shut up, when you put up: at the time he just landed the broadcast rights to the Handball World Championships 2017 for his client DKB. The deal laid the groundwork for a company to broadcast a major sporting event for the first time in Germany. Even though many sports fans may view the deal critically, the deal is a massive opportunity from a marketing perspective: the final of the European Championship in 2016 between Germany and Spain landed 13 million viewers—a whopping 16% of the German population.
Number 20: Tino Keller, Founder of Promiflash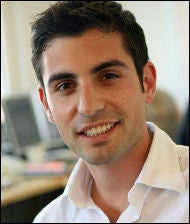 In 2009, Tino Keller founded Promiflash together with Andreas Horatz and Manuel Weisbrod as an online portal for lifestyle and celebrities. The platform continues to increase its reach across all platforms. Over 4.6 million users visit the site each month, while its 3.8 million Facebook fans put it clearly ahead of some major "hard" news sources, like the Bild group (2.2 million fans). According to reports, Promiflash partner Ströer guarantees site operators Celebrity News AG marketing revenue so that Ströer can piggyback
on Promiflash's reach. Since the portal was restructured to focus on influencers, the site is one of Germany's fastest growing. With 60 million views in 30 days, Promiflash outperformed the biggest influencers in Germany.
Platz 21: Nils Römeling, SEO Expert for Soccer Sites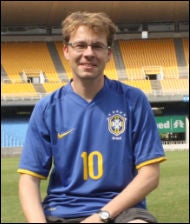 In Germany, everyone knows "kicker." The same cannot be said for "Fussballnationalmannschaft.net." And yet, during Euro 2016, it still landed over a million visits a day as it ranked higher on Google than the official UEFA portal, major media brands and the aforementioned kicker. The man behind this hidden champion is Nils Römeling. For years now, the SEO specialist has focused on major soccer tournaments, securing domains ahead of time and filling them with content like lineups and stats. On match days for the German national team, his site generates more than one million page impressions. During a tournament, the site nets him around 6 figures in profit through the use of Google Adsense ads. The German Football Association DFB took legal action against the domain—but the case was sent off.
Number 22: Tim Schumacher, Partner at Eyeo, Operators of Adblock Plus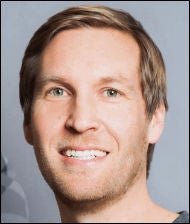 While it may not be the most popular company in the industry, Tim Schumacher's Adblock Plus certainly has been successful. He started by building up the world's leading domain marketplace Sedo, before selling it to United Internet. And now, he's created another global leader for Germany on the digital scene. No matter your thoughts on the company, several hundred million installs around the world are not to be ignored. While the business model of making publishers pay for a whitelisting is controversial, there is no doubt that the product is effective. Whenever faced with criticism—and there's plenty—Tim and his team always underscore the fact that Adblock Plus does nothing illegal and merely satisfies an existing need. If it weren't for Eyeo, there would surely be another company on the market from Russia or China offering the same service. Point taken.
Number 23: Pamela Reif, Instagram Influencer and Fitness Entrepreneur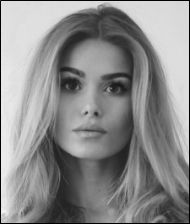 When Pamela Reif first became part of the public consciousness last year (after several appearances and an article by OMR), she already had 2 million followers on Instagram. In the meantime, She's added another 800K and is a regular guest on major media channels. She began plugging products typical for an influencer, like Detox Tea and upscale watches and now has her own shoe collection, which has helped her break through to the mainstream. She has her own fitness app "Pamstrong" and in March she is set to release her first book.
Number 24: Founders of price comparison platforms Stylight and Stylefruits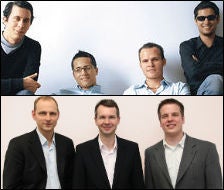 They were both founded in 2008, had similar-sounding names and nearly identical business models—and they were both sold in May 2016. There are as many parallels as there are names involved. On the one hand, you have Benjamin Günther, Sebastian Schuon, Max Meier and Anselm Bauer (pictured above), founders of Stylight, which was bought by ProSiebenSat1 for somewhere in the neighborhood of EUR 80 to 100 million. And on the other are Stylefruits founders Ingo Heinrich, Michael Vietze and Mathias Ziegler, who sold the company to Ströer for a healthy sum.
Number 25: Christian Henschel, Founder of adjust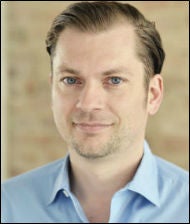 Adfraud, especially fake traffic generated by bots, has been a hot topic for digital marketers and publishers for years. And not only for desktop: fake traffic on mobile, too, can amount to 15%. In 2012, Christian Henschel founded Berlin-based adjust and set about the task of creating a solution for advertisers. Advertisers running campaigns in one of 18,000 apps where adjust is embedded (including big names, such as Spotify and Zalando), receive real-time data on performance. Investors would seem to be on board with the company business model: adjust has amassed EUR 26.6 million in funding.
Number 26: Matthias Eifrig, Founder and CEO at Blitzer.de
An app forgoes updates for four years and is still listed atop the App Store Charts among pay apps? True story. Just ask Matthias Eifrig, inventor of Blitzer.de, an app that warns drivers of speed traps and radars. Eifrig has been active since 1997, first on desktop then with apps since 2010. But since 2012, Apple stopped approving updates, the company says. The old design, however, doesn't appear to have deterred users from downloading the app: in 2016 alone the app generated EUR 1.1 million in revenue according to app analytic service provider Priori Data—good enough for 10th place among non-gaming apps in Germany. In September 2016, there was indeed a happy ending and Apple finally approved an update.
Number 27: Johannes Theobald, Fabian Deventer and Artjem Weissbeck, Founder of Kapten & Son
Today, it's all about influencer marketing. Back in 2014, however, when three college kids began purchasing posts on the timelines of popular Instagrammers to promote their watch brand Kapten & Son, no one had even coined the term. The idea, however, is by no means new: in 2011 Danish watchmaker Filip Tysander began advertising stylish watches (which are very similar to Kapten & Son watches) primarily through Influencer Marketing. The Kapten & Son founders reworked the concept and made the apparent necessary adjustments for the German market—and six months later generated EUR 1 million in revenue. In 2015, profits totaled approx. EUR 275,000. But their story is far from over: in 2016, Kapten & Son expanded the product range to include sunglasses, entered the retail sector and began with its internationalization activities.
Number 28: Malte Ubl, Senior Staff Software Engineer at Google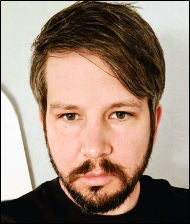 When a developer from a Hamburg agency switches to Google in Silicon Valley, taking on the role of "Tech Lead" for one of the company's most important products, using the phrase "big time" is legit. Malte Ubl helped set up the "Accelerated Mobile Pages" (AMP) project at Google. AMP is designed to assist digital publishers in creating pages that load quickly on mobile (comparable to Facebook Instant Articles), so that, among other things, the bounce rate is significantly lessened. As Facebook and App Stores have established themselves as important gatekeepers for mobile, and that Google's relevance is much lower in comparison to desktop, the project is of extreme strategic importance for Google. It's no exaggeration to say that Malte is helping create the mobile future for the Internet alpha male.
Number 29: Richy Ugwu, Founder and CEO of Retail Media Group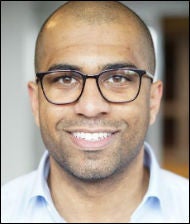 The task Richy Ugwu recently made his own is by no means trivial: his employer Metro Group recently entered the online-advertising sector and Richy is responsible for its creation. "We want to be the leading partner in the European retail sector for monetizing non-personalized data," says Richy about Metro's lofty goals. The biggest competitor? none other than Amazon. German eCommerce bigwigs Zalando and Otto Group are also competing on the same market. The Metro Group, currently still the second largest German retail group with millions of customer contacts a day, plans on offering more than just the digital data of its clients from its own shop network (full of large German companies, like Mediamarkt, Saturn, Real, Metro and Hitmeister); Ugwu is entrusted to convince external companies to take on an active role in the business by contributing their own data.
Number 30: Babs Kijewski, Niche Influencer for Anglers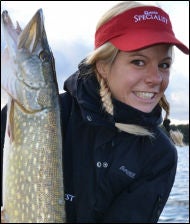 At first glance, the figures that Babs Kijewski landed are the type you'd normally throw back: 12,000 subscribers and just south of 2 million views on Youtube, just over 82,000 fans on Facebook and a shade over 5500 followers on Instagram. For the niche she's casting in, however, she's a top performer. Babs Kijewski is an angler influencer. Since 2011, she's documented her fishing trips and shown off her bass, pike and catfish lunkers on her social media channels. She turned her hobby into a small and clever online presence, and "went pro" with "World of Fishing." Kijewski gives fishing workshops, works with sponsors, sells DVDs and calendars in her own online shop and is a regular guest on German TV.
Number 31: Ulrich Hegge, Head of DACH Region at Appnexus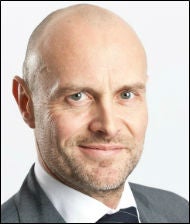 Uli is a scene vet: He founded online casino Edict and one of the first targeting service providers Wunderloop. After stops at Burda and Comdirect Bank, he is now in charge of the third largest adtech company active in Germany after Google und Facebook. 2017 figures to be an exciting year for Appnexus, as well, as they are planning an IPO; current valuations have Appnexus listed between USD 1.5 and 2 billion.
Number 32: Fabian Spielberger, Professional Deal Hunter; Founder of mydealz.de and pepper.com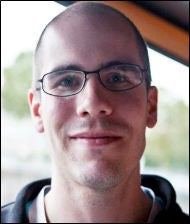 In 2007, Fabian Spielberger founded bargain mydealz.de, today he's steering the company towards a billion-dollar valuation. Mydealz, however, is no longer Germany's largest deal-seeking community. That distinction belongs to Fabian's other company, pepper.com, which maintains an active presence of 25 million users and over 500 million page impressions per month in 11 countries.
Number 33: Stefan Holwe, Founder of Horizn Studios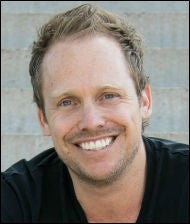 Vertically integrated brands are all the rage in the digital sector: they sell but a single or just a select few products to establish a brand's storytelling and forgo middlemen. Casper and Harrys are two successful international examples, in Germany the most successful VIB is luggage brand Horizn Studios. Thousands placed preorders before the product launch, and now Horizn is said to grow by 40% per month.
Number 34: Kai Klement and Jörg Kundrath, Kavaj Founders and Amazon Heroes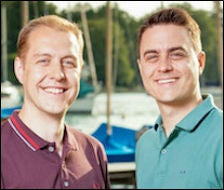 When users in the US want information on a product, more and more people are skipping over Google and going straight to Amazon. Amazon SEO, the optimization of product descriptions, etc. is one of the hottest topics in online marketing. Two pioneers of the trade are Jörg Kundrath and Kai Klement from Kavaj. The duo are former Amazon employees and today generate millions in revenue through the sales of smartphone covers.
Number 35: Benjamin Schroeter and Teja Töpfer, Founders of facelift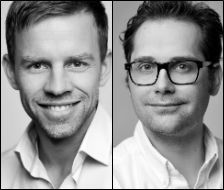 The facelift facts: Teja Töpfer and Benjamin Schroeter founded the social media marketing software in 2011, USD 15 million in funding in early 2014, acquired Socialshakers and Socialbench in 2015, founded a joint venture together called Uplift together with Thjnk in 2016—and then the announcement that Cologne-based media group Dumont acquired 75 percent of shares. What's next?
Number 36: Peter Schilling, CO-Founder and CEO at Media Partisans, Operator of heftig.co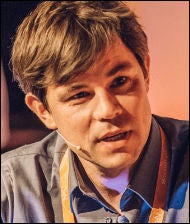 Clickbaiter, Viral accelerator, the German digital industry has long regarded heftig.co with disdain. And yet, the portal and its foreign-language versions are the only young, publisher-independent web-publishing projects from Germany with international relevance. Recently, the Funke group purchased the company for a reported 8 figures.
Number 37: Jendrik Höft, Max Koziolek and Manfred Stellenberg, Founder and CEO of Spectrm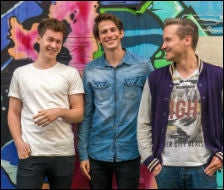 When Facebook turned Messenger into a platform, opening it to external services in April 2016, its launch partners included big names like CNN, the Wall Street Journal and Expedia—and a German start-up: Spectrm. The three young founders built so-called chatbots for German media entities like Bild and FAZ, as well as massive US publishers like Business Insider, Mic and NowThis.
Number 38: Georg Nolte & Paul Ripke, Manager and Photographer for Nico Rosberg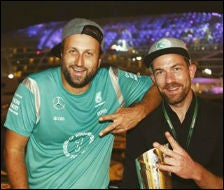 After each race in his final, championship-winning Formula 1 season Nico Rosberg logged onto Facebook Live to engage his fans directly—and regularly drew audiences of 500K. The brainchild of this smart, digital strategy was ex-reporter and current media manager Georg Nolte; star photographer Paul Ripke created the slick images that delighted Rosberg's millions of followers on Instagram.
Number 39: Anne Höweler, CEO at Cover PR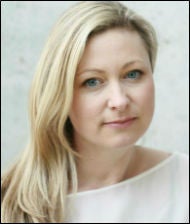 In 2012, Anne Höweler founded Cover PR with funding from, among others Payback head Bernhard Brugger. Anne went on to establish the agency as the name for fashion brands and influencers in Germany. Nowadays, Anne and her team conduct campaigns for brands like DKNY, Escada, Bobbi Brown and John Frieda with online stars.
Number 40: Jonas Thiemann and Carlo Szelinsky, Founders of Applike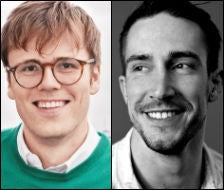 Applike is an excellent counterexample for the much maligned lack of innovation among publishers. The platform suggests apps to users based on their interests. If they install and use the apps, they receive points, which they can redeem for prizes. Founded 18 months ago under the aegis of Gruner+Jahr, the app-discovery platform is active in 11 countries, with another 16 to be added soon.
Number 41: Konstantin "Konzi" Hert, Founder of freekickerz and Youtube Ace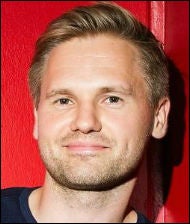 In his mid-20s, hobby soccer player Konstantin Hert began recording his free kicks and uploading them to Youtube. Today, some six years later, he has graduated from filming his own skills to making videos with the world soccer's biggest clubs, like Real Madrid, Juventus and Bayern Munich. "freekickerz" has over 5 million subscribers and 1.3 billion impressions, making it easily Germany's largest channel—and one of the largest soccer channels in the world.
Number 42: Marcus Tandler, Co-Founder of Tandler.Doerjer.Partner and OnPage.org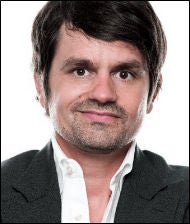 Marcus Tandler is a veritable one-man German SEO b(r)and, with insights and knowledge on the topic like none other. Initially in-house SEO expert at Scout-Gruppe, then on his own as an SEO entrepreneur and now the man behind SEO software company OnPage.org. Wherever you find SEO, Marcus won't be far off. Just take a look at mediadonis.net and see for yourself.
Number 43: Malte Feller, Director Facebook at Work Ecosystem Partnerships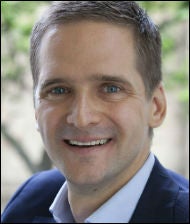 Malte Fellers résumé is a collection of big names. He spent an extended period of time as country manager for the DACH region at Paypal, before moving on to Ebay, Zipcar and HP. Nowadays, you'll find him at Facebook, working on major future-oriented projects, like Facebook Messenger and Facebook at Work, at company HQ in Silicon Valley.
Number 44: Christoph Kastenholz, Founder Pulse Advertising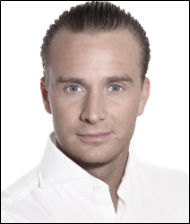 Influencer marketing agencies have been sprouting up all over the place. If you ask an advertiser, which agencies are performing best, you'll often hear the name Pulse Advertising. The team around founder Christoph Kastenholz has international influencers in its portfolio, including Chiara Ferragni, probably the richest blogger in the world and Pamela Reif (Number 23). Their client base includes international heavyweights Ferrero, Unilever, Cartier and Uber.
Number 45: Meike Heitker, Product manager at Ritter Sport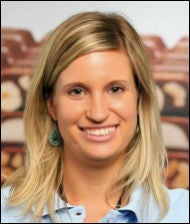 Ritter Sport's Unicorn chocolate bar didn't taste much like "rainbows with glitter farts" (as boldly proclaimed on a meme making the rounds online). Still it made a splash throughout Germany (selling out in 48 hours) and in the UK (where one bar just fetched GBP 26K). The person behind the world's first viral chocolate bar? Okay, Willy Wonka—but behind the second most popular chocolate bar ever is Meike Heitker.
Number 46: Mathias Rochus, Founder at Foxydeal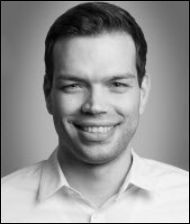 Price-comparison and voucher browser extension Foxydeal has racked up over 20 million users in more than 20 countries. Despite the tendency to lump it together with other "bloatware," Bauer Verlag still shelled out a hefty sum to acquire Foxydeal operators R&E Media. The deal figures to be one of the most lucrative in affiliate marketing in recent years.
Number 47: Patrick Proner, Operator of Germany's biggest Youtube Children's Music Channel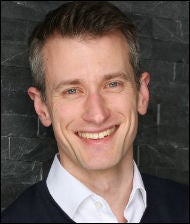 Actually, Patrick Proner provides consultancy services on branding for Google advertisers. But after being disappointed in the search results when looking for children's songs with his daughter on Youtube, he started his own channel "Sing Kinderlieder" (engl. Sing children's songs). Today, three and a half years later, he's generated 327 million views. He's taking a break from his "actual job" to focus on his Youtube business.
Number 48: Valentin Dushe, Alexander Schneider & Leonard Quack, Founders of Vergleich.org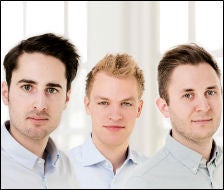 "Our aim is to establish Vergleich.org as a free alternative to (German consumer organization) Stiftung Warentest," says Valentin Dushe, Portal Co-Founder and Operator. Despite criticism and warnings for not testing themselves, but rather merely aggregates information, which subsequently led to a drop in visibility on Google, the affiliate project is still worth keeping an eye on. Over four million site visits a month—and trending upwards.
Number 49: Sabrina Saleh, Founder and CEO Digidip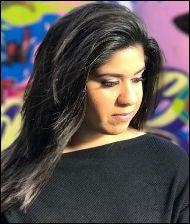 Who knows how her attempt to establish a new affiliate network in Germany will end. Two things, however, are for certain: first she got a marketing crash course at popup network Bin Layer and second Fabian Spielberger (Number 32) has invested in the company. If the latest reports are any indication, the future for the network is very bright indeed.
Number 50: Florian Heinemann and Michael Trautmann, OMR Influencers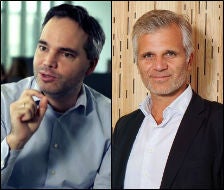 Yes, we are counting these two gents as one. Anyone who's been attended the Conference at an OMR Festival has seen the duo—either as guests at the on-stage bar, as expert interview partners or through a spontaneous outburst into song. In their day-to-day lives, they are active in the latest marketing trends and they support us all year round in a variety of topics. Apparently, they have aggregated the best network in the European marketing scene.