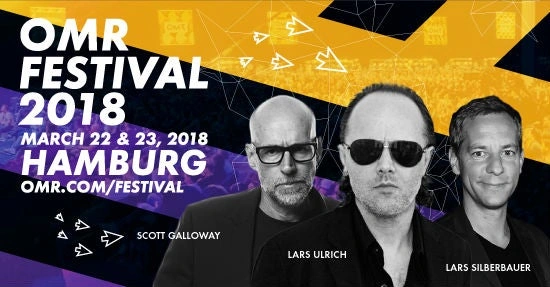 Also featuring Scott Galloway (NYU) and Lars Silberbauer (Lego)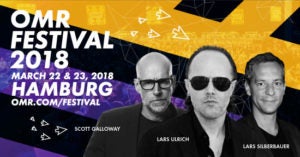 With over 120 million records sold, Metallica is one of the most successful and well-known metal bands on the planet. At OMR18, Lars will tell us about keys to successful brand building and what it takes to keep it relevant over the course of the band's nearly four-decade run. Joining Lars on stage in Hamburg on March 23, 2018 will be OMR's favorite marketing prof Scott Galloway and Lego's Lars Silberbauer.


Only the most diehard metal fans will know the names Exodus, Testament, Death Angel and Possessed, bands that also shined in the Bay Area thrash metal scene in the 80s. But chances are even your mother knows the name Metallica. Founded in 1981 by drummer Lars Ulrich and guitarist James Hetfield, Metallica quickly outgrew its NoCal roots, graduating to full-fledged rockstar and household-name status with sold-out world tours and millions of fans around the world. With a host of inimitable riffs and a logo as unmistakable as it is simple—first sketched out on a napkin—Metallica is now not just mentioned among the greats in metal, but in popular music period.
"Napster was about control"
Lars is known as the man for the band's business. In the band's early days, Ulrich, son of a Danish tennis pro, constantly places calls to booking agents and local club owners to get the band gigs. In the early aughts, Lars becomes one of the most-hated musicians on the planet for his roll in suing file-sharing platform Napster. "The only annoying thing that still resonates 16 years later is that the other side were really smart: they made it about money," he says looking back. "It was never about money. Never. It was about control."
In the meantime, it seems the Internet and Metallica have kissed and made up: The band publishes free content and live recordings across a variety of channels and platforms for its fans. Just last year, Metallica landed a viral hit performing their seminal hit "Enter Sandman" on the Tonight Show with Jimmy Fallon using toy instruments. The clip has been viewed more than 16 million times.
Master of Puppets Marketing
A day before the official release, they published videos for every track on their 2016 album "Hardwired…to Self-Destruct." They also bolstered the campaign by using the #blackenedfriday hashtag, because "Hardwired…to Self-Destruct" came out on "Black Friday." The campaign generated over 2 million in sales, while the above-mentioned Youtube videos have been watched over 180 million times.
Other metal bands expressed respect and envy at the successful campaign.
12-figure Youtube views
Metallica also puts up numbers on digital platforms for non-album-related content that others can only dream of: The Metallica Youtube channel lists 2.5 million subscribers and 1.2 billion (!) views, while the official Facebook page has 37.4 million fans.
It's a huge thrill for us to welcome a true rock star to the Conference stage at OMR Festival 2018 in Lars Ulrich. He'll talk about brand building for one of the most successful "companies in rock" and offer insights into the decision-making process for some of the band's most significant decisions.
More than just metal—OMR Festival 2018 has marketing aficionados covered. Get your ticket now!
Will the "four" turn out to be just "one?"
We are also stoked to announce that Scott Galloway (L2 Inc and NYU) is returning to speak at the OMR Conference. Two years ago, our marketing prof took the stage to give us a piece of his mind on the state of the digital internet, this time around he'll be promoting his new book "The Four" and share some insights on "GAFA" (Google, Apple, Facebook and Amazon).
His most recent prognosis: In his video on The Big Four he says one of The Four is set to pull away from the other three—Amazon. If you have never had the pleasure of seeing one of Scott's extremely informative and entertaining talks, check out his keynote from OMR16:
Wanna see what bombshells Scott Galloway drops in 2018? Book your ticket now!
Lego—the web leader in engagement
Taking the Big Picture Stage at the OMR Expo will be Lego's leading marketing man Lars Silberbauer. His official title is Senior Global Director of Social Media and Video and he's responsible for all the digital activities at one of the globe's biggest toy makers.
When Lars began at Lego, the company didn't even have a Facebook page. Under Lars' watch, Lego's brand presence now stacks up with the biggest brands around and vies for most brand views—at present it's third behind Red Bull and Uber. When it comes to engagement, however, Lego is number 1—ahead of heavyweights Netflix and Nintendo.
Lego is hot right now: Two blockbuster movies have propelled Lego into rarified air for brands. Furthermore, Lego has a massive IP in its arsenal in Lego Star Wars. The company also manages to cleverly position itself in the minds of the public repeatedly: Last year, it was Lego Slippers, whose purpose was to save parents pain from stepping on their kids' lego pieces; right now it's a house completely made of Legos that is available for rent on AirBnb.
Don't miss out on OMR Festival 2018! Get your ticket now!