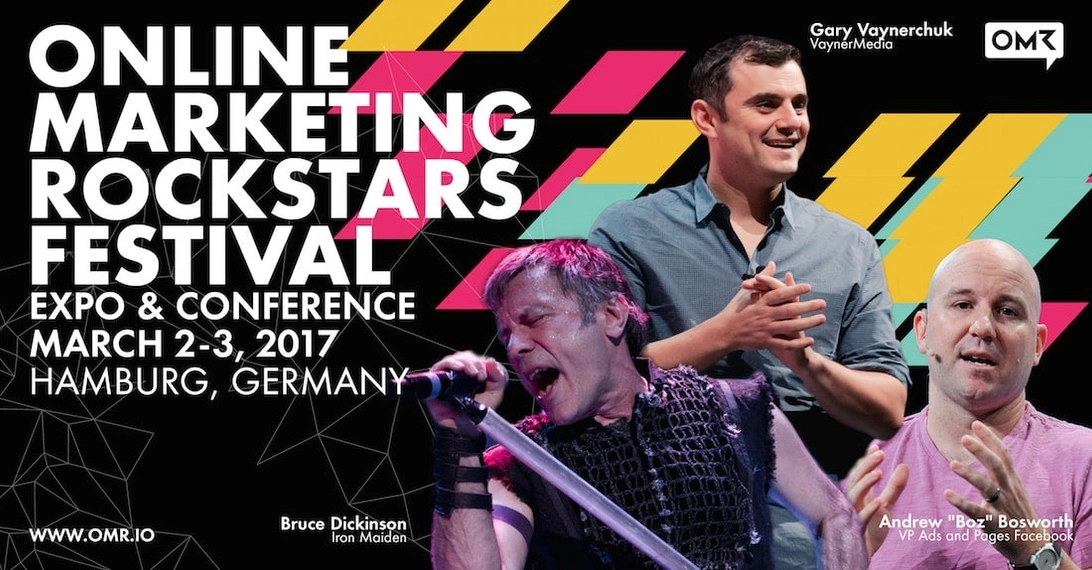 Vaynerchuk, Dickinson and Bosworth: Live on stage at OMR Festival 2017
OMR Festival 2017 is just around the corner! This year's festival lineup builds on the success of last year's festival that saw over 16K in attendance. We are thrilled to announce the following three industry heavy hitters set to take the stage in Hamburg this March: Master marketer and business builder Gary Vaynerchuk, VP Engineering, Ads and Pages at Facebook Andrew "Boz" Bosworth, Iron Maiden lead singer Bruce Dickinson.

OMR Festival 2017—bigger than ever
Last February, over 16,000 online marketing enthusiasts attended the Online Marketing Rockstars Festival—good enough for a new record. But with 25K set to attend the Expo, Conference and Masterclasses on March 2 & 3, 2017, there is no time to pat ourselves on the back. Join Gary, Boz and Bruce and 25K marketing pros at OMR Festival 2017. Get your ticket today to rub shoulders with industry titans and network with other online marketing enthusiasts.
Andrew "Boz" Bosworth (Facebook)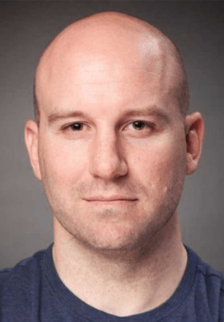 He's one of the most important developers at Facebook and probably the coolest MoFo in all of Silicon Valley. Andrew "Boz" Bosworth was once the teaching assistant to Mark Zuckerberg at Harvard. Now the roles may have changed slightly, Boz is now dedicated to his area of specialization—Artificial Intelligence. At Facebook, Boz spearheaded implementation of Facebook's hallmark features, including News Feed, Timeline, Messaging and Profile. His biggest accomplishment, however is inventing "Targeted Ads" in News Feed To create it, Mark Zuckerberg asked Boz to postpone his sabbatical year. Recognizing the importance of developing a mobile product, Boz agreed. The rest is history. We hope Boz finds some R&R in Hamburg—once he's done speaking, of course. Nowadays, Boz is the VP Engineering, Ads and Pages at Facebook.
Internet master extraordinaire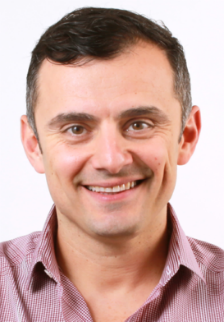 One of the biggest players in the digital marketing universe is making trek number 2 to Hamburg. Entrepreneur, Investor (Facebook, Twitter, Tumblr, Uber), author and brand, he is a consistent winner in modern marketing. "GaryVee" has over 250K subscribers to his videos on YouTube and is one of the biggest names in the scene. Gary has been here before, leaving his mark on OMR Festival 2015. In 2017, we're stoked to see him back to Hamburg for an update on the latest in the world of GaryVee.
As a rockstar, his fame knew no heights—then he became a pilot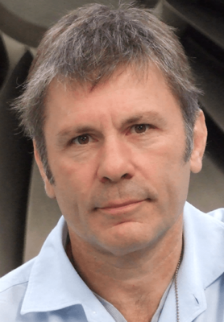 Bruce is best known as the lead singer for iconic heavy metal band Iron Maiden. Hailing from England, Dickinson's falsetto and stage presence catapulted Maiden to worldwide fame across generations. Bruce has managed to transform Iron Maiden into brand known around the world with a gigantic devoted following. He will share his vision for love brands in digital times. Off stage, Bruce has built a notable career as an author, broadcaster and commercial airline pilot. Don't believe us? Just check out this pic.
OMR Festival 2017—What you need to know
Over the course of two days, the Online Marketing Rockstars Festival offers the best entertainment, networking opportunities and development programs in the industry. In 2016, 16,533 visitors took part. We're not slowing down a bit in 2017: 25,000 visitors, the 250-ft Rockstars stage with Europe's largest video wall and 200 exhibitors at the 2-day festival. But it's not just networking, panel discussions, Masterclasses and other festival highlights, OMR Festival 2017 knows how to party—the Expo party on March 2 and our massive Aftershow party to end the festival in style.
EXPO — MARCH 2-3, 2017
In 2017, we'll be extending the Expo from one day to two. At the Expo, we'll be hosting not only established, but also fresh new companies from the digital marketing scene. Additionally, our programs will offer exclusive Masterclasses, panel discussions on the Expo Stage, Guided Tours, evening parties and much more.
CONFERENCE — MARCH 3, 2017
The conference is the heart and soul of the festival. This event has become the largest of its kind in Europe and attracts top players to the Hamburg Messe expo center. In 2017, the conference will once again offer inspiration, tips, projections, insights, anecdotal knowledge and real value for money. We guarantee it! And, to top it all off, we'll throw the ultimate late night show—our legendary Aftershow Party to close out the event!
Tickets are on sale now
If you want to find out about the latest industry happenings, see first-class speakers and get in touch with tomorrow's next big thing, don't miss OMR Festival 2017.