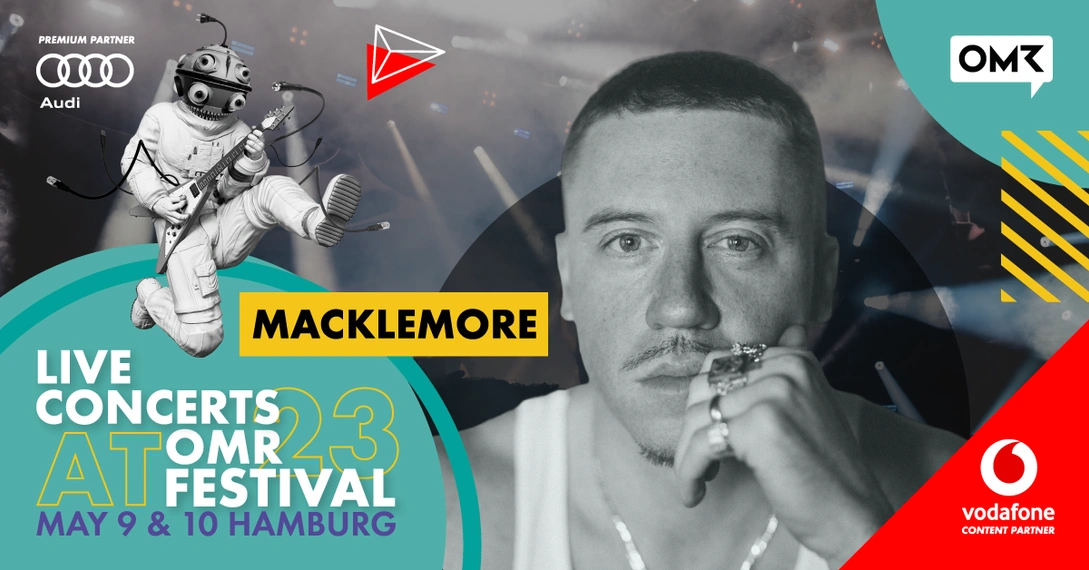 After a lengthy hiatus, Macklemore is back live – and will perform at OMR Festival 2023
When we put on the OMR Festival every year in Hamburg, Germany, our goal is to put on an event that delivers business-relevant insights, provides a platform for hundreds of speakers from across the digital marketing space and beyond, while creating a space for attendees to connect and exchange. At the same time, we want to reward your hard work and give you ample room to let loose and dance. That's rpecisely what you can do each night during our live concerts. Today, we're dropping the first few artists of many confirmed to perform at OMR23—starting with none other than Macklemore.
The OMR Festival 2023 returns May 9 and 10 at the Hamburg Exhibition Center. We'Re expecting 70,000 attendees, over 800 speakers and more than 1000 exhibitors and partners. There will be non-stop programming on each of our six stages, a robust lineup of Masterclasses, Guided Tours and Side Events.

Click here for a list of confirmed speakers—including headliner Serena Williams. And check out our exhibitors by clicking here.
If you want to experience OMR Festival 2023, then act now and get your ticket.
Macklemore is back—and will perform on stage at OMR23
Multi-platinum and Grammy award-winning Macklemore has made a name for himself thanks to a combination of commercial success, critical praise and international appeal. He is one of the most successful independent artists of our time—and is a seasoned industry vet. His first solo album came out twelve years ago and debuted at #2 on the Billboard charts, followed by seminal albums "Gemini" and "The Heist," with producer Ryan Lewis. "The Heist" contained several number 1 singles and won several Grammy's. After that hit record, however, it's been pretty much total silence from Ben Haggerty, the 39-year-old's real name.
Recently, he initiated his comeback with his new album "BEN," which has already produced two singles, "Chant" ft. Tones and "Maniac" feat. Windser. The next single "Faithful" feat. NLE Choppa is set to drop soon. "I think I wrote 'Faithful' shortly after that and it came from a dark spot, and I think that there is such a void of music that talks about real issues, whether it be mental health, whether it be recovery or fighting the disease of addiction, I'm trying to go there. I don't want to avoid it." Now he can get back to focusing on the music and will perform new and old hits on stage at OMR.
Dancing with Miami Lenz and Oli. P
Of course, we also have a few regulars in support of the US star. First up, Miami Lenz, who has been with us for years now. In 2017, she made the leap from behind the bar at Hamburg's legendary "Kleiner Donner" to the turn tables. Today, she is a frequent guest at Germany's biggest music events, touring clubs and festivals far and wide across the Fatherland (Dockville, Heroes, Splash!, among others). Her sound drips a mix of rap, trap, UK, bass & global club sound. She also has a bi-weekly radio show "Bassdrive" on Bremen Next and runs "Chief Brody," a club where she puts her love of the culture on full display.
Speaking of love, have we told you lately how much we love Oli. P? The man knows how to deliver a show—and has done so for years as an OMR reg. In 2023, the 90s music aficonado will once again bring his perfect party playlist to the Festival—and of course perform a few of his own hits live. If you've been to an OMR Festival before, you can attest to the special vibes that Oli's set exudes. Stay hydrated and bring some cough drops: you will be singing—loudly.
Stay tuned for more live concerts announcements. We've got more in store for both Festival nights—and will even be keeping a few surprises up our sleeves.
Do you want to be part of the OMR Festival 2023? Then get your ticket here.